Despite his "unbelievable influence" on Man City's success, Jurgen Klopp has welcomed the return of Kevin De Bruyne ahead of Liverpool's trip to the Etihad.
Pep Guardiola confirmed on Wednesday afternoon that the Belgian was back in training and "much better," after a muscle injury kept him from making only his 10th appearance of the season last time out.
His absence from City's 3-1 win at Southampton was not felt heavily, but the pressure was on for De Bruyne to make his comeback in a make-or-break clash with Liverpool.
For Reds supporters, De Bruyne's return could be seen as another big hurdle in a tie that could have major sway on the race for the Premier League title.
But speaking at Melwood, Klopp instead opted to praise the 27-year-old, and suggested that his side could ill afford to focus primarily on him as City "have a lot of options."
"We cannot especially prepare for Kevin De Bruyne," he insisted.
"He is just an outstanding player. So if Fernandinho, Kevin De Bruyne, David Silva play, that's probably the three midfielders who played most of the time in their title-winning season.
"Missing a player like Kevin De Bruyne is a massive blow, even now he played only from time to time but he was unbelievably influential immediately, he's scored fantastic goals.
"He's just a world-class player, but I expected that he would be back.
"I'm happy that he's not got a serious injury again. I said it before, I was happy that he was back because I love the player.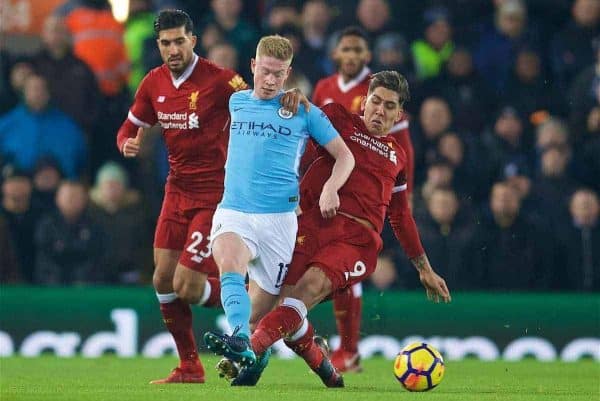 "Everybody who loves football must love Kevin De Bruyne. He looks like a really humble person and an outstanding player on the pitch—a leader.
"So it would make a difference, but on the other hand, since he was out—and Pep said it as well once—the football they've played this season is better than the football they played last season.
"It's more flexible, they involve different things on the pitch, Bernardo Silva played an unbelievable season, Ilkay Gundogan played brilliantly.
"They have a lot of options, and obviously if he would play that give them a massive boost."
Klopp's assertion that Liverpool cannot be distracted by the presence of De Bruyne is valid, as the likes of Silva, Bernardo, Raheem Sterling, Leroy Sane and Sergio Aguero will all be similarly threatening.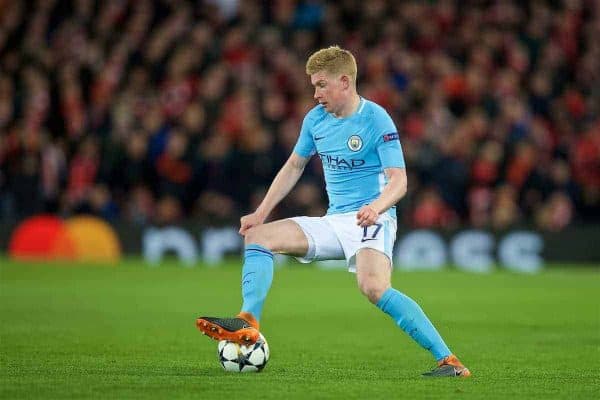 Furthermore, the Reds have largely dealt with the midfielder well in previous meetings, with De Bruyne enjoying victory in just one of his seven games against Thursday's opponents, all while with City.
For Klopp, the onus seems to be on maintaining that, despite its importance, this is just another game for his side.