Ki-Jana Hoever's first-team debut at age 16 shows that Liverpool have a big talent on their hands, but his coach feels it's his mentality which makes the defender such a standout prospect among young players.
Named on the bench for the Reds' FA Cup third round clash at Wolves, Hoever entered the pitch after only a few minutes, as Dejan Lovren pulled up injured.
Perhaps having no time to mentally wonder about proceedings worked in the youngster's favour, but he immediately looked assured and confident on the pitch.
Even when one or two moments didn't go his way, Hoever continued to show poise and belief, as well as no shortage of technical ability when in possession.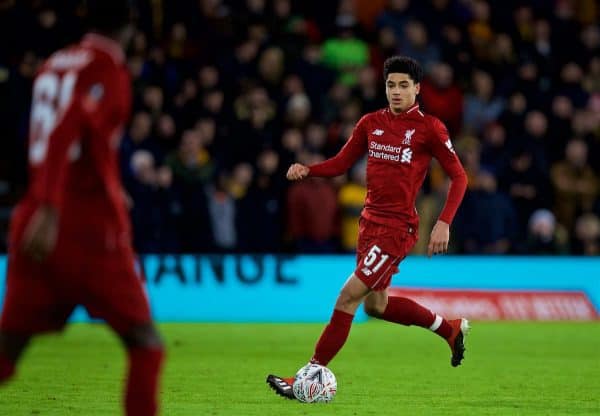 Academy director Alex Inglethorpe told LiverpoolFC.com it was always clear that Hoever possessed the on-the-ball attributes to be a success, but it's the other side of his game at such a young age which marks him out as special.
"I think that he's an outstanding talent.

"The thing that surprises me about him is not just how good a footballer he is, but what a good person he is. He's highly competitive, he doesn't like losing.

"He has potential, he has serious potential, and his rate of progression I suppose after pre-season hasn't surprised me because he's someone that it was very, very clear from very, very early on had an awful lot of the pieces that you would need to become a top player.

"A lot of the pieces of the jigsaw puzzle are in the box and I guess we just have to put them together. He's a very exciting prospect.

"OK, yes he can play, he's technically very good and physically very good, but it's how he thinks that has drawn me in.

"I like the attributes he shows in terms of his mental capacity, that's what I like. That's the bit that interests me at the minute."
While a debut at 16 is certainly worth celebrating, it's clear Hoever has a long way to go yet.
He's only been at the club since the summer and is already playing two roles at youth level: centre-back, where he played against Wolves, and right-back.

Flashes of that dual-positionality could be seen at times in the FA Cup, with Hoever confident in striding down the channel and playing the ball forward—even if a more experienced player might have held position centrally.
It's not yet clear where he'll end up, though, given he still has at least a couple more years of natural and physical growth in his body.
Inglethorpe says Hoever will continue to gain experience in both roles on the pitch, and let nature take its course as to which becomes his dominant position.
"I think a lot will depend on how he develops physically.
"He's got a lot more to come, you can see that he's not done physically yet. But I think a lot of that will depend on where he plays in terms of the height he gets to and how he fills out in time.
"He's someone at the minute that, in the older age groups, is likely to play on the side of the pitch, yet in his own age group plays more centrally. But time will tell."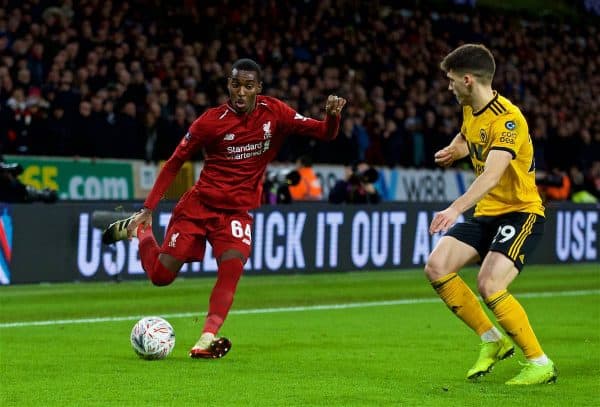 Hoever is just one of three young Reds who made their debuts against Wolves, with versatile wide man Rafa Camacho and local starlet Curtis Jones both featuring from the start.
Inglethorpe told LiverpoolFC.com that the progression of both shows how the youth setup mirrors the senior side, both in culture and in style.
"I think our Academy is more representative of what our first team looks like now. I think we're more inclusive and broader in our thinking and I like that.
"I think if you were to come and see our Academy sides play, there is a similar dynamic, a similar representation as what you'd see in the first team and I like that."
With other Academy players such as Adam Lewis or Bobby Duncan, and slightly older ones such as Harry Wilson or Herbie Kane, tipped for future roles at senior level at Liverpool, it's clear the pathway from prospect to first-teamer is very much open at Anfield once more.