Liverpool are unlikely to rely on Ki-Jana Hoever at first-team level after his FA Cup debut, but he is "in the right place" when it comes to his development.
Hoever may not have been expected to feature against Wolves on Monday night, but an early injury to Dejan Lovren fast-tracked a memorable moment for the youngster.
Eleven days before his 17th birthday, and just under four months after his debut for the U18s, the summer signing became the club's youngest-ever player in the FA Cup.
It caps a remarkable rise through the ranks since his arrival from Ajax, but patience will be required despite his clear potential—having produced a confident, ambitious display alongside Fabinho at centre-back.
Speaking to The Anfield Wrap before his debut, U18s manager Barry Lewtas gave his take on Hoever's progress at Kirkby and Melwood.
"Ki-Jana's done well, he's settled in well. He's a nice boy, got a good attitude, he's fit in well with the group and when he's played he's fit in with the style of play," he said.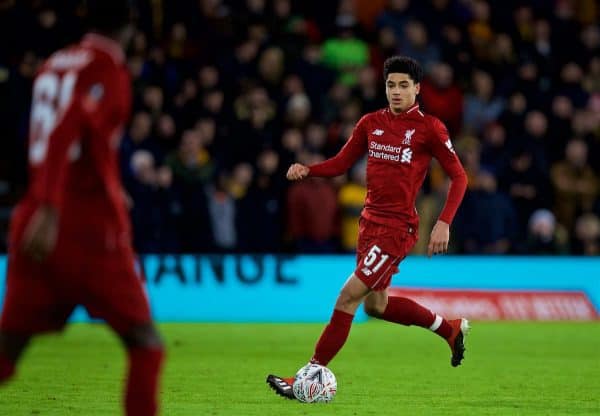 "So in terms of his rate of progress he's done extremely well, so credit to him, but he's got to keep up that hard work, which I have told him.
"But he's got a good attitude, he's a good boy, so good luck to him.
"He's only young, he's only 16, he's got a lot of developing still to do.
"But he's got good core techniques, technically he's a good player, athletically he's quick, he plays tough.
"He's got a good appreciation of the game, he understands how we want the game to be played.
"And credit to him, when he's moved up and played for Critch with the U23s he's done well.
"So in terms of that, he's got a lot to do, a lot of improving to do, but we believe he's in the right place, the right environment, and we'll continue to push him."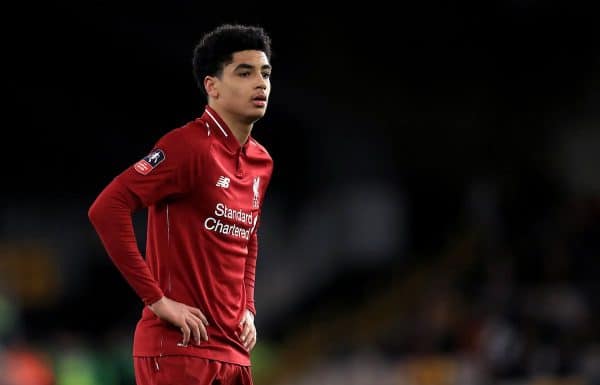 With Joe Gomez and Joel Matip still sidelined and Lovren potentially out for the weekend's trip to Brighton, there have already been some muted calls for Hoever to keep his place and partner Virgil van Dijk in the Premier League.
This will, in all likelihood, be deemed too soon for the Dutchman, and rightly so according to Lewtas, as though he spoke before Hoever's debut, the coach gave a positive view of the "support network" available to keep him grounded.
"I don't want to get too carried away and say he's going to play here and he's going to have to drop down, because that's all ifs, buts and maybes," he continued.
"But he's a level-headed kid, obviously he's got a really good support network with his mum and dad.
"And I would say we've got a real strong support network at the academy in terms of the coaching staff and [head of education and welfare] Phil Roscoe.
"So we'll cross that bridge if and when we come to it, but he'll be fine."
Liverpool have a big talent coming through in Hoever, and Jurgen Klopp remarked in his post-match press conference that "when you are really needed it's only about if you're good enough and not how old you are."
But at just 16, it is more likely he will resume his regular duties with the U18s and U23s in the coming weeks.
However, it is becoming increasingly clear through praise from the likes of Lewtas, Klopp and Neil Critchley that big things are expected of the Reds' new No. 51.