Liverpool were held to a 0-0 draw in a tense encounter against Bayern Munich at Anfield, with the Champions League last-16 tie in the balance.
Liverpool 0-0 Bayern Munich
Champions League Last 16, Anfield
February 19, 2019
---
Fabinho at the back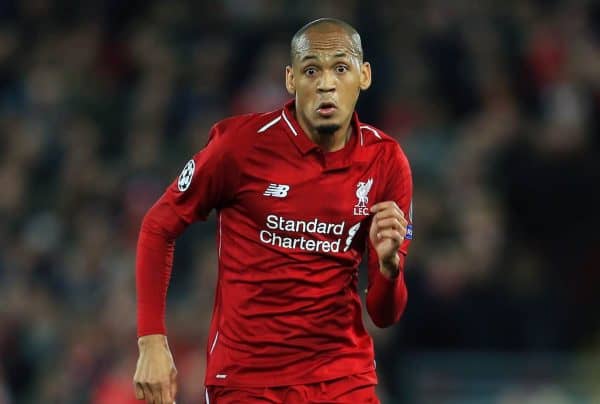 With Virgil van Dijk suspended and both Joe Gomez and Dejan Lovren injured, Jurgen Klopp was forced into a big decision at centre-back.
Fabinho, who played the role in January in the FA Cup, moved back from midfield to the defensive line to partner Joel Matip and was utterly superb throughout.
There was, in particular, an excellent block tackle on Robert Lewandowski inside the penalty area, as well as a couple of impressive moments of positioning which allowed him to intercept a cut-back or cross.
His timing was excellent, his covering work good and his passing into midfield was progressive, calm and assured.
Liverpool needed a big player at the back against a dangerous attack, and Fabinho came up with the performance the Reds needed.
Clean sheet to take to the Allianz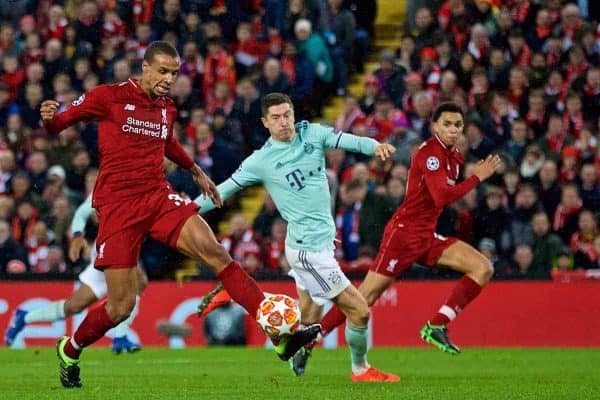 Rule No. 1 in a home leg in Europe: if you can't win, don't concede.
The Reds didn't just keep a clean sheet against Bayern Munich, they didn't even let the Bavarians have a shot on target – the first time they have failed to register a shot on target in Europe since May 2015, against Barcelona.
On one side, no Van Dijk and a rearranged defence. On the other, Robert Lewandowski with eight goals in six group games, and Bayern with 19 goals in six games in 2019, at least three in each match up until they came to Anfield.
Other than a few corners, one save from Alisson from a Joel Matip interception and a couple of awkward early moments, the Reds defended admirably.
Those early scares came courtesy of some sloppy footwork from the goalkeeper, either taking too long to pass out or giving awkward balls under pressure.
Liverpool can ill-afford costly errors in tight, high-stakes games like these.
But he, and the team, were far better thereafter—and the clean sheet at Anfield might just prove priceless in the second leg.
Trio in turn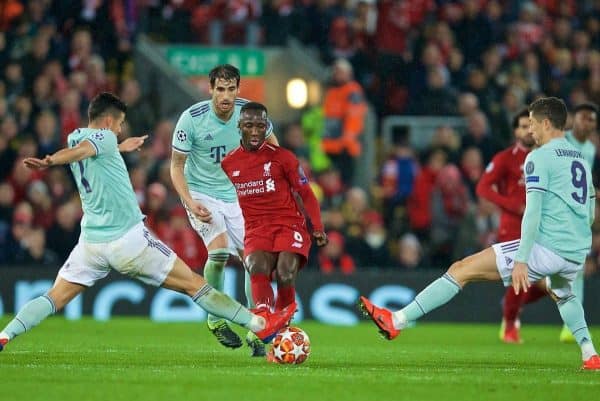 Three cheers for the three in middle—for the most part.
Gini Wijnaldum started the game in the same way as he has played most of the season: dynamic, with excellent technique and plenty of drive.
He did fade after half an hour, as the ball seemed to rove elsewhere, but he was a vital part of Liverpool starting with a good tempo and, when on his game, he's the match of any opponent: good strength, short turning circle, great passing range.
Naby Keita, the other forward-thinking member who played somewhat more to the left, was probably the most productive midfielder on the night for the Reds.
More than once his ability to drive forward, producing a stepover and sending an opponent the wrong way, opened up promising space for the team.
Just the end product was lacking, but that could be said for just about everyone on the pitch.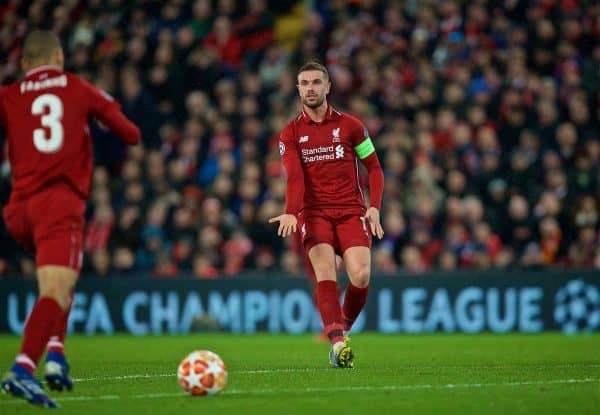 And Jordan Henderson. The skipper has his critics, and on many occasions those have been justified.
But his first-half performance against Bayern was arguably the best 45 minutes he has given under Jurgen Klopp: ball-winning with regularity, covering for team-mates with maturity and awareness—and even a couple of incisive, pinged passes, once giving Mohamed Salah a free run on goal.
He was a little off the tempo after the break with his passing, but that was also down to a lack of movement ahead.
Henderson had a big role to play on Tuesday and he certainly lived up to it.
Over-reliance on the attack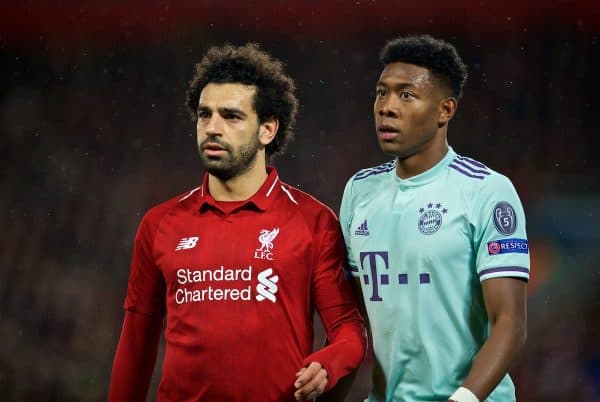 But… for all the praise the midfield deserve, there is a fundamental aspect of their play which is missing: a goalscoring threat. From any of them.
Without Wijnaldum playing the much higher-running, attacking role as he did against Bournemouth, and in Alex Oxlade-Chamberlain's continuing absence, there's simply nobody from the centre of the park whoever looks like a match-winner.
The forwards worked tremendously hard in the opening hour, with a ridiculously high press right up to the six-yard box at times, and it showed in the final stages of the game.
Sadio Mane was comfortably the biggest threat, but the half-chances which fell his way were rushed and off-target.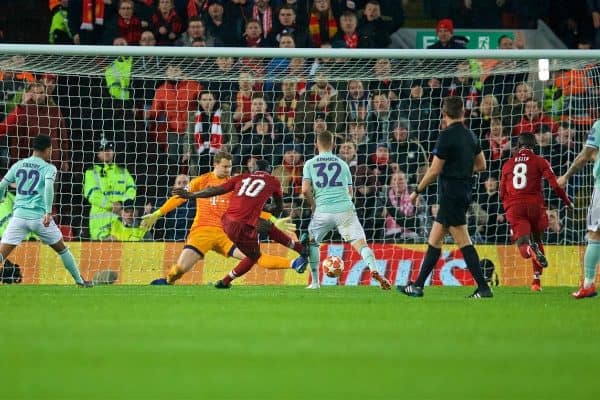 Two shots at Manuel Neuer in the whole game simply wasn't enough—just one in the second 45—simply wasn't enough from the team as a whole, but if Mane, Roberto Firmino or Salah weren't able to find a route to goal, who can?
The bench offered next to nothing, with Xherdan Shaqiri out of form, Daniel Sturridge out of favour and Divock Origi an unlikely hero at best.
Klopp has to find a way to free up another player somewhere in the side and not continue this over-reliance on the main trio.
Second leg and looking ahead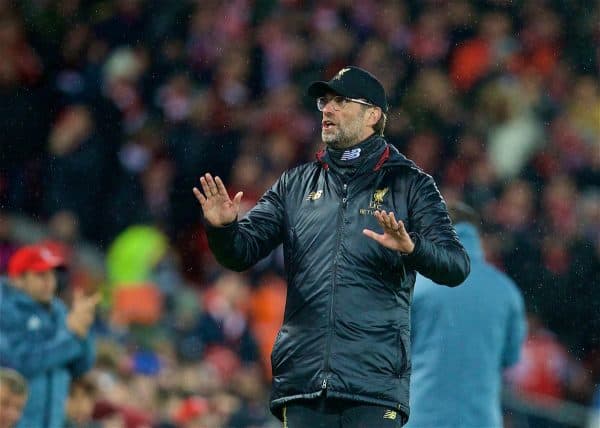 All to play for at the Allianz Arena, then. A score draw sends the Reds through, which might be just as well considering the performances put in during the group stage away from home.
Make no mistake: Liverpool will need their best away performance since the Etihad in last season's quarter-finals if they are to reach this year's last eight.
But, before that, the Premier League fight resumes and there's a title to win much closer to home.
Manchester United are next up on Sunday and perhaps this key, intense, high-value game is the perfect preparation for it.
Liverpool need as good defence against United as they showed against Bayern, and perhaps something extra in attack.
If they have both, they're a better team than Man United, new management or not.
Onward, Reds, and back to winning ways.