The media felt mutual respect contributed to Liverpool's 0-0 draw with Bayern Munich and praised Jordan Henderson and Fabinho's performances.
It's all to play for in Munich in three weeks' times after a frustrating but far from disastrous goalless draw at Anfield.
The Reds dominated the majority of the contest but wastefulness and sloppiness in the final third saw chances to establish a useful first-leg lead passed up.
Overall, Jurgen Klopp will be pleased with his side's performance, with the Reds showing plenty of reason to believe victory can be claimed in the return fixture in Germany.
Here's how the media assessed events at Anfield.
Reporters had mixed views on how good the result is for Liverpool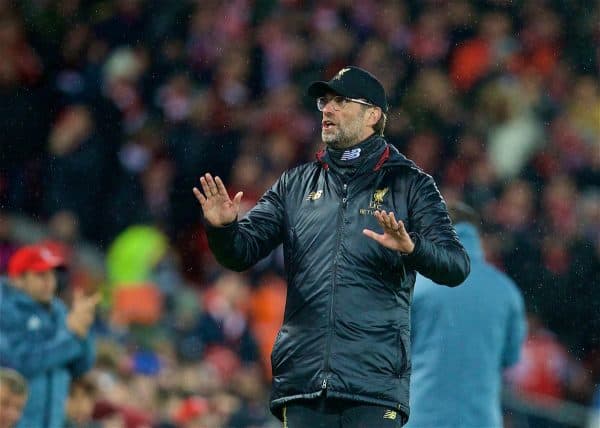 Writing for Goal.com, Neil Jones thought overall it was a decent result for the Reds given the defensive options missing, assessing it a missed opportunity for Bayern:
This is not a team used to celebrating goalless draws at home, but given the defensive issues which had dogged them heading into this game, they can look upon it as a useful result.

[…]

They will, however, surely view this as a missed opportunity. Liverpool's chin was exposed tonight, and Bayern failed to land a blow.
The Independent's Mark Critchley felt it was a result "neither side will be happy nor unhappy with", but thinks Bayern's willingness to settle for a draw could come back to haunt them:
A strange game ended in a strange result that neither side will be happy or unhappy with.

[…]

As the game went on, Bayern appeared more and more content with denying Liverpool a home win. That confidence could ultimately be misplaced.
Reporters thought the mutual respect between the side's shone through, making for a "throwback" European tie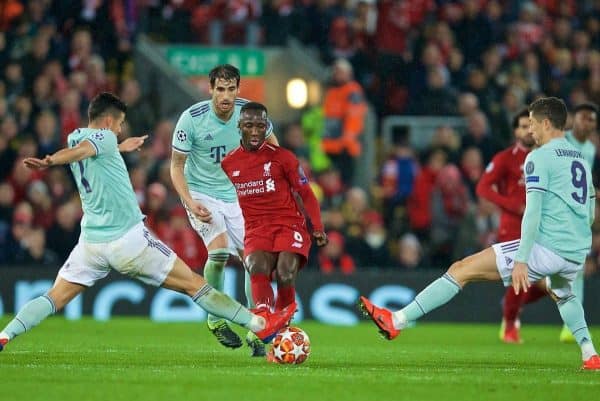 The Mail's Martin Samuel assessed it as a "throwback game" to the more traditional, cagey European first legs of yesteryear:
It was a throwback of a game, after Liverpool's high octane encounters last season. Munich kept a full strength forward line at bay and frustrated the home crowd into a state of tetchiness.
The Telegraph's Chris Bascombe was among a few reporters who felt a strong mutual respect between the sides compromised the entertainment:
This game did not live up to its billing. It was messy and unfulfilling, the Italian referee far too prominent to facilitate a reconstruction of the Dortmund v Bayern epics Klopp was accustomed too in his Bundesliga years.

[…]

Perhaps it was the mutual respect that made it so stifling.
The Independent's Simon Hughes thought the level of respect was illustrated by both side's taking different tactical approaches to usual:
Liverpool did not stream forward like they can do and instead waited for Bayern mistakes. Ultimately, they should be credited for their patience.

Similarly, Bayern's midfield was a base of two and this squeezed the space around Roberto Firmino. Ultimately, they should be credited for their pig-headedness.
The Mirror's Steve Bates credited the German side for delivering a performance "full of expertise and experience":
But a clash which promised so much fell flat at Anfield as the German's frustrated the Liverpool boss with a performance full of expertise and experience.
Standard Sport's David Lynch thought Niko Kovac got his tactical plan right to counter Liverpool's threat, noting how Bayern made life difficult by bypassing the Reds' press:
The Germans' plan to bring the Reds' press onto them and play from there was similar to Pep Guardiola's approach here, and it worked to a tee in the first 20 minutes.
However, the Mail's Ian Ladyman was surprised by Bayern's lack of ambition given Liverpool were so under-strength in defence:
Bayern were unusually unambitious, here. They sought to contain.

The fact they were facing a Liverpool central defensive pairing that comprised the fourth best centre half at the club and a central midfield player was not enough to tempt the Germans to consistently engage.
The media praised Jordan Henderson's performance and were also impressed with Fabinho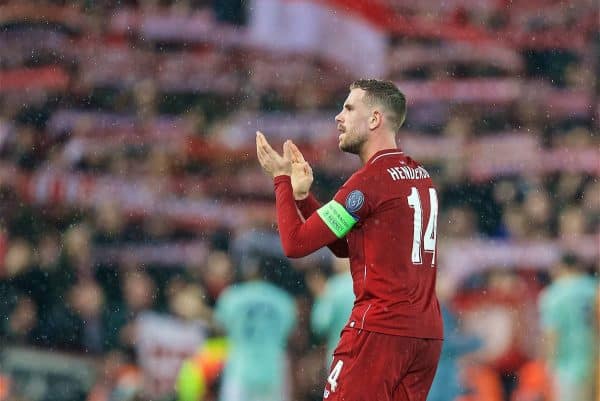 Lynch thought Henderson was the best midfielder on the pitch and lauded the captain's energy to control the midfield on the night:
Coming up against the likes of Thiago Alcantara, Javi Martinez and James Rodriguez, the Englishman made a fair pitch to be considered the evening's best-performing midfielder.

His energy and criminally underrated passing range were crucial to the Reds wresting control of the centre of the park back following a ropey first 20 minutes.
Bates praised Henderson's "leading" display and, perhaps going one step too far, stated that the captain is proving himself a worthy successor to Steven Gerrard:
Jordan Henderson had a mountainous task to follow Kop legend Steven Gerrard as Liverpool captain. But the level-headed England star has proved himself a more than worthy successor to Gerrard.

Like the Anfield hero before him, Henderson leads by example and against Bayern Munich's clever midfielders the Wear-sider put in another huge shift full of energy, commitment and passion.
Jones thought Fabinho and Joel Matip did an excellent job up against Robert Lewandowski:
As it was, Liverpool began with midfielder Fabinho partnering Joel Matip at centre-back. An untried, makeshift partnership against Robert Lewandowski, one of the world's premier centre-forwards.

A worry, yes, but give credit where it is due. Liverpool handled Lewandowski, and just about everything else Bayern could muster, excellently.
And Jones believes Fabinho is now proving to be an inspired piece of business, even more so with his ability to play different positions:
What a superb signing Fabinho is proving to be for the Merseysiders.

Having started slowly, and taken time to find his feet following his summer transfer, the former Monaco man is emerging as a key figure for Klopp's side – wherever he plays.
The Mirror's David Maddock singled out Gini Wijnaldum as the star man, labelling the Dutchman the "unsung hero" of Klopp's team:
But he and they emerged without conceding when it could have opened the floodgates. And that led to at least a semblance of calm being restored which allowed Klopp's men a foothold in the game.

[…]

And for that, Gini deserves the praise of the Kop… and maybe, just maybe, some recognition for the hard yards which make him an unsung hero.
Numerous reporters offered thoughts on where Liverpool lacked on the night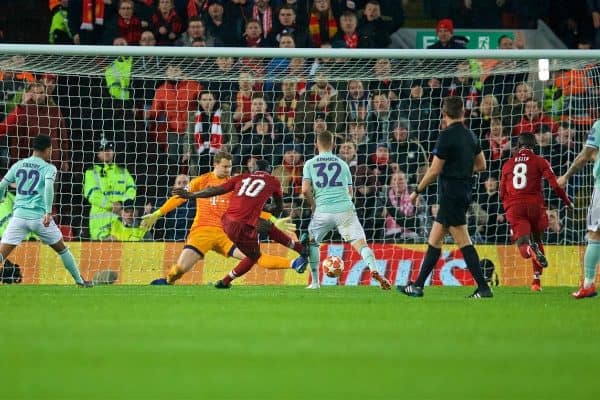 ESPN's Glenn Price thought the Reds were below par again after an extended break, and pondered whether the warm weather training camps have failed to have the desired impact:
The Bournemouth game aside, the level of performance in 2019 has to be a tad concerning for Jurgen Klopp.

[…]

Liverpool's sloppiness will raise the question in some quarters about the decision to go on another warm-weather trip in the lead up to this game.
The Mirror's John Cross thinks Klopp's men are struggling for form as a result of lacking momentum currently:
But the bigger picture for Liverpool must be of concern to Klopp because the European stalemate means they have now managed just one win in their last four games.

[…]

They will not worry too much about the Champions League if they can win their first title in 29 years but they must find their momentum and rhythm from somewhere if they are to win either trophy.
The Guardian's Andy Hunter thought Liverpool lacked intensity and pondered whether this was the result of the Premier League title push subconsciously being prioritised:
The Champions League has provided an inspirational release for Liverpool during barren times in the Premier League but the dynamic has altered with Klopp's team in pursuit of the club's first championship since 1990.

Perhaps that explained the initial lack of intensity and certainty in Liverpool's performance with a key domestic date awaiting at Manchester United on Sunday.
Meanwhile, TIA's Karl Matchett thinks the goal-scoring burden is currently too reliant on the front three and called for more goal-threat to be provided from other midfield:
Without Wijnaldum playing the much higher-running, attacking role as he did against Bournemouth, and in Alex Oxlade-Chamberlain's continuing absence, there's simply nobody from the centre of the park whoever looks like a match-winner.

[…]

Klopp has to find a way to free up another player somewhere in the side and not continue this over-reliance on the main trio.
However, Bascombe took positives from the new-found mature approach to Liverpool's play in attempt to sustain challenges on multiples fronts:
Curiously, even amid the disappointment, this felt like a more mature, less haphazard Liverpool than last year, ready for the game of bluff with a canny opponent – even if the thrilling end product was absent.
Certain journalists looked ahead to the make-or-break second leg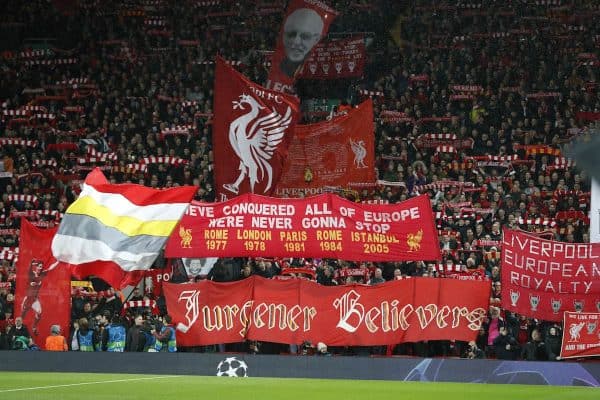 Hunter noted how Liverpool's European away form will have to improve immediately and significantly in order to progress in Munich:
Liverpool must improve significantly on their European away performances so far this season to preserve their hopes of going one better in this season's competition.
But Pearce believes there is nothing for the Reds to fear at the Allianz Arena:
There's no reason for Liverpool to fear the return leg at the Allianz Arena on March 13 as Klopp looks to extend his 100% record in two-legged European ties during his Anfield reign.
Finally, BBC's Matthew Henry provided a slightly concerning statistic, showing the size of the task facing the Reds in Munich:
In Champions League history, 31 sides have drawn the first leg of a knockout match at home 0-0 but only 10 have progressed.