Liverpool went back to the top of the Premier League with a point taken from Old Trafford, but it feels a lot more two points dropped than onen point gained.
Man United 0-0 Liverpool
Premier League, Old Trafford
February 24, 2019
---
Milner at Right-Back…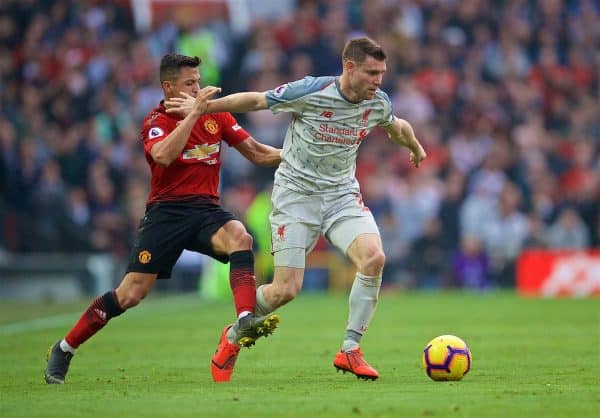 Handed a surprise start over Trent Alexander-Arnold at right-back, the game was a big opportunity for James Milner.
While last season he was a must-have for Jurgen Klopp in any kind of crunch fixture, thanks to his industry, tactical discipline and versatility, a clutch of new signings and impressive youngsters means that's no longer the case.
Thus, when given the chance against a key opponent, he needed a big display to show he should still be a consideration at the very least, albeit out of his preferred main role.
His first half at Old Trafford, however, was extremely poor.
A rash tackle on Paul Pogba earned him a needless yellow card, particularly worrisome given United's counter-attacking measures and Milner's red card against Crystal Palace, but he could have redeemed that with his on-the-ball efforts.
There too, though, he was ineffective, with his crossing atrocious: he had time and space on at least three occasions to deliver, yet found nothing but the fans in the stands.
He's left out with increasing regularity when others are available and did nothing here to change that order of merit.
Salah Fails to Shine at United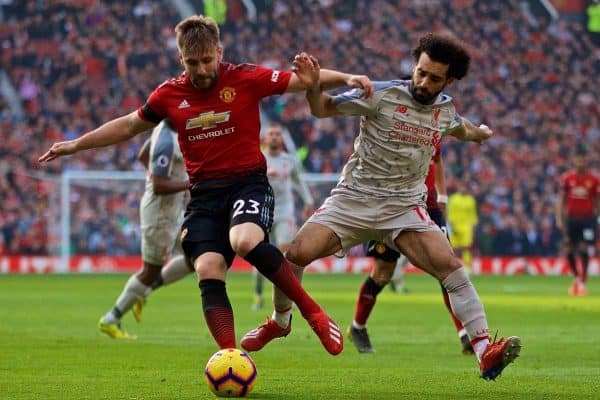 Goalless, drawing, wanting a win—and Mo Salah, the top scorer of the team and the league, was subbed off with a little more than 10 minutes to play.
And it was arguably the right decision.
The Egyptian barely had a positive, progressive kick of the ball all afternoon, nailed down by Luke Shaw in the wide areas and unable to find space centrally.
He didn't really offer an outlet at any point and certainly wasn't a goal threat, with a first-half free-kick woefully off target.
Salah has struggled more than once against United and they remain the sole top-flight side he hasn't found the back of the net against in the league.
In contrast to how the likes of Luis Suarez or Fernando Torres used to raise their performances against the Red Devils and find match-defining contributions, this was a concern and a frustration to watch the No. 11 toil.
Injuries, Depth and Chances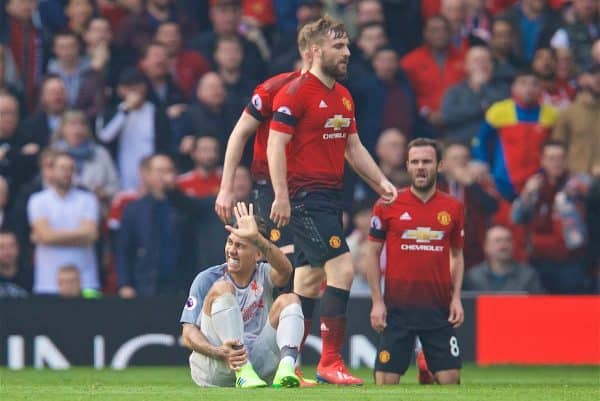 Squad depth is a constant process, but there are always players who seem somewhat more indispensable than others. For Liverpool, it has for a couple of seasons now been "the front three", as if they were a single entity.
Lose any one of them and is the quality there in reserve, to last a few weeks and still find goals to win games? Tottenham, for example, have just had to do exactly that, shorn of Harry Kane and Dele Alli.
At Old Trafford, United suffered three first-half injuries of their own—but Liverpool lost Roberto Firmino, an ankle injury after an awkward misstep ending his afternoon early.
Daniel Sturridge got the nod for the hour after barely featuring since the turn of the year, ahead of Divock Origi or Xherdan Shaqiri, whose arrival would have seen Mo Salah moving central.
Being without Firmino now could prove problematic for the Reds, but the lack of chances created was, again, more of a concern.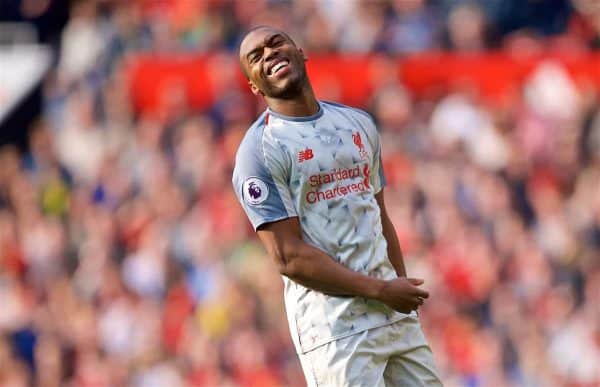 Sturridge fashioned himself a shooting chance from range within seconds of coming on, but what was created for him with a pass, a through ball, a cross? Not a thing.
Rumour has it Origi came on in the second half, but there was more chance of Mourinho delivering United's half-time motivational team-talk than of the Belgian repeating his derby day heroics.
Firmino injured, Salah subbed off, Sadio Mane one of the poorest on the pitch.
Now we are beginning to see the issues with a lack of alternative attacking options.
Performance Level: Low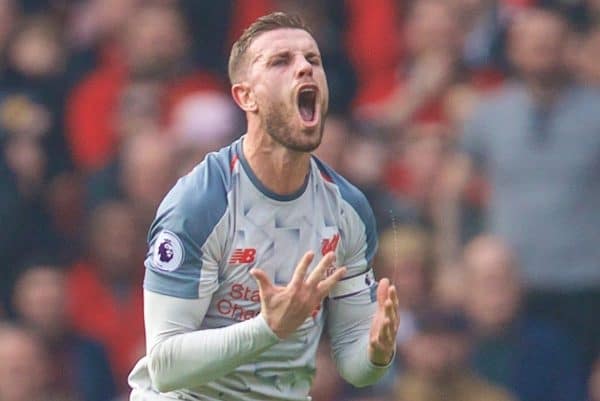 This was a massive chance for Liverpool to take a big three points and, arguably as importantly, show the capabilities in the squad and what they're capable of.
They needed a good performance, as much a result, once it became apparent that United were decimated through injury, defensive in outlook and happy to settle for a point.
The Reds should have been all guns blazing: pressing, energy, movement, tempo, shots on goal from any angle possible.
None of it was on show, and that was abysmal from the players, leaving Klopp fuming on the touchline.
Forget the home draw at Leicester, this turned out as far more of two points dropped.
Next Up

Frustrations aside, Liverpool are back to the top of the Premier League table.
A little similar to when the Reds drew against Blackburn to go top under Rafa Benitez, perhaps, with the frustrations that come along with that, but the title remains in their own hands.
Next up it's Watford at home, then Everton away—and from here until the end of the season, every match has become must-win.
It's still in Liverpool's hands, yes, but there is no further margin for error. Man City will be relentless in their pursuit, ready to pounce on any slip-ups—so any more dropped points for the Reds must, from a psychological perspective, come only after City themselves have failed to win.
There will still be another twist or two in the final stretch of games, but a win each time and the title is Liverpool's.
To win each game, though, the performances must be more proactive, braver, more aggressive—better—than this one was.