Jurgen Klopp is relishing the prospect of facing off against an old rival as Liverpool test their mettle at home to Bayern Munich in the Champions League.
After a lengthy break that saw them train in Marbella, the Reds are back in action on Tuesday night, and back in Europe, where they take on Bundesliga champions Bayern.
Drawing Niko Kovac's side in the last 16 seemed something of a foregone conclusion given Klopp's time in charge of rivals Borussia Dortmund, and it will be a familiar night for the 51-year-old.
Speaking at Anfield on Monday afternoon, the manager reflected on Bayern's 'difficult' start to the season—sitting second in the league—and whether that makes things easier for Liverpool.
"Pretty much how it is most of the time, when Munich has a difficult situation there's moaning on the highest level," he said.
"After being six years the dominator of the league it was clear that this year would be a more difficult year.
"Actually it's a completely normal situation, they are two points behind, with Dortmund playing tonight, they play Dortmund at home, so nothing is decided in the league.
"They are still in the cup and in the last 16 of the Champions League, so that's a completely normal situation for a high-quality team.
"To become champion you need to have desire of a newcomer combined with the quality of a real contender, at the beginning of the season maybe they didn't have that, but meanwhile they are chasing the league as though they have it back.
"So from my point of view it makes them even more dangerous, more a threat, than they were before, because this is a competition they were traditionally, historically, always good.
"But we have our own targets, our own aims, we want to be strong, we want to show [that]."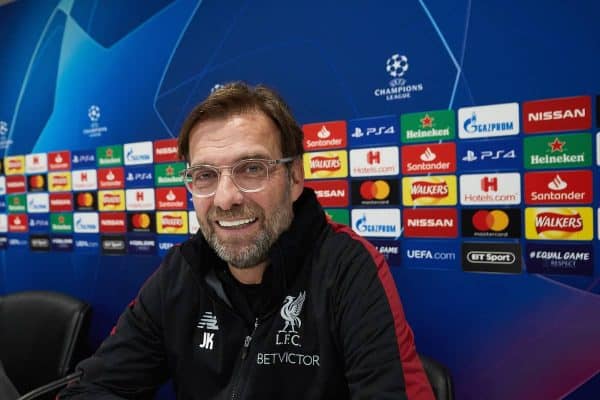 The manager also provided an update on the fitness of his squad, with Dejan Lovren and Xherdan Shaqiri still doubts, and whether he was planning to start Fabinho at centre-back.
He would not concede whether the Brazilian was in line to drop back into defence, but stressed that, regardless, it would need to be a team effort against Bayern.
"We thought it made sense that we didn't have our last line defending against Bayern alone, it depends all on how we defend in general, that's it," he explained.
"There will be a lot of moments where we have to defend, we worked on that obviously, we tried to work on that because we respect the quality of Bayern Munich a lot.
"Speed, technique, experience, all that you need to be successful is there. We respect that and try to make the best of the situation."