Virgil van Dijk has acknowledged that continued changes to Liverpool's back four have made things more difficult, following their 1-1 draw at West Ham.
The Reds have suffered with injuries to Joe Gomez, Trent Alexander-Arnold and Dejan Lovren of late, while stand-in right-back James Milner was suspended for the draw with Leicester.
Van Dijk and Andy Robertson have been the only constants, therefore, and this has seen Liverpool fail to keep a clean sheet in any of their last three games, shipping five.
They were again disappointing at the London Stadium, switching off a number of times in set-piece situations, including for Michail Antonio's equaliser.
Speaking to Sky Sports after the game, Van Dijk gave his take on their errors in dealing with the Hammers' dead-ball approach.
"That's their strength. They practise and they showed it," he analysed.
"For us, it's better not to give easy balls away. Sometimes the referee was a bit easy, but it's his decision."
And on the subject of an ever-changing back four, the Dutchman conceded that it has made things more difficult.
"I think all the players who have come in have enough quality to do the job and fill in," he explained.
"But obviously when you have a back four that doesn't change it's maybe a bit easier. But like I said we have enough quality."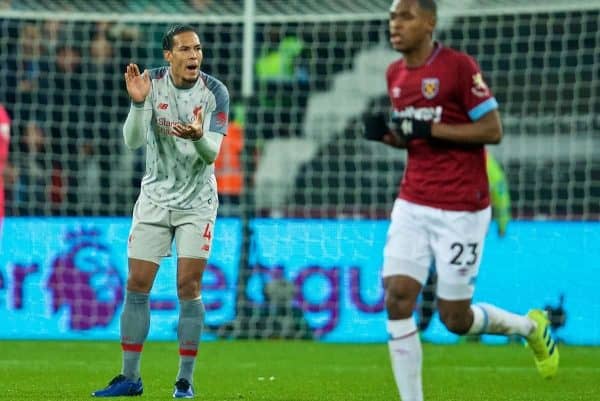 Regardless, the centre-back – who Klopp says lost four kilos during illness before the Leicester City game – believes that despite dropping four points in their last two games, a three-point lead at the top of the Premier League still gives them confidence.
"What can we do? We take it game by game," Van Dijk continued.
"We're still top of the league, obviously we've made it hard for ourselves.
"But let's embrace it, enjoy it. Today was disappointing but we still have games to play.
"I'm always enjoying it, you need to enjoy it. Remember you can also be playing for nothing.
"We're still in the race, and City as well, so we need to be at our best for the rest of the season.
"It's something we want to do, today we're a bit disappointed but we go again."
Liverpool are next in action on Saturday, when they take on Bournemouth in a 3pm kickoff at Anfield.