Since joining from Hull, Andy Robertson has established himself as Liverpool's best left-back in the Premier League era, but there is still a key area to improve.
During the 15 years that I wrote The Kop Magazine between 2000 and 2015 there were a number of recurring themes.
Liverpool didn't win the league, Everton didn't win anything—including at Anfield—and every season seemingly ended with an article about how the Reds need a left-back.
Er, apart from when Jamie Carragher was playing there in 2000/01, something I need to categorically state as Carra reads everything plus his dad Philly might still have my phone number and he isn't afraid to use it.
All joking aside, Carra was the best left-back that Liverpool had in those 15 years and I say that as someone who saw Christian Ziege, Djimi Traore, Gregory Vignal, John Arne Riise (who was better in midfield and got most of his goals from there, before they take umbrage in downtown Alesund), Stephen Warnock, Fabio Aurelio, Emiliano Insua, Alvaro Arbeloa (occasionally), Andrea Dossena, Jack Robinson, Paul Konchesky, Jose Enrique, Aly Cissokho, Jon Flanagan (who was good in 2013/14) and Alberto Moreno play there.
A couple of them should have been left back at their previous clubs.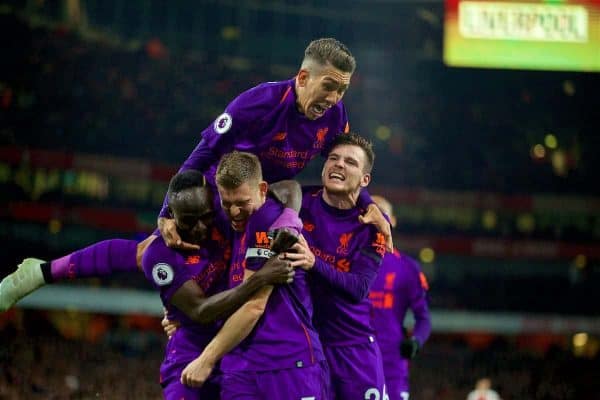 James Milner then put club before personal enjoyment by operating at left-back in 2016/17, but since halfway through last season Liverpool's most problematic position has finally been resolved.
Sorry Carra and the Dicks (Julian), Bjornebyes and Stauntons that came before you, but Andy Robertson is the best left-back the Reds have had in the Premier League era.
Robbo would run through Hadrian's Wall for LFC—a quality that might prove to be useful in the post-Brexit era if the SNP ever get their way—but simply labelling him as a hardworking, committed left-back would be grossly unfair.
We had one of those in Steve Harkness 20-odd years ago but the difference in quality between Robertson and Harky is like night and day.
The Premier League have officially credited Robertson with eight assists this season. No Liverpool player has more.
Indeed, only six players in the entire league have made more assists: Eden Hazard has 10 with Christian Eriksen, Ryan Fraser, Raheem Sterling, Leroy Sane and Raheem Sterling all on nine.
Not many defenders in that list, eh? Just very expensive attacking players and Ryan Fraser.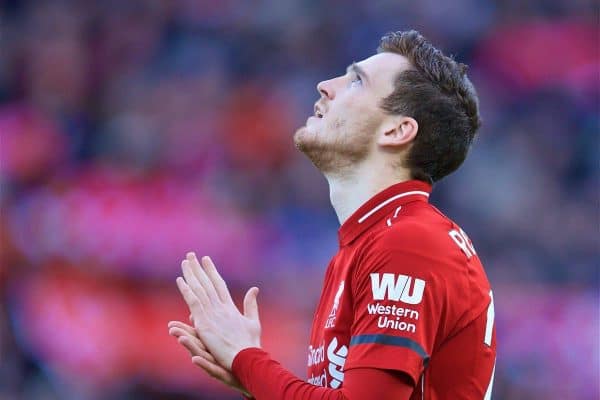 Another stat says that Robertson has made more assists than any other defender in the league since making his Liverpool debut (he got five in 2017/18) while if you add on his goal-creating contributions in other competitions he's now got double figures with 10 assists, a phenomenal amount for a left-back. But where are the goals?
Given some of the positions they find themselves in due to Jurgen Klopp's tactical instructions giving them license to go so far forward that I swear Trent Alexander-Arnold went beyond Anfield Road into Stanley Park at one stage on Wednesday night, Liverpool's full-backs should be contributing more goals.
Having created all five goals against Watford—and I'm pretty sure 5-0 wins with five assists from full-backs are rarer than Brasso in Everton's trophy room—perhaps pointing out now that Robbo hasn't scored all season and Trent's only goal was a free-kick at Watford in November is harsh, but we're trying to win a league title here and goals from full-backs can make all the difference.
We'd be here until a collection of bovines returned to their dwelling if I picked out examples, but there is one that springs to mind from a completely forgotten 4-1 win against sixth-placed Chelsea at Anfield on April 21, 1990.
Kenny Dalglish's side had been on course to win an 18th league title but had a major wobble leading up to that game, blowing a 2-0 lead at home to Nottingham Forest on the Saturday and needing an 86th-minute John Barnes goal to snatch a 1-1 draw at Arsenal in midweek.
It meant that if Chelsea won at Anfield and rivals Aston Villa beat Millwall at home (which they did 3-0) the Villa would go top of the league by a point with just two weekends of the season to play (although the King's men had a game in hand).
Steve Nicol, playing at right-back, scored twice. His first was a far-post header from a cross by left-back John Barnes, his second a fine low shot after Ian Rush played him in.
They were the second and third goals in that 4-1 victory and the following weekend, with Villa only drawing, a 2-1 win against QPR tied up Liverpool's most recent league title.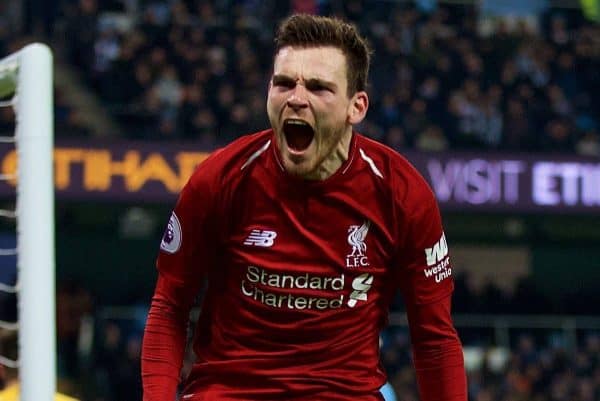 I saw a lot of Nicol growing up as a Red. He's the best attacking full-back I've ever seen play for Liverpool and while the game has changed a lot since then (more tactically aware wide midfielders give full-backs less space to run into, for instance) I believe Robertson can be as important for Reds now as Chico was back then in terms of providing assists and goals.
And best of all, at the age of almost 25 and with his best years in front of him, there's plenty of time for that to happen.
---
Chris McLoughlin writes for This Is Anfield each Friday; he's also senior writer for the Official LFC Matchday Programme and LFC Magazine. You can order both here.