Roberto Firmino is indispensable for Jurgen Klopp's Liverpool, but he remains under-appreciated on the international stage, with Brazil unable to capitalise.
Firmino was Klopp's most-used player last season, the second-most in 2016/17, and this time out has featured in more games (40) than all but Mohamed Salah (41).
He is arguably the most unique talent in the Reds' squad, and in December the manager described his No. 9 as their "linkup player," adding that "[how] we play is possible because he plays how he plays, because he is everywhere."
This ubiquity, borne of a ceaseless energy and commitment to the cause on and off the ball, have effectively made Firmino irreplaceable, and it was a major boost in April of last year that he signed a new five-year deal.
Brazil, however, are still coming to terms with how best to utilise the 27-year-old, who has at least now forced his way into contention under Tite.
He started and played an hour in Saturday's disappointing 1-1 friendly draw with Panama in Portugal, but did not prove as influential for his country as he is for his club.
And assessing the performances of the Selecao in his player ratings for Globo Esporte, Brazilian journalist Alexandre Lozetti provided an interesting insight into why that is.
"[He] once again showed the smart moves he makes at Liverpool and again, [they] were not [appreciated] by the team," Lozetti wrote, giving Firmino a 5.5.
"There is a mismatch between his reading of the game and that of the rest of the national team. It's something for Tite to sort out."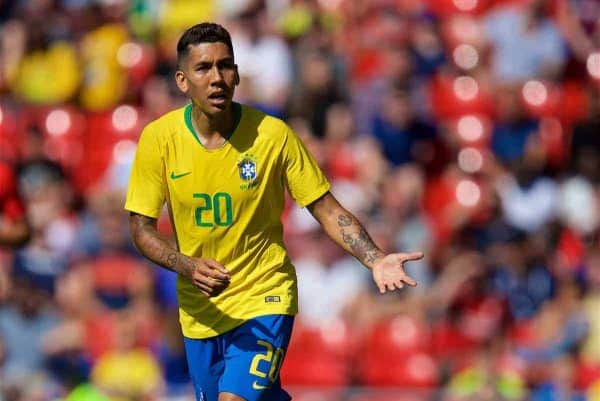 This is a crucial point to make, as Firmino's movement is exactly what makes him so important to Liverpool's success—even, as Klopp attested in February, in being "involved to get the ball or at least open up a gap" for every throw-in.
Tite is seemingly unable to harness this ability, and as Lozetti elaborated further on Twitter, the striker "read the game well," as opposed to being the problem for Brazil.
Firmino is cherished at Anfield, and in Klopp has found a manager perfectly attuned to his approach.
It has even been speculated that his signing in 2015 was orchestrated due to the club's long-term plans to appoint the German.
And though there is no indication it would be the case, it also serves to highlight that it may be unwise to court interest from other sides in the future, as there is no guarantee he would be as successful elsewhere.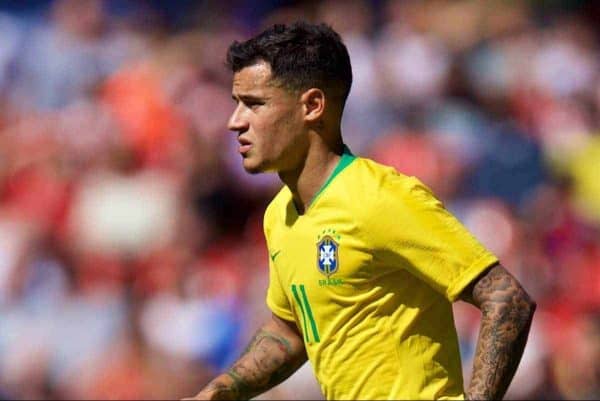 A key example of this was also on the pitch at the Estadio do Dragao, with Lozetti criticising Philippe Coutinho for another "poor performance," failing to execute "simple" passes.
Barcelona will reportedly consider offers for Coutinho in the summer, just 18 months on from his £142 million move from Liverpool.