The media lauded Liverpool's collective display, Jurgen Klopp and the performances of Sadio Mane and Virgil van Dijk in the 3-1 win over Bayern.
The Reds added another special European night to the collection to confirm a place in the quarter-finals of the Champions League for the second season running.
Sadio Mane's brace and Virgil van Dijk's powerful header ensured Joel Matip's unfortunate first-half own-goal had no effect as Jurgen Klopp's side stormed past the Bundesliga outfit.
A daunting task faced the Reds to get a result in the Allianz Arena, but Liverpool rose to the occasion and delivered a clinical performance which Klopp will have been delighted with.
All eyes now turn to Friday's draw but before that, here's how the media assessed a memorable night in Munich.
The watching journalists reflected on a memorable night and were full of praise for a superb team performance…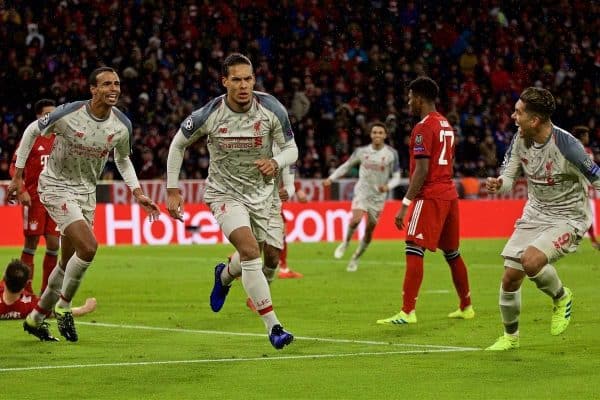 Showering the Reds with glowing praise, the Mail's Martin Samuel assessed the result as one of the best ever by an English side in European competition:
"This was one of the finest results by any English club in Europe, given that Liverpool had drawn the home leg."
The Liverpool Echo's James Pearce labelled it a "special performance from a special team" as the Reds showed "a gulf in class":
"This was a special performance from a special team.

[…]

"Liverpool played with real maturity and control—rock solid defensively, tireless in midfield and packing a punch going forward. There was a gulf in class.
The Telegraph's Jason Burt thought this victory ranks "among the best" of Liverpool's special European nights:
"There have been so many famous European nights for Liverpool down the years, down the decades.

[…]

"But this emphatic victory against Bayern Munich ranks among the best."
Writing for Goal, Neil Jones labelled the victory as a "triumph for the collective":
"Mane and Van Dijk did the damage, but this was a triumph of the collective.

"Liverpool handled setbacks, the loss of their captain Jordan Henderson to injury inside the opening 15 minutes and the disappointment of a carelessly-conceded equaliser after Mane's sublime opener. They took the blows, rode the storm and played their football."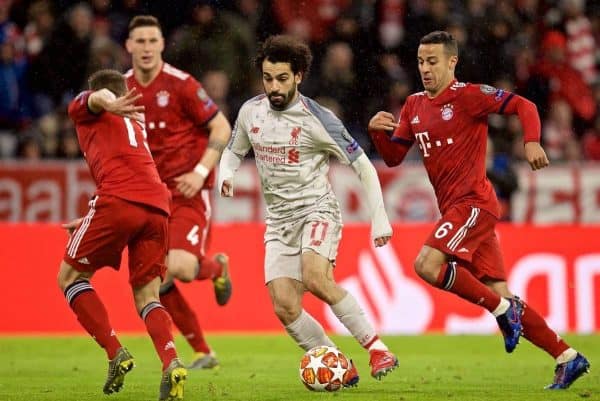 The Independent's Miguel Delaney was brutal in his appraisal of Bayern, but glowing in his praise of the Reds, assessing Klopp's side "a level above" the German outfit:
"Liverpool really just looked a level above a tired Bayern, who more and more resembled what they are: a past-it team with too many players either past their best, or never good enough for one of the other super-clubs.

"Liverpool just looked to have more quality, both individually and collectively, and especially in attack when they swarmed forward."
Burt also discussed the success of English clubs against Bundesliga teams in the Champions League this season, and highlighted Liverpool's triumph as the best of the lot:
"Three Premier League teams have faced three German teams in the last 16 with the aggregate score an overwhelming 17-3 in their favour.

"Tottenham Hotspur have knocked out Borussia Dortmund and Manchester City destroyed Schalke, but this was by far the biggest result."
The media thought Klopp's pragmatic approach paid off and were impressed by the control of the performance…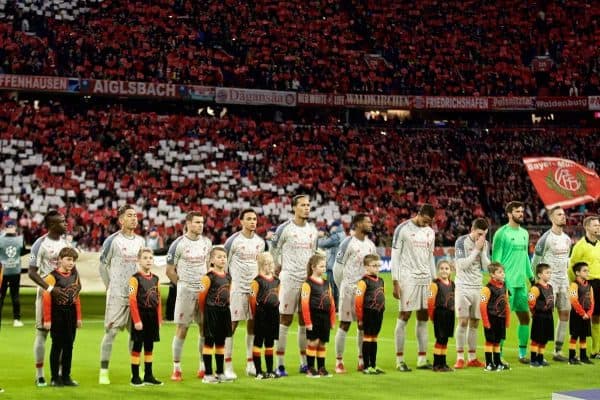 The Guardian's Daniel Taylor lauded a complete performance from the Reds:
"Klopp's players defended stoutly, were clinical with their chances and, more than anything, never showed a flicker of trepidation."
This Is Anfield's Henry Jackson was mightily impressed by Liverpool's control and defensive resilience, and assessed that the "pragmatic" approach worked perfectly:
"This new-found ability to control matches and showcase a more savvy side to their game was there for all to see on Wednesday night.

"There was nothing remotely gung-ho about the performance, with a resolute defensive display standing out against one of Europe's most dangerous teams."
Taylor also thought that Klopp's men got their rewards for being brave away from home, in contrast to Bayern who paid the price for being overly cautious at Anfield:
"Perhaps, on reflection, Bayern will regret not being more adventurous in the first leg. It was premature to celebrate on the pitch, as they did at Anfield, on the back of a goalless draw.

[…]

"Bayern opted for ploys of conservatism on Merseyside whereas Liverpool were far more ambitious with their approach to being on foreign soil."
On that note, Samuel felt this tie showed exactly why a goalless draw in the away fixture is not a good result:
"The goalless away draw is deceptive. On the face of it a good result; in reality fraught with danger. Concede one in the second leg, and the home team must immediately score twice."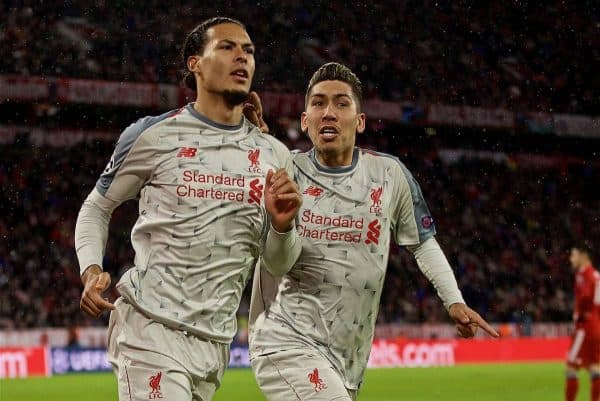 The Independent's Simon Hughes felt such a brilliant performance and result in such a tough venue solidified Liverpool's status as one of Europe's best teams:
"It should be respected how Liverpool managed this game and this tie overall and the manner of their progression characterises not only a heightened maturity and strength but endorses their status amongst the continent's elite."
Going one better, the Mirror's David Maddock believes it is a display that showed Liverpool can win the competition:
"This calm, authoritative display suggests a return this season is by no means beyond the powers of this slick Liverpool side."
The media lauded several individual performances – most notably those of Mane and Van Dijk…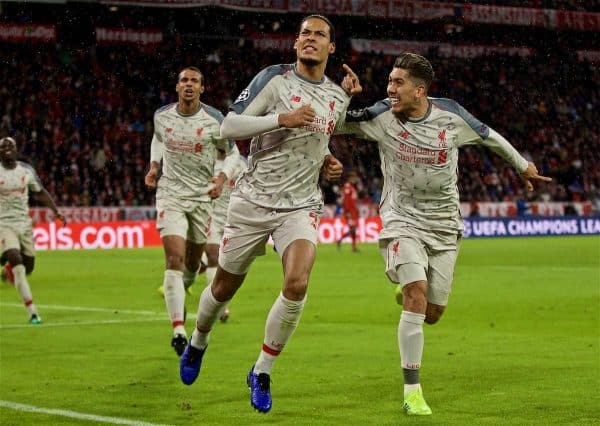 The Mirror's Alex Smith believes Mane is now the most trusted and indispensable of the front three, having taken the mantle from Salah:
"The least fancied of Klopp's forward trinity, Mane, is quickly becoming the most trusted.

"Mane has netted in each of the last six games in which Liverpool have found the back of the net—taking his personal tally to 19 goals this season."
Hughes thinks Mane has been Liverpool's "most consistent performer" since the turn of the year:
"The forward is an underestimated figure in this team and he has been Liverpool's most consistent performer in 2019."
In his player ratings for ESPN, David Usher awarded Van Dijk 9/10 and labelled the Dutchman "the complete package":
"Magnificent yet again. Defensively he's imperious but he brings so much more to the team than that. His leadership, the confidence he inspires in others and the threat he poses from set pieces make him the complete package."
The Independent's Luke Brown lauded Van Dijk's "imperious" display and simply concluded that the Dutchman is Klopp's most vital signing as Liverpool manager:
"Is there a better defender in the world right now? Not only was Virgil van Dijk imperious defensively, but he picked up an assist and a goal to help his team past Bayern.

"Of all Liverpool's signings under Jurgen Klopp, he has surely been the most crucial, and his fitness will be vital to their chances of winning silverware this season."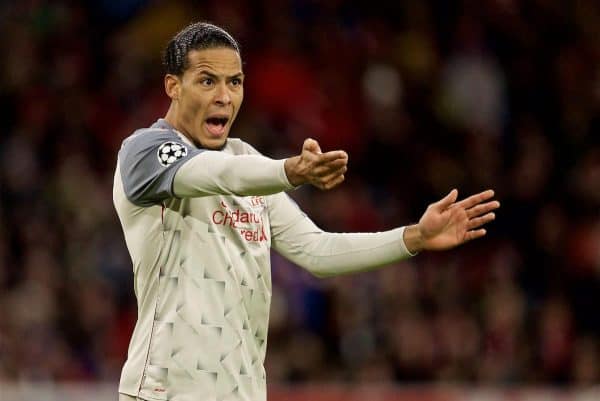 The Guardian's Barney Ronay attributed Liverpool's transformation to a serious rather than fun team all down to Van Dijk:
"Van Dijk has been a remarkable signing, a player who has managed to change every part of the team around him, to provide a whole other gear on his own."
Meanwhile, ESPN's Mark Ogden believes Van Dijk could genuinely carry Liverpool to glory, such is his defensive ability and influence on the team:
"In Virgil van Dijk, Liverpool possess a player who has become so important and influential to Jurgen Klopp's side that he could prove to be the extra-special player who makes all the difference for the Anfield outfit this season, both in the Champions League and back home in the Premier League.

[…]

"Van Dijk, who became the world's most expensive defender when he signed from Southampton last January for what now seems a bargain, at £75 million, quite simply makes his team-mates better when he plays."
Certain journalists reserved praise for Klopp for the work he is producing this season…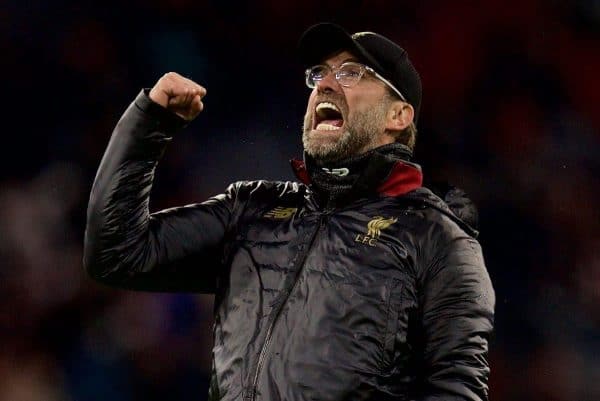 On the night itself, Usher lauded Klopp for getting his tactical plan spot on, noting how Liverpool showed patience before picking off the vulnerable hosts:
"Klopp's side kept things tight and waited until Bayern had to finally abandon their cagey approach and commit players forward. As soon as they did that, Liverpool picked them off. Klopp's plan worked perfectly."
Hughes thought Liverpool's composed reaction to Bayern's fortunate equaliser provided a perfect illustration of how far the Reds have come:
"The pattern of events invited another opportunity to reflect on how far Klopp has taken Liverpool because Bayern's equaliser may have brought anxiety in the past.

"Here, it seemed to fire Liverpool again, just like Burnley's opening goal at Anfield on Sunday did. That they won reminded this is not a team that has a habit of allowing a firm grip to slip away."
Jones lauded Klopp's work in building a side that can now sustain competing for major honours—and also on two fronts:
"What a team Klopp is building here. You can doubt them and criticise them, you can ask them questions but you can't deny the progress being made at Anfield. Premier League contenders, Champions League contenders. This is a serious side."
Finally, reporters discussed Liverpool's chances of Champions League success…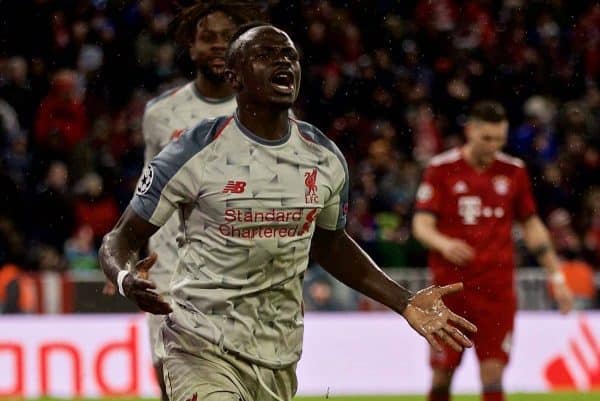 First of all, Pearce believes that Klopp's Reds will be the team every remaining side will want to avoid in Friday's draw:
"Nobody will want to be handed the challenge of facing Klopp's side in Friday's draw."
Jackson thinks the competition is "anyone's to win" and believes the Reds will be just as confident of doing so as any of the remaining sides:
"This is anyone's to win and Liverpool will believe they can going one better than 2017/18 and banish the heartbreak of Kyiv."
Usher feels Liverpool's success in Europe will only help the pursuit for Premier League glory:
"The momentum from a Champions League run can only help with the chase for domestic honours."
Smith thinks Klopp's side are "perfectly capable" of winning both the Premier League and the Champions League:
"The Merseyside club are perfectly capable of winning both domestically and in Europe but they need a bit of luck to make either work."