Joe Gomez is back fit after recovering from a broken leg, but is bringing him into the Liverpool side at such a crucial point in the season a wise move?
Before Gomez was tackled aggressively by Burnley's Ben Mee back in December, he was a strong contender for Liverpool's Player of the Season award.
Even Virgil van Dijk, who is now the undisputed favourite to take home that accolade, had arguably not been as impressive.
Used predominantly as a centre-back—the role he was signed from Charlton Athletic to excel in back in 2015—Gomez was a colossal, but measured, presence in Liverpool's back line.
The injury suffered at Turf Moor was the latest setback for a player still only 21 years of age, and it has impacted on Liverpool's season, albeit not too severely.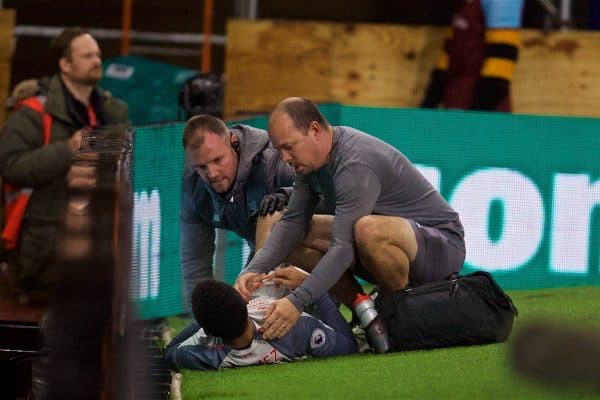 The Reds looked unbreachable with Gomez and Van Dijk in unison, conceding just five goals in a largely immaculate opening 13 Premier League games—11 of which Gomez started.
Some starring roles for England in the autumn also singled out Liverpool's young hopeful as a future captain of his country, and Gareth Southgate remains a big admirer.
A Gomez-shaped void suddenly appeared in Jurgen Klopp's side when he was missing, however, and the perfection that existed beforehand was not on show.
Liverpool's defensive record has admittedly remained outstanding without the youngster—only 13 goals have been conceded in the 17 league games he has missed—but they have also looked more susceptible.
With Gomez back in full training and in contention to feature, Klopp has a huge decision to make.
Throw Gomez Back In?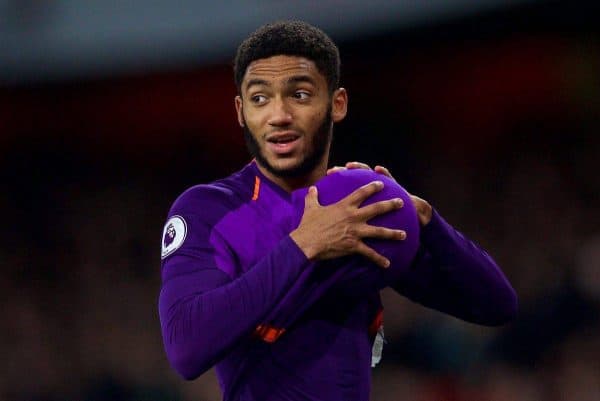 Gomez's brilliance as a player is unquestionable, and any debate surrounding whether or not he is superior to Joel Matip and Dejan Lovren is likely to be one-sided.
Bringing him straight back into the team may sound like a no-brainer, but there are clear risks that would come with that decision.
Liverpool find themselves approaching one of the biggest periods in their recent history—a two-month spell that could either end in immortality or crushing disappointment.
Klopp will want his players primed to launch an assault on both the Premier League and Champions League, with fitness levels and mental fortitude needing to be unrivalled.
So could Gomez, having missed over three months of action, realistically come in and perform like he was prior to Christmas?
Asking that of any player is difficult, but a maturing centre-back with a history of injuries could take longer to recapture his rhythm.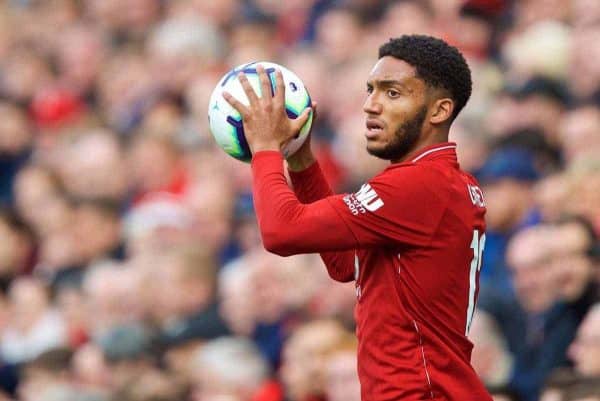 What if Gomez was thrown back in, looked off the pace and ultimately cost his team a trophy because of it?
Only last season we saw him return from another layoff and look horribly out of step, with performances in back-to-back draws with West Brom and Stoke in April earning criticism.
It was harsh, of course, considering he had been absent for over a month, but rationality is overlooked when supporters are so keen to see their team win.
Alternatively, Gomez could come straight back in and look imperious once again, making a key difference in the run-in.
The title race is on such a knife-edge, not to mention the possibility of a sixth European Cup being won, that the finest detail could decide who comes out on top.
It makes Gomez's possible involvement an obvious gamble, but it is something that must be crossing Klopp's mind on a daily basis.
Show Faith in Matip?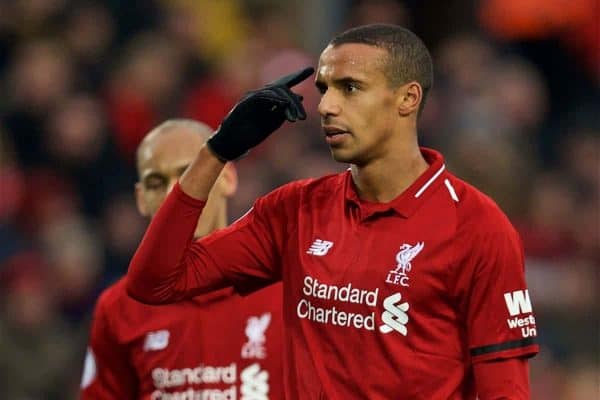 While Gomez and Lovren have been sidelined, the similarly injury-prone Matip has stepped up and delivered, which he deserves great credit for.
A gangly, slightly timid presence, it is hard to ever feel completely at ease with Matip on the pitch, but he has raised his level.
The own goal at Bayern Munich was not his fault in the slightest, and while he was fortunate not to score another at Old Trafford—the offside flag spared his blushes—his displays have been assured.
The last time Matip started a match and Liverpool lost was away to Red Star Belgrade in November: a run of 14 games without defeat.
Taking him out of the side wouldn't necessarily be changing a winning formula—Liverpool have drawn five of the last 10 games that he has started—but it would potentially upset a balance that has been created at the back.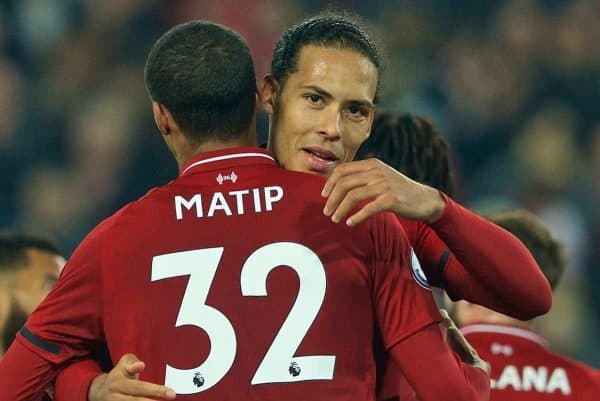 Matip may not be good enough long-term, but like Lovren, he has demonstrated his worth enough times to be trusted over a shorter period.
On the flip side, however, the level Gomez can reach is something Matip is incapable of, and the Reds feel more secure when he is in the team.
Do you go with your best players, or only play them if they are 100 percent ready?
Live & Die by the Sword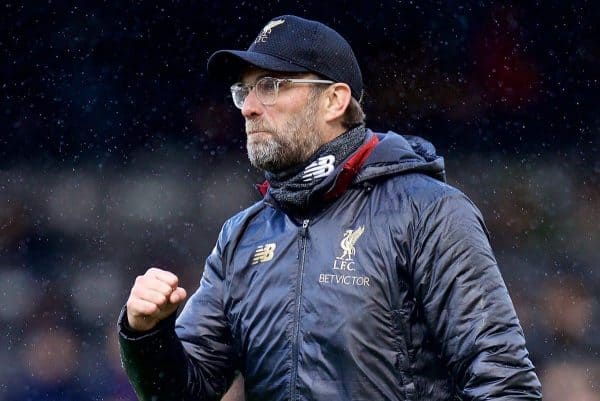 As Liverpool's league and European bids get back underway, only time will tell if Klopp's decision ends up being the correct one.
Centre-back is one area of the pitch where it is hard to bring injured players back in and get back up to speed immediately, especially at this point in a campaign.
This is an area sports performance scientist Dr. Rajpal Brar discussed in his analysis of Gomez's injury record for This Is Anfield earlier in March:
"Being out the original six weeks and then coming back into the thick of things was already a concern in my eyes because significant shifts in training intensity and volume increase injury risk.

"Now that the timeline is even longer, his fitness level will dip even more relative to pre-injury levels.

"I always caution to bring a player back slowly and gradually to allow them to acclimate physically and also mentally with their confidence level."
Bringing a defender on after 70 minutes, as you would a midfielder or an attacker, has more chance of going awry.
So if Gomez is brought back in, fails to hit his pre-Christmas heights and Liverpool win nothing, Klopp's lack of faith in Matip, or possibly a fit-again Lovren for that matter, will be criticised.
Should the England international be sat watching on the substitutes' bench as a Matip lapse proves fatal, however, fans will be incredulous at his lack of involvement.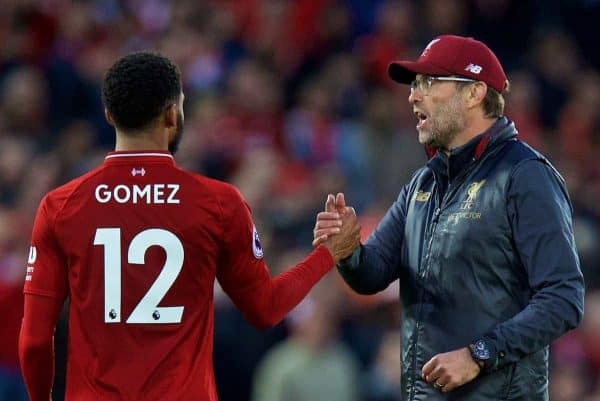 The romantic option is to get Gomez back on the pitch as soon as possible, simply because he is Van Dijk's best partner.
Perhaps the more sensible choice, at least in the coming weeks, is to reward Matip for a string of solid displays and show belief in his ability.
Either decision could pay off handsomely or backfire spectacularly.