Liverpool reached the Champions League quarter-finals with a 3-1 win over Bayern Munich on a night with plenty of positive talking points.
Sadio Mane scored twice and Virgil van Dijk netted a towering header, to render Joel Matip's unfortunate own goal irrelevant and give the Reds a first-ever win over the German champions in their own stadium.
A controlled and disciplined performance kept the free-scoring Bundesliga side at bay and the Reds head into the last eight for the second year in succession.
It might not have been vintage Liverpool in terms of fluid play, exuberant attacking and sweeping all before them aside, but against one of the giants of European football it was accomplished, impressive and more than enough.
Once more, Jurgen Klopp's side showed their genuine quality at the elite end of the game.
Looking at the biggest positives and negatives from the game are This Is Anfield's Karl Matchett (@karlmatchett), podcaster James Nicholson (@_11JN) and Reds fan Jason Roberts (@Ja5onRoberts).
The good…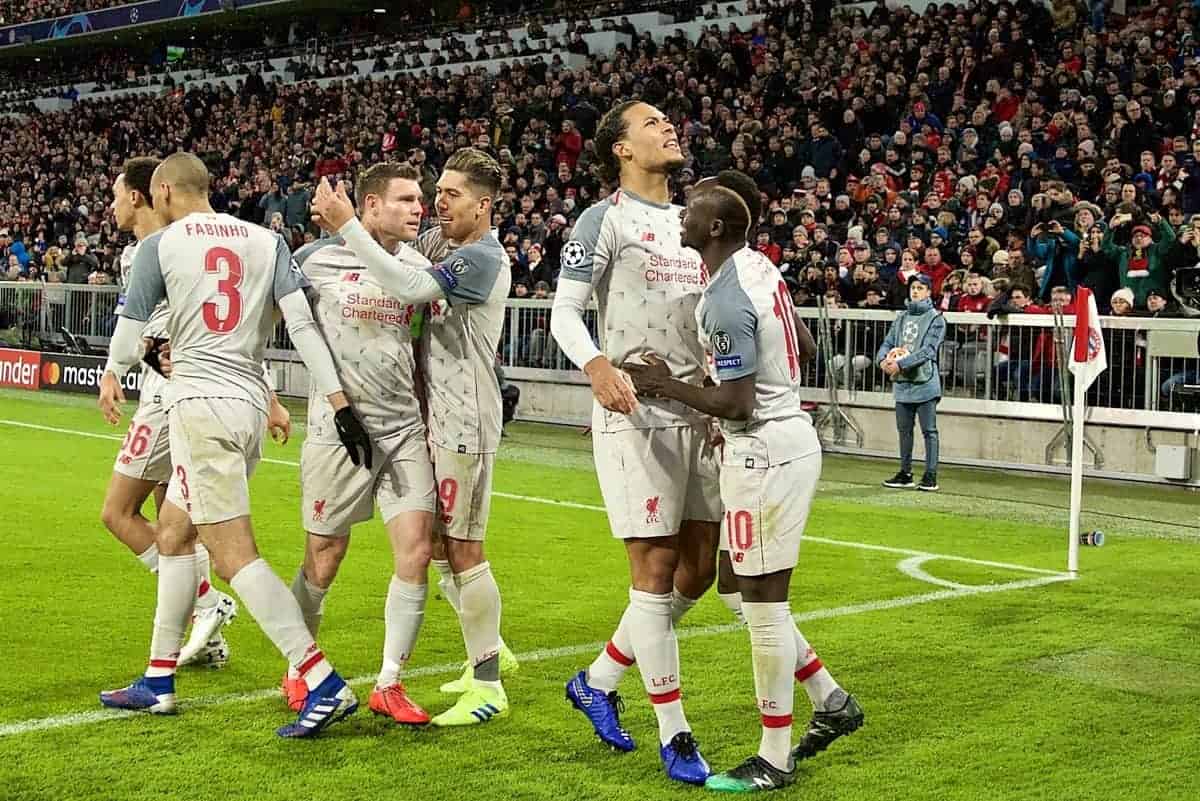 JASON: Sadio Mane. Not just for his goals, but his overall work rate was really impressive and key to disrupting the Bayern defence.
His constant harrying ensured that their players were under continuous pressure and he also tracked back to assist in winning back possession in our own half.
Van Dijk and Matip produced another dominant display, particularly from Virgil who continues to bring organisation, leadership and calm to the back line. Capped off his impressive performance with a goal.
Matip had a great game too and it would have been so unfair had we lost and the focus been on his own goal. He nullified their attacking threat well, battled for the team and played on the front foot.
JAMES: Mane and Van Dijk were Liverpool's best players on the night, and not just for their goals—Mane is a rich vein of form and is making life so difficult for every defender he comes up against, similar to his form in the second half of last season.
Van Dijk's commanding presence once again shows how important he is to this side. He produced the biggest moment of the match with his game-killing goal. Bayern had nowhere to go after that.
Biggest positive overall would have to be getting our first away win in the Champions League this season and doing so in such style.
Tonight was the perfect example of those special European nights where it's all to play for, but Liverpool dug deep to pull out one of their most complete performances of the season.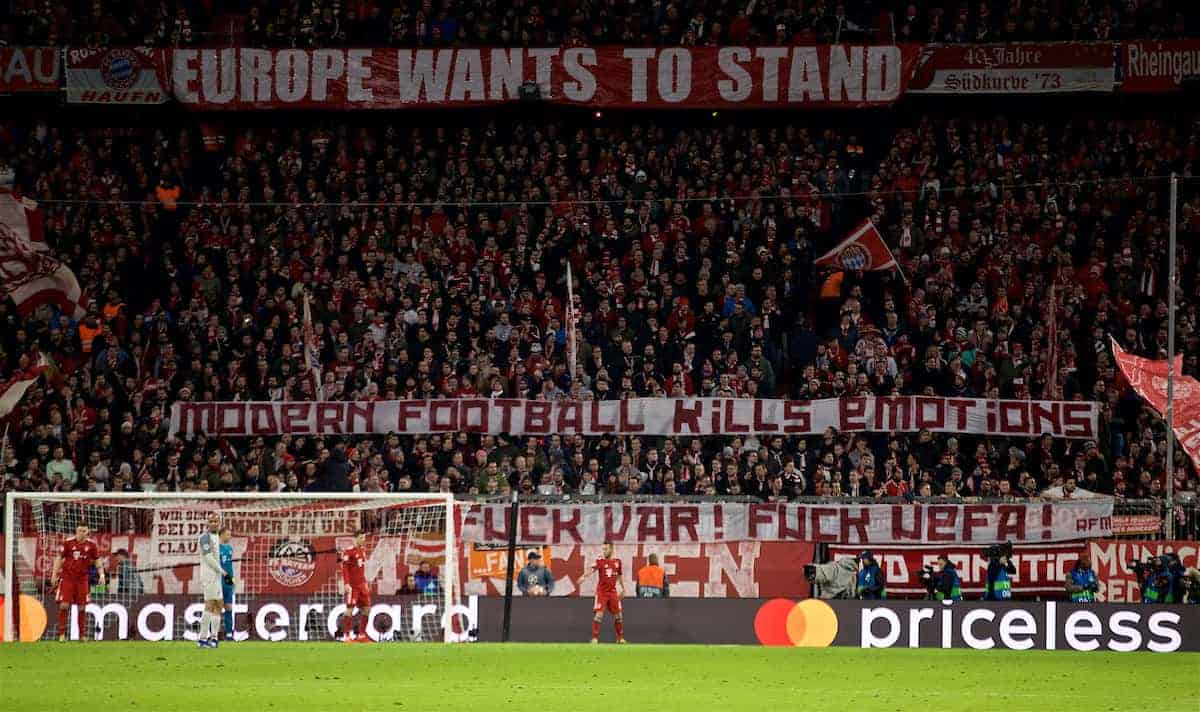 KARL: Agreed on the stand-out players, but there were a host of important shifts put in with movement off the ball, closing down, keeping positions well and so on.
Mo Salah and Gini Wijnaldum were particularly key in this regard.
I thought the atmosphere was fantastic all game long; the Allianz is the best stadium I've ever been at and for the Reds to not just qualify, but to win, was exceptional.
In the build-up I spoke about needing the best away performance of the season—that's precisely what we got, not in terms of technique or creativity, but work rate, a tactical plan and a clinical edge.
…the bad…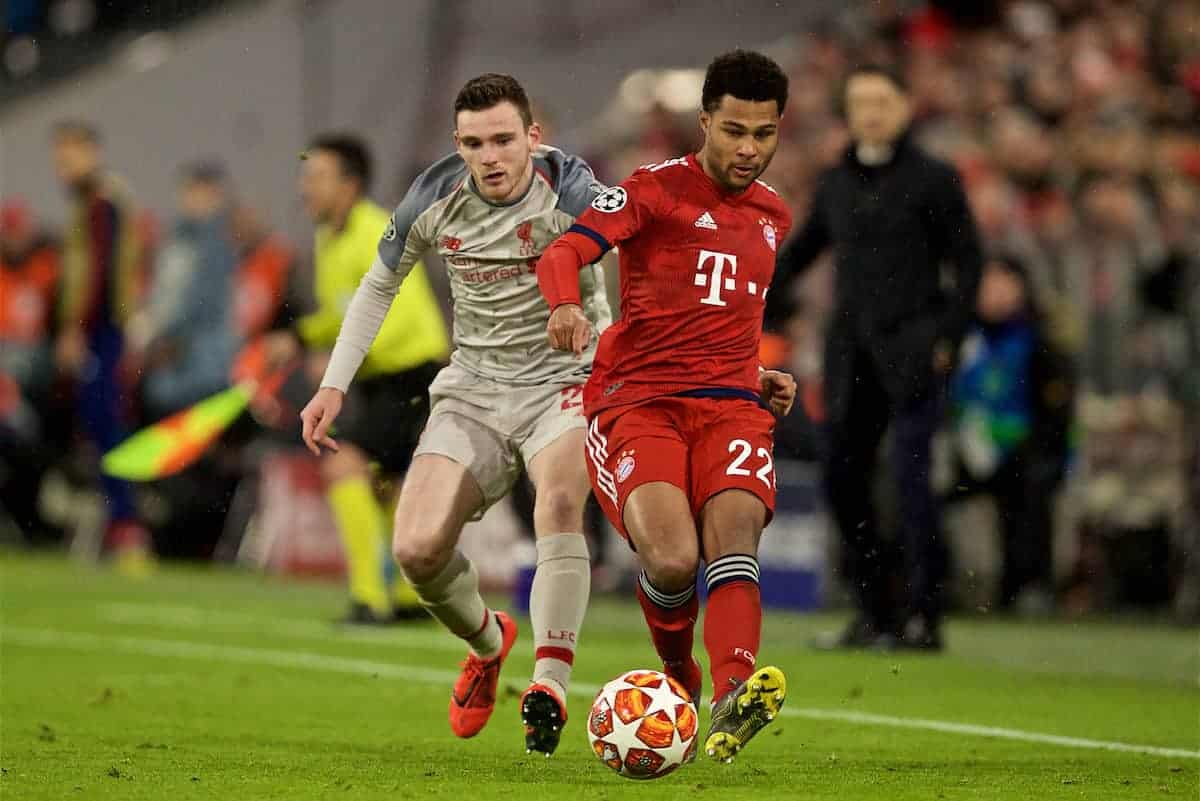 JASON: The Andy Robertson yellow card.
Unfortunately, his form has dipped somewhat based on the very high standards that he has set for himself and, whilst I was impressed with how the team kept their composure as a whole, a moment of madness from Robbo now means that we are without him for the first leg of the quarters.
The midfield—more specifically Milner and Wijnaldum. It was frustrating the fact that we struggled to get a foothold on the game, in the first half especially.
Fabinho came on and was visibly trying to dominate the centre, but I felt that he could have done with more support from his colleagues who both looked tired and off the pace. None of the three covered themselves in glory with their misplaced passing.
JAMES: The only negative to take away is Robertson's yellow card in the 91st minute.
He'll be a huge loss for Liverpool down that left-hand side.
Alberto Moreno isn't match-fit and doesn't provide the defensive stability as well as the attacking prowess Robbo gives. Milner is surely the obvious choice to replace him, being match-fit and more reliable.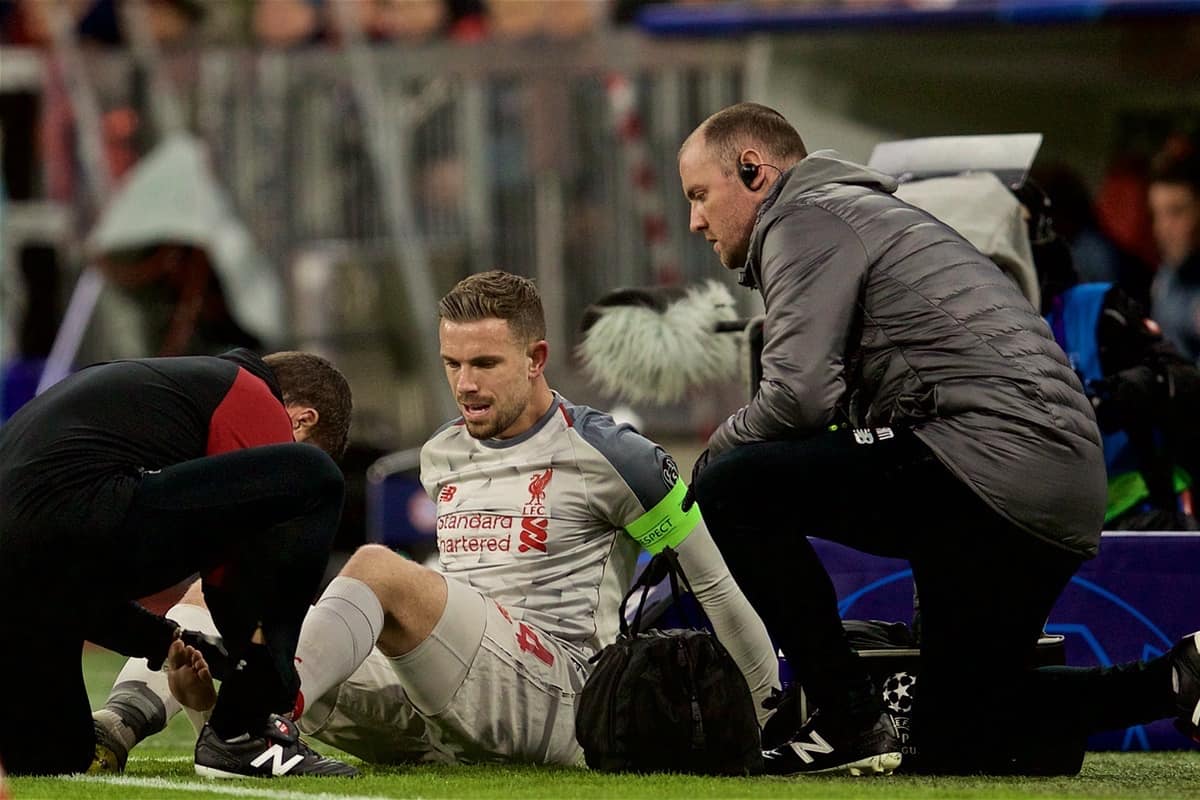 KARL: As the boys above mention, the late yellow card was needless and avoidable.
Robbo's replacement I feel will depend on who we play: if it's Juventus, for example, with Bernardeschi on that side, a very different type of player (Milner, coming inside on his right foot) will be required to facing a Spurs right-wing-back (perhaps Moreno for his pace and direct running).
Elsewhere, it was Robertson's failure to stop lofted passes down that side of the pitch which were the only real concern, and Firmino was a bit off his game with simple passes at times.
Losing Henderson to injury was also a concern—regardless of who you wanted on the pitch, we cannot afford to keep losing numbers in the season run-in and hopefully it'll just be a single game and the international break that he needs to recover.
Not all can be perfect in away European games though, so not too much to complain about!
…and who will finish as Liverpool's top goalscorer across all competitions this season?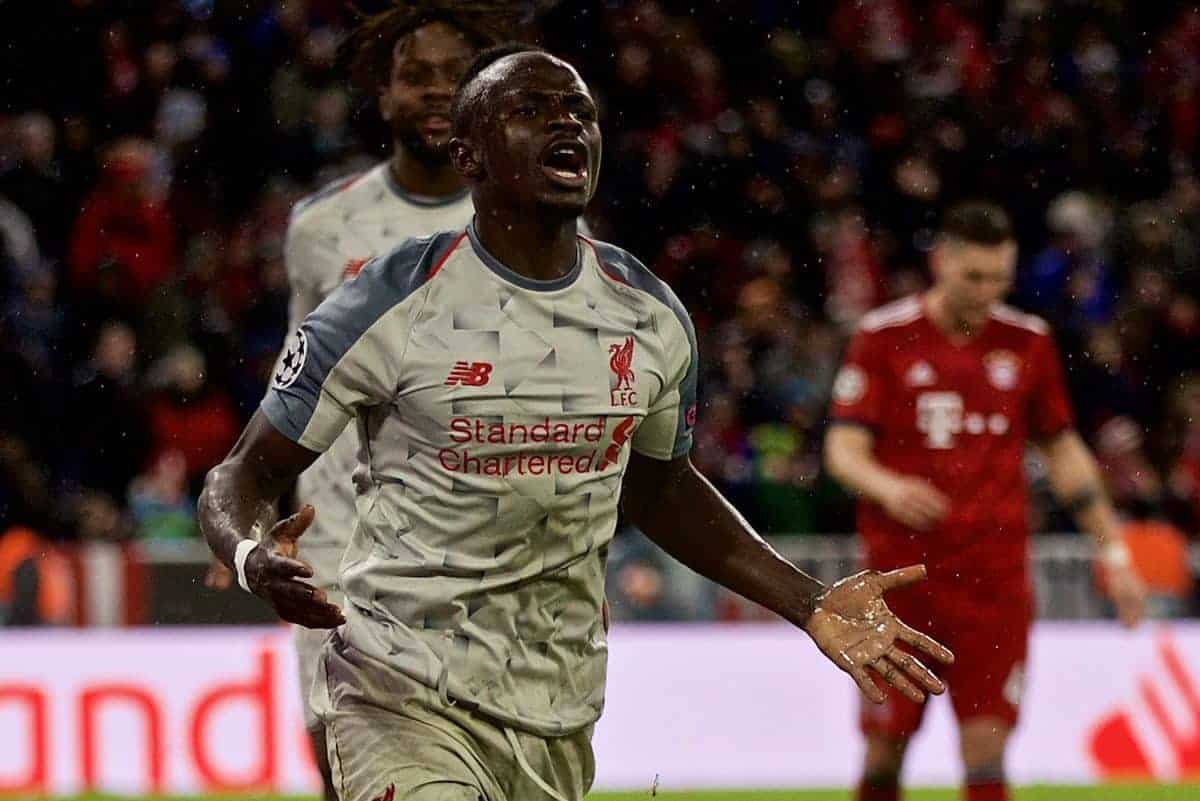 JASON: I think that Mane will pip Salah this season.
Salah is on a bit of a barren run while Mane is in a hot streak of form.
But not only this: Mane is possibly the most frustrating of the front three, but that is because he is a constant threat who is lively and dangerous for the duration of the time that he is on the pitch.
This season, for whatever reason, both Firmino and Salah do not look as sharp, whereas Sadio looks a constant threat from the first minute to the last.
JAMES: At this rate, Mane. He seems to be a player who gathers momentum as the season progresses and his current form is proof of that.
Seven goals in seven games now and 10 in 10—and he isn't wasting as many opportunities in front of goal as before.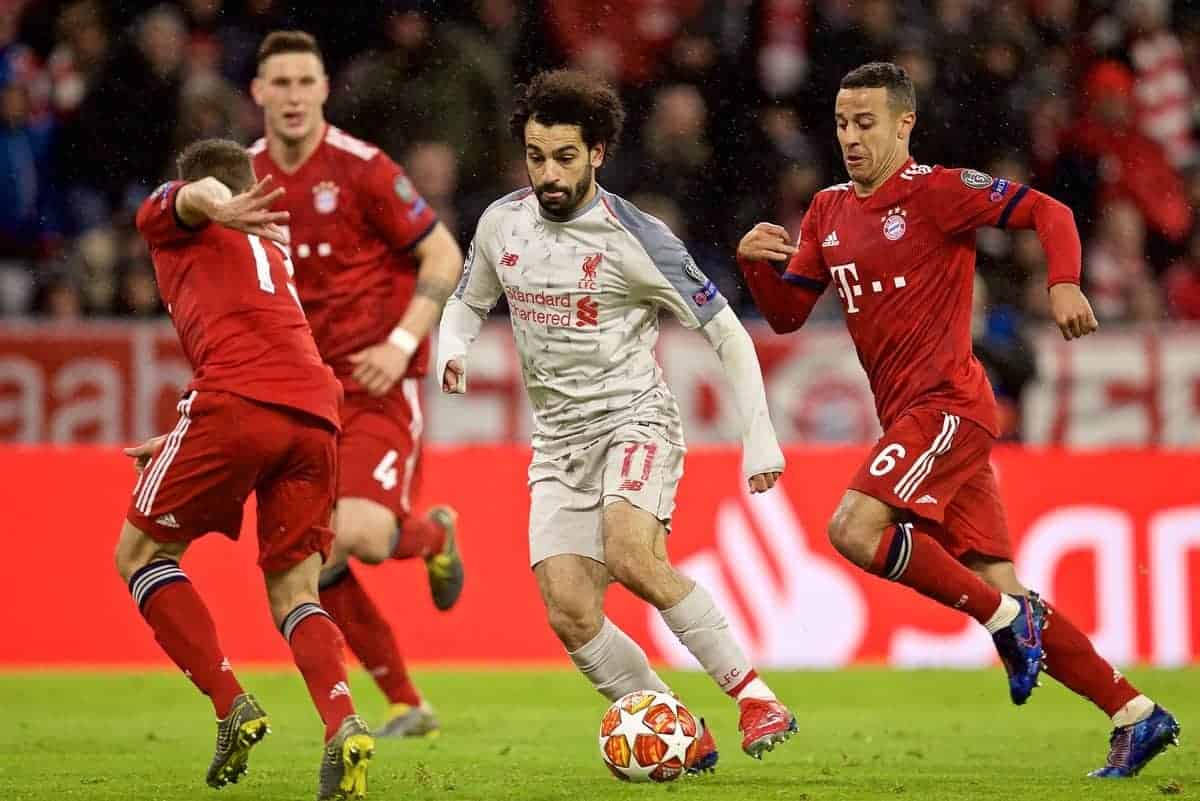 KARL: I still think Salah. He doesn't often go so many games in succession without a goal and, importantly, when he does find the net he tends to go in streaks.
He's more than capable of putting a run of his own together, five in five or whatever, and he's still seeing a lot of shooting chances come his way: one-on-ones, good dribbling skills to clear a path, an effort or two from range.
It'll only take a goal and, with Mane likely to draw more attention over the next few games because of his own form, Salah could well find himself in space to just toe-poke an easy one in from a few yards out—then he's off and running again.
Most important is that the team continues to score and the front three remember to remain selfless wherever possible.