Liverpool fans travelling to follow the club in the Champions League could be given a financial boost with UEFA's latest plans for an away ticket price cap.
It's not often good news comes from European officials, with a proposal for weekend games and promotion and relegation in the continent's top-tier tournament recently criticised.
But after Liverpool successfully negotiated a drop in price for tickets for the quarter-final second leg at Porto, from £73 to £52, UEFA could follow suit across the board.
That is according to the Mail, who report that the Reds are among a host of heavyweight clubs putting pressure on European football's governing body to introduce a cap.
Mike Keegan cites a dispute between Man United and Barcelona for their quarter-final, and Tottenham's decision to price tickets for Man City fans at double that of their corresponding Premier League clash, as key concerns.
He writes that a "working party" set up to investigate ticket pricing in the Champions League "has been meeting this season," including representatives from Liverpool, Bayern Munich and PSG.
"They are set to report their findings to UEFA's Club Competition Committee ahead of UEFA's Executive Committee meeting in Baku, Azerbaijan, where a cap could be introduced," Keegan adds.
UEFA president Aleksander Ceferin is also quoted as saying in December: "We know about the problem. It would be good to do something to cap prices."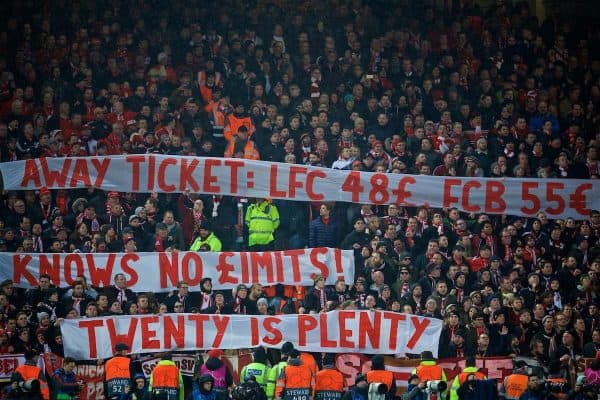 Ticket prices have long been an issue for supporters, and this is particularly the case in Europe as flights and hotels add a considerable amount to the matchday spend for those following their club in the Champions League.
There were major issues in the buildup to last season's final in Kyiv as Liverpool and Real Madrid supporters travelling to the Ukraine found accommodation fees lifted dramatically.
UEFA introduction an away cap similar to that of the Premier League's £30, or even lower, would be a step towards allowing fans to continue their backing on a stage where their input is crucial.
During the 0-0 draw at Anfield last month, Bayern fans unfurled banners protesting extortionate ticket prices for their away tie, reading "away ticket: LFC 48£ FCB 55€," "th€ gr€€d knows no £imits" and "twenty is plenty."
This was applauded by Liverpool supporters, whose walkout protest in the 2-2 draw with Sunderland in 2016 forced the club to reconsider its plans for a £77 home ticket.