Toby Alderweireld's own goal handed Liverpool a 2-1 win over Tottenham on Sunday, and sparked a phenomenal reaction from the fans at Anfield.
A lovely, ludicrous and late goal; a cacophonous, chaotic celebration.
You can gauge the significance of an Anfield moment by how many hugs you find yourself dispensing to people you have never met before.
Limbs everywhere, an impromptu piggyback given, accosted from all-directions. I've lost pairs of glasses and been left with bruised and cut shins in these circumstances before.
It's brilliant when it happens. All the personal barriers of thousands of people are momentarily swept away, and mayhem ensues.
One man, quite probably in his early-to-mid 20s, was stood at the top of the steps to gangway U2, in the upper tier of the Main Stand, hugging everyone who came within reaching distance as they rumbled out of the stand and down onto the concourse.
Public Service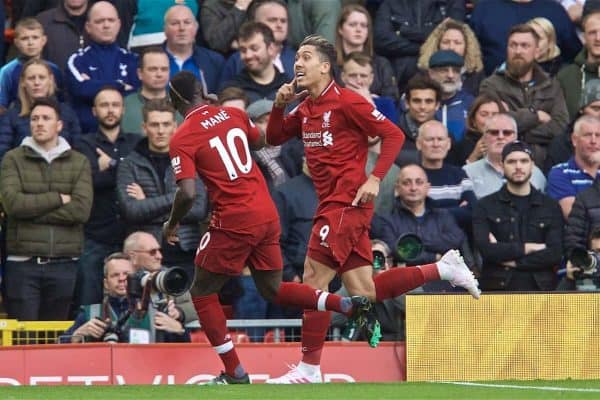 You could call it a public service he was performing.
However, I received one of those hugs and I felt like he was the one that was absorbing the light, rather than the other way around; it felt like he was the one in need of some reassurance, that what he had just seen was correct.
I was happy to oblige. I then made my way down the steps, banging the overhead panel three times with the palm of my hand as I did, and raising a clenched fist as I emerged onto the concourse, Bill Shankly style, or perhaps in a nod to Scouse Power returning.
On the way back to the car, I at one point crossed the road, at a pedestrian crossing, breaking into mild jog, doing a complete 360 degree turn as I did and applauding the road users for stopping, as if I'd just been substituted in the 90th minute of a cup final, when 3-0 up.
I later used a cash machine and said "ta" to it, after it dispensed the money.
Days like these do strange but glorious things to you.
Metaphorical Coins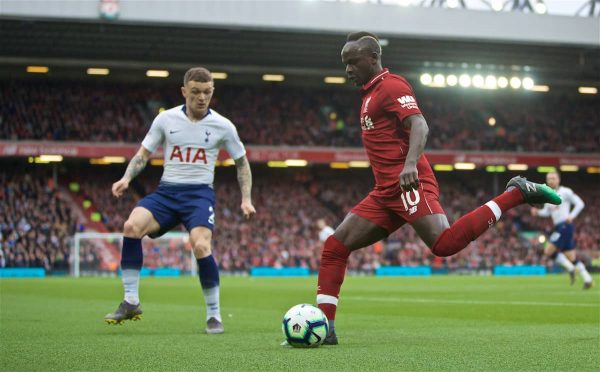 This Premier League title will be won and lost on the toss of a metaphorical coin, by the look of it.
One thing is for certain though, if you can't enjoy this wild ride, then football simply is not for you.
Liverpool were excellent during the first half. A perfect cross from Andy Robertson, an intelligently directed header from Roberto Firmino and we were away.
While we didn't provoke many saves from Hugo Lloris during this period of the game, we came close with a couple of curling efforts that the Spurs 'keeper would have had no hope with had they moved an inch or so to the left.
You could suggest that Spurs were hard done by at the end, but Liverpool really should have had a wider lead at half-time.
A 1-0 scoreline at the break wasn't representative of the gulf in class between the two teams during the first 45 minutes.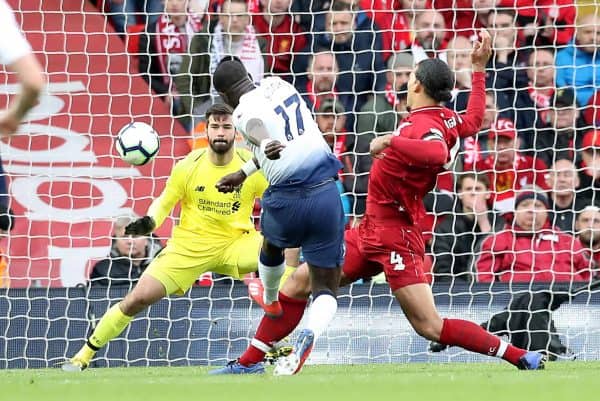 Spurs were always going to have a section of the game to themselves however, and that we only nursed a slender lead as they did reach that period took the game into dangerous territory.
This pivoting of the game came within a 45-second span, from Lucas Moura trying to elicit a penalty in the Liverpool area, to Firmino being held when trying to bludgeon his way through the Spurs defence, to Robertson making a wonderful block from Christian Eriksen back in the box.
It was an exchange of thoughts and ideas that enlivened Spurs. Yet, when Moussa Sissoko missed his chance to win the game, this brought us back into the final equation.
The intelligence of Virgil van Dijk in covering Son Heung-Min, inviting Sissoko to have a pop on his weaker foot, will prove to be as valuable as any goal or save if we do find ourselves at the top of the table when the full-time whistle is blown in our 38th league game of the season.
A Madness of a Goal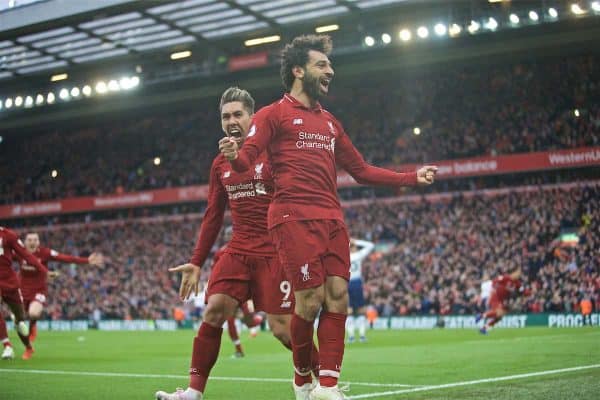 Winning the game via such a madness of a goal can work as a springboard for the remaining games.
You can't snatch a win like that and not feel an extra degree of bounce in your stride.
For an example of this, see the response we got from the Jordan Pickford moment in the Merseyside derby at the beginning of December.
In the slipstream of that Zapruda-esque incident Liverpool went on to win their next seven games, scoring 22 goals in the process.
Every game is massive for us now, but they come in degrees of massiveness. The opposition plays its part, the backdrop against which we play that game plays its part.
Have Man City played before us, or are they playing after us?
Leapfrog

It is a game of leapfrog, as much as it is a game of football.
We are ahead now, but we will likely be behind again by 10pm on Wednesday night. Forty-eight hours later it will be up to us to edge ahead again, at Southampton.
If we can do that, then the ball really is rolled to City to see if they have the legs and the mental capacity to cope with a run-in that is going to be unremitting for them.
Those two Champions League quarter-finals against Spurs aren't worth Premier League points, but they will be akin to an extra two domestic games for the body and mind to absorb.
This week is the one where we must turn the pressure up on Pep Guardiola and his side to the highest level possible.
We can only do that by winning on Friday night.