Jurgen Klopp believes Mohamed Salah will be boosted after ending his goal drought, and explained how his "decisive" strike was the result of hard work.
Salah had not scored for eight games before his sensational winner on the break against Southampton on Friday night, with criticism of the No. 11 mounting.
There were no concerns within the Liverpool squad, or in the dugout, but there was a clear feeling of relief for the 26-year-old when he celebrated, lifting his shirt and posing defiantly in front of the travelling Kop.
He has now scored 50 Premier League goals in 69 games—not a record for the fastest for a single club, but he surpassed Fernando Torres' Reds record of 72 games.
More important than individual accolades, however, was its significance to Liverpool's season, and Klopp stressed this as he reflected on the goal in his pre-Porto press conference on Monday.
"The late Tottenham goal already helped. It was an own goal but it was forced by Mo, that felt already really good for him," he told reporters.
"The best situation to describe is the big chance he had at Munich: similar situation, coming inside, dribbling, everything was perfect and the last second Sule came from behind.
"He was so close in so many moments, and still now has 18 [league] goals, [nine] assists, that's a brilliant number.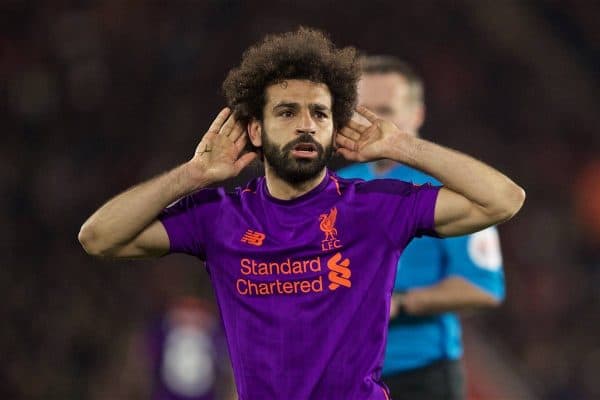 "So we were never really concerned, he was not concerned.
"He's a grown man and he knows that it's not out there, dreamland, [and] you only need a chance and it will be a goal.
"That's how it is, you only have to work for it. His work rate was always brilliant, in training and in the game, and that's why nobody was concerned about it.
"But of course it helps, it was a world-class goal.
"Afterwards a lot of people said in the situation, 'you have to play [the pass]', but if he passed the ball Bobby has it on his left foot, and it was not a perfect angle.
"It's better that Mo has it on his left. He scored a beautiful goal, so decisive, so important.
"And if something happens at the end of the season I'm positive that will be one of the decisive [goals], 100 percent.
"Because in this moment the game was open result-wise, it was pretty decisive in that moment."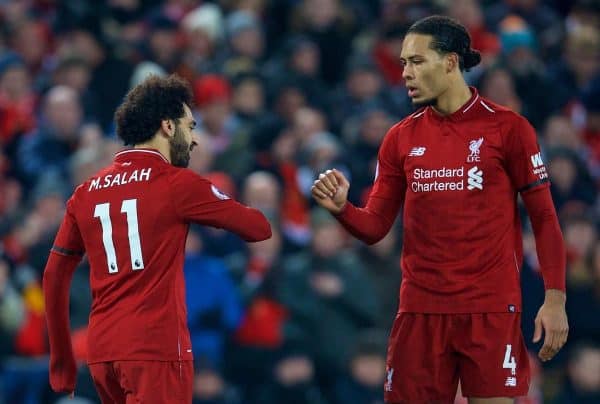 Virgil van Dijk joined Klopp in the Anfield press room and was unsurprisingly also asked about the importance of Salah's goal, and described the Egyptian's mood as "fantastic."
"He's always lively, always happy, wanting to work hard always, gives everything for the team," he explained.
"And I think that's what Liverpool are all about: everyone's giving everything for the team, for the club.
"He didn't score for a couple of games, but I think that the pressure only came from the media.
"He was playing well, he was very important for us and he's still having a fantastic season."