The media were full of praise for Liverpool's consistency and labelled the Reds a "winning machine" after the vital 2-0 victory at Cardiff.
The Reds just simply refuse to relent in this incredible pursuit of the Premier League crown.
A thunder-strike from Gini Wijnaldum and typically nerveless penalty from James Milner capped off a professional display to take Jurgen Klopp's men back to top of the table.
This victory set a club-record Premier League points total, and Liverpool deserve nothing but immense praise and respect for producing such an incredible effort to fight to the very end.
Here's how the media assessed the crucial win over Neil Warnock's side.
The media praised Liverpool for finding a route to victory in a tough battle…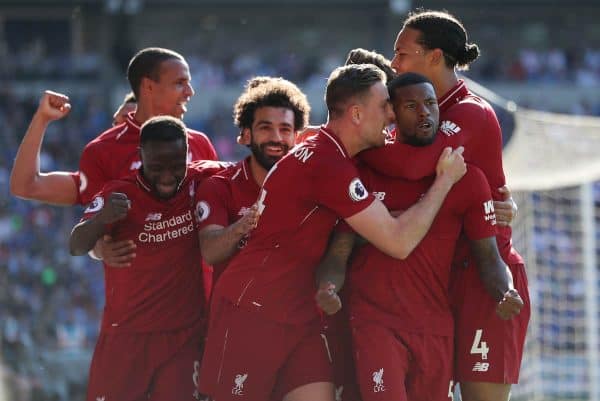 Writing for Goal, Neil Jones thought the Reds weren't convincing but correctly noted that the result outweighed the performance:
"On a day when Jurgen Klopp's side simply had to win, they did. It wasn't pretty, it wasn't particularly convincing, but it'll do. At this stage of the season, anything will do."
The Evening Standard's David Lynch lauded the mentality of Klopp's side after assessing this was the sort of game previous Liverpool teams would have slipped up in:
"With their physicality, discipline, and desire significantly enhanced by the threat of relegation, the Cardiff City team that took to the field this afternoon essentially represented kryptonite for past Reds sides.

[…]

"It wasn't pretty, in fact it hasn't been with any regularity for a while, but pretty has never been important when it comes to winning leagues."
Reflecting on the performance, Ian Ladyman of the Mail explained why it was entirely understandable that the Reds were not in top form:
"This was not Liverpool at their best against a Cardiff side that played with spirit and courage. It is hard to play at your very top level at this stage of the season.

[…]

"It is at this time of year, with dozens of games behind you and the pitches hardening, that the demands of the modern English game really begin to be felt."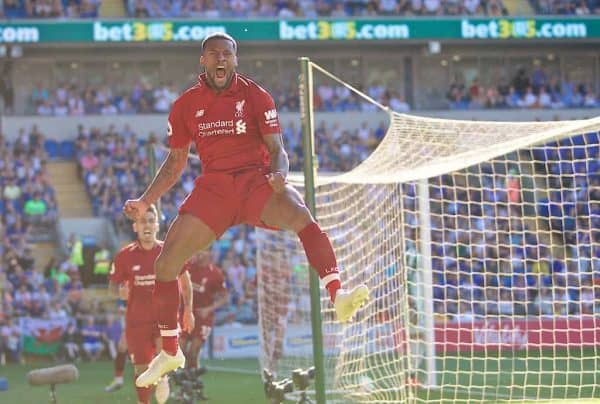 BBC Sport's Dafydd Pritchard was impressed by Liverpool's business-like approach and labelled the Reds a "winning machine":
"Liverpool are a solid, patient, winning machine these days—their past five league victories had come thanks to second-half goals, and they had to bide their time here as well.

"Klopp's side imposed themselves immediately, monopolising possession and pinning their opponents back in their own half."
ESPN's Dave Usher was full of praise for Liverpool's maturity and how Klopp's side continue to hold their nerve under intense pressure:
"The maturity of the side continues to impress. Liverpool's supporters might be nervous, but the players certainly don't look it."
The media discussed the balance of the title race after another weekend of wins for the Reds and Man City…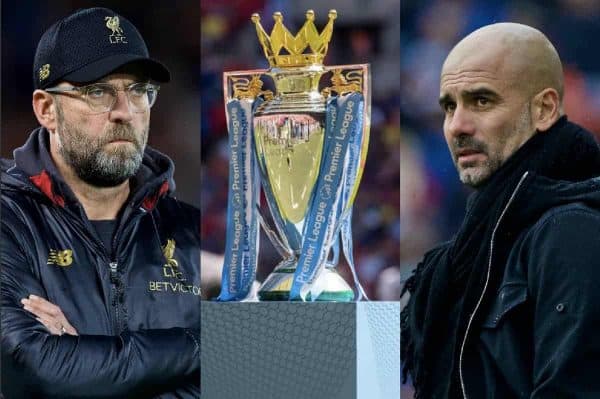 First of all, ESPN's Mark Ogden believes that this is the best title race in English football history and lauded the efforts of two remarkable teams:
"These City and Liverpool teams may ultimately be contesting the best title race in history.

"Neither side is showing signs of blinking, and they have both been ruthlessly consistent in recent weeks, with Liverpool staying alive and keeping pace with City by winning their past six league games."
The Telegraph's Chris Bascombe likened the tension of the title race to a "sudden death shootout":
"It feels like a sudden death shoot-out for the Premier League title now."
The Guardian's Barney Ronay explained that the title won't be 'lost' by either Liverpool or City and rightly claimed that both sides deserve nothing but respect for their exploits:
"This year the league will not be lost, only won, by whichever of these two wining teams turns out to be the winningest.

[…]

"But the league has two champion teams this season."
Jones thinks that if City come through their next two games with maximum points then Pep Guardiola's side will retain the title:
"Beat Manchester United, and then Burnley on Sunday, and it is hard to imagine Pep Guardiola's side slipping up thereafter. The next week should be crucial."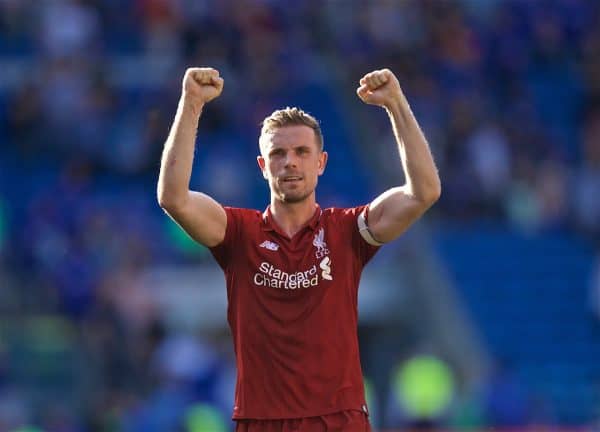 But the Liverpool Echo's James Pearce argues that Reds supporters can take hope from City's tough run-in, even if Man United fail to take anything from Wednesday showdown:
"If a favour from United isn't forthcoming then all is not lost. Hope will still exist with City then facing a tricky trip to Burnley, Leicester at home and then Brighton away on the final day."
The Mail's Dominic King believes that regardless of what happens in May, Klopp's Reds are going nowhere and will sustain the fight for major honours in the coming years:
"You look at Liverpool now, though, and feel certain that wherever they finish this campaign—and the odds remain in City's favour—this will not be the zenith of what Klopp's team achieve. This is a progressive team and a well-structured club and they are going nowhere.

[…]

"Look at the contracts, look at the squad's profile and look at the foundations. Liverpool will be consistent title challengers from now on. This season is just going to be the start."
Reporters provided some alternative thoughts from the victory, both positive and not so positive…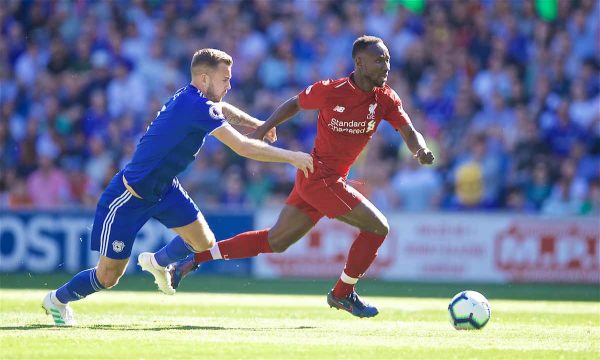 Usher thought Klopp's midfield changes worked a treat and lauded the German's work in pre-match preparations in giving the Reds practice on a bone-dry pitch:
"Klopp shuffled his midfield pack by bringing in Naby Keita and switching the roles of Georginio Wijnaldum and Jordan Henderson. It worked well as the Reds dominated the game and picked up a huge win.

[…]

"Klopp's preparation and attention to detail also played a part as he revealed afterwards that his team had trained on an unwatered field at their Melwood training ground the day before in anticipation of how Cardiff would prepare their pitch."
Lynch felt Liverpool did well in overcoming Cardiff's 'dark arts' and thinks it was vital the Reds did so as it will prevent other opponents from trying similar tactics:
"The dry pitch wreaked havoc with the Reds' usually slick interplay, contributing to several counterattacks ending in frustration. A number of well-timed injuries and the complete absence of ballboys around the perimeter helped to disrupt any rhythm they did work up, too.

[…]

"Of course, managers are completely entitled to turn to the dark arts in circumstances like this, the only problem is they might not be enough."
The Independent's Simon Hughes commented on how Liverpool look fresh for the run-in and that the quality form throughout the squad will help to keep performance level consistently high:
"If it was present here after a midweek victory in Porto, it disobeyed its intuitions. From afar, Liverpool certainly look fitter and physically stronger than they did this time a year ago.

"With as many as six games to go, Jurgen Klopp has the options to ensure there remains a voluptuous quality to his team's play."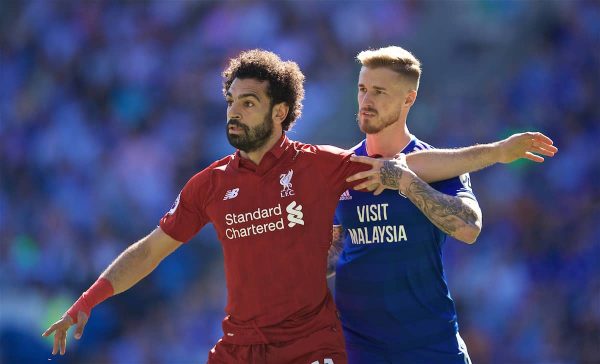 Turning to the less impressive aspects, the Mirror's James Whaling was both surprised and unimpressed with the finishing on display from the front three:
"The reason there were so many nerves going into the second half was because Liverpool's usually unerring front three all missed good chances before the break.

"The best of which undoubtedly fell to Roberto Firmino as he was slid through one-on-one with the goalkeeper but uncharacteristically fired over the bar."
Meanwhile, Lynch saw slight concerns with leggy displays from Liverpool's full-backs and thinks that Klopp will have to rotate shrewdly for the remainder of the run-in:
"For that reason, it is perhaps unsurprising that Trent Alexander-Arnold and Andy Robertson are the two men who seem to suffer most from playing twice a week.

[…]

"Surely Joe Gomez will be considered for a start during the upcoming weeks featuring Champions League semi-final legs in order to help avoid such legginess."
The watching journalists were impressed with several individual performances from the Reds…

Lynch awarded Henderson his man-of-the-match vote and feels the captain has made himself a certain start as Liverpool's No. 8 for the rest of the season:
"Henderson was a bundle of energy here, snapping into tackles, driving forward, and helping create overloads on the right with Salah and Alexander-Arnold.

[…]

"However, with three important points in the bag anyway, he can take great confidence from his performance going into the next game."
Usher was full of praise for Joel Matip's performance:
"Another fine performance from one of the unsung heroes of this side. Battled well against the physical Niasse and was always purposeful and positive with his passing into the frontmen and forays forward with the ball."
And Lynch also reserved a word of praise Milner for holding his nerve and dispatching the late penalty under immense pressure:
"But the result of Milner's strike from 12 yards proved why he was so keen to take it on: this was a clean, confident penalty at a crucial stage of a massive match for Liverpool.

"He may be called boring by some, but the 33-year-old is Mr Reliable as far as Reds fans are concerned."