After Liverpool beat Porto with a new-look midfield against the Portuguese team's entirely new setup, consider the pitfalls of assessing elite-level football.
Liverpool: 4-3-3 (4-1-2-3): Alisson; Trent, Lovren, Van Dijk, Milner; Fabinho; Henderson, Keita; Salah, Firmino, Mane.
Dejan Lovren replaced Joel Matip alongside Virgil van Dijk, meaning there weren't as many mazy dribbling runs from the right-sided centre-back!
James Milner came in at left-back with Klopp commenting that he was used mainly in "protective situations."
Porto manager Sergio Conceicao had taken cues from the way Spurs lined up at Anfield last week, using three centre-backs when defending but getting the wing-backs into attacking areas with the ball.
In many ways, this played into Liverpool's hands, as when they were able to counter having won the ball back, the wing-backs were high up the pitch which left plenty of space for Sadio Mane and Mohamed Salah.
Both Liverpool goals came from balls in towards the byline where a full-back might normally cover in a back four and, as against Spurs, there was space for Firmino in the channel between central defender and wide centre-back which, again, might not be there in a four.
Right wing-back Jesus Manuel Corona didn't know whether he was coming or going for much of the game, defending or attacking.
Reading minds & writing tactics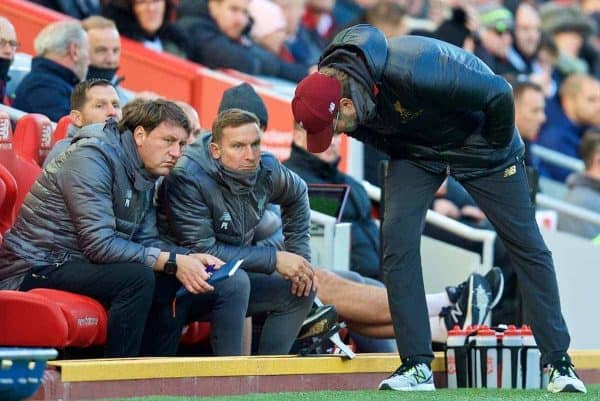 It can sometimes be difficult to write about tactics, as some of the time you're effectively trying to read the minds of the managers, coaches, and players.
Some criticisms of tactical writing, and there have been many, point to the fact that unless you have spoken to the manager about his game plan prior to the match, or worked with them in training, how can you know what they intended tactically?
I'm inclined to agree with Migs on this. I think there's lots of good post-game/thematic tactical stuff out there – the secrets of Jeunesse Esch's press etc – but it's flawed by not knowing what they're meant to be doing.

— Rory Smith (@RorySmith) April 17, 2018
But there are ways, especially if you've watched a manager's teams for a number of years, and also know who and what influenced them.
Some systems are easy to spot and after watching a team over long periods you can get a sense of what they're trying to achieve and the subtle changes they make to their system.
But one of the easiest ways to know which tactics a coach uses, other than watching hours of football and reading a lot, is to listen to press conferences.
Talking tactics with Klopp and Conceicao
Managers are generally guarded about tactics, but there are usually hints. When asked directly about them as Klopp was prior to the Porto game, they will bat questions away with a conservative backward defensive stroke.
Klopp is asked about his tactics v Porto by Portuguese journalist: "Very interesting questions but I can not give you answers!!!" #LFC

— David Maddock (@MaddockMirror) April 8, 2019
But in their other answers, they will throw in the odd gem. After this game there was effectively a back-and-forth between Klopp and Conceicao, even though their press conferences were one after the other.
Klopp went first.
"With their formation, with one and a half strikers we did really well.

"We didn't know before the game, how could we, with Maxi and Corona together that side, not sure if they played it before, we didn't see it before.

"We played a lot of times now against teams defending five, five at the back, four in midfield.

"Their formation surprised us but we can react immediately. The boys said we saw it immediately, they defend with five. It can be difficult to transport the message onto the pitch 'by the way, they play with five!', but they saw it already."
The Portuguese journalists seemed much more used to asking about this aspect of the game, or rather they are more used to getting answers, to the point where Conceicao was asked the same question at least three times in his post-match press conference.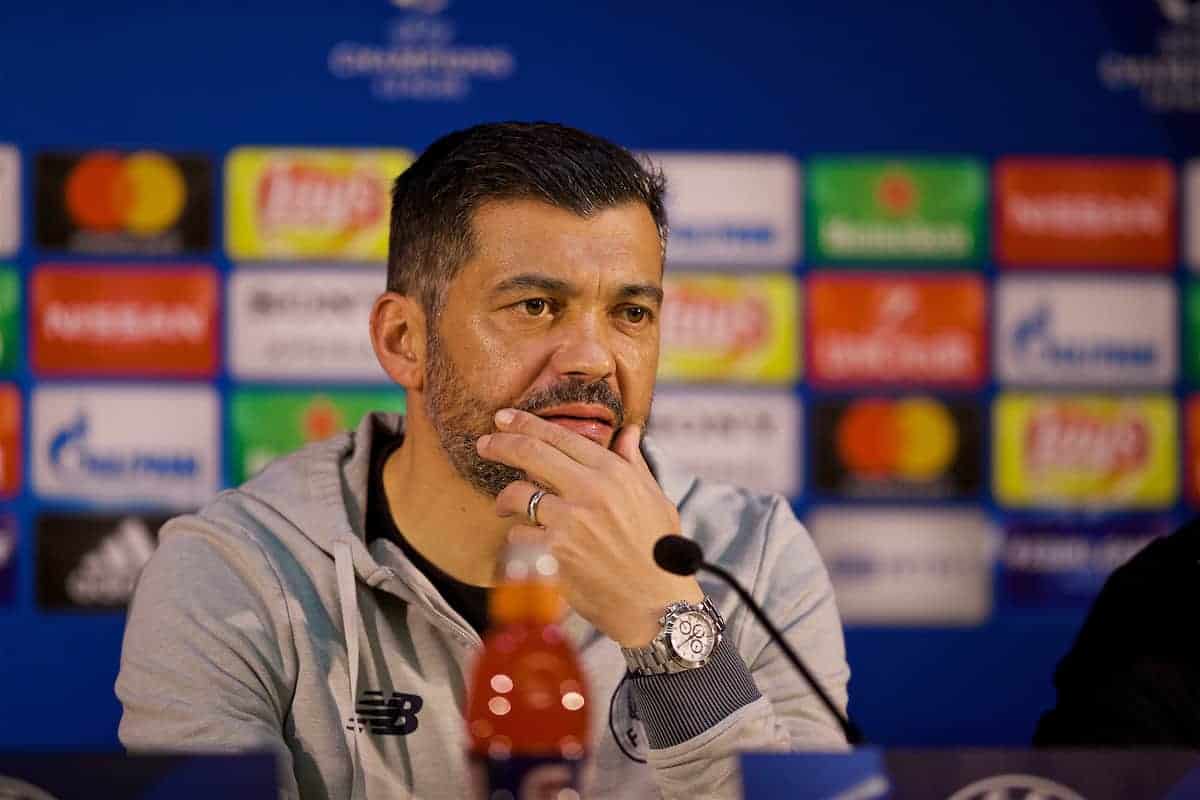 Why did he change his tactics? And why didn't it work?
"We prepared the game with a different strategy to that which we usually play.

"We needed to control the defensive space, as well as the [Liverpool] players. Space was important to control.

"Liverpool's reaction [to the changes] was very strong. Against the extremely aggressive Liverpool team the pitch becomes small for the team attacking.

"We had two full-backs, or false full-backs, Alex Telles and Corona. We had to respect Liverpool because in their defensive system, and recovery of the ball after losing it, they are the best team.

"They make the most of this space, winning the ball and starting counter attacks, so it was important to look at our opponents and the defensive strategy.

"Tottenham set up like this against Liverpool, and Manchester City [have in the past], so it wasn't a case of us showing too much respect. We had to see what to do when we come up against Liverpool.

"We've worked regularly with 3-4-3 or 5-4-1 however you want to see it. It can be extremely attacking depending on how you want to see it on the pitch. It can be three defenders and seven attackers!"
Most of the things Conceicao said, Klopp had already mentioned in his press conference, even if in slightly less detail.
One of the other aspects of Liverpool's play which the Portuguese mentioned — Liverpool making the pitch smaller — was brought up by another of the Reds' coaches during the week.
Lijnders leads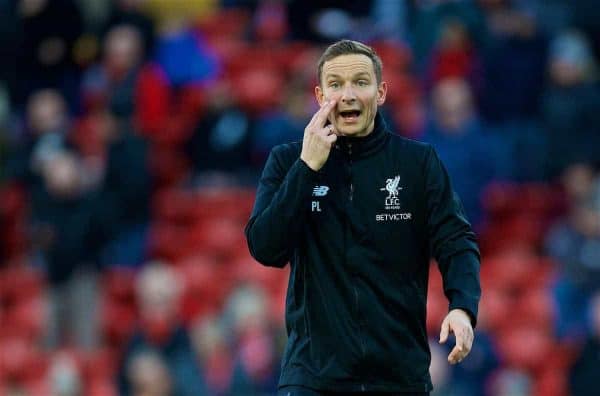 Apparently, the best way to find out about Liverpool's tactics is to speak to their new 'brain' Pepijn Lijnders.
This week several journalists were granted access to the assistant manager, who appears to be the most hands-on and tactical of Liverpool's coaches, and he gave a couple of revealing answers.
"Focus on speedy attacks and you go fast towards being a successful team, but you have to focus on really good organisation," Lijnders told the Times' Paul Joyce.
"If you want good counter-pressing then having shorter distances between the players is important. So, if you lose the ball to the opposition, you can give a very intense moment to win the ball back.
"If the distances in midfield are quite wide, then it is difficult to put pressure on [when you have lost the ball]. If the distances are close [when you are attacking] and they play with each other, then the way the ball moves can create surprise and space for when the opposition reacts.
"Play inside to create wing attacks, wing attacks are a byproduct of good inside play."
Here Lijnders described the things Conceicao was talking about, and also how Liverpool managed to create two goals against Porto: one with a speedy attack in transition, and another with the inside player feeding a wide player.
Easy, this tactics writing.
Notes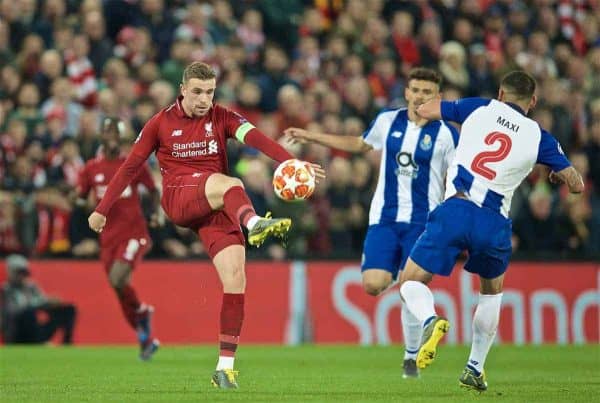 All of this shows tactics writing doesn't have to be complicated.
Klopp: "Controlling [a game] happens in different ways, not just with the ball."
Jordan Henderson again thrived as a No. 8, making three key passes, more than any other player, and registering a 'second assist'.
Klopp on Henderson: "He likes the position, obviously. Haha. It was my fault that for one-and-a-half years, pretty much, he played the position six. Sorry for that! But we needed him there."
Naby Keita made eight tackles and two interceptions.
Klopp: "Milly [James Milner] played today [for the first time] since a long time left-back, did a fantastic job, but it was a bit different. We used him in protective situations, but on the right hand side we were on fire and I liked it a lot."