Liverpool head into their second Champions League final in as many seasons, but how many teams have achieved that and what happened to them next?
Heartbreak in Kyiv a year ago has been immediately followed up by another exciting, impressive and relentless run to the final, this time in Madrid.
Tottenham lie in wait for Jurgen Klopp and his side, as the Reds look to go one better than 12 months ago.
Since the formation of the Champions League in 1992/93, Liverpool are the eighth side to reach at least two consecutive finals.
Are there lessons to be learned from those who came before, omens to be believed or simply time for Liverpool to do their own thing and write their own history?
Passing the Baton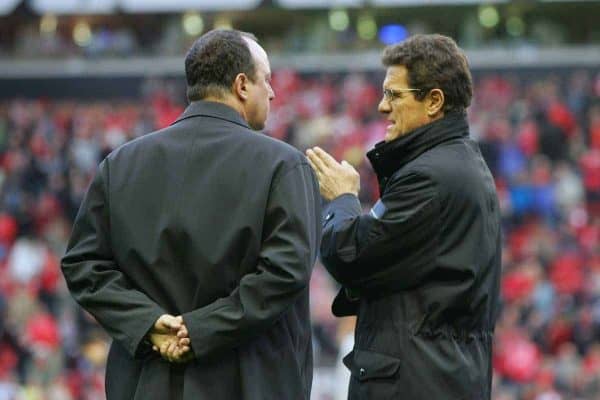 The end of the European Cup and the start of the Champions League coincided with a period of dominance for one team after another.
Since Liverpool themselves reached back-to-back European Cup finals in '84 and '85, only one further team had managed to do so before the change in tournament format: AC Milan in '89 and '90.
Perhaps fittingly, then, that great AC Milan side became the first of the new era to achieve the feat—and they, in fact, reached three successive finals as their stranglehold as Europe's finest side enjoyed a long final stretch.
It wasn't all smiles and glory, however, as Milan finished up on the wrong side of the scoreline twice—although the one final they did emerge victorious in is remembered as one of the greatest all-time displays.
1992/93: Lost 1-0 vs. Marseille
1993/94: Won 4-0 vs. Barcelona
1994/95: Lost 1-0 vs. Ajax
After that third final in '95, it would be almost a decade before Milan reached another Champions League final, proving that even the finest have to eventually succumb.
In domestic league terms, Milan also saw a decline, with a title win followed by mid-table finishes before the team was rebuilt.
From that '95 final emerged the next back-to-back finalist: Ajax showing their rich heritage and history.
It was perhaps the tail end of the great Dutch sides in European competition, too, as finances proved stronger elsewhere on the continent toward the end of the 1990s.
1994/95: Won 1-0 vs. AC Milan
1995/96: Lost on pens after 1-1 vs. Juve
A host of iconic names of Dutch football formed that Ajax side—Edgar Davids, Clarence Seedorf, Marc Overmars, the De Boer brothers, Edwin van der Sar, Frank Rijkaard and others—and it's notable that they have since struggled to bring through such a crop of talent.
Until this year's batch, of course…and Ajax came within a whisker of reaching their first final since 1996 just a few weeks ago.
As Milan passed on the baton to Ajax, so too did the Dutch side to Juventus.
Juve followed the same path set by their Serie A rivals Milan at the start of the Champions League era: three finals in succession, but only one victory.
1995/96: Won on pens after 1-1 draw vs. Ajax
1996/97: Lost 3-1 to Borussia Dortmund
1997/98: Lost 1-0 to Real Madrid
Perhaps that second loss hit hard for Juve; the following year they dropped to seventh domestically, though they still remained a force thereafter.
Juve competed both in Italy and Europe for the next few years, until the Calciopoli scandal saw them stripped of titles and relegated.
After their loss in '98, it was five years until their next Champions League final.
The History-Makers to Avoid
Before a certain man called Rafa Benitez took over as Valencia manager, Los Che reached successive Champions League finals under Hector Cuper.
Liverpool are here aiming to avoid what no team has done before or since Valencia: reach more than one Champions League finals in successive seasons and fail to win any.
1999/00: Lost 3-0 to Real Madrid
2000/01: Lost on pens after 1-1 vs. Bayern Munich
There's another interesting side-note here, too: Klopp has lost three finals in succession as manager of Liverpool, and has lost his last six in total.
Cuper had similar misfortune: two finals lost with Mallorca (one in Europe), then these two rather more major finals lost with Valencia.
Ex-Red Steve McManaman scored in the 2000 final. Future Red Mauricio Pellegrino played centre-back for Valencia in both games.
The Spanish side have not been back to the final since.
Premier League Dominance…and Departure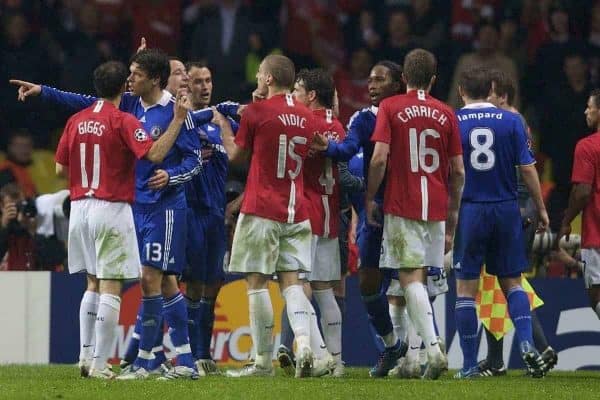 For a time, the Premier League reigned supreme in Europe.
English sides accounted for six of 10 finalists between 2005 and 2009, while at least one English team was in the final for seven of eight years between '05 and '12.
The only side to make it back-to-back finals, though, was Man United, who again followed the majority trend of splitting results.
2007/08: Won on pens after 1-1 draw vs. Chelsea
2008/09: Lost 2-0 vs. Barcelona
It was only a couple of years before United next reached the final, heavily involved as they were in the Premier League's period of dominance, but the stranglehold of Liverpool and their domestic rivals on European competition eventually came to an end.
In their place came first German Bundesliga teams, then Spanish La Liga sides.
Bayern Munich reached finals which ended in familiar fashion…
2011/12: Lost on pens after 1-1 vs Chelsea
2012/13: Won 2-1 vs. Borussia Dortmund
…and they haven't been back to a final since. That win in '13, of course, came over Klopp's Dortmund.
Real's Record Run and Opportunity for Red Redemption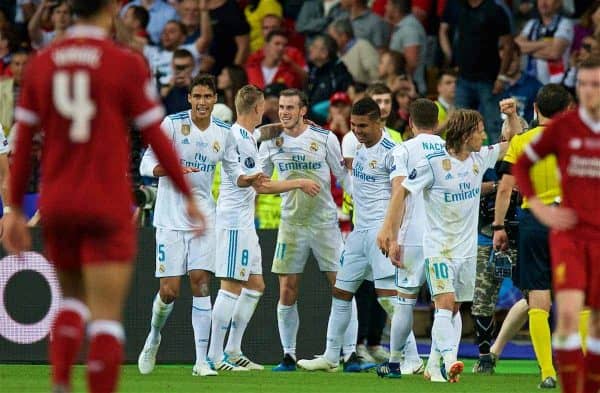 After Bayern came Real Madrid and few need reminding of their exploits.
Not only did Los Blancos become the first side to retain the Champions League since its inception, they went and did it three times in a row—an incredible achievement, for all the pain it may have caused Kopites 12 months ago.
2015/16: Won on pens after 1-1 vs. Atletico Madrid
2016/17: Won 4-1 vs. Juventus
2017/18: Won 3-1 vs. Liverpool
Madrid's monopoly was finally ended this year by the brave and brilliant aforementioned Ajax side…who in turn had their dreams shattered late on by Tottenham.
The baton, passed on from Milan to Ajax and to Juve at the start of this revamped competition, passes now to Liverpool.
And the only question remaining is: where will this team stand in history?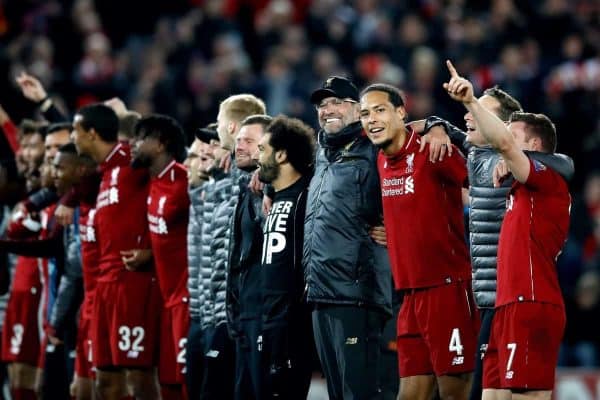 Alongside the beaten and luckless Cuper and Valencia, back-to-back losing finalists? Or front-runners and formidable, taking the second opportunity presented to them in the way that only Milan and Bayern have managed before, bouncing back to go one step further than the previous year?
Klopp and his men will be doing everything possible to ensure it's a case of the latter, as Liverpool look to bring home European Cup No. 6.