Liverpool head to Madrid for their second consecutive Champions League final with a unity that has fuelled an incredible campaign, inspired by Jurgen Klopp.
There was a pop-up pancake stall outside our office this week—batter in the streets, if there are any unsavoury Man City fans reading—and the fella who served me was French.
Not only was he handy with a jar of Nutella so big you could dip a trowel into it, he was also an Olympique Lyonnais fan who was proud that his team had won at Anfield 10 years ago.
I wanted to point out that the Reds had Emiliano Insua and David Ngog in our starting XI so it wasn't quite as hard to win at Anfield as it is now, but I let him have his moment because before that he'd buttered me up (another crepe joke) by saying he thinks Liverpool will win the Champions League final in Madrid and that Liverpool supporters will help them to do so.
That's not to say he was suggesting Jimmy from Lydiate should play at left-back—although Djimi from Laval did in 2005—but that the phenomenal support the Reds receive in European games will give Jurgen Klopp's men an advantage against Spurs.
He referenced Istanbul 2005, as an example, and this year's semi-final second leg against Barcelona at Anfield. "Everyone knows Anfield," he said. "This can only happen at there, Anfield is Anfield."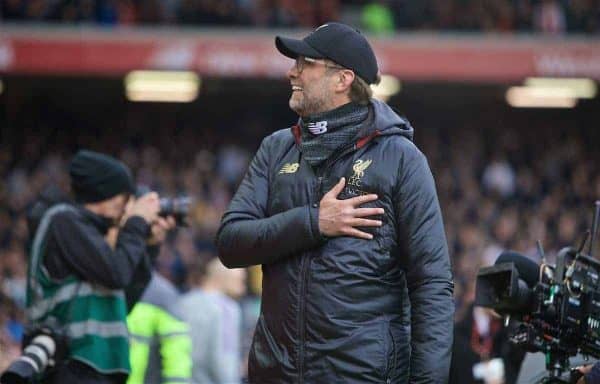 Before he could get into the specifics of how the Reds can use last year's experience in defeat against Real Madrid to their advantage my crepe was ready so I was off in a Jiffy, but the mention of 'Anfield is Anfield' was an interesting, if unintentional, assessment of an aspect of the job Jurgen Klopp has done at LFC.
Anfield has got an aura back. A fear factor. A status of being genuinely one of the toughest away games any team from any country can face because of the team and atmosphere we have now, not what we used to have in the 1960s, 1970s and 1980s. That is largely down to the manager.
Liverpool have played 71 Premier League games at Anfield since Klopp became Liverpool manager in October 2015. We've only lost four of those 71 matches, and two of those were in his first three months in charge of a team that had already lost at home to Aston Villa.
The Reds' 2-0 win against Wolves—which feels like about six months ago—was our 40th consecutive home league game without defeat, the second-best run by any side in Premier League history, and while it might not be threatening the club record of 63 home league games unbeaten (between February 1978 and December 1980) just yet, it might be by this time next year.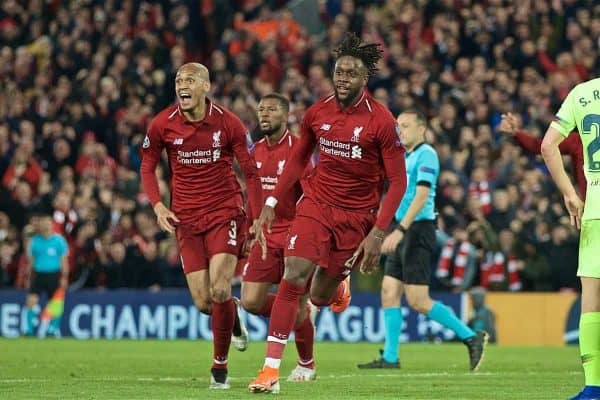 Klopp's European record at Anfield is unblemished. Played 19, lost none. The equivalent of an entire league season of European home games without defeat. And that's not just games against complete duffers like NK Maribor, Spartak Moscow and Man United, but the likes of Borussia Dortmund, Man City, Roma, PSG, Napoli and Barcelona.
Indeed, no visiting team has won at Anfield in the Premier League or Champions League since April 2017—over two whole years ago—and Andy Robertson has never lost a home match in his 77-game Liverpool career having not played in any of the domestic cup defeats at home under Klopp (of which there have been too many, but that's a story for next season).
My point is that Liverpool's 97-point title challenge and place in a second consecutive Champions League final all stems from the way Klopp sorted the Reds' home form out and reignited the Anfield atmosphere—with the help of a bigger Main Stand—in the process.
Results at Anfield have been the foundation for all the progress that has followed because the manager was shrewd enough to realise what he needed to do following the 2-1 home defeat to Crystal Palace in November 2015.
If you've forgotten the details, Scott Dann put the Eagles 2-1 up in the 82nd minute and thousands of Reds got up and walked out instead of trying to push the team on for an equaliser.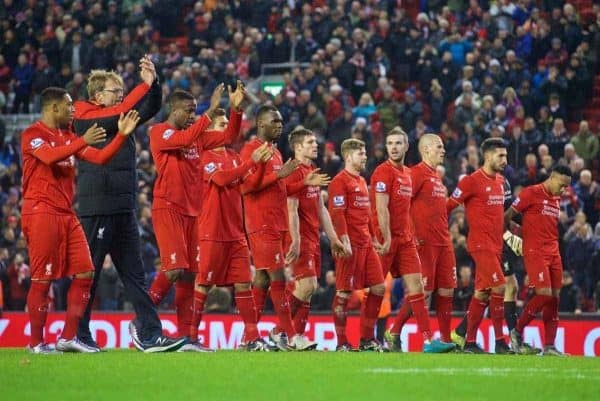 A month later, with the Reds 2-1 down at home to West Brom, fewer people left early and Divock Origi conjured up a 90th-minute equaliser.
Klopp took his players down to the Kop at full-time to 'celebrate' with a German-style group arm lift, prompting all kinds of piss-taking from rivals on social media because Liverpool had only drawn 2-2 with the lowly Baggies.
Yet it turned out to be a hugely symbolic moment.
A 'stick with us, believe in us, let's do this together' message that had far more impact because it was a one-off.
Klopp knew he had inherited a squad that needed vastly improving and that a 2-2 draw with the Albion was nothing to shout about, but he wanted to make the point that collective strength and support can make a difference to even a struggling team.
Three years on, after Origi again supplied a decisive Kop-end goal, Klopp and his players again stood arm-in-arm in front of the famous stand and sang You'll Never Walk Alone after beating Barcelona 4-0.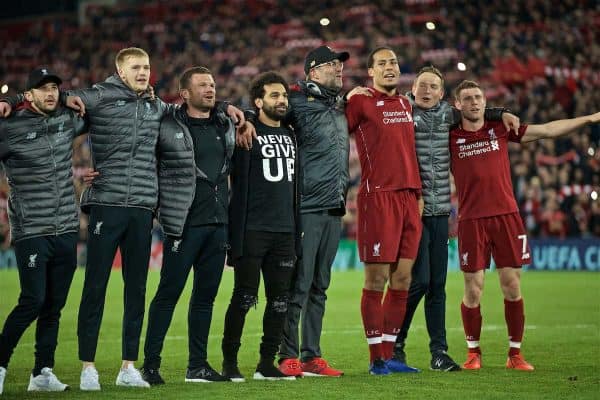 There was no piss-taking from rivals on social media and the Reds were in a second consecutive Champions League final (and a third European final in four seasons under Klopp).
During that time the Reds have also become a team that can consistently change the outcome of games late on with substitutes making regular impacts, best highlighted by the fact that subs scored 21 goals in 166 games when Brendan Rodgers was manager, but have since netted 47 times in Klopp's 207 games.
Put Liverpool's Anfield form, the revitalised support, better quality players, belief that games are never lost or drawn and subs doing their bit into the mix and we've got a young, progressive team that would've won the Premier League in almost any other year and a side that can win the Champions League in Madrid on June 1.
It just needed someone to put it all together. That someone is Jurgen Klopp.
---
Chris McLoughlin writes for This Is Anfield each week; he's also senior writer for the Official LFC Matchday Programme and LFC Magazine. If you missed any of the Champions League home programmes you can buy them (limited stock) here.