Gini Wijnaldum will forever be remembered at Anfield for his part on a historic European night—a game which summed up his season for Liverpool.
You won't like him when he's angry. Not if you happen to be an opposition defender, anyway, as that's when he seems most likely to find the back of the net.
Liverpool's midfield Dutchman has made a habit of scoring important goals at big moments in the past, and this past season that was certainly the case.
The No. 5 has been a huge part of the squad once again, but there remains something in his game which leaves fans wanting more—or, probably more accurately, leaves them wanting the same, but more often.
Only five Reds played more first-team minutes under Jurgen Klopp this season, highlighting how much Wijnaldum is valued, and it has been another campaign of steady progression and, finally, a first major title in English football for him.
Now aged 28, though, is this peak Gini we've witnessed? Or does he have something more to bring in what will be his fourth season at Anfield in 2019/20?
Gini Wijnaldum, 2018/19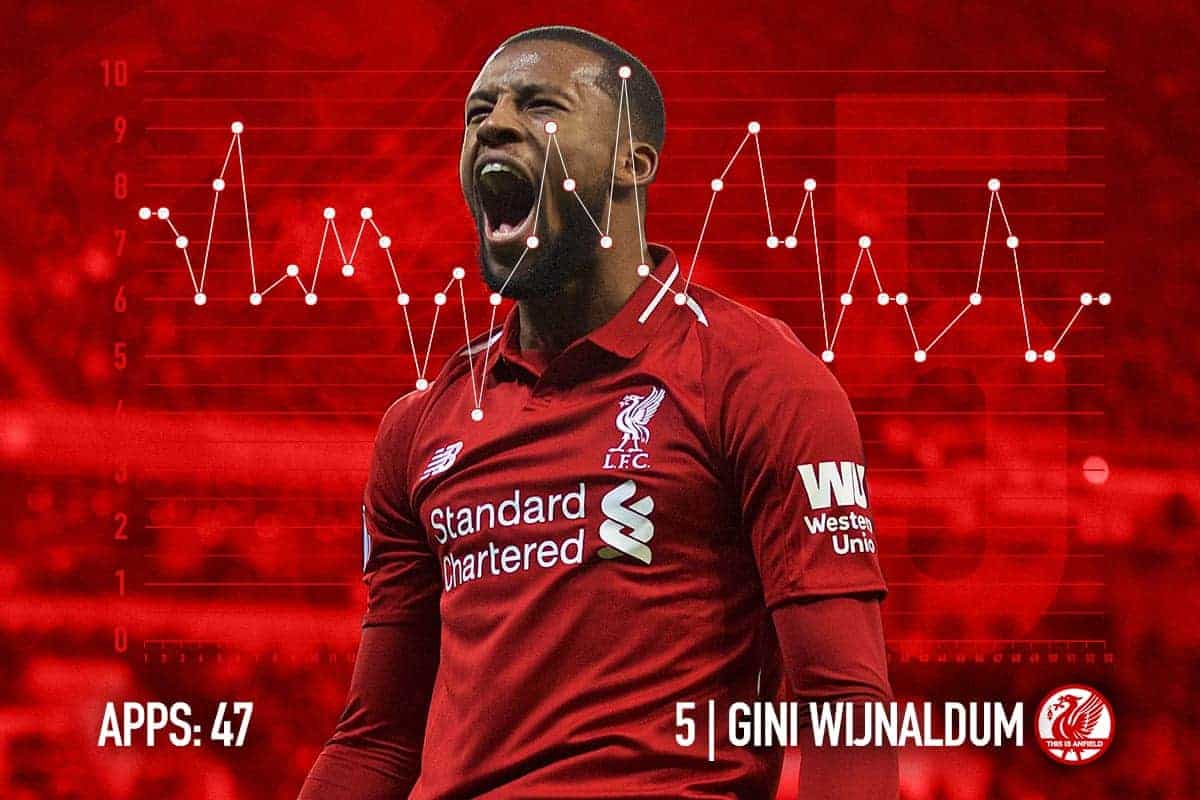 Started: 43 (All competitions)
On as a substitute: 4
Unused sub: 1
Goals: 5
Assists: 0
Our Overall Season Rating: 8
Average TIA Player Rating: 6.71 (Rank: 13th)
Last year's average TIA Player Rating: 6.21 (16th)
The Constant Question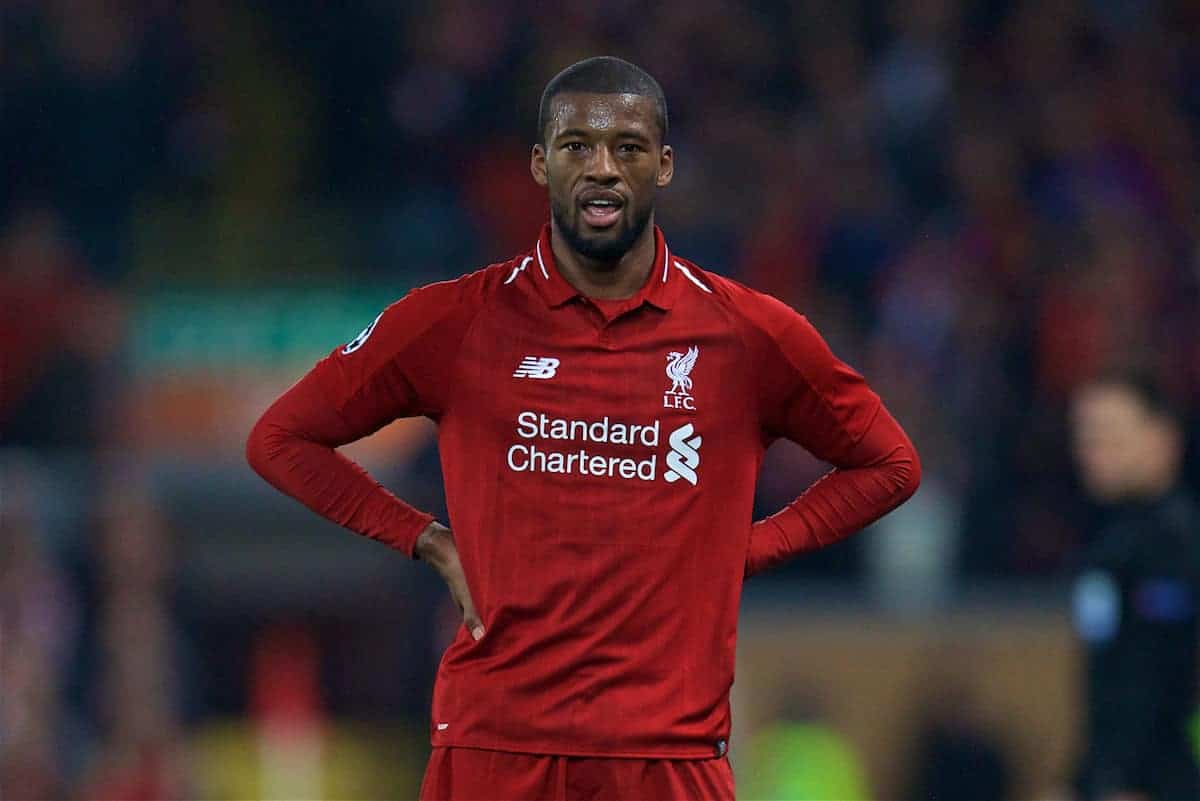 Wijnaldum's season was split three ways, in terms of his form.
Up until winter, there's no debate to be had: he was Liverpool's best central midfielder. Others found form and fitness hard to come by, the new signings were still settling in.
Wijnaldum was a dominant force, a progressive outlet for the Reds and was heavily involved in the attacking play of the team.
Against some of the best midfields, domestic and European alike, he was a standout performer for the Reds at a time when the attack wasn't always functioning at maximum capacity and while the formation chopped and changed.
Wijnaldum's best run of form in a Liverpool shirt, arguably, came across this three or four-month period.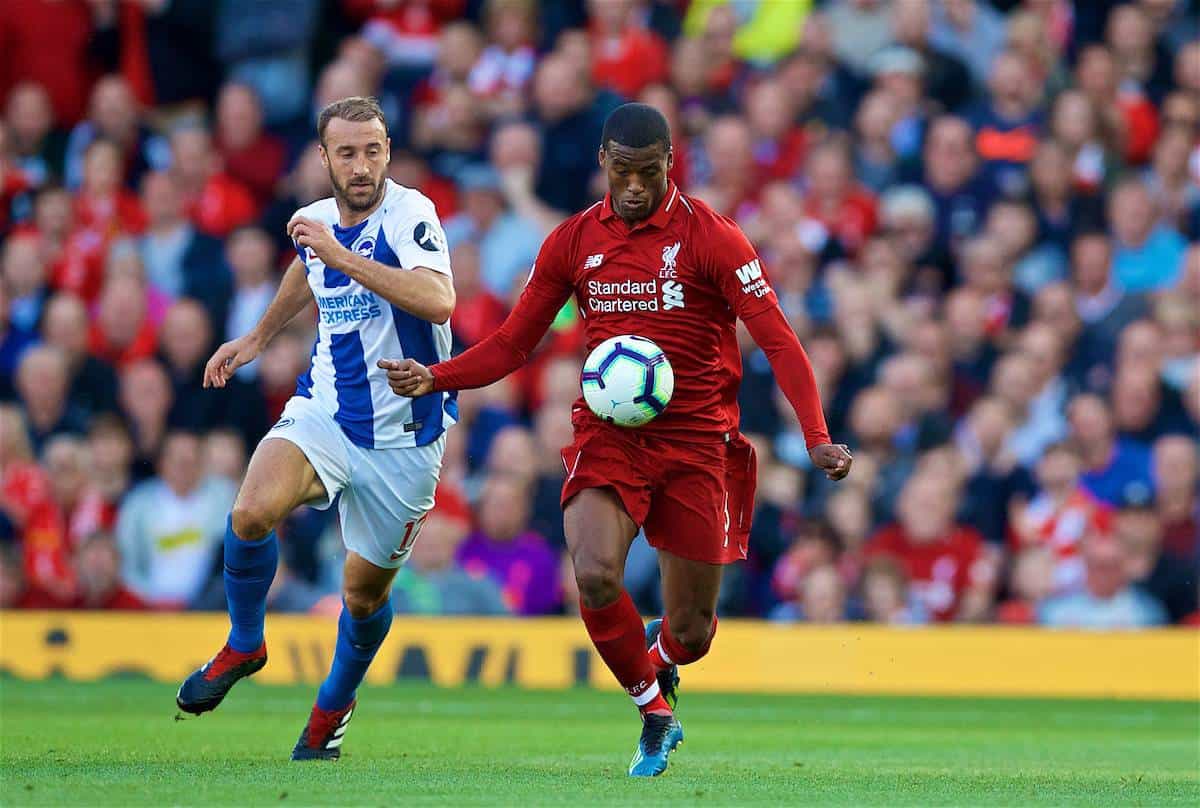 Into the new year, though, that form faltered.
His second period of the campaign was littered with mistakes, surprisingly lacklustre performances and games where he was either subbed off or left out—probably not surprising given his accumulated match time by that point.
By the end of the round of 16 he had missed only 25 minutes of Champions League action all season and he was in the lineup for all but one of the Reds' first 14 league games of the campaign.
Gini's final third of the season was not, frankly, as positively impactful—in fact there were more disappointing performances than good ones.
He looked tired at times and lacking his abundant ability to dominate.
And yet, scattered among those bad displays where he was inevitably subbed off—seven of the last 11 saw him replaced; once he came on as sub himself—came a handful of vital interventions.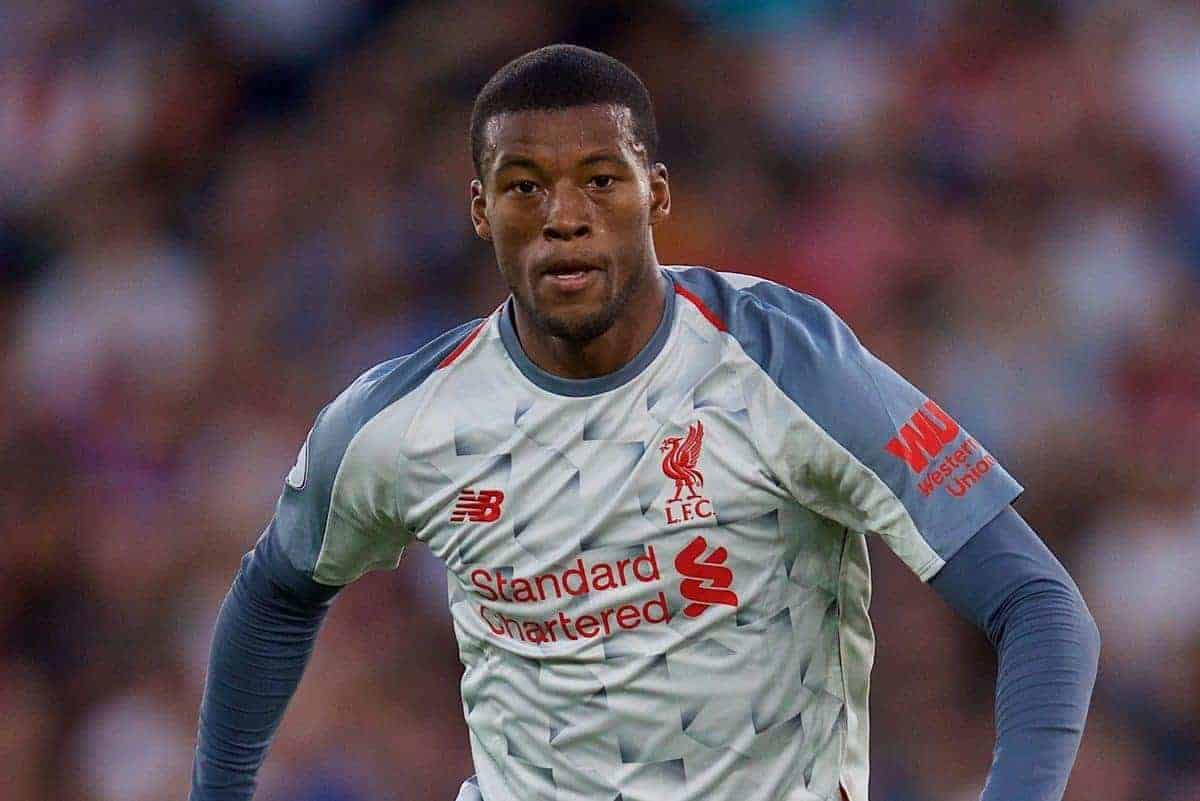 The question remains as a result: is Gini one of the best midfielders at the club, or one of the most easily replaced?
He's great at everything: dribbling, tackling, passing, bursting into the box, defensive back-tracking, tactical flexibility and understanding.
And yet an hour can sometimes seem to pass him by without him impacting the game.
The Champions League final was almost the perfect representation of that: the only starter on either team with a 100 percent pass completion rate was Gini—but his paltry tally of 12 passes made and completed was easily the lowest of any starting midfielder.
Such was his (and Liverpool's, in this case) lack of control on the game in the centre of the park.
Klopp's Go-To Guy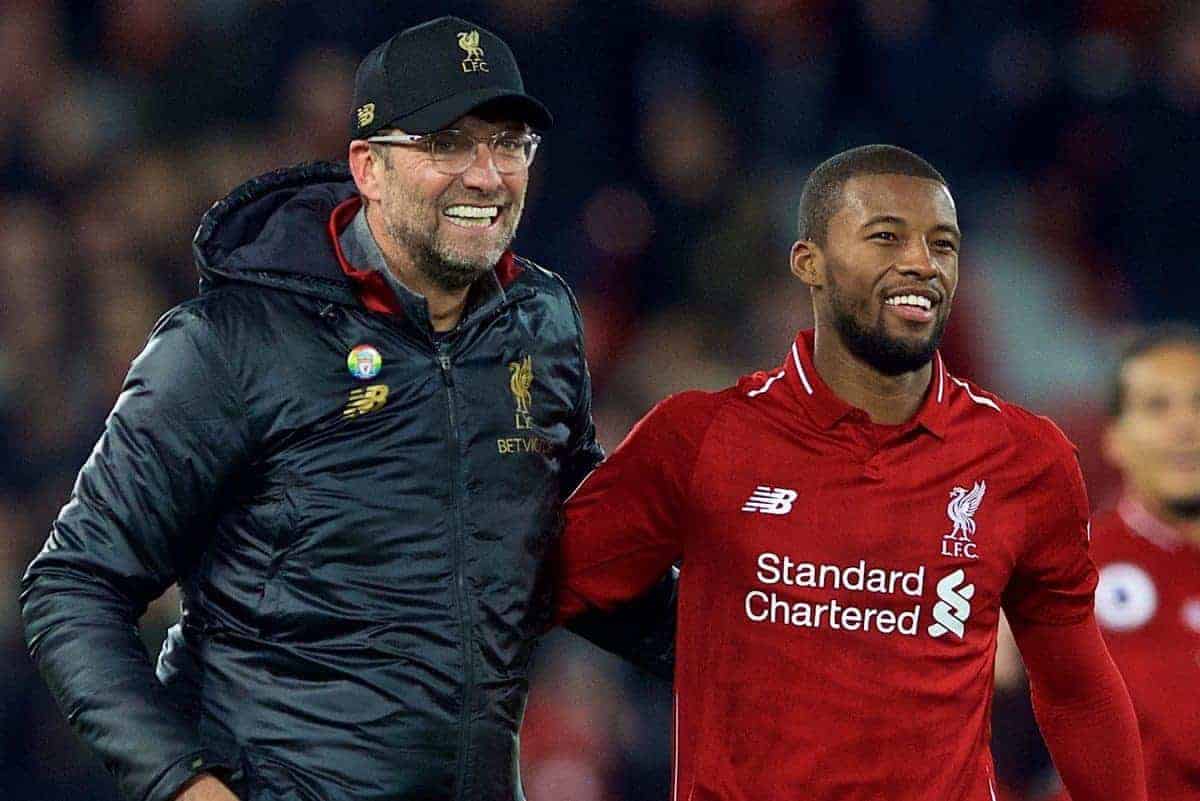 Maybe Wijnaldum has a tendency to go missing at times. Maybe, for all his strong points, consistency isn't one of them—at least not for 10 months at a time.
But there are many other traits he has, some honed only here at Anfield, which make him a regular starter for the boss.
Take some of his most memorable moments of the season—no other Liverpool player could likely provide them.
His insane ability to just run down time in the middle of the pitch, in possession and hounded by two or three opposing midfielders, is unparalleled.
Barcelona found it out, to their cost, in the closing stages of the second leg, but Wijnaldum has on many occasions shown the same skill, close control, brute strength and tenacious desire to outwit and outfight multiple opponents at once.
Running into the penalty box against Bournemouth, Wijnaldum produced a deft and accurate lob over the keeper to score.
Bobby Firmino might have produced same brilliance and invention, but anyone else in the squad? Certainly not from midfield.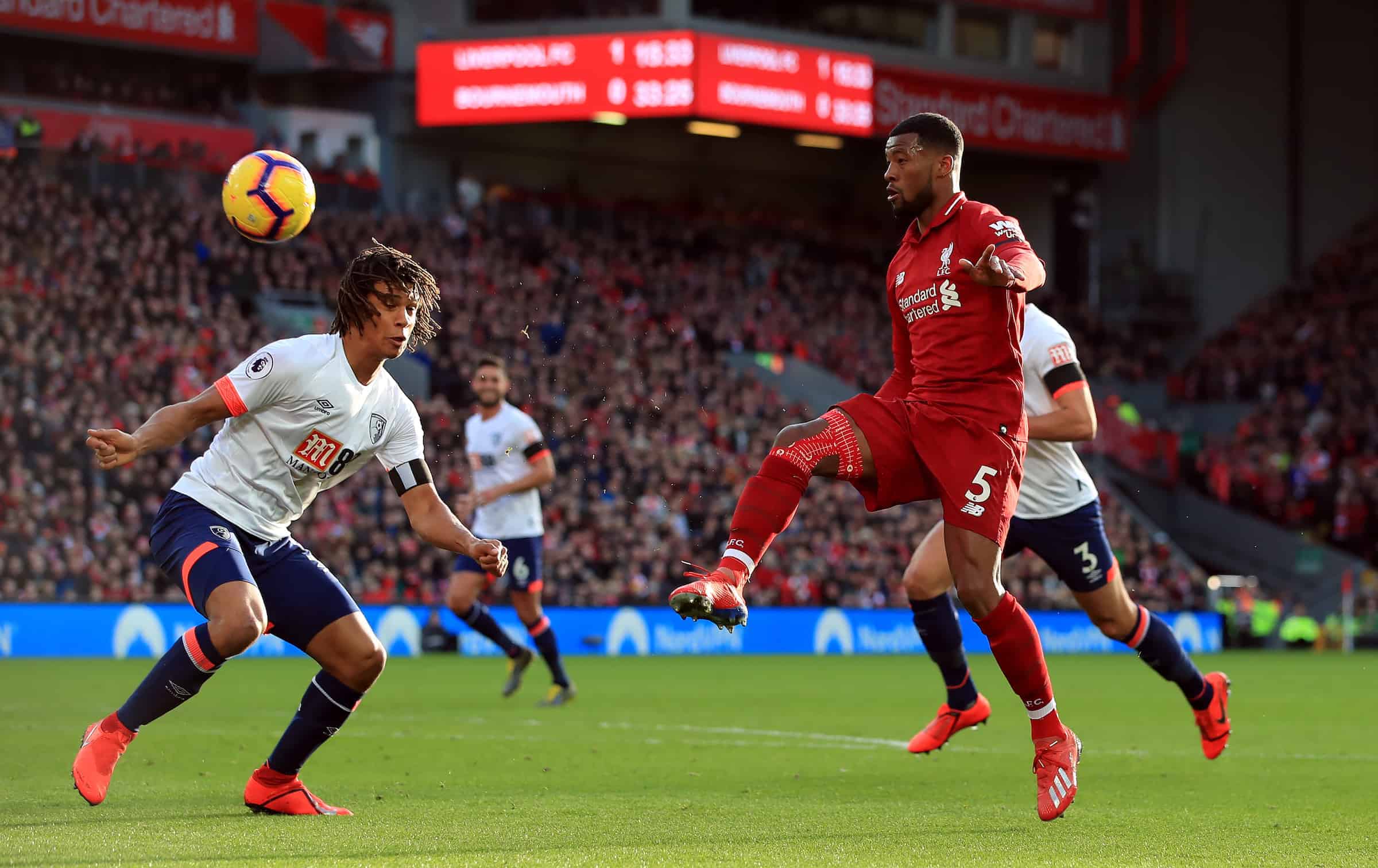 Klopp has used him as a holding man, a box-to-box runner and a narrow midfielder tucked in on the sides of a four-man midfield. He's been at centre-back and centre-forward, too.
His best role is up for debate, still, and that's part of the reason why another new central midfielder is on the cards for lots of fans this summer.
Fabinho's place is locked down, but goals, creation and consistency are wanted from the No. 8s.
Zero assists for Wijnaldum this season have the fans wanting more—but those other reasons are why Klopp will always turn to him.
Never again will Wijnaldum's quality shine through in a manner and a game like the second leg at Anfield.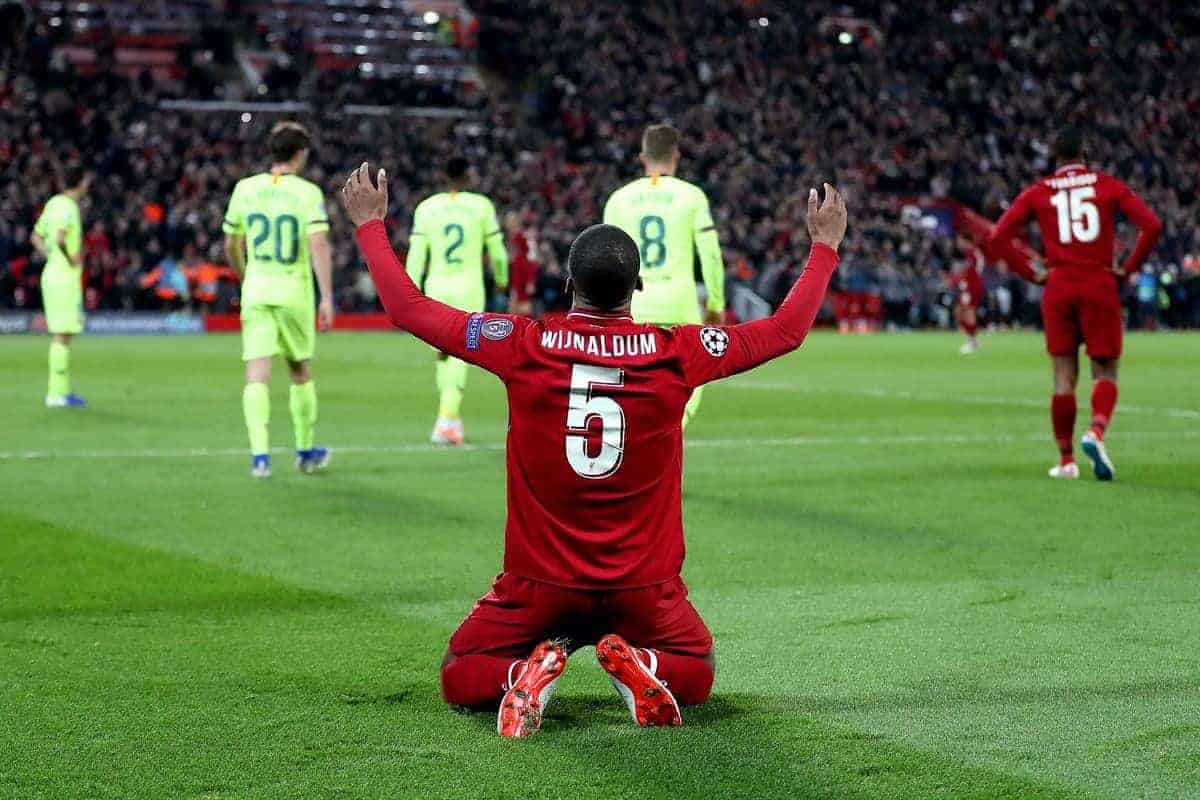 He said after that game he was "angry" about being left out of the lineup.
Maybe Klopp knew that would be the case all along—after all, being dropped previously against Chelsea provoked a similar response from Gini in the next game against Cardiff. Cue a goal and furious celebration.
Benched against Barca, they never knew what hit them when he entered at the break.
Two runs forward, one sweeping finish and one of the finest executions of a near-post header you'll ever bear witness to—the leap, the timing, the poise, the neck muscles—and Liverpool were heading toward the final itself.
Gini, immortalised in Anfield folklore in the space of 122 seconds.
The Future Role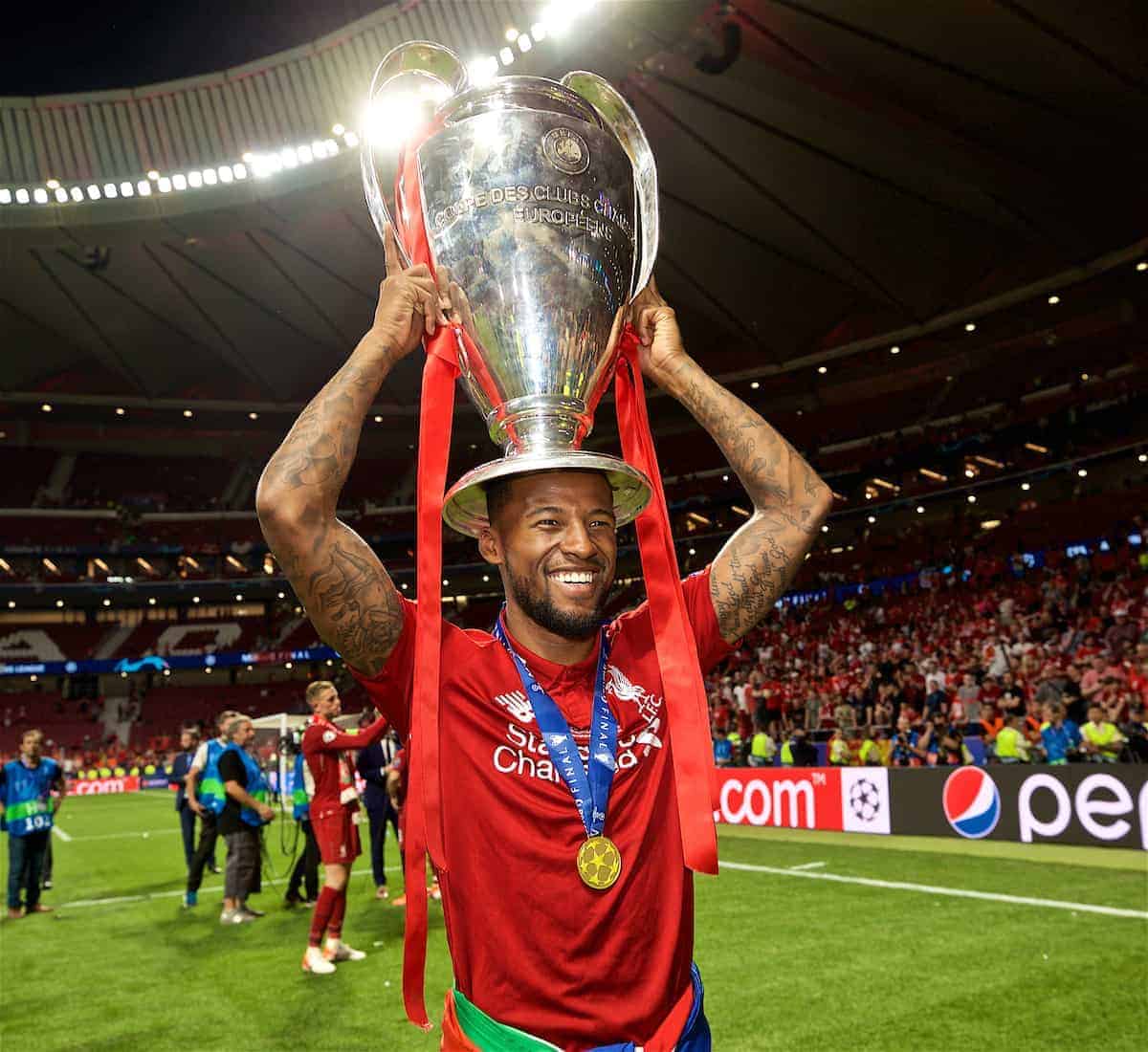 The version of Wijnaldum seen in that game, seen against Bayern early on, seen against Spurs at Wembley and against PSG at Anfield, gets in the Liverpool team.
The version seen in the final itself, or against Newcastle in May, against Everton in March, shouldn't. It's really that simple.
Some positions of the team pick themselves; midfield is entirely different.
Tactics and fitness should always play a part, of course, but when Wijnaldum's on top of his game he's almost undroppable.
His quest remains to prolong those runs of dominance, to exert his influence over more than weeks or even a couple of months.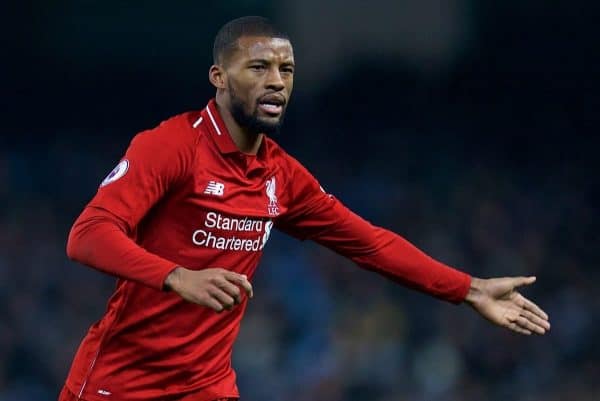 Wijnaldum is 28 now, the peak of his career. He should be aiming to be a starter for the team as it challenges for the Premier League title again next season.
But amid more competition for places and even less margin for error, it will all hinge on his ability to find more consistency.
---
Best moment: Two goals in less than three minutes against Barcelona. More specifically, that incredible second—a perfect header.
Worst moment: Awkward and ineffective performance as a centre-forward in the first leg of that same semi-final.
Role next season: Same as this year: he'll certainly be in the frame for a lot of games, but form and fitness will dictate starts. As Liverpool look to become more consistent, so especially now must the midfield be.