Liverpool were expected to be in pursuit of a replacement for Simon Mignolet ahead of his exit this summer, but now that appears to have changed.
The Reds have been widely reported as weighing up options in goal, at left-back and in attack, with Mignolet linked with a move away to follow Alberto Moreno and Daniel Sturridge.
Having served admirably as Alisson's backup in 2018/19, making just two appearances but proving the ultimate professional behind the scenes, the Belgian could be forgiven for seeking a departure.
Southampton's Alex McCarthy, Cardiff's Neil Etheridge and Adrian, formerly of West Ham, have all been touted as possible replacements.
But it seems Jurgen Klopp has changed tack, with the Times' Paul Joyce reporting that the club "expect Mignolet to remain at the club next season."
This comes with "Klopp valuing his attitude and approach to being backup goalkeeper" and for "how he has dealt with a period in his career in which he has been demoted."
Backhanded compliments aside, Joyce cites how Mignolet "signed a long-term contract in 2016," believed to run for a further two seasons, puts Liverpool in a strong position.
And he adds that "for the situation to change, there would need to be the offer of a permanent move from a club that excited Mignolet and also guaranteed Liverpool a fair fee."
"There is no suggestion that an attractive move and fee is about to force a rethink," Joyce claims, unlike with Lucas Leiva's £5 million move to Lazio in 2017.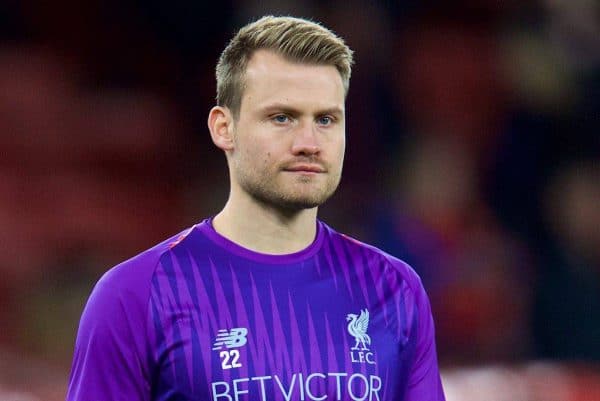 This is, of course, all well and good, but it remains difficult to believe that Mignolet would be content to spend another season on the bench.
In fact, last summer the 31-year-old criticised the club's "bizarre" decision to allow Loris Karius to leave on loan while not being prepared to sanction his permanent exit.
"A goalkeeper who was preferred to me last season may leave on a loan basis. Strange," he said.
"[Karius leaving] does not change anything for me. I have always been clear: I want to play. No. 2 or No. 3 makes little difference. Playing minutes is the most important."
Klopp later warned Mignolet that "discussing your individual problems in public doesn't make too much sense," and instead last month, a similar message came via his brother.
He confirmed Liverpool would "have to find a replacement," as Mignolet "wants to play and will need to change club to do that."
How this stance would have changed in just over three weeks is unclear—and, seemingly, unlikely.