Liverpool will play Norwich under the Anfield lights on the opening weekend of the Premier League, with full fixtures for the 2019/20 campaign confirmed.
The Reds kick off their campaign in the Community Shield against Man City on August 4, but their season proper begins at home in the league.
Daniel Farke's side finished top of the Championship last term, and are eyeing a memorable return to the Premier League after three years away.
Liverpool's opener is currently scheduled for Friday, August 9 at 8pm, and is therefore set for broadcast, with Sky Sports and BT Sport sharing duties with Amazon Prime for the first time in 2019/20.
The first Merseyside derby of the season is at Anfield on Wednesday, December 4 at 8pm, while the reverse fixture is set for March 14.
Man City will provide opposition on November 9 (H) and April 4 (A), with the two sides likely to play out another fierce battle for the title.
The Reds take on Man United on October 19 (A) and January 18 (H), Chelsea on September 21 (A) and May 9 (H) and Arsenal on August 24 (H) and May 2 (A).
Last season's Champions League final opponents Tottenham are up on October 26 (H) and January 11 (A).
And the final game of the campaign is set to be against Newcastle on May 17 at St James' Park.
Key Dates for the Diary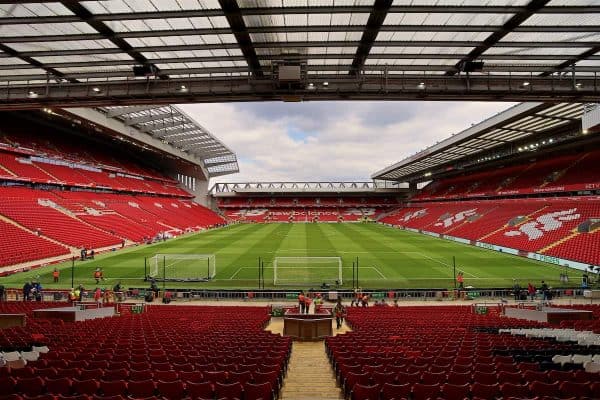 Last game of the season: away vs. Newcastle, May 17
New Year's Day: home vs. Sheffield United
Liverpool will play Chelsea in the UEFA Super Cup in Istanbul on August 14, currently three days before their trip to St Mary's to take on Southampton.
---
Full Liverpool Fixtures Season 2019/20
* Note: All fixtures subject to change once TV companies make their picks.
August
Norwich (H) – August 9, 8pm – Sky Sports
Southampton (A) – August 17
Arsenal (H) – August 24
Burnley (A) – August 31
September
Newcastle (H) – September 14
Chelsea (A) – September 21
Sheffield United (A) – September 28
October
Leicester (H) – October 5
Man United (A) – October 19
Tottenham (H) – October 26
November
Aston Villa (A) – November 2
Man City (H) – November 9
Crystal Palace (A) – November 23
Brighton (H) – November 30
December
Everton (H) – December 4 – Amazon Prime
Bournemouth (A) – December 7
Watford (H) – December 14
West Ham (A) – December 21
Leicester (A) – December 26 – Amazon Prime
Wolves (H) – December 28
January
Sheffield United (H) – January 1
Tottenham (A) – January 11
Man United (H) – January 18
Wolves (A) – January 21
February
Southampton (H) – February 1
Norwich (A) – February 8
West Ham (H) – February 22
Watford (A) – February 29
March
Bournemouth (H) – March 7
Everton (A) – March 14
Crystal Palace (H) – March 21
April
Man City (A) – April 4
Aston Villa (H) – April 11
Brighton (A) – April 18
Burnley (H) – April 25
May
Arsenal (A) – May 2
Chelsea (H) – May 9
Newcastle (A) – May 17