The future of Simon Mignolet's Liverpool career remains uncertain, but do fans feel the club should be looking to sell or keep the Belgian stopper?
Much of Liverpool's summer business has been kept under wraps, but the common consensus among fans was that the Reds would be in the market for a back-up left-back, a versatile forward and an understudy to Alisson.
The latter of which would come as a result of Mignolet leaving Anfield after six years in the pursuit of regular first-team football, after a season and a half on the substitutes' bench.
The 31-year-old featured just twice across all competitions in 2018/19 but remained an ultimate professional throughout and was the teams' biggest cheerleader across social media.
All signs had pointed to an imminent departure for the Belgian, but reports earlier in the week suggested that Liverpool "expect Mignolet to remain at the club next season" unless a permanent move emerged which would "excite" him and meet the Reds' valuation.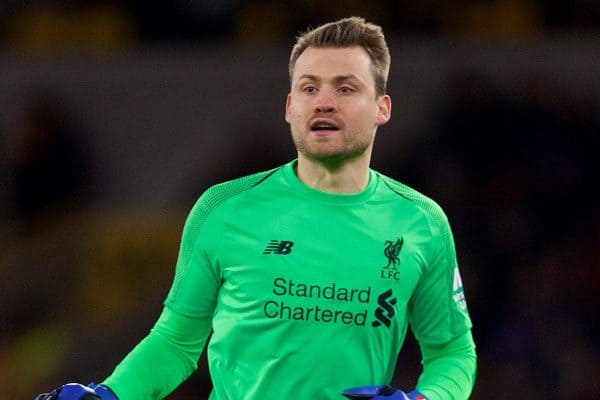 It's a position which contradicts the narrative throughout the backend of last season and has raised the question over what Liverpool's stance on the matter should be.
Mignolet has often divided opinion over the course of his 204-game career at Liverpool, and while some would be happy to see him and the club part ways, there is also an argument that few other 'keepers of his ability could serve as a back-up option.
This Is Anfield posed the question of if Liverpool should keep or sell Mignolet this summer to fans on Facebook and Twitter, and the results went only one way.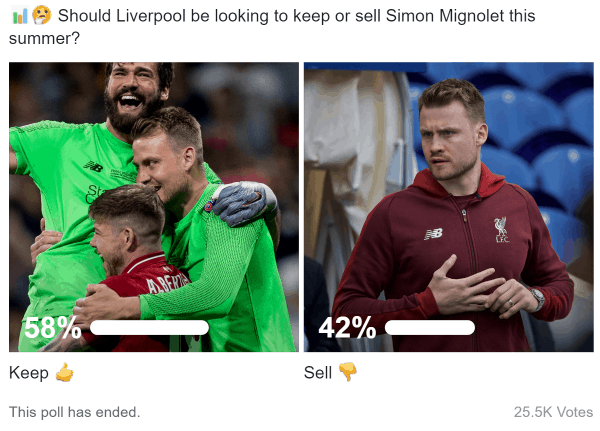 Of the 25,500 fans who voted on Facebook, 58 percent were in favour of Liverpool keeping hold of Mignolet for the 2019/20 season.
Many lauded his professionalism throughout the years and admitted that they would not feel aggrieved should he choose to leave, but concern remained over whether a suitable replacement could be found in that eventuality.
"Solid number two, great professional, definitely keep him as it's a lot of effort to find as good a backup happy to sit on the bench all season.
"From a selfish point of view keep but if he wants to leave, I wouldn't stop him," Benjy Moss explained.
A view which was supported by Ed Turner, who wrote: "Up to him at end of the day but, personally, I think he has shown excellent professionalism in the last couple seasons as number two and that is not guaranteed with a new signing of similar age and quality."
"I'd love to keep him but, for him, I'd love to see him between the sticks somewhere permanently. After his professionalism this season, he deserves it," Shaun Lucas agreed.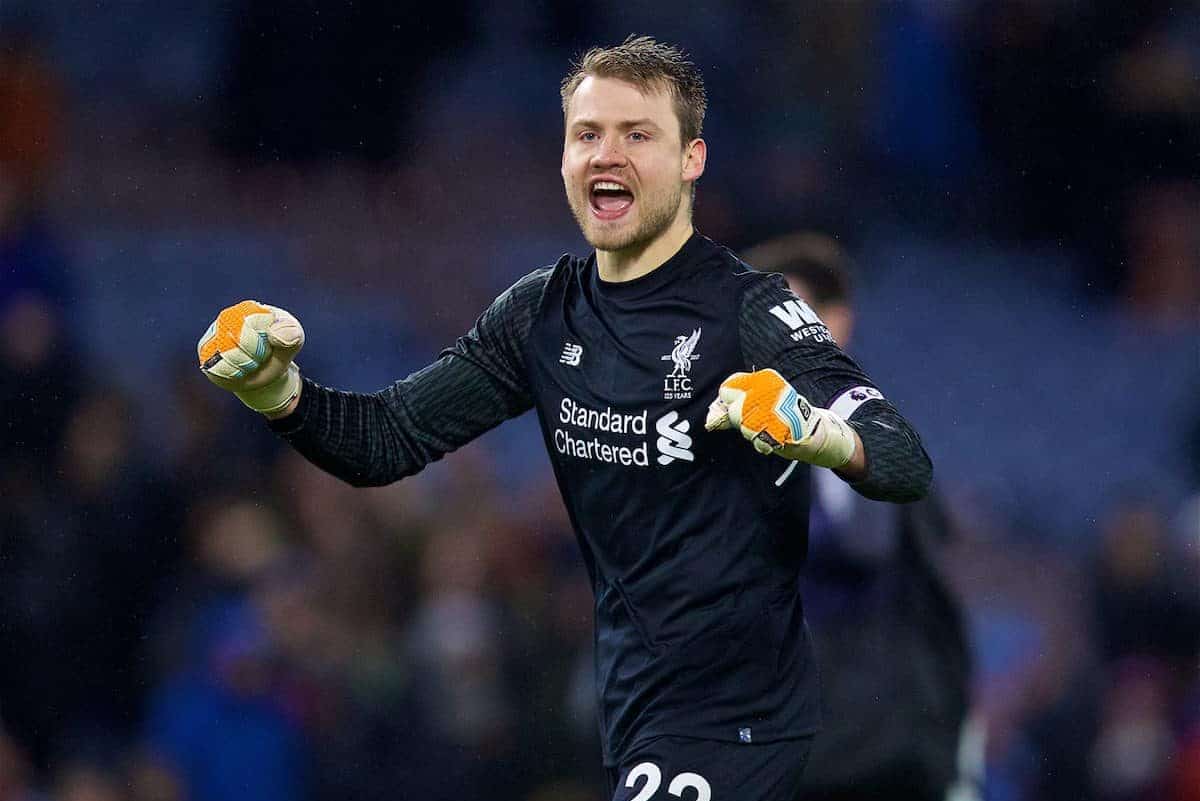 "I would love to keep him but he deserves a place to play as a starter," Tom Steer added. "He's earned that."
Adam Buckley was of similar mind but raised the point that any potential deal must suit both the club and player, writing: "He's been a model pro the last season, treat him with respect and let him move on.
"Not on the cheap but don't make it difficult for him. Also, his value will drop the longer he doesn't play."
Conversely, Paul Myler feels the time is right for Mignolet to leave, as he wrote: "Some people have short memories. Yes, his attitude has been brilliant but let's not forget the reason we bought Alisson was because Mignolet and Karius are poor keepers who make far too many mistakes.
"If Alisson gets injured, I would not be confident with Mignolet in goal."
A view echoed by Aaron Maguire, writing: "Being an ultimate professional and a good role model is one thing but how confident would you be if Allison picked up an injury and Mignolet was back in goal for an extended period?"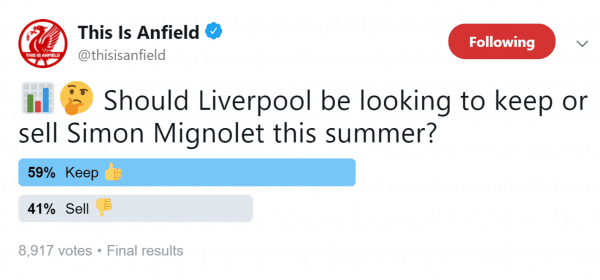 The outcome was all but identical on Twitter as of the 8,917 fans who voted, 59 percent held the view that the Belgian should remain in Jurgen Klopp's squad next season.
Like those on Facebook, the overwhelming feeling was that Liverpool should not stand in Mignolet's way should he wish to leave but that he would remain a more than capable No. 2 should he stay.
"Better to keep," @LiverpoolRage argued. "Reserve keeper only plays a few domestic cup games anyway."
"Depends on what the lad himself wants. If he wants to move on, let him go and find a replacement. If he wants to stay as a number two, no problem with that," @BrianDurand56 explained.
"If he wants to stay then keep him. It seems a bit pointless trying to actively sell him and pay agent fees etc. to bring in a replacement," @mc_red23 agreed. "If he wants to leave, then respect his wishes and don't hold out for anything ridiculous."
"Won't find a better number two. Can't see him wanting to stay though, can get first-team football in another Premier League club," @andytt87 wrote.
For @LFCZA the situation is reliant on the potential replacement, writing: "Depends on who they bring in."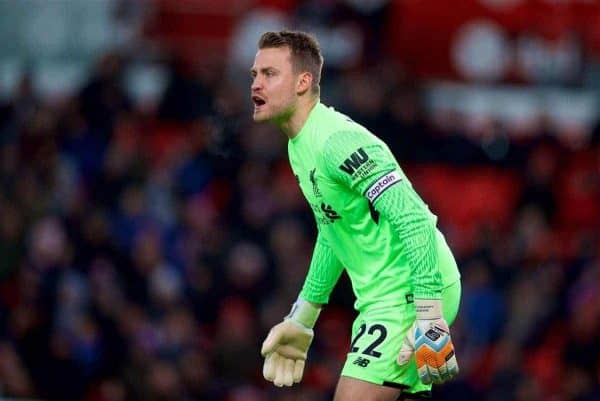 As Alisson is the undisputed No. 1 at Liverpool it is clear to see why results from the poll favour Mignolet staying as a keeper of his quality and character is ideal as a back-up option.
The caveat to that is that a lengthy injury or suspension for the Brazilian would see Mignolet thrown into the mix for an undetermined amount of time, and we all know why he was replaced in the first place.
It leaves Liverpool in an interesting position this summer as while tentative links have been made with Southampton's Alex McCarthy, nothing concrete has emerged and it could all come down to whether Mignolet is content with another season on the sidelines.