Liverpool are not expected to make sweeping changes in the summer, but that won't stop a plethora of select players being linked with a move to Anfield.
With season 2018/19 moving off into the distance and pre-season still a few weeks away, it is about that time of the year where rumours are rampant and speculation over potential transfers can spread like wildfire.
Jurgen Klopp's squad is in a relatively healthy position heading into the new campaign, where the Reds' needs primarily centre around adding depth to their ranks ahead of an assault on several competitions.
While the summer window is not expected to be one where Liverpool splash some serious cash on numerous new faces, there will still be a whole host of names linked with 'interest' and 'admiring glances' from Anfield.
Here we name six players which Liverpool could likely find themselves constantly connected with over the course of the silly season—or as it is commonly known, the summer transfer window.
---
SEE ALSO: 5 Liverpool transfer storylines to ignore this summer
Werner to Bolster Attack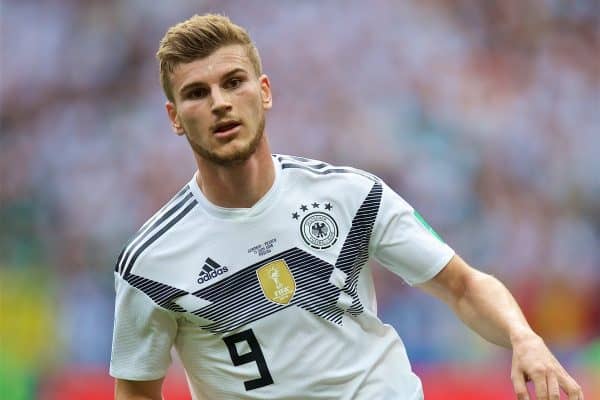 Timo Werner has long been linked with a switch to Anfield and with the forward primed to leave RB Leipzig after three seasons, the Reds will undoubtedly find themselves named as potential suitors throughout the window.
The 23-year-old, whose contract with the German outfit is set to expire next summer, had been expected to make the move to Bayern Munich—but interest from the Bavarian giants is said to have cooled over recent weeks.
It leaves the door ajar for other clubs to battle it out for his signature.
And a move by Liverpool would make sense, where he would link up with former team-mate Naby Keita.
He notched 19 goals and 10 assists across 37 appearances in all competitions last season, primarily as a centre-forward, and he has the acceleration and pace required to fit seamlessly within the forward line.
Moreover, he could provide much-needed cover for both Sadio Mane and Mohamed Salah and potentially lead the line in a 4-2-3-1 system.
It's certainly one story which will rear its head over the next few weeks, despite the potential stumbling block of Leipzig's £50 million price-tag for their star man, as after all, Klopp is said to be a long-term admirer of the Germany international.
Klopp and Gotze to Roll Back the Years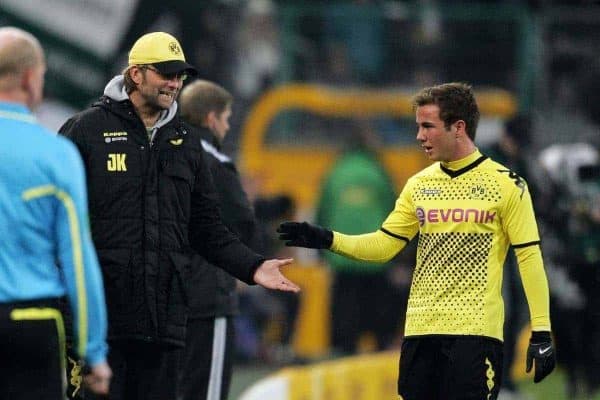 Has there been a transfer window whereby Liverpool have not been linked with Mario Gotze since Klopp took the helm?
The Germany international's relationship with the Reds boss is well-documented and in the summer of 2016 it appeared as though a move was certainly on the cards, until a lack of commitment was felt and a certain Sadio Mane came into the picture.
And that hasn't turned out too bad, has it?
But links to the Borussia Dortmund man have failed to dissipate since then and, with just one year remaining on his contract with the Bundesliga outfit, he is no doubt set to re-emerge as a 'target' this summer.
The flexibility to play in numerous positions across the forward line and as a creative midfielder ensures Gotze fits the bill of what Liverpool are looking for.
He scored seven goals and set up a further seven across 26 league appearances last season, earning him reported interest from Arsenal, but on the Liverpool front the ship is likely to have well and truly sailed on this potential transfer.
Felix the Benfica Wonderkid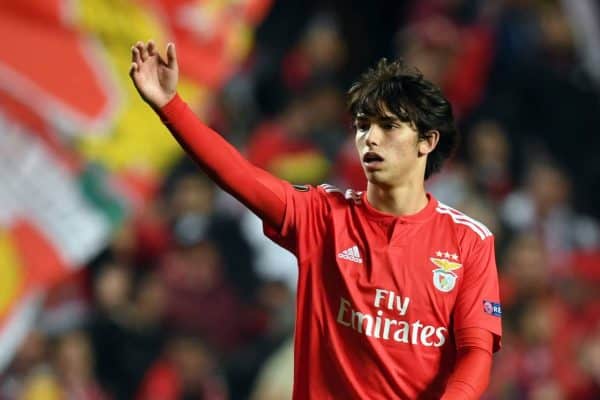 Benfica wonderkid Joao Felix has the entire football world talking after a scintillating debut season in senior football which saw him score 20 goals and set up a further 11 in 43 appearances.
It has seen him attract the interest from Europe's elite as he is expected to leave the Portuguese side this summer, and the Reds have already had their name thrown in the ring.
The 19-year-old is a player who ticks all the boxes and is one who could adequately play a role across all three forward positions under Klopp.
For all the talent he currently possesses, he also has a tremendous amount of potential which will be tapped into as he continues his journey in a first-team environment.
A player of his ilk at such a tender age doesn't come around too often and, as a leading force in European football, it will come as no surprise that Liverpool will be mooted as a potential destination.
An eye-watering release clause of €120m for the teenager would make him a costly investment, but how often do you get the chance to sign potential future stars of world football?
With a lot of teams tussling to land Felix—Man United, Atletico Madrid and others are already linked too—it is likely that this story, and Liverpool's involvement in it, will drag on throughout the summer.
Rabiot as Midfield Reinforcement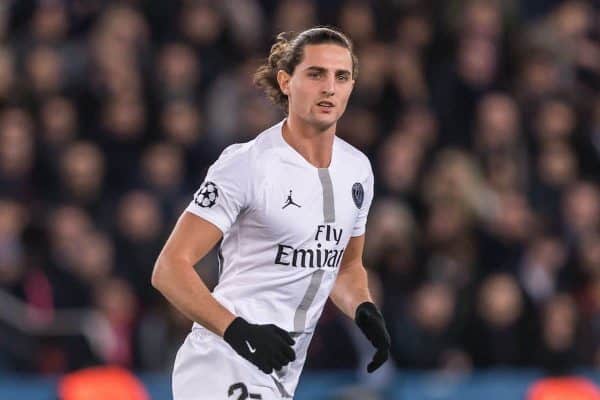 Adrien Rabiot is another player who the Reds have been tentatively linked with over the last year as he looks destined to make a move away from Paris Saint-Germain over the summer months.
He has failed to don the French outfits shirt since December as the club froze him out after he refused to sign fresh terms, meaning his departure from Parc des Princes will be on a free transfer.
Rabiot's hefty wage demands will polarise a number of clubs, which will include Liverpool if their interest is at all substantial, given their wage structure will not be compromised in pursuit of the midfielder.
Juventus are reported to be currently leading the race, and while the Frenchman is an exceptional central midfielder with an exquisite range of passing, the Reds appear well stocked in this area of the field and other positions will take priority.
But the window is long, and the Reds will continue to be linked until he signs on a dotted line.
Ziyech, the '£30m Bargain'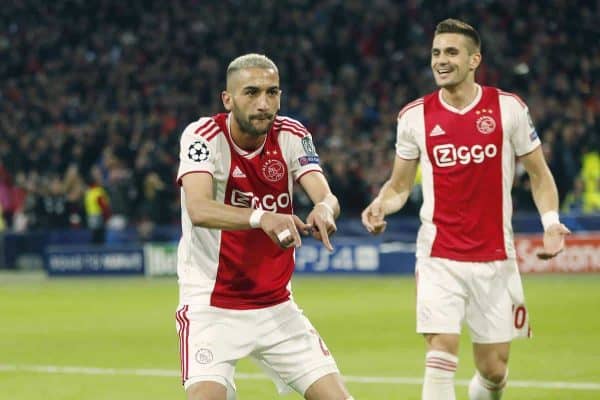 A standout 2018/19 campaign has seen Hakim Ziyech propelled onto the wish lists of a multitude of clubs across the continent and has resulted in Ajax placing a £30m price-tag on his head.
The Moroccan's stunning season saw him net 21 goals and provide 24 assists in 49 appearances, a run of form which helped steer Ajax to the cusp of a Champions League final and secure the Eredivisie title.
Ziyech, 26, has the likes of Roma, Arsenal and clubs across Germany and Spain interested in securing his services—and the Reds do fit the bill as a potential suitor.
As aforementioned, the Reds do need cover in attack but the question regarding this particular match would be whether Ziyech himself would be content with playing primarily as a squad player.
It would not be outlandish should any ties to the left-footed winger grow stronger throughout the window as his current price in comparison to the talent he possesses makes him a realistic target.
One to watch, but in some ways, it feels a little too good to be true, given his primary position is that of Salah's.
Buffon for Back-up Stopper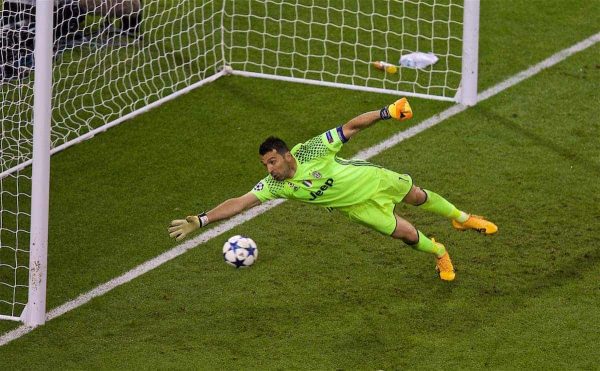 With Simon Mignolet expected to head for the exit door at Liverpool after six years the club will be on the lookout for a suitable understudy to Alisson.
And while Gianluigi Buffon is not what you would describe as your typical understudy, he is available, looking for a new club after a year with PSG and he did name Anfield as one of the best stadiums he's ever played in.
And there is no denying what qualities he would bring to the dressing room.
So, it makes sense that links could be made following on from speculation last year.
But, the Reds will be linked with a long list of keepers until one is finally signed, such is the nature of the beast; Pepe Reina could be another who springs up in what would be emotional reunion after five years away from the club.