The Liverpool FC Women are set to join the men's first team for this summer's pre-season tour of the US, as part of the "'two teams but one club' ethos."
Vicky Jepson's side will travel to the United States alongside Jurgen Klopp's squad, as part of their preparations for the upcoming Women's Super League campaign.
Liverpool open the WSL season at home to Reading on September 7/8, and are set to take on Cleveland Ambassadors in Notre Dame and New York Athletic in Boston to warm up for the opener at Prenton Park.
Their plans mirror the first team's trip, as the LFC Women will then head to New York to "continue community activities" and watch Klopp's side play Sporting CP on July 24.
"This is my fourth year attending the LFC pre-season tour with the men's team," Jepson said.
"However, this year is extra special with it being the first time the women's team has been included and we are now travelling as one big football family."
Jepson's words were echoed by chief executive Peter Moore, who described it as "another sign of our commitment to the 'two teams but one club' ethos."
It is set to be a summer of change for the LFC Women once again, with Laura Coombs, Leandra Little, Jasmine Matthews and Yana Daniels having departed as Becky Jane and Melissa Lawley arrive.
Sophie Bradley-Auckland, who is currently captain, signed a new contract at the end of May, following Jess Clarke, Ashley Hodson and Niamh Charles in committing her future to the club.
Liverpool's Pre-Season Fixtures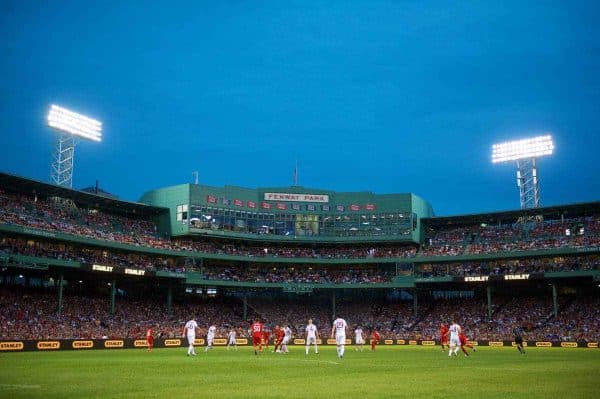 Vs. Tranmere
Prenton Park
July 11, 7.30pm
Vs. Bradford City
Valley Parade
July 14, 3pm
Vs. Dortmund
Notre Dame Stadium, Notre Dame, Indiana
July 19, 8pm local / July 20, 1am BST
Vs. Sevilla
Fenway Park, Boston, Massachusetts
July 21, 6pm local / 11pm BST
Vs. Sporting CP
Yankee Stadium, New York City, New York
July 24, 8pm local / July 25, 1am BST
Vs. Napoli
Murrayfield, Edinburgh
July 28, 5pm
Vs. Lyon
Geneva
July 31, 7pm local / 6pm BST
Vs. Man City (Community Shield)
Wembley
August 4, 3pm