Liverpool's expansion of the Anfield Road End of their stadium will see the stadium's capacity increase by substantially more than originally planned, chief executive Peter Moore has said.
In an interview in New York on Wednesday, Moore for the first time stated the club's intention to significantly change the original planning application, which expires in September this year.
Those original plans would have seen Anfield's capacity increase to around 58,800 in total, adding around 4,600 extra seats in the stand opposite the Kop.
However, the club are now planning to go above 60,000 total capacity, with Moore saying the current application is "insufficient for our plans."
The club chief didn't confirm the new intended capacity, saying that "we're continuing to analyze what is the optimum number," but did say that the new plans will be revealed "in the next few months."
"I can tell you definitively it won't be the rather small-to-medium plans we had recently," he added.

Earlier this week, chairman Tom Werner gave a less optimistic update, though, saying: "We are still analysing the opportunity to build on Anfield Road. I think that we are trying to figure it out.
"When we went forward with the Main Stand expansion, which I'm very proud about, we obviously wanted to do it right so we were quiet about it.
"In a perfect world we will be able to figure this out."
One of the issues has been around infrastructure around Anfield with getting an increased number of supporters to and from a stadium surrounded by terraced streets and with no major train station nearby.
"You just can't build this massive stadium without limits here," said Moore.
"We're very cognizant of the impact we have on the residents. The ability to get people into a ground and get them out of the ground is important as well as the size of what we're building."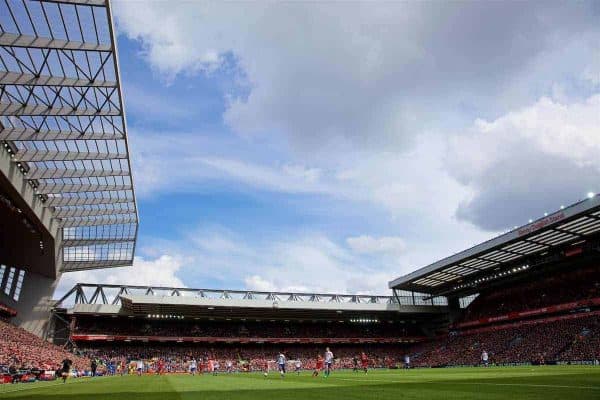 This summer saw Anfield host a series of music concerts and the new Anfield Road End plans will make converting the stadium for such events an easier process.
Original plans for the Anfield Road End expansion involved closing the road itself and building into Stanley Park, which would be required still under any new development.
Liverpool have previously stated that they will not move forward with the Anfield Road expansion until after the new training complex is completed in Kirkby, which is due for completion next spring for use from next summer.