Rhys Williams was one of the Liverpool under-18s' mainstays in 2018/19, and his strong, wholehearted performances in defence have led to lofty comparisons.
Williams earned his first call-up to the England under-18s squad in the March international break, serving as another milestone in a blossoming career for the Preston-born centre-back.
But making two appearances in the UAE Sports Chain Cup in Dubai, the teenager had mixed fortunes as he lost in his debut outing against the Czech Republic before being sent off in the following victory over Mexico.
It was no doubt a vital learning experience for Williams, and a stark reminder that his career remains in its infancy.
Look at the towering defender, however, and you would be forgiven for forgetting that.
Often compared to his first-team counterpart Virgil van Dijk due to his stature, physicality and mature, no-nonsense style, it is clear this is a player worth nurturing.
Rhys Williams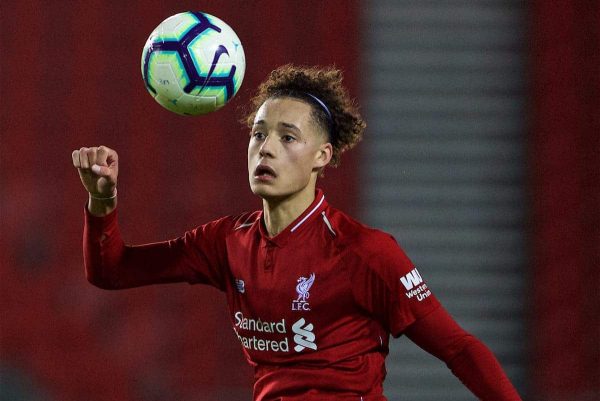 Age: 18
Born: Preston
Position: Centre-back
Signed from: N/A
Williams joined the Reds at under-10s level after being scouted at a local tournament, and as with many young defenders he arrived with ambitions of playing in a different role.
"I started out playing central midfield and then slowly got dropped back," he told the club's official website in April.
"Up until under-14s I never used to like playing as a defender—I hated it, I wanted to score goals!"
But with coaches set on developing him as a centre-back, Williams grew accustomed to the position and made swift progress through the ranks.
He made his debut for the U18s in a 2-0 win over Derby at the beginning of 2017, days shy of his 16th birthday, stepping up from the under-16s to start alongside Caoimhin Kelleher, Adam Lewis, George Johnston and Curtis Jones.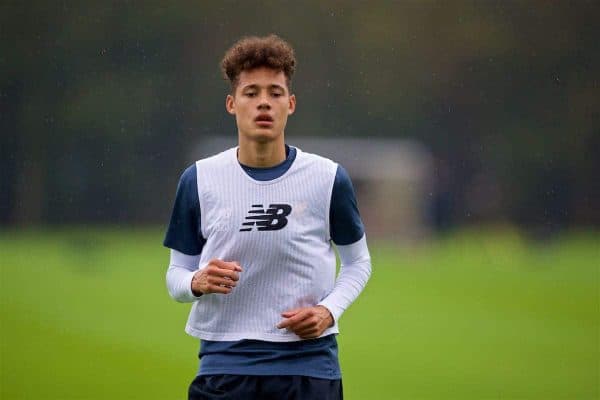 Williams kept his place in the squad for 10 of the remaining 11 games that season, starting six and coming off the bench for another as Barry Lewtas praised him for "taking to it like a duck to water."
He then moved up on a full-time basis when Steven Gerrard took over.
"Rhys is going to be a good 'un," Gerrard concluded, a year on from the youngster's U18s bow, adding: "He will be a fantastic leader one day."
The main aspects Gerrard singled out for Williams were his ability to respond to setbacks and willingness to learn, which has been apparent as he has progressed in recent years.
In his academy column in early 2017, Lewtas hailed the centre-back for having "worked tirelessly to develop certain parts of his game, such as his footwork and defending in one-on-one situations."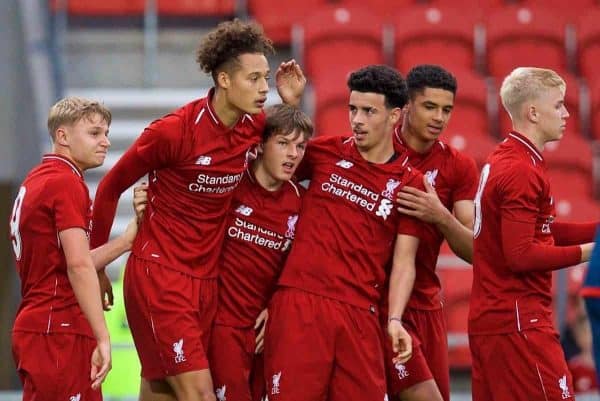 Another area Williams has improved on over the years is his heading, with the U18s manager reflecting on this after his England call-up.
"I remember showing him a video on his heading and it had all his old clips from when he was 15. He wouldn't want me to show you any of them! He'd want them archived!" Lewtas told the Liverpool Echo.
"Look at him now, and the hard work he's put in. It's not by chance."
Once a reluctant defender still playing with the mindset of a midfielder, having only turned 18 in February, Williams is showing great signs of becoming a leader at the back.
He is strong on the ground and in the air, with his reading of the game now allowing him to make fewer last-ditch challenges than in the past, and his passing both long and short is a key attribute.
Not afraid to speak his mind either, Williams revealed he lost his voice through "screaming [and] shouting" throughout the 2-1 FA Youth Cup semi-final win over Watford at Anfield in March.
But he also showed his maturity in addressing the need for a well-rounded leadership.
"You've got to manage players differently. Some players respond differently to how you speak to them," he told LiverpoolFC.com.
"Some might take it as criticism, some might lift their game. You've got to know your team-mates well enough to be doing that."
Williams is also becoming a threat in the opposition penalty area, scoring six goals in 40 games for the academy sides in 2018/19, as well as laying on four assists.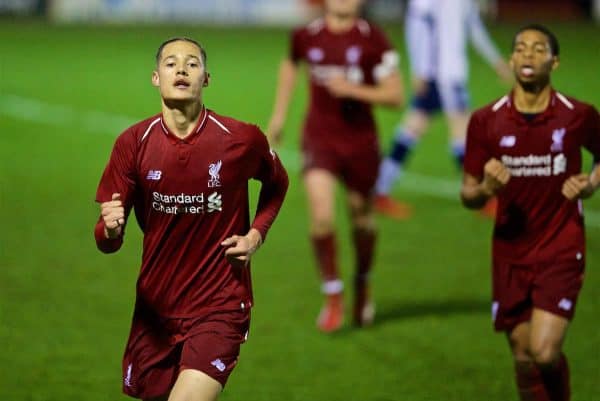 Most of his outings last season came for the U18s, where he was a near ever-present for Lewtas, but he also made the step up to Neil Critchley's under-23s.
After signing his first professional contract with the club in February, it is clear that is the trajectory he is set to follow, and he could become a regular at U23 level in 2019/20 due to a host of defensive departures.
The 18-year-old could join Sepp van den Berg and Ki-Jana Hoever (both 17) as staple options for Critchley, and that would be a strong show of belief in the trio if that is the case.
And while he isn't Dutch himself, he certainly resembles Liverpool's current No. 4 at first-team level.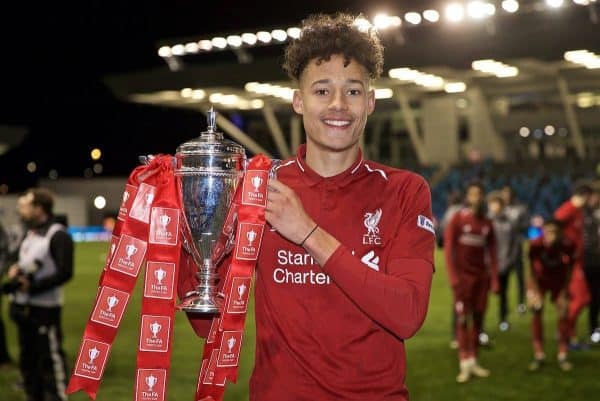 It would be remiss to claim Williams is anywhere close to Van Dijk's level at this stage, and he has a long way to go until he proves he could assume the 27-year-old's mantle in years to come.
But he is regularly studying videos of Van Dijk, produced by the club's academy staff, in order to learn from him and add to his game.
There are similarities beyond their looks—Williams is quick to stress he is, in fact, the taller of the two—and if he can establish himself as a key player for the U23s in 2019/20, hopes should be high.