Jurgen Klopp and Pep Lijnders have taken a brilliant trip down memory lane, looking back on Liverpool's Champions League triumph last season.
The Reds secured European Cup number six back in June, seeing off Tottenham to end a magical 2018/19 campaign at Anfield.
Klopp was the undoubted catalyst behind the success, sealing his greatest achievement in management and doing it without former assistant Zeljko Buvac.
Stepping in to replace 'The Brain' of Klopp's operation was Lijnders, who has taken to the role magnificently, showcasing his tactical acumen.
With the dust settled after Champions League glory and the new season almost upon us, Klopp and Lijnders sat down to look back at last season's thrilling run.
It makes for fascinating viewing, with the pair in great spirits as they dissect the action and add a comic element to proceedings.
Klopp starts off by describing the day after the Champions League final as "one of the best of my life", which included a bit of macaroni in tomato sauce with his family.
The importance of the second phase of set-pieces is discussed as they watch Roberto Firmino's winner against PSG in the group stage, as well as Alisson's vital late save against Napoli.
Sadio Mane's stunning effort away to Bayern Munich is rightly described as "unreal" by Klopp, who tips it to win Goal of the Year.
The pair admit they are huge fans of the various songs for players, from Virgil van Dijk to Gini Wijnaldum, saying the level of support from fans has improved over time.
Trent Alexander-Arnold's assist against Barcelona is one Klopp says he "will never forget" and re-watching the post-match rendition of You'll Never Walk Alone leaves both the German and Lijnders speechless.
Jamie Webster's singing style is perfectly compared to Liverpool's all-action approach to games, while Madrid hero Divock Origi is lauded for his impact.
Then it's time to focus on the aftermath of the final win over Spurs, with "the most Bobby Firmino thing ever" highlighted, following the Brazilian's forward roll after the final whistle.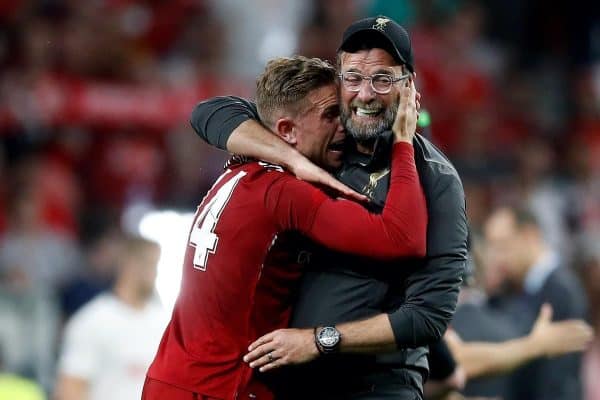 The calmness on show in Madrid is explained as the key behind the victory, with past experience of losing working in Liverpool's favour.
As the duo look at the many Reds fans celebrating around the world, Klopp nails it by saying: "this club is SO big. You cannot understand how big it is".
Finally, the incredible bus parade gets a mention, with the boss playing down his apparent drunkenness and admitting it took days for the experience to properly sink in.
The must-watch video is further proof of the safe hands that Liverpool find themselves in, with Klopp undeniably one of world football's leading managers.
Lijnders is also clearly a special talent, though, and without his continued input the Reds would be worse off.