The media praised Adrian's heroics and Roberto Firmino's display in Liverpool's UEFA Super Cup win over Chelsea as the Reds enjoy a new "golden era."
Back on our perch!
Another victorious penalty shootout in Istanbul saw the Reds win a fourth Super Cup and a 43rd major trophy to confirm their status as the most successful English club.
The two sides could not be separated at 2-2 after a long 120 minutes of football, then debutant Adrian made himself a Kop hero by saving Tammy Abraham's spot-kick to win the cup.
It wasn't a great performance, but finals are for winning and that is what Klopp's side did once again as a nice habit starts to develop.
Here's how the media assessed the triumph.
Reporters praised Liverpool for collecting more silverware and reflected on a trophy-winning full debut for Adrian…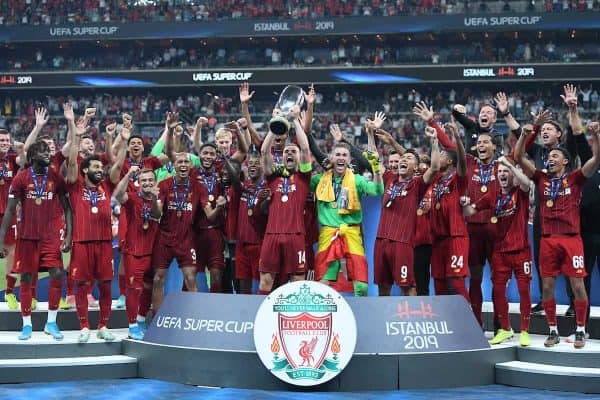 The Telegraph's Chris Bascombe wrote that Liverpool are now "enjoying another golden era," citing that they are no longer relying on the club's illustrious history but adding to it:
"No-one can accuse Liverpool of clinging on its reputation solely because of its history anymore. Under Klopp, they are enjoying another golden era."
Telegraph colleague Jason Burt reflected on the "trophy-hunting momentum" that Klopp and this current Reds team are building:
"This victory meant it is four Super Cups and 13 European trophies—and a record 43 overall—for Liverpool amid the sense that there is an unrelenting gathering, trophy-hunting momentum around them and Klopp."
The Liverpool Echo's Paul Gorst correctly noted how collecting such silverware is so important in helping establish a "winning culture" to breed more success:
"Such success only helps foster a winning culture at the club."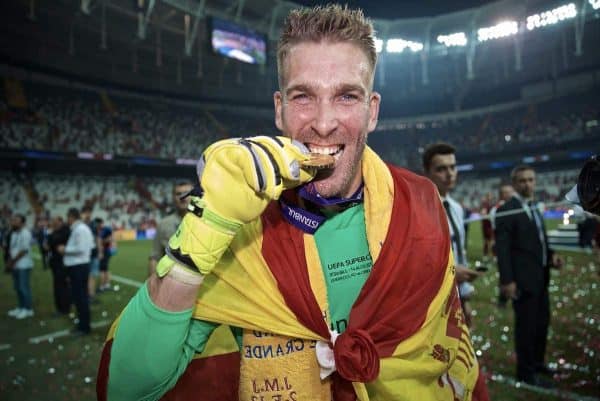 Spanish publication AS reflected on Adrian's incredible journey "from unemployment to European glory":
"Without employment after being released by West Ham, he was forced to work on his own and went to the facilities of the humble UD Pilas of the First Andalusian Senior division.

[…]

"As if it were a fairytale, Adrian San Miguel became the unexpected European Super Cup protagonist.

"In just under two months, the Spanish goalkeeper has gone from training with a team of the First Andalusian to giving Liverpool their fourth Super Cup."
Meanwhile, the Evening Standard's David Lynch pondered whether Adrian produced the most successful full debut in football:
"The Spaniard was called into action more than he would have liked, yet responded with several smart saves to keep Chelsea from running away with it.

[…]

"A trophy on your first start? Beat that."
Furthermore, Bascombe made an interesting point on the change in the rivalry between the clubs and the way that roles have somewhat reversed in recent years:
"The resentment between Liverpool and Chelsea of the mid-noughties feels as though it has dissipated now.

[…]

"There may be more empathy than antipathy between those supporters now. Liverpool have to come to realise it is not so morally bankrupt to pay world record transfer fees to transform trophy ambitions, while Chelsea have come to understand digging through the archives for heroes and inspiration is not so bad, after all."
The watching media lauded Firmino's game-changing performance…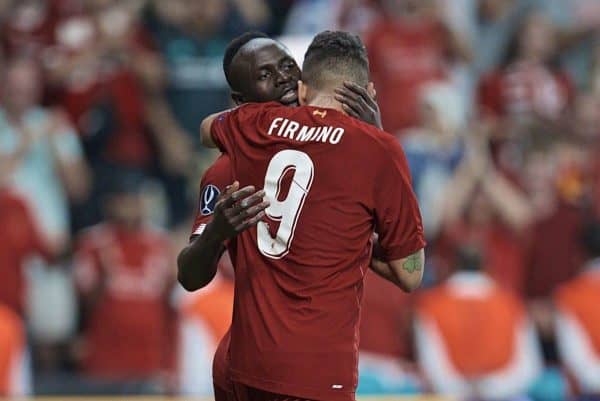 The Mirror's James Whaling assessed the No. 9's introduction as the moment that the game swung in Liverpool's favour:
"The Brazilian was introduced at the break which saw Mane drift into his more natural position out wide – and it paid dividends immediately.

[…]

"He then laid on Mane's second in extra-time as the Senegal forward thumped in off the crossbar. The very introduction of the Reds' immensely talented focal point seemed to give the whole team a boost."
The Independent's Miguel Delaney was impressed with the linkup play between Firmino and Sadio Mane, assessing this as key to Liverpool's success on the night:
"The link-up play of Firmino and Mane. There is a genuine understanding there."
Writing for Goal, Neil Jones stated that Firmino's influence to Liverpool's play simply cannot be underestimated, with the Reds "a different team" when he is on song:
"Don't ever doubt Roberto Firmino's importance to this Liverpool team.

[…]

"Liverpool, quite simply, look a different team when he is fit and firing."
Lynch echoed those sentiments, but explained how this has causes a problem for Klopp who has to somehow make the attack more functional for when Firmino is not around:
"Klopp cannot afford to play his No. 9 to the point of injury or exhaustion—an outcome that is more likely than usual given the amount of football he has played in the last 12 months. However, he will know that the Reds' attack is nothing like as deadly without its main man stitching things together in the middle.

"Rotation is only worthwhile if your backup players can perform at levels close to the men they are replacing, but nobody can get close to doing what Firmino does. That is a major worry for Klopp at the start of a long campaign."
Reporters were not so impressed by Liverpool's defensive display again…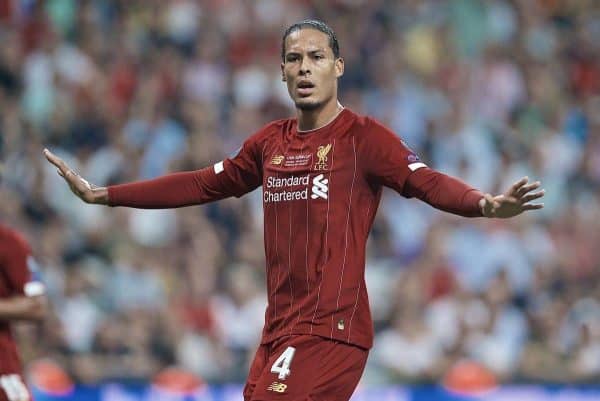 The Guardian's Daniel Taylor thought Liverpool again showed signs that defensive vulnerability is returning as the early season theme continues:
"The problem for Liverpool was reminiscent of their opening game of the Premier League season against Norwich City: a strange vulnerability in defence."
Jones wasn't convinced by Liverpool's use of a high defensive line and believes there is work to do to get it right:
"The high line remained, and in truth it will still need some work, but at the other end their three amigos could wreak havoc."
However, Lynch felt the main problem was not the high line, but the lack of pressure on the ball which made it easy for Chelsea to exploit the pushed-up defence:
"A high line and zero pressure on the ball are not a good mix, and Klopp's men could do with cottoning onto that fact sooner rather than later."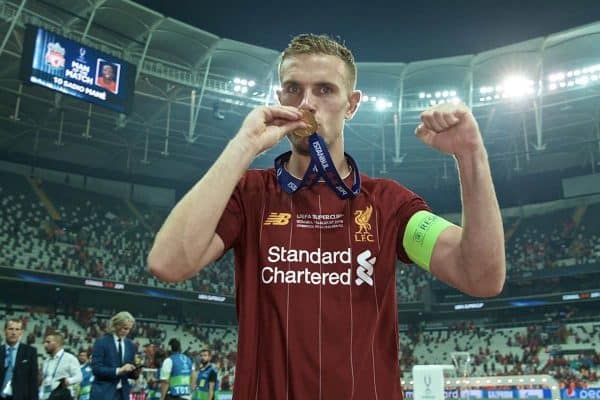 Melissa Reddy, of ESPN, was critical of the role of Liverpool's midfield, assessing that the Reds' central unit failed to pressure the ball which therefore put "enormous pressure" on the defence:
"Liverpool's midfielders may as well have remained in the dressing room during the opening half given the way Chelsea sliced through centrally as though they had the freedom of the pitch.

"The lack of balance and compactness to the side's shape put the defence under enormous pressure, while the attackers were starved of service."
The Mail's Dominic King thought the root of Liverpool's issues was down to Mohamed Salah not offering enough protection ahead of Joe Gomez on the right flank:
"Joe Gomez, who started the Community Shield and Premier League opener against Norwich alongside Van Dijk, was shifted out to full-back but he got no protection from Mohamed Salah and was often left exposed.

"It was no surprise Chelsea opened the scoring after exploiting that channel."
Meanwhile, Reddy thought the lack of creative influence without Trent Alexander-Arnold and Andy Robertson both in the XI was highlighted:
"Liverpool are nowhere near as threatening without the creativity of their full-backs."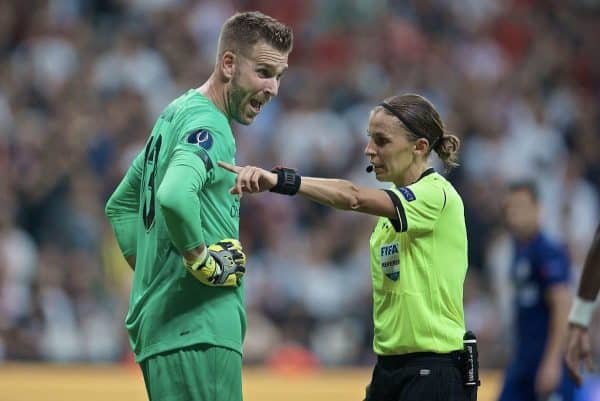 King also feels Alisson's absence is a key reason behind the unsettled defence and he outlined reasons why the back line does not look so assured with Adrian:
"You can see the differences: it is the little things, such as the fact he will stand six yards deeper or pick the ball up when it comes back to him (Alisson always uses his feet to maintain the tempo) or kick it long out of his hands.

[…]

"Alisson is not just a mighty physical presence but he also settles nerves."
Certain journalists offered various thoughts on the performance and Klopp's tactical setup…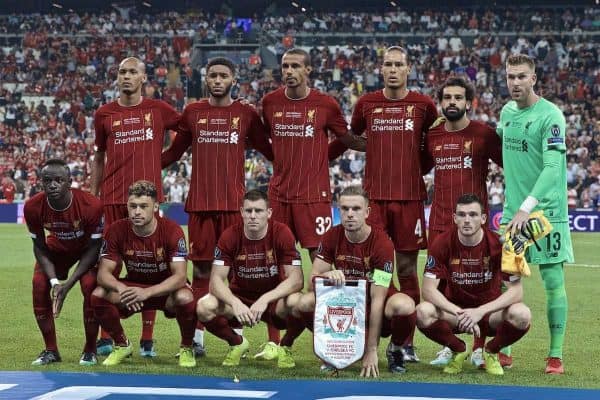 In particular, Reddy thought the shape of the midfield was the key problem, as Klopp's spread-out central trio lead to a lack of control in the middle of the park:
"Jurgen Klopp watched his midfield struggle terribly in the first half, with Jordan Henderson and James Milner pulling wide, which allowed Chelsea to overload the central area, isolating Fabinho and giving N'Golo Kante license to thrive."
Jones found a concern in the way that Liverpool were "out-worked" by Chelsea:
"They weren't at their best here, for sure—loose in possession, unnerved at the back and, dare we say, outdone in terms of energy as well."
Lynch wrote that the "Oxlade-Chamberlain experiment failed" and that the No. 15 should not be used on the left of the front three:
"Judging by tonight's evidence, it shouldn't be in Sadio Mane's role on the left-hand side of that triumvirate.

"The Englishman did not play particularly poorly during his time on the pitch, but he simply could not offer the same threat as the man whose usual role he took up."
Reddy echoed those sentiments, assessing that Oxlade-Chamberlain should have been deployed as Liverpool's primary attacking midfielder:
"Some bright touches in the opening minutes, but failed to tattoo himself on a game that would have been better served if he started in central midfield rather than on the left wing."