And we're away. On Friday night Liverpool launched themselves into the 2019/20 season with a comfortable victory over a team that Steven Scragg thinks will take points off some big hitters.
Friday night football is a not-so-guilty pleasure of mine. A great way to start the weekend—if you win, of course—where you get all the joys of a midweek game, plus the benefits of being able to sit back and let everyone else try to match you over the course of the next 48 hours.
The complete reversal of being handed the dubious Monday night duties.
I spent the morning helping put the pre-match mosaic together. Weren't those stripes on the far left-hand side and the handles of the European Cup particularly resplendent?
It Still Feels Great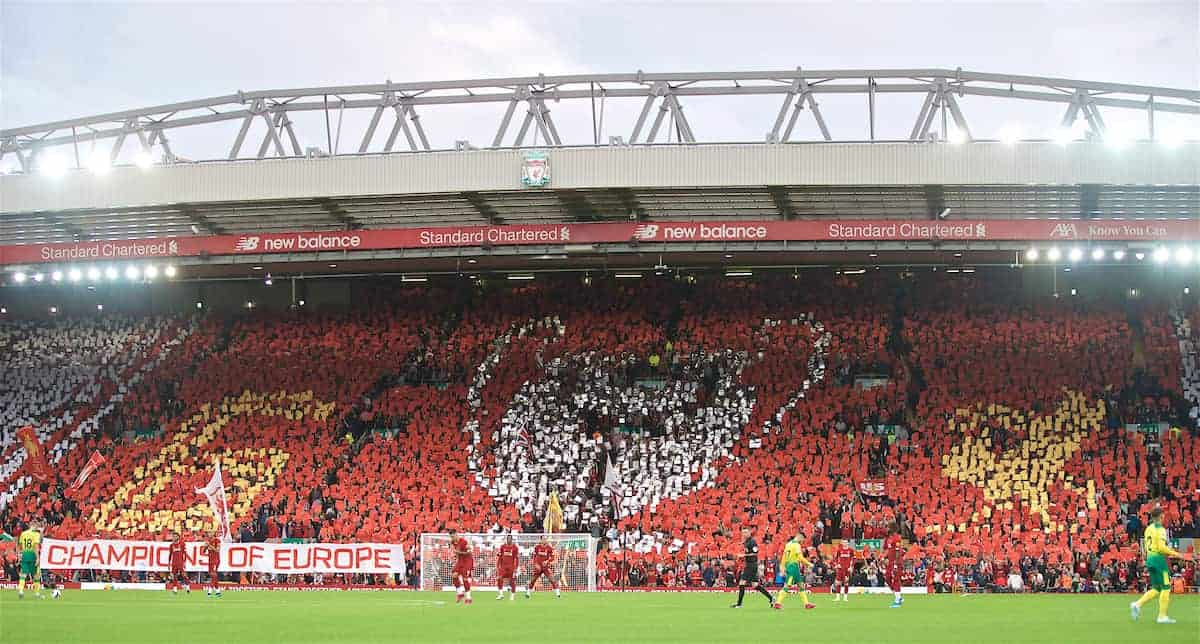 A new domestic season begins, but it still feels great to be the champions of Europe.
In the absence of top-of-the-range summer signings, we go into this one needing to harness the highs of Madrid; we go into this one looking for existing squad members to make renewed heroes of themselves.
On one hand, supporters are lamenting the lack of big-name arrivals, while on the other, they are roundly amazed that Naby Keita and Alex Oxlade-Chamberlain didn't get any game time in the comfortable victory over Norwich City.
Sadio Mane was kept waiting in the wings until the 74th minute.
Liverpool's squad situation is a healthy, yet finely balanced one. We have an array of outstanding players, but we are fearful of injury to the structural pillars of the team.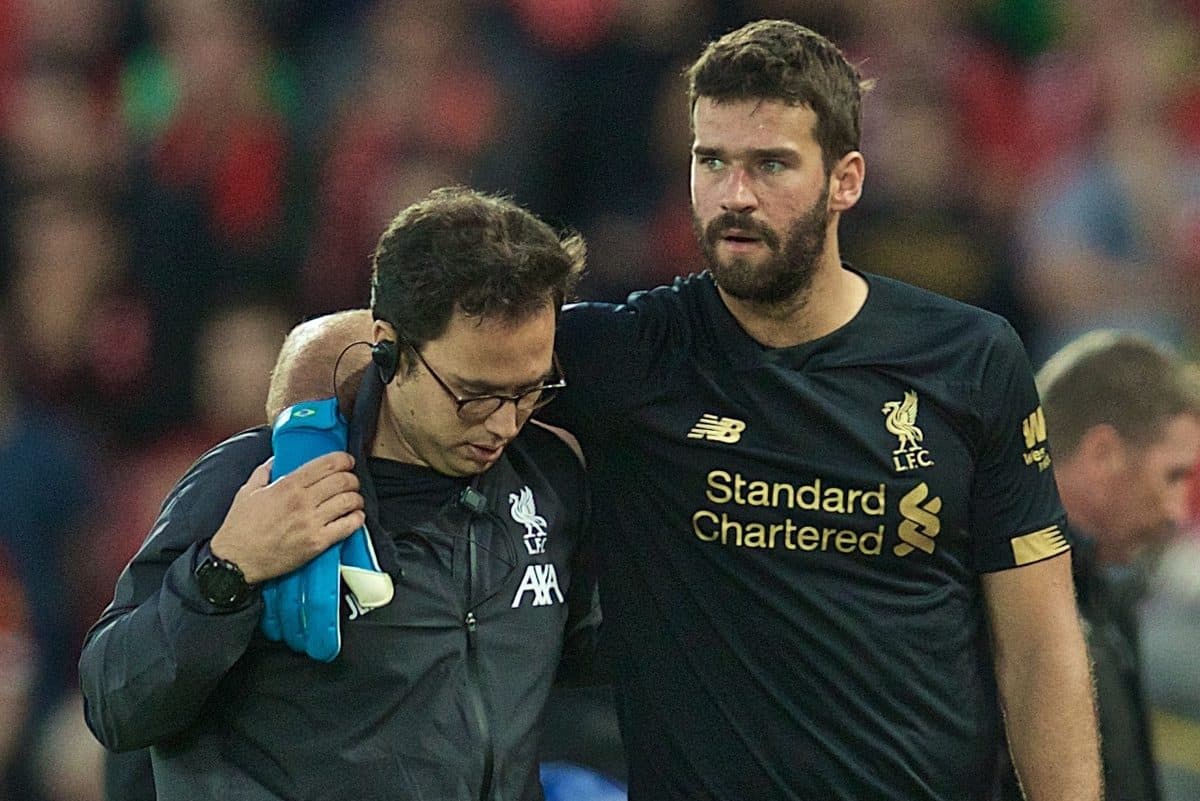 Hence, nothing but a sharp intake of breath can be taken when Alisson Becker is in pain after slipping when taking a goal-kick.
Simon Mignolet was sat somewhere in Bruges, contemplating the vagaries of life choices, chance and fate.
Adrian did nothing wrong when he came on, there were no major causes for alarm and there wasn't much he could do with the goal he conceded.
A scan will reveal the extent of Alisson's calf injury, and we hope for only minimal damage—six weeks say the early signs—in the same way we would sweat over a fitness scare for Virgil van Dijk, Andy Robertson, Trent Alexander-Arnold, Mo Salah, Roberto Firmino and Mane.
Subtle Importance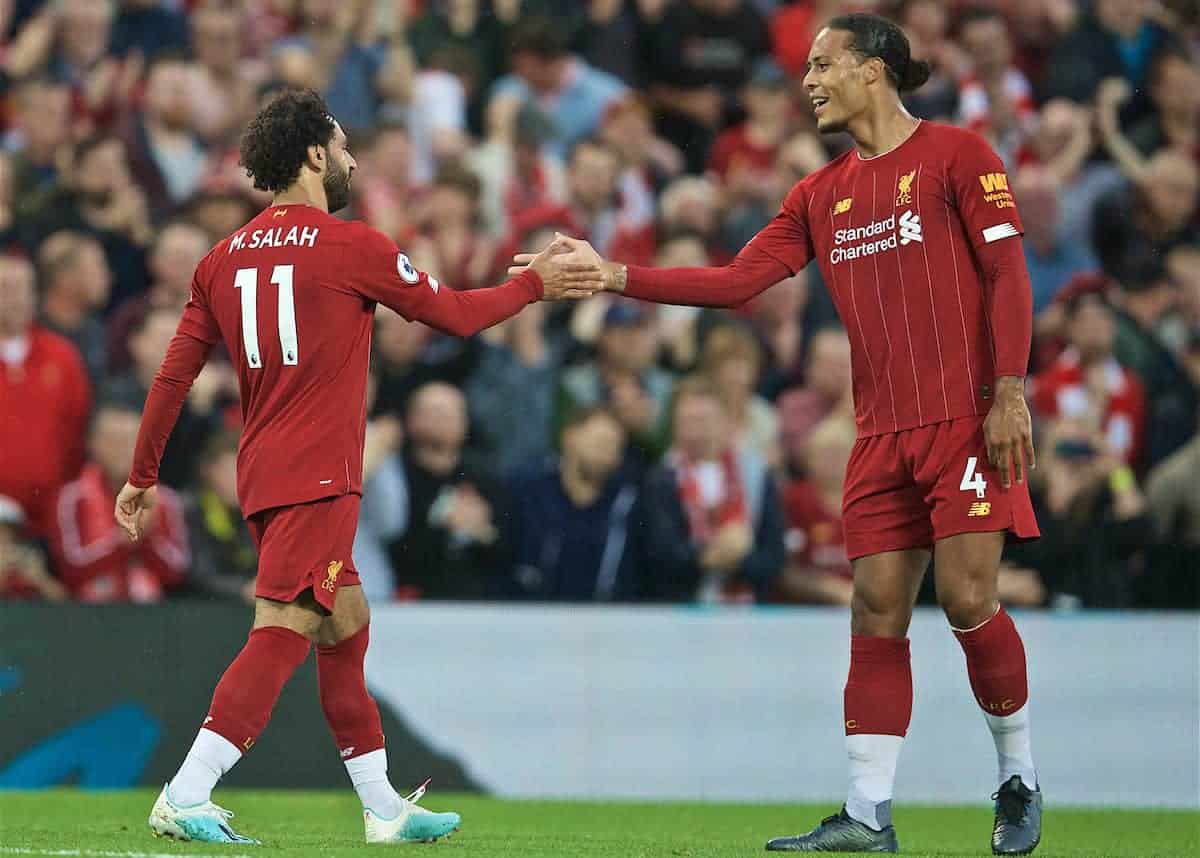 It isn't to say that other members of the squad aren't as important, but that we have options capable of covering for the absences of those other players.
For instance, for a midfield of Jordan Henderson, Fabinho and Gini Wijnaldum, we could just as easily field a midfield of James Milner, Kieta and Oxlade-Chamberlain, while Adam Lallana would still come no nearer getting a game.
The theory of changing an entire Liverpool midfield is, however, laced in disingenuous practicalities. Henderson, playing higher again, is maturing into a marvellous presence. We'd miss him if unavailable for prolonged spell.
Fabinho meanwhile, is just a wonderfully soothing ingredient. When the two collided upon the cusp of the half time whistle, Henderson eventually got up as if it were a mere celebratory chest bump, when it really looked like he should have been nursing broken ribs.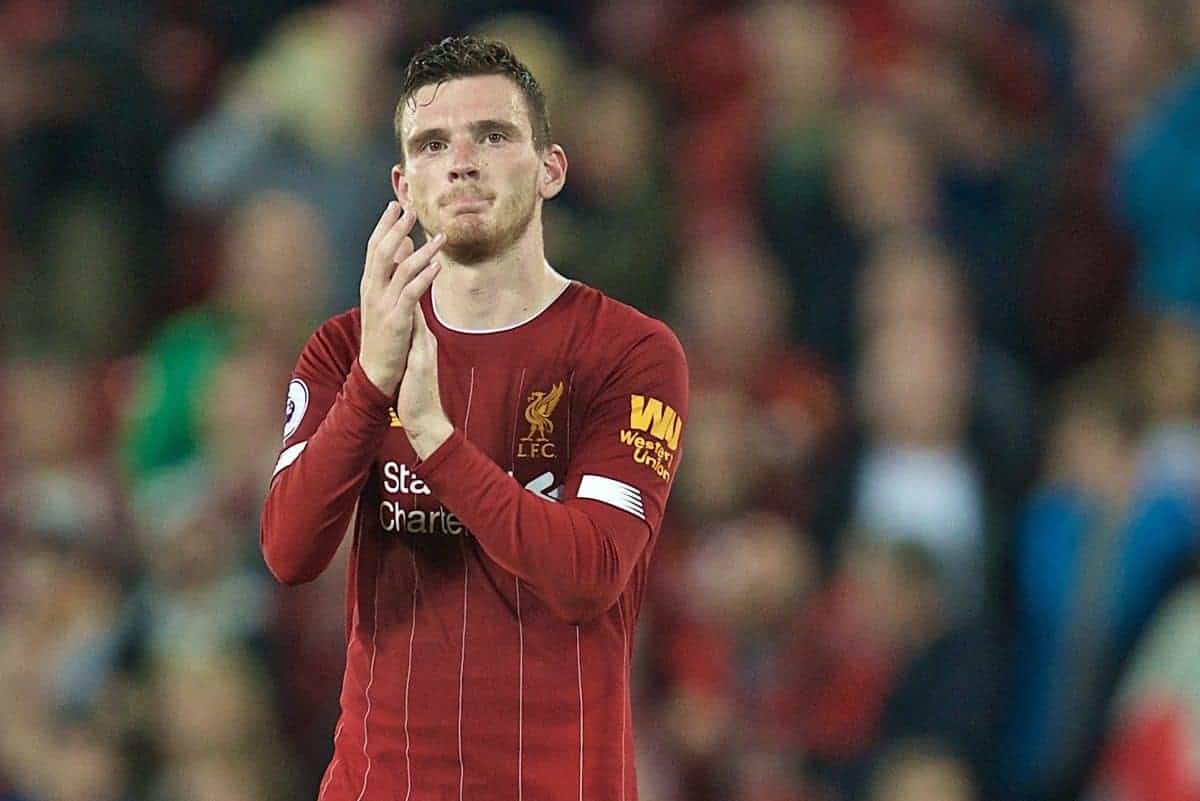 Back in defence, if Joe Gomez isn't available, we have Joel Matip. While some players seem interchangeable, others feel irreplaceable, despite a plan B being available for all eventualities.
Part of a defence that appears to be playing a higher line, Gomez is becoming the scapegoat for defensive grumblings.
Matip won new fans during the absence of Gomez during the second half of last season, and while the Cameroonian was in possession of the position alongside Van Dijk at the end of 2018/19, it jars for many that he is on the outside looking in as 19/20 begins, especially when added to by Matip's goalscoring cameo, at Wembley, against Man City.
Either way, a little less freedom around the back of our defence for opposing teams would be favourable. A higher defence comes with benefits and at a price. The faces of the squad may not have changed vastly, but the on-pitch set up has been adjusted. Jurgen Klopp will want further evolution to his team this season.
Losing the Second Half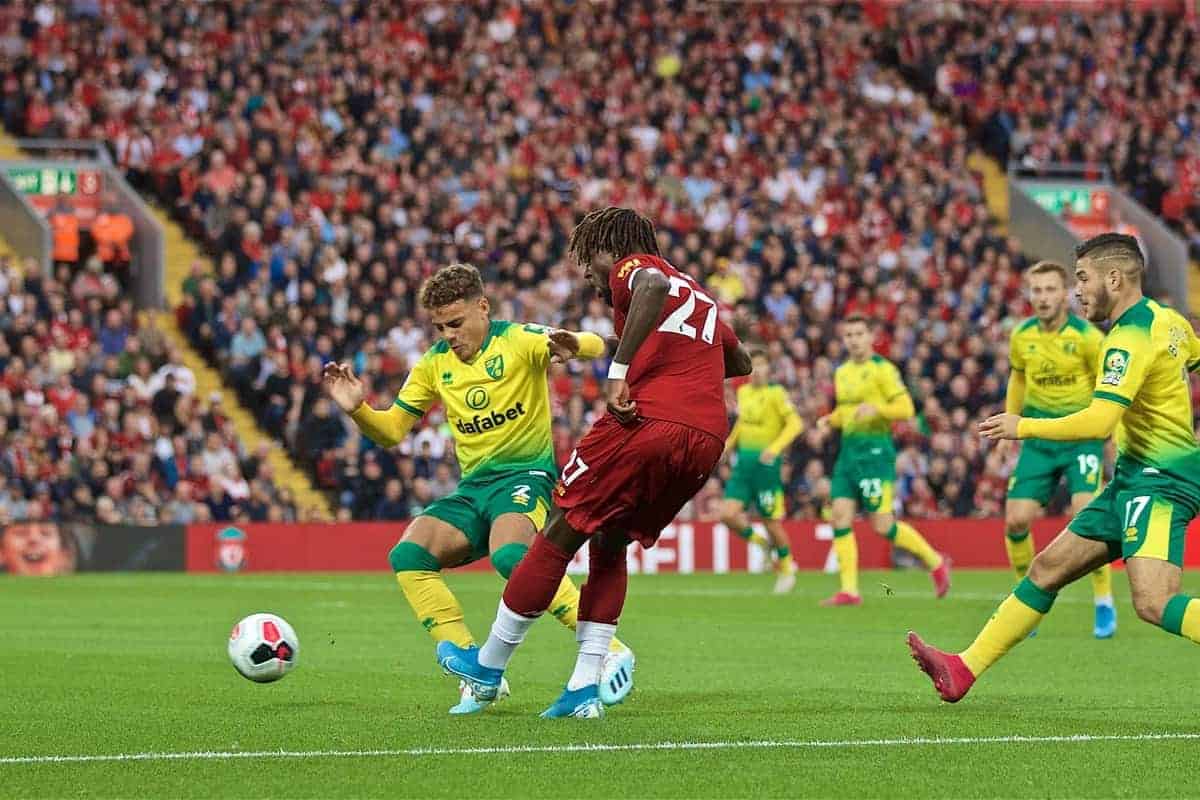 As ever, the demands on Liverpool are for perfection.
A 4-1 victory on the opening night should be warmly embraced, however. Some tried to point-score by pointing out that we lost the second half—a concept a sad as compiling how league tables would look if played out over the course of a calendar year.
Norwich froze after the manner of the opening goal and we danced home three more. Had the second half began with the fifth goal it should have done, we could have run in six or seven by the end.
Relaxation eventually kicked in for the visitors and they showed a few signs of the football they played in running away with last season's Championship. They will give us a tougher game at Carrow Road and they might just take a few valuable points off our fellow 'big six' rivals throughout the campaign.
There is no reason they can't follow the path Wolves took last season, in prospering via a pleasing style of football.
Klopp was correct in his assessment that we played well for the first 60 minutes, before relinquishing control. We were, however, a team refreshed when Mane came on, to skip past all-comers.
Are Super Cups Really That Super?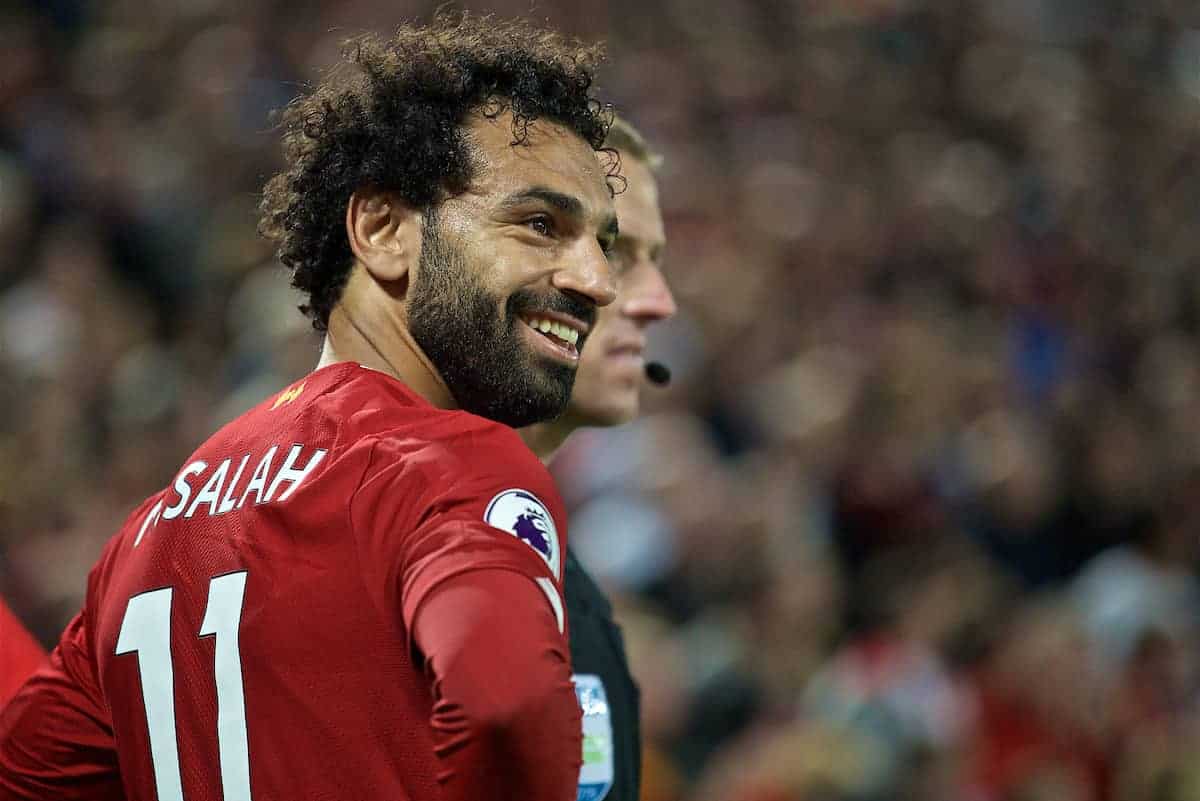 A lamentable trip to Istanbul for the chance to collect a trinket of a trophy on Wednesday it is then. The European version of the Community Shield, it is akin to one last pre-season friendly, despite the real deal having now begun.
It is the first Premier League away-day of the campaign that is more important in the week ahead, rather than the midweek distraction against Chelsea. Southampton will mean business.
While you're here…If you like the words I write, then you might just like this book I've written about the European Cup Winners' Cup, which is being released in six weeks time, yet is available to pre-order here.