Injury to Alisson has catapulted Adrian into the unexpected role of Liverpool's starting goalkeeper, but his time at West Ham suggests he can fill in comfortably.
As his six-year spell with the Hammers came to an end this summer, Adrian wrote an open letter to the club's supporters, insisting he had "always hoped" to stay, but "the circumstances of football" prompted an exit.
The Spaniard's time with the east London side was the longest he has enjoyed at first-team level in his career: at 32, he has only played 183 games of top-flight football.
But after a slow rise at Real Betis and a prolonged burst with West Ham, those footballing circumstances have changed dramatically over the past week.
Joining Liverpool in the wake of Simon Mignolet's switch to Club Brugge on August 5, Adrian was called upon to make his debut for Jurgen Klopp just four days later.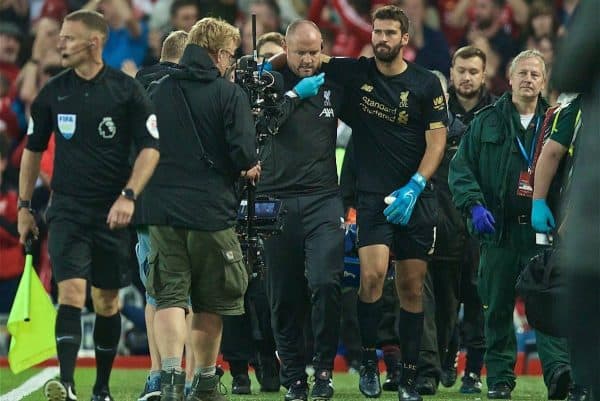 The situation was a disappointing one, with Alisson forced off the field midway through the 4-1 win over Norwich after, as the manager explained after the game, "he thought something hit him on the calf."
In reality, Alisson suffered an injury which will leave the Reds' No. 1 sidelined for at least "the next few weeks."
With Mignolet gone, Kamil Grabara on loan, Caoimhin Kelleher not fully fit, Vitezslav Jaros injured and Andy Lonergan strictly considered an emergency backup, Adrian is Liverpool's only genuine option between the sticks.
When he joined, he explained how he would provide "healthy competition" for Alisson, but now Adrian is tasked with assuming one of the most difficult roles at Anfield in recent years.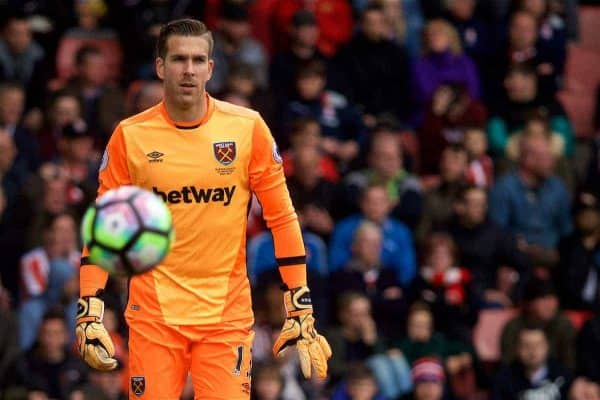 Adrian has needed to be patient for much of his career.
His early life as a footballer came with Altair, a club local to his native Seville, but it didn't come between the sticks—instead, he was initially a forward.
But when the call came for a replacement goalkeeper, after his under-11s side lost their first choice, Adrian stepped up to fill the void.
Joining Betis a year later in 1998, a long wait was in store as he rose through the academy ranks, turning out for their 'C' and 'B' sides—as well as Alcala and Utrera on loan—in the Spanish lower leagues before making his senior debut at 25.
That came in his sole season with the Betis first team, after which he made the free transfer to West Ham, arriving at Upton Park in the same summer as Mignolet swapped Sunderland for Liverpool.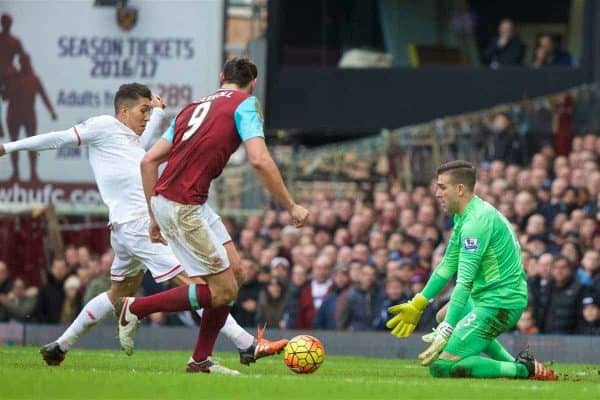 Over six seasons with the Hammers, Adrian impressed supporters with his eccentric brand of goalkeeping, decorating his shot-stopping ability with a more progressive flourish.
This could be for better or worse, depending on the situation, with his penchant for the eye-catching on occasion coming at the expense of a more measured, economical approach.
"Adrian's biggest strength is his shot-stopping, he pulled off some incredible saves at West Ham and can be very entertaining to watch in goal," West Ham Fan TV's Dan Lawless told This Is Anfield.
"This is also one of his biggest weaknesses, his flair for the dramatic can at times backfire. At times he will pull off an over-the-top one-handed block where he perhaps could have just caught it.
"He also is at times prone to making rash decisions such as sprinting out of goal to put in a tackle where it would have been safer to stay on his line."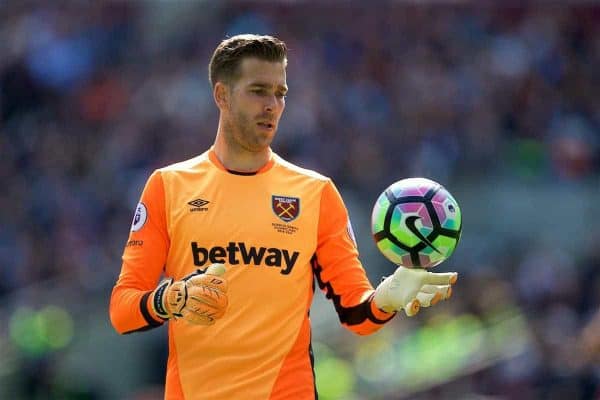 Tom Victor, a Hammers fan and writer for the likes of VICE and The Set Pieces, agreed, describing Adrian as having "always been a great shot-stopper" but noting how "his concentration can sometimes be lacking."
This could perhaps be attributed to the 'keeper effectively growing up as a senior player at West Ham, and Victor continued to explain to This Is Anfield that "even if he makes a mistake, he's unlikely to get fazed by it."
Arguably an essential character trait for a leading goalkeeper, the Evening Standard's Jack Rosser praised Adrian as "a leader at the back," and one who "will be comfortable commanding a defence, whoever is in there."
"However, one area he could fall short in—especially when stacked up against Alisson—is with the ball at his feet with opposing forwards pressing," Rosser added.
Naturally, it would be impossible for Liverpool to replace Alisson on a like-for-like basis, and it would be unfair to judge Adrian within those confines.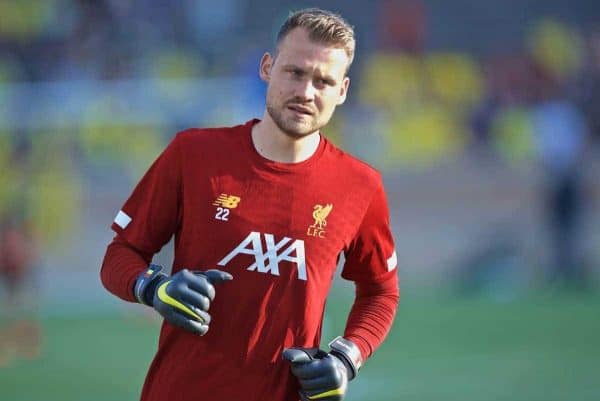 In six seasons with the Hammers, Adrian made a total of 150 appearances, conceding 215 goals and keeping 43 clean sheets; by contrast, in the same period for Liverpool, Mignolet conceded 239 and recorded 66 shutouts in 204 games.
Given he is the Belgian's direct replacement, it is apropos to compare Adrian's record with that of Mignolet, but there remain crucial caveats to consider in his defence.
Chiefly, unlike at West Ham, when he operated behind a revolving door of good-to-poor defenders and makeshift full-backs, he will now be marshalling a back line which conceded just 22 goals in the Premier League last season.
Alisson's influence was key there, but stepping in for the 26-year-old—who himself looks to mesh the basics with a more adventurous, front-footed approach—Adrian has been backed to adjust well.
"Adrian is a good 'keeper with plenty of Premier League experience, and while fans should not expect him to be near the level of Alisson, he will not crumble under the pressure," Lawless continued.
"It is also important to remember that he has a much better defence in front of him than he did at his time at West Ham, with that added confidence in those in front of him we could truly see the best of Adrian."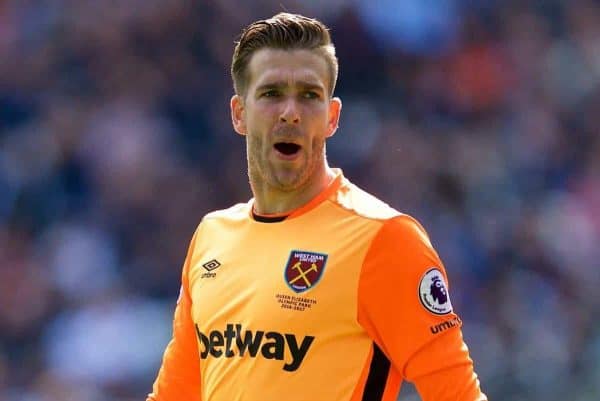 This steeliness is something Victor elaborated on further, recalling how he found himself in a similar situation when he joined the Hammers.
"He's been a Premier League first choice before, and was catapulted in during his first season when he replaced Jussi Jaaskelainen, so I doubt [stepping up] will be an issue for him," he said.
"Obviously the pressure's different at a club that's expected to win every game, but he's never been the shy-and-retiring type on the pitch."
Of course, the manner of Adrian's exit from the London Stadium should be touched upon, but while the release of a 32-year-old goalkeeper may sound alarm bells for some, his departure came as a matter of circumstance.
"Adrian left West Ham because he was simply too good to be our backup 'keeper but not as good as our first-choice 'keeper," Lawless continued.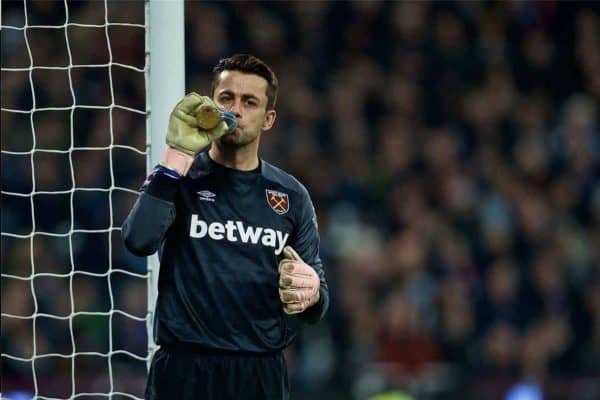 The first choice in question, Lukazs Fabianski, is described as "pretty much undroppable" by Victor, while Rosser added that "he came in and was one of the signings of the season in the Premier League, [and] that should not reflect badly on Adrian."
Rosser told This Is Anfield that Adrian is "certainly not a first-choice 'keeper for the top six," but argued that the current situation "is an unbelievable chance and one he will be desperate to take."
This was evident from the early minutes of his unlikely debut, as Adrian bounced around the box with a smile on his face.
He will have been disappointed not to end the game with a clean sheet, but bar Teemu Pukki's well-taking consolation, Liverpool's new No. 13 was hardly tested by Norwich, and the UEFA Super Cup will be a better gauge of his early mettle.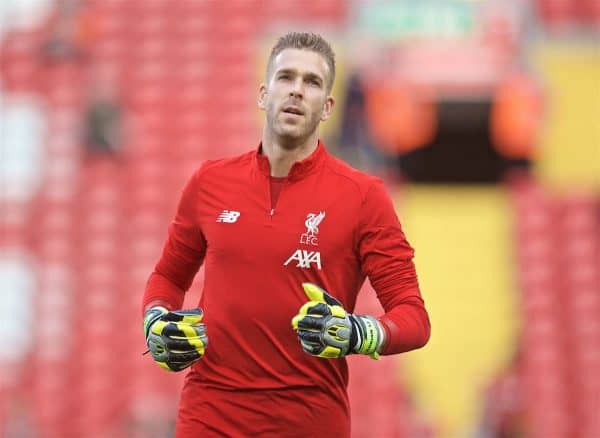 Given the importance Klopp places on a player's character off the pitch—arguably as much as his quality on it—it was encouraging to hear Lawless described Adrian as "one of the most warmhearted and genuine footballers I have ever come across."
"Myself and another member of West Ham Fan TV stood outside the training ground for hours in the rain to get a shirt signed for charity," he recounted.
"There were several fans waiting, including children. Some players drove straight past while others stopped with a begrudging look on their face. Then along comes Adrian.
"Not only did he stop but he had a huge beaming smile on his face and looked genuinely happy to see the fans.
"He signed every autograph, posed for every picture and even instigated conversation.
"There are so many West Ham fans with similar stories which is why he is still loved by so many."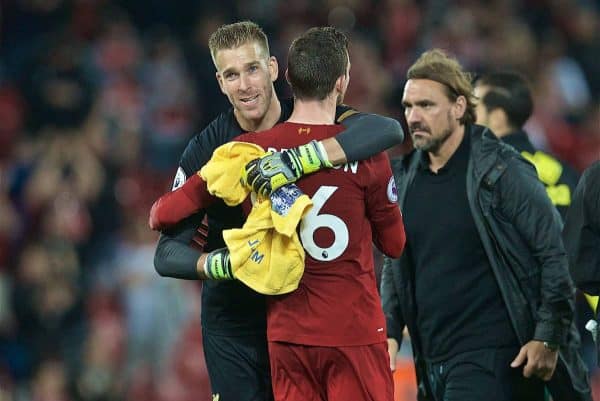 This may seem insignificant when considering Adrian's ability to fill in for Liverpool at a time when they have lost one of their best and most influential players.
But slotting into the dynamic of the changing room is vital for any player, and arguably tenfold for a goalkeeper given the trust they rely upon with their defence.
History indicates that the likes of Virgil van Dijk, Joe Gomez, Trent Alexander-Arnold and Andy Robertson can have faith in Adrian behind them, too, as he has made a habit of taking his chances.
That was apparent at Altair, when he initially moved between the sticks as a youngster, and at Betis, when he capitalised on a red card to Casto to take over as bona fide No. 1.
And at West Ham, when he took the gloves from first Jaaskelainen and then, as Victor highlighted, wrestled "back his place from Joe Hart" in 2017/18.
The scenario is different at Liverpool, and there is no expectation that Adrian will usurp Alisson beyond his current layoff.
But on a short-term basis, it appears there should be faith in the charismatic shot-stopper to step into the breach.
---
* Many thanks to Tom Victor (@tomvictor), Jack Rosser (@JackRosser_) and Dan Lawless (@TheLawless) for their invaluable contribution.