Jurgen Klopp remained positive after Liverpool narrowly lost the Community Shield, with a 5-4 penalty defeat to Man City coming after a strong second half.
It was a real game of the two halves at Wembley on Sunday, as City enjoyed the best of the chances in the opening 45 but then the Reds fought back to level in the second.
Raheem Sterling opened the scoring after some sloppy defensive work from his former side, only to squander another big opening when three-on-one later in the half.
The equaliser then came from substitute Joel Matip, who nodded past Claudio Bravo to level the scores and set up a shootout which, unfortunately, saw the Chilean stop Gini Wijnaldum for the only unsuccessful spot-kick.
Liverpool were forced to watch their title rivals lift the first trophy of the English football season, but speaking after the game Klopp looked ahead with optimism.
"My team is not in doubt about being satisfied or whatever, to stop working or stop running," he told reporters.
"The character of the team is still incredibly good. We had a difficult pre-season but the boys did what they had to do and were affected by it.
"We played football games against really good teams and that didn't feel too good.
"It was very important we all gave ourselves and our supporters a sign of the performance today. Now let's carry on."
The manager also added that James Milner's absence through injury was only a minor issue, saying "he can probably train tomorrow, although I am not 100 percent sure."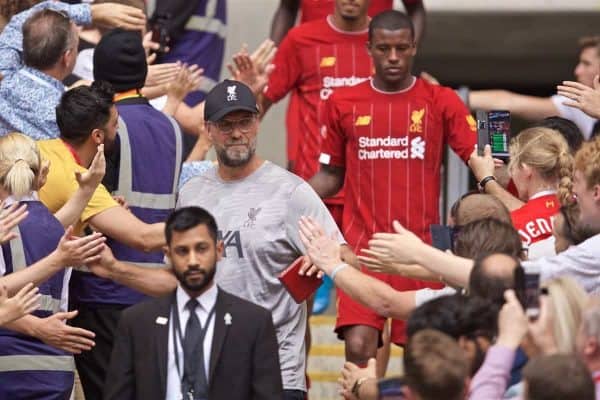 Just as with pre-match, the demands of the English football calendar were the subject of criticism from Klopp in his debrief.
"We could go three or four weeks without a game in the summer," he proffered.
"We wouldn't die. Maybe we could improve relationships at home.
"Give us five, six weeks pre-season and we make football more interesting. Then we can play three different systems. Instead, we have five days' training."
As Klopp notes, there is little time to turn things back around now, as Liverpool are in action again on Friday night, opening the Premier League campaign at home to Norwich.