The delayed return of a host of senior figures throughout pre-season handed Liverpool's youngsters a chance to shine, but how did they all fare?
The Reds kick-started their 2019/20 preparations this summer in the knowledge that Jurgen Klopp would have to rely on a plethora of young players, primarily in the early stages, as he awaited the return of his senior figures.
The opportunity to fill vacancies throughout Liverpool's seven pre-season friendlies this summer saw a total of 17 given the chance to impress while also providing fans with a glimpse into the future.
With the Reds' pre-season schedule now having come to a close, we have ranked all 17 youngsters who were handed an appearance over the summer.
17th – Paul Glatzel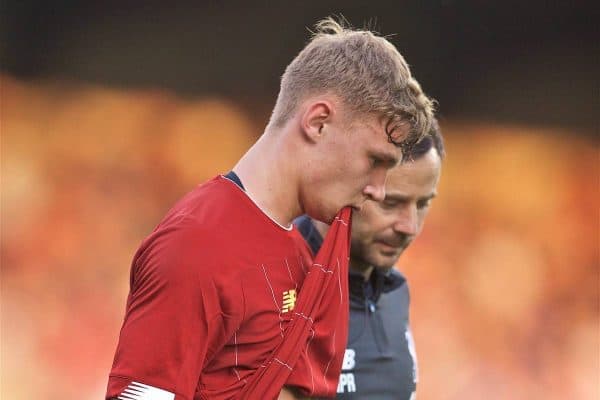 Starts (Sub): 0 (1)
Goals: 0
Assists: 1
---
The 18-year-old was poised to be rewarded for his stellar 2018/19 campaign at the academy early in Liverpool's pre-season campaign having notched 29 goals at youth level.
And his partnership with Bobby Duncan had a successful transition to the first team as Glatzel turned provider for his strike partner for the sixth and final goal of the 6-0 win over Tranmere.
But his opportunity to shine in the absence of a host of Liverpool's senior forwards was dealt a cruel blow as he ruptured his ACL just 28 minutes after his introduction to not only derail his summer plans, but his start to 2019/20 as well.
However, Klopp did insist Glatzel would be "one of his boys" when he returns, hinting at a long-term role in the first team.
16th – George Johnston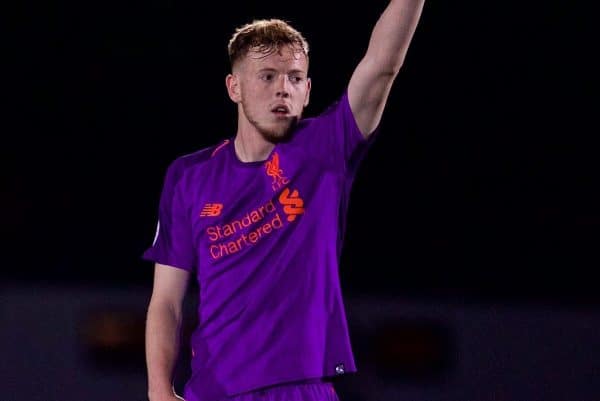 Starts (Sub): 0 (1)
Goals: 0
Assists: 0
---
The central defender's involvement in the Reds' pre-season was limited to just one second-half appearance in the dominant 6-0 win over Tranmere at the start of the summer, and a place on the bench in the win at Bradford.
Johnston, 20, lined up alongside Joel Matip in his sole outing but had very little to do such was the Reds' dominance.
An appearance and the time spent around the first team last year set him up for a stellar 2018/19 season, and he will no doubt look to continue in the same vein for the under-23s this year.
15th – Daniel Atherton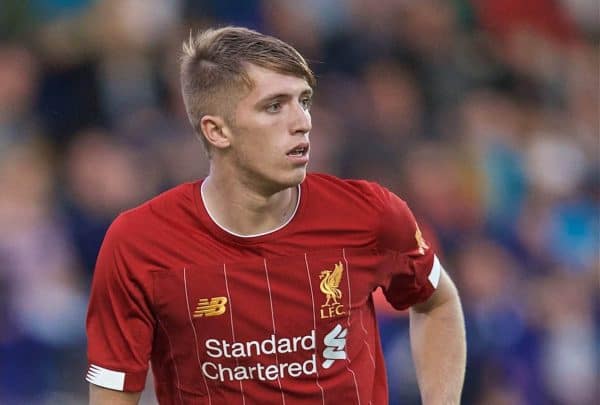 Starts (Sub): 0 (2)
Goals: 0
Assists: 0
---
It was a summer to remember for the 19-year-old having notched his first minutes in the senior setup as an emergency striker in the latter stages against Tranmere, before finding his way back to his natural position between the sticks for the final 10 minutes at Bradford.
While not his everyday position, Atherton caught the eye up front having made a series of darting runs into the final third where he showed that he was not hesitant to throw himself into the contest.
Although his time in goal passed by with little action, Atherton was rewarded with a place in the 28-man squad for the tour of the US.
14th – Vitezslav Jaros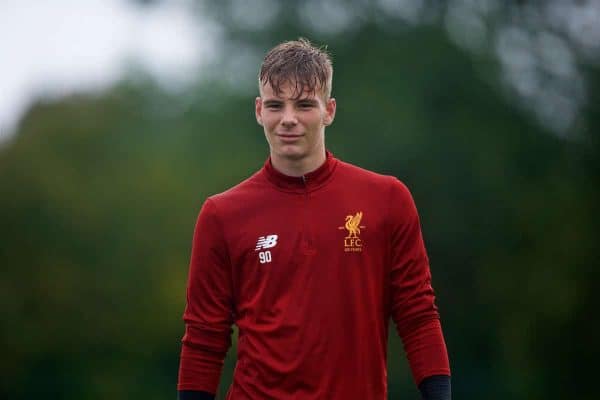 Starts (Sub): 0 (1)
Goals: 0
Assists: 0
---
After a spate of injuries in the goalkeeping ranks Jaros, 17, was turned to for the opening game at Prenton Park, playing the second 45 in place of Simon Mignolet.
But he too succumbed to injury after sustaining elbow ligament damage in training which was to rule him out for the remainder of pre-season.
His only appearance saw him called into action just twice as Liverpool dominated proceedings, but he looked assured in the first-team environment, displaying the qualities which have seen him earmarked for a major role in the under-23s this season.
13th – Liam Millar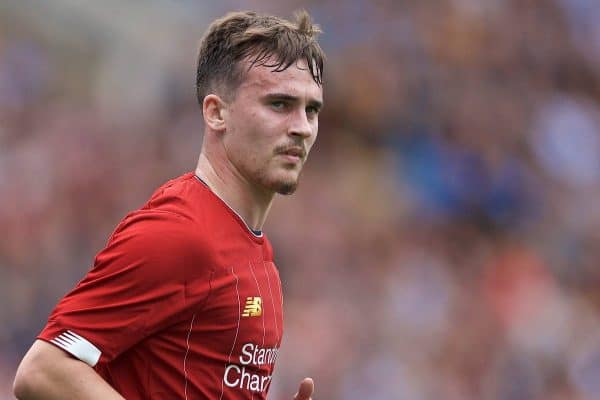 Starts (Sub): 0 (1)
Goals: 0
Assists: 0
---
Millar was the pick of the bunch for the handful of youngsters who made just one appearance in the summer such was his lively performance as part of the second-half XI against Bradford.
The Canadian did not look short on confidence and consistently showed a desire to get on the ball and make runs down the left flank and into the penalty area.
His sumptuous reverse pass into the path of Curtis Jones to set up a shot on goal was one of his standout moments.
12th – Sepp van den Berg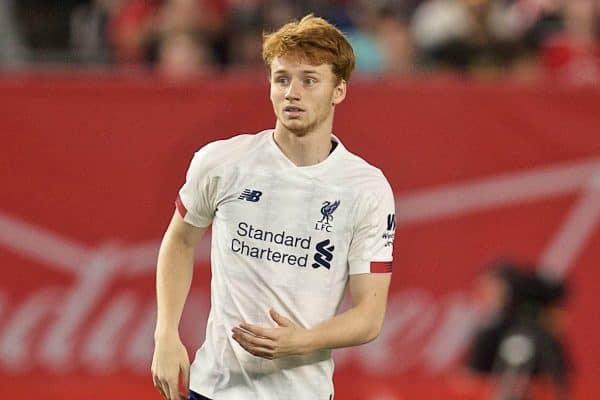 Starts (Sub): 0 (3)
Goals: 0
Assists: 0
---
Liverpool's first signing of the summer was forced to wait until one minute from time in the fifth game of pre-season to make his debut after his international clearance was delayed.
He would go on to play a further 28 minutes in the Reds' final two games in the centre of defence, meaning he had little time to showcase the quality which earned him his move to Anfield.
On first viewing he looks full of confidence, like many of Liverpool's youngsters, and while he had few defensive actions to make, in possession he look assured and was not shy in looking for an option further afield.
11th – Ben Woodburn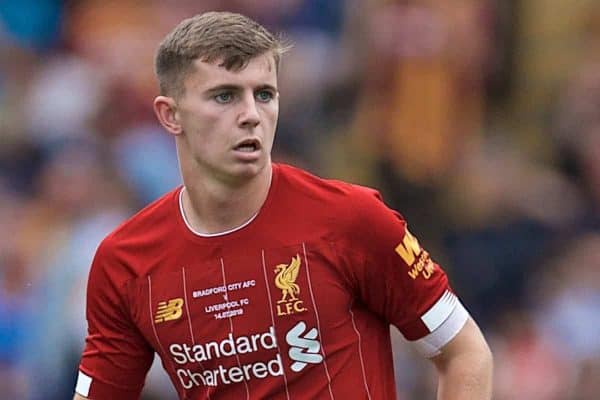 Starts (Sub): 1 (3)
Goals: 0
Assists: 2
---
Sitting just outside the top 10 is Woodburn, who was a member of the US tour and featured four times before dropping out of the squad to link up with the academy prior to his season-long loan move to Oxford United.
Klopp labelled Woodburn's performance against Tranmere as the "best game" he's had since his return to full fitness, after showing a level of physicality and sharpness which had previously been lacking.
He set up Jones' goal against Tranmere with a perfectly weighted cross deep into the box and earned a penalty against Borussia Dortmund, but overall he was not as influential as some of his counterparts.
10th – Nat Phillips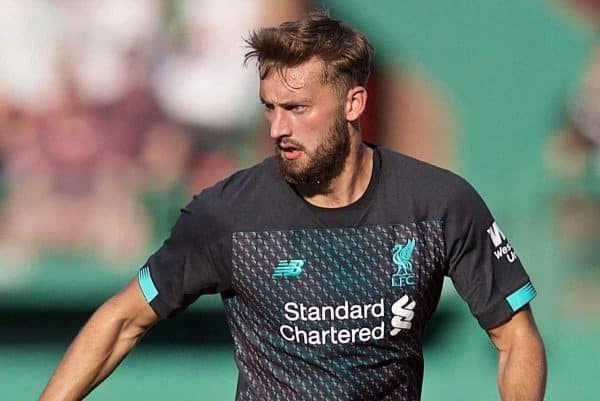 Starts (Sub): 3 (0)
Goals: 0
Assists: 1
---
Phillips benefited from the absence of Virgil van Dijk and Dejan Lovren in the early stages of the summer having been named in the starting XI in three of the first four fixtures.
He looked assured in possession and hardly put a foot wrong, even helping to set up Divock Origi's goal against Sevilla after rising the highest to meet Trent's corner delivery.
But he finds himself behind four senior figures and two up-and-coming teenagers in the pecking order which resulted in him being dropped to the under-23s on his return from the US—meaning a loan spell could now follow.
9th – Bobby Duncan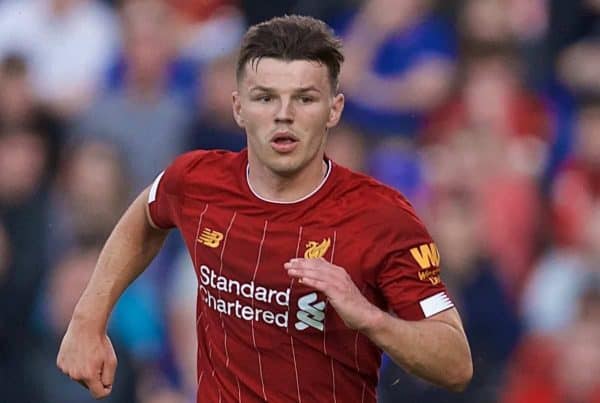 Starts (Sub): 0 (5)
Goals: 1
Assists: 1
---
If there's one thing Duncan does not lack it is the desire and intent to make the most of his chances.
After a brilliant debut season for Liverpool's under-18s which returned 30 goals, Duncan was duly rewarded with a consistent place in the Reds' pre-season squad, though he missed the game against Dortmund with a knock while he was also an unused substitute against Sporting CP.
The forward showed a readiness to press from the front and after kick-starting his summer with a goal against Tranmere, he bookended his pre-season with an assist after setting up Harry Wilson against Lyon.
8th – Ryan Kent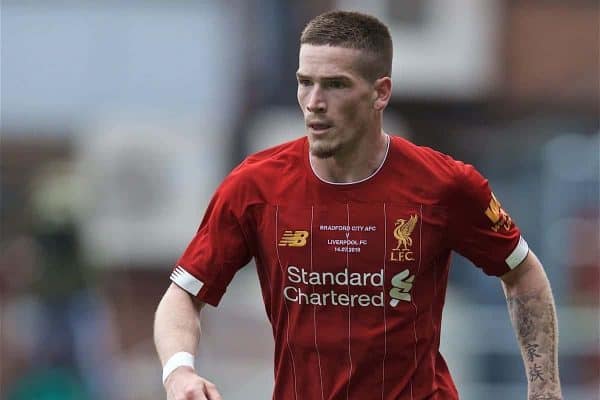 Starts (Sub): 3 (2)
Goals: 0
Assists: 2
---
A player full of raw potential who is still to find the perfect balance between the combination of time in possession and forward runs.
Prior to his timely illness which ruled him out of the final two fixtures, Kent was a figure heavily relied on by Klopp in the absence of a host of his senior stars in attack.
And while he showed glimpses throughout pre-season with his pace and power, his final product lacked the touch of quality needed at Liverpool's level—which was further showcased by Gini Wijnaldum's inclusion in his place against Sporting.
Unfortunately for Kent, Harvey Elliott's performances in a significantly shorter time period showed more promise and inevitably moved the 22-year-old further down the pecking order at Anfield.
7th – Adam Lewis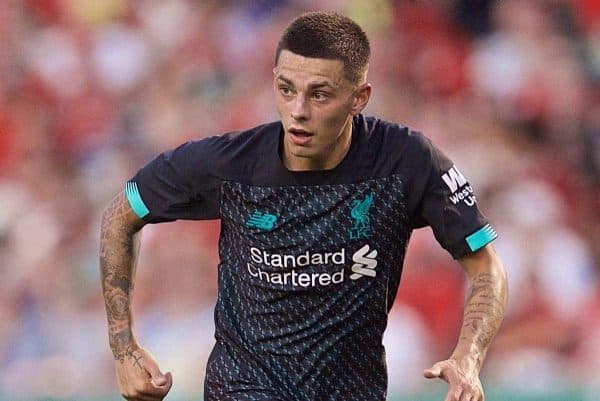 Starts (Sub): 0 (6)
Goals: 0
Assists: 0
---
Lewis proved to be another alternative at left-back in addition to Yasser Larouci this summer, and while the Algerian leapt ahead of him in the race for the role of Andy Robertson's understudy, the Liverpool local showed glimpses of the talent he possesses.
He's a determined character who showed as much in the challenges he made on the field, but in addition to that he is assured and appears to fit the mould of an attacking full-back who is capable of providing dangerous deliveries into the box.
His versatility saw him handed an opportunity to shine in midfield during the US tour, which provided a further platform to showcase his technical ability and intelligence.
6th – Harry Wilson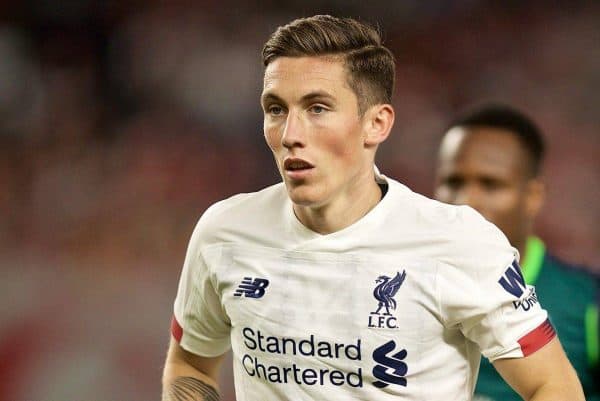 Starts (Sub): 5 (2)
Goals: 2
Assists: 1
---
The Wales international is hard one to place as he can float through games with little influence but still pop up and register a goal or assist.
He certainly possesses an abundance of talent, most notably from set-piece situations, but his future at Anfield remains uncertain as his ability to slot into Klopp's system remains under question.
Wilson was a mainstay throughout the summer, as he was given an opportunity to impress in each of the Reds' seven summer friendlies and he registered two goals and one assist for his efforts.
His thunderous strike from 25 yards out against Lyon was the clear standout moment for the 22-year-old, but he did not lay down any definitive claims for a role as an understudy to the prolific front three.
5th – Curtis Jones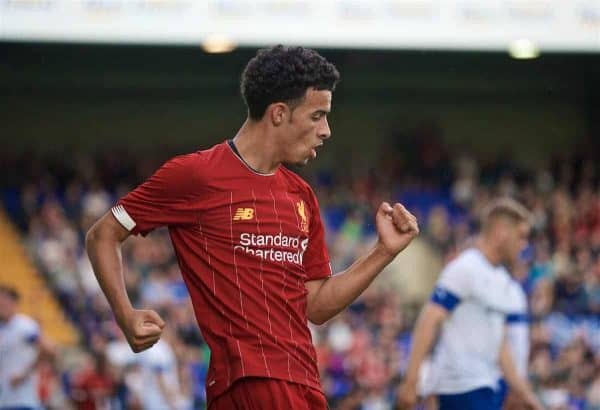 Starts (Sub): 0 (5)
Goals: 1
Assists: 0
---
Jones' pre-season came to a rather disappointing end after having to report to the under-23 setup upon his return from the Unite States despite an impressive summer up until that point.
The 18-year-old was a figure of consistency against both Tranmere and Bradford, where his energy coupled with his pace and skill on the ball caught the eye, not to mention his poised finish from close range at Prenton Park.
He featured in all five friendlies prior to his demotion, while his versatility and flexibility on the field appear to make him a better fit in Klopp's system than Wilson, which sees him positioned just ahead of the Welshman in the rankings.
4th – Harvey Elliott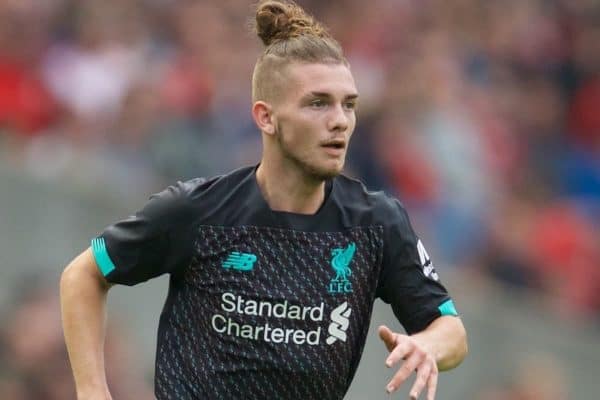 Starts (Sub): 0 (2)
Goals: 0
Assists: 0
---
He may have only just arrived at the club, but from his short spells alone it is clear the 16-year-old has an abundance of skill and is definitely not lacking in confidence.
Elliott's 12-minute cameo against Napoli was enough to showcase his desire to to charge at the opposition's back line at any giving opportunity, and against Lyon he displayed his technical ability and unrelenting energy.
He didn't look out of place in the forward line and he is certainly one to watch out for in the coming campaign.
3rd – Yasser Larouci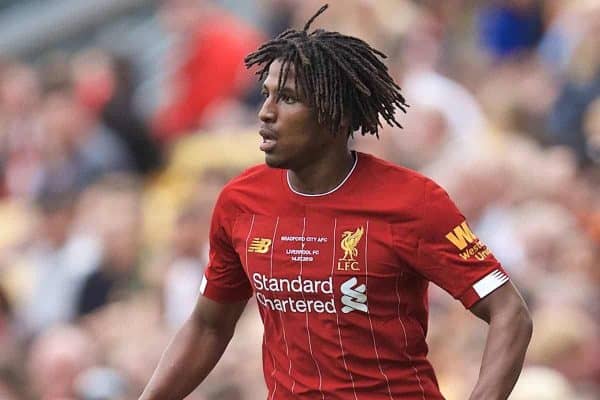 Starts (Sub): 4 (1)
Goals: 0
Assists: 0
---
Larouci kicks off the top three after a summer which saw him rise from obscurity and into the spotlight after a series of impressive displays at left-back.
His first outing against Tranmere set the tone for his summer after showing flashes of skill both in defence and in attack, the latter of which saw him nearly find the net on two occasions after showing no hesitation in working his way into the penalty area.
He is self-assured, comfortable on the ball and, like Ki-Jana Hoever, put himself in the frame to act as Robertson's deputy and thankfully, for both himself and the club, he escaped serious injury after being the subject of a shameful tackle against Sevilla.
2nd – Ki-Jana Hoever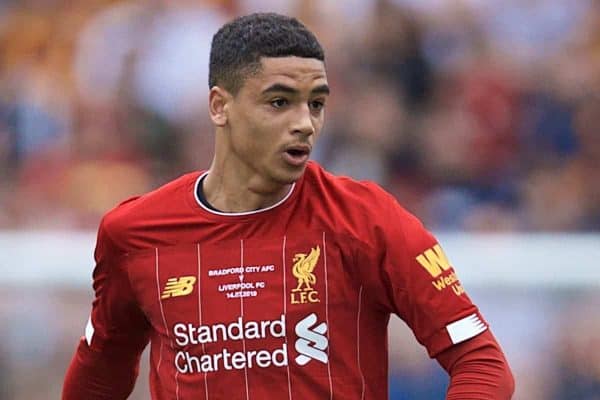 Starts (Sub): 1 (4)
Goals: 0
Assists: 1
---
Just behind top spot is Hoever who rose to prominence and went from strength to strength throughout the summer primarily playing at right-back.
He's poised in possession, a calm presence, technically gifted, has pace to burn and showed he is capable of providing the attacking impetus needed in Klopp's system—both in terms of deliveries into the box and runs down the flank—should he be called in to deputise for Trent Alexander-Arnold.
Moreover, Hoever appears physically stronger than last year and is not afraid to put his body on the line—key traits which will enable Klopp to utilise his versatility across the defensive line.
He may just be 17, but the Dutchman has shown he is more than capable of doing a job as the backup option at full-back in the 2019/20 season.
1st – Rhian Brewster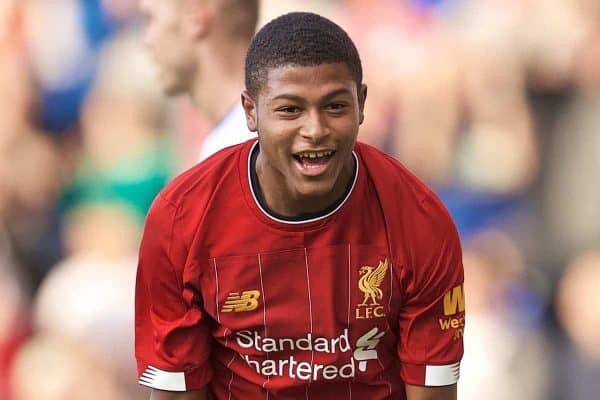 Starts (Sub): 2 (5)
Goals: 4
Assists: 1
---
Brewster was the undisputed young star of the summer having displayed a level of confidence and conviction beyond his years.
Although his game time was carefully managed after sitting out much of last term with an ankle injury, it was easy to see why he has been tipped to play a prominent role in the first team this season, as his natural goalscoring instincts, pressing, game intelligence and linkup play were on all show.
In two separate 45-minute appearances to the start the summer he scored three goals and then capped off his tally with a superbly taken penalty against Dortmund where he showed no signs of nerves.
In addition to that, his desire and hunger to succeed was abundantly clear and he proved he has all the markers to become a top forward.