In four seasons with Liverpool so far, Roberto Firmino has performed consistently well against few clubs more often than Arsenal, who have been key to his rise.
Roberto Firmino made his first start for Liverpool exactly four years ago on Saturday.
It came against Arsenal in a 0-0 draw at the Emirates and lasted for 63 minutes before he was replaced by Jordon Ibe, the player who had been selected ahead of Firmino for the opening two Premier League games against Stoke City and Bournemouth.
Firmino started only three more games for the Reds under Brendan Rodgers' management—a 0-3 home defeat to West Ham, a 1-3 away defeat at Man United and a 2-2 League Cup draw with Carlisle at Anfield.
He appeared in all three of those games in wide positions—pretty much as a right wing-back in a negative 4-5-1 formation at Old Trafford—with fellow new signings Christian Benteke and Danny Ings preferred through the middle.
"To see a player of such talent used in such a rigid, unsuited role was tough to take, and once again raised further suspicions over Rodgers' tactical nous," wrote Henry Jackson for This Is Anfield.
"It has already reached the ludicrous stage where some fans are starting to question the Brazilian, which is complete madness."

Indeed, when Firmino was substituted with a back injury 34 minutes into the Carlisle game—a match in which the Reds had 46 shots on goal but still needed extra time and penalties to overcome the League Two club—he was viewed as so unimportant to Liverpool that afterwards first-team coach Gary McAllister (you forgot Gary Mac came back after Colin Pascoe was ditched, right?) was asked about an injury Dejan Lovren suffered that night, not the Brazilian's back problem.
By the time Firmino was fit to return a month later, for a Europa League clash against Rubin Kazan, Rodgers was gone and Jurgen Klopp was in charge.
To say Klopp revitalised Bobby's Liverpool career is akin to saying a dentist revitalised his teeth.
Firmino was a transfer committee signing, a player Rodgers didn't want. He and Michael Edwards weren't exactly in tune at the time.
Perhaps you can file this under anecdotal, but the story goes that Rodgers used Firmino's arrival from Hoffenheim as leverage to get Benteke from Aston Villa; 'if you get him, then I want him'.

Indeed, when Rodgers was sacked in October 2015 it was the signing of Firmino for £29 million, not Benteke for £32.5 million, that the national press flagged up.
"The committee have yet to explain how they came up with the figure of £29 million to sign Brazilian forward Roberto Firmino from Hoffenheim, who finished eighth in the Bundesliga last season," scowled Neil Ashton, writing for the Daily Mail.
I can only imagine their apocalyptic outrage when we paid £75 million for Virgil van Dijk after Southampton finished eighth, but that quote appeared in an article under the headline 'Michael Edwards is the laptop guru who did a number on Brendan Rodgers'. Cheers, Michael.
Four years later, Firmino goes into his ninth league game against Arsenal needing just one goal to reach 50 in the Premier League.

He's a Champions League winner, a UEFA Super Cup winner and no Brazilian has ever scored more Premier League goals.
Eight of his 49 have come against the Gunners and I'll always be of the opinion that the two he got against them at Anfield in January 2016 changed everything.
Bobby had scored once in 24 appearances, away at Man City, ahead of that Arsenal game and because Klopp had been using him centrally doubts were rising that he'd never score enough goals to justify being used as a sole central striker.
From memory, I think it was the dispiriting 0-3 defeat at Watford before Christmas 2015—the Adam Bodgan debacle—when Firmino was first tried in the centre of a 4-3-3 in the Premier League. It didn't go well.

"Given the chance to lead the line against Watford, Firmino was a passenger," reported the Liverpool Echo's James Pearce.
"The only thing he did consistently was get caught offside."
Looking back at it now, it feels like Klopp used some of those games to give Firmino the opportunity to learn the role.
He knew results would be inconsistent because he'd inherited a team in a mess, but believed that if Bobby got to grips with playing centrally he could potentially build the entire attack around his mixture of work rate, link play and creativity.
But could be get the goals?

Liverpool supporters, myself included, needed evidence to convince us all that he could. So the importance of his double in the 3-3 draw against Arsenal at the start of 2016 cannot be understated.
His first, which was also his first Anfield goal, was a sharp finish from a rebound. His second, a curler from outside the box, was an absolute belter.
It wasn't quite give the ball to Bobby and he will score, but it suggested that when settled into the role the goals would come.
Another eight followed in the second half of that 2015/16 season and since then Firmino hasn't looked back—only away when converting some of his chances.
The better players he's had alongside him, the better he's got. Originally it was Philippe Coutinho he intuitively linked with, now it's Sadio Mane and Mo Salah.

Every Kopite knows the difference he makes to this Liverpool side, but if you ever need a reminder watch how the Reds played in the first half of the UEFA Super Cup against Chelsea when he was on the bench compared to how they played when he came on at half-time. It was like night and day.
If Firmino's 50th Premier League goal comes against Arsenal this weekend, on the fourth anniversary of his first start, it'd be hugely fitting.
But even if it doesn't it goes without saying that the best current song in the Kop's repertoire—Si Senor (and the irony of that song emerging after he took the No. 9 shirt off Benteke has probably been lost on the Mail)—will ring around anyway.
Nobody could say Bobby Firmino is under-appreciated by Liverpool supporters, but it took Jurgen Klopp's appointment as manager to appreciate how to get the best out of him. And boy has he.
---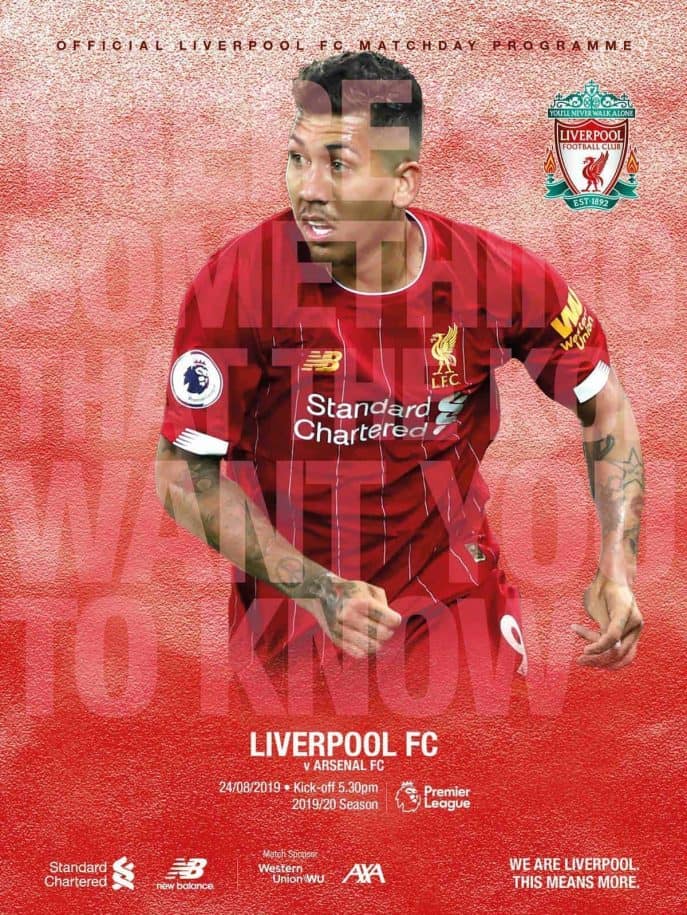 Chris McLoughlin writes for This Is Anfield each week; he's also senior writer for the Official LFC Matchday Programme and LFC Magazine. You can order the Liverpool vs. Arsenal programme here.