Trent Alexander-Arnold has revealed the first time he saw a Liverpool fan in his No. 66 shirt, and the feeling it evoked as a lifelong Reds supporter himself.
Trent realised a dream when he lifted the European Cup in Madrid in June.
Born in West Derby and raised within a short distance from Melwood, the right-back had long yearned to pull on a Liverpool shirt at Anfield.
Given his debut by Jurgen Klopp in 2016, Trent has gone on to establish himself as one of the best academy talents the club has produced in many, many years, so far making 86 appearances.
In a column for The Players' Tribune, the 20-year-old explained his emotions around the time he was "breaking into the first team," and one incident which resonated in particular.
"I didn't have too many matches under my belt. I did get noticed from time to time when I would go out around town, but not as often as you might think," he recalled.
"And then one afternoon, on an off day, I was out near the city centre when I saw a kid in a Liverpool kit.
"He was around 10 years old. He was a bit far away. I didn't think much of it.
"Then he turned away from us, and I saw it. Number 66. ALEXANDER-ARNOLD across the back. He was wearing my kit.
"Right. Like at this point I had played at Anfield. I had been a Liverpool player for 12 years. I'd met Gerrard. I'd done a lot of things that I'd wanted to do.
"But seeing that lad in my kit…I'm not sure how to explain what it meant to me."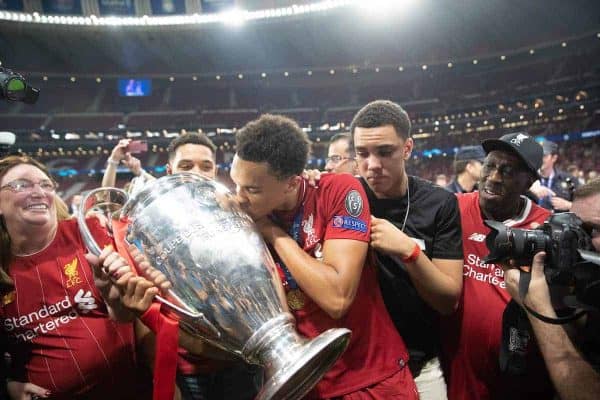 Trent has maintained his roots despite enjoying such a meteoric rise, as the youngest player to start in back-to-back Champions League finals—winning one—and one of the best right-backs in world football.
He attributes much of that to his family: his mum, his dad, and brothers Tyler and Marcel, with whom he was "obsessed 24/7" with football growing up.
This explains why the youngster was so at a loss for words when he spotted his No. 66 on the back of a supporter, and he continued to detail the feeling.
"I know that people like to say 'I was that kid'. But I was that kid," he said.
"I still am that kid. When I got home, I remember telling my mum and dad what happened.
"The perks of still living at home! Don't have to call mum and dad when something cool happens. Can just tell them before bed!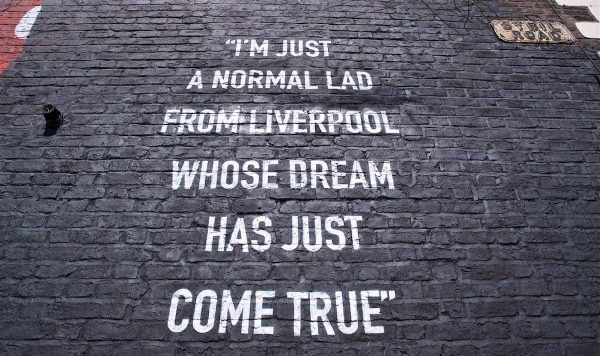 "Even now, when I see a young lad wearing 66, it still means everything to me.
"Everybody that owns my kit, everybody that owns any Liverpool kit—I owe them something. I owe them my best. Because I'm one of them. We're family."
Trent was present at the official unveiling of a mural in his honour on Sybil Road in Anfield on Thursday, commissioned by The Anfield Wrap in aid of Fans Supporting Foodbanks.
Next to a house-sized painting of the right-back reads his quote from Madrid: "I'm just a normal lad from Liverpool whose dream has just come true."