Andy Robertson's career trajectory has risen exponentially since arriving at Anfield, and his manager is of the view that there is no "better left-back in Europe."
Liverpool's woes in the left-back position had been well-documented over the years until Robertson broke on the scene and changed the news agenda following his bargain £8 million move from Hull City.
As the Reds rotated numerous players through the position over the course of several seasons, the Scot himself was on his own remarkable journey.
From first being dropped by Celtic as a teenager, to becoming a part-time amateur with a job on the side and now to a European champion and the world's leading left-back.
Robertson is integral to Liverpool's style of play, acting as a creative hub and a defensive pillar – but it was not an instantaneous path to success as the 25-year-old had to bide his time having only been handed a regular run in the team over four months after his arrival.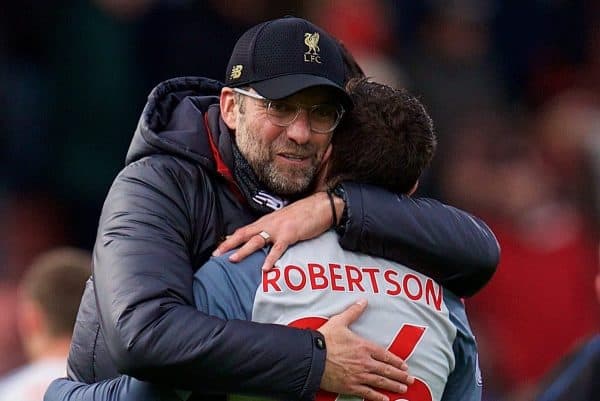 But it was that very tumultuous journey from his humble beginnings in Scotland to the top echelon of left-backs which endeared him to Jurgen Klopp who, in an interview with the Daily Record, questioned if there was a "better left-back in Europe."
"Robbo's an outstanding boy and I like the fact he has done it the hard way," Klopp said.
"Did he become better because of us? Yes. But did we become better because of him? Yes. It's a proper win/win situation.
"And it's been a pleasure to work with him from day one. He had some difficulties in the first three or four months to get in the team and settle but the potential was clear from the start, that's why we signed him.
"What he made of his potential was up to him but his character, he never needed asked twice to do anything. He asked what he had to do to improve, and he just did it.
"With his natural strength on top, I honestly don't know if there was a better left-back in Europe last year.
"And he has started this season exactly the same way."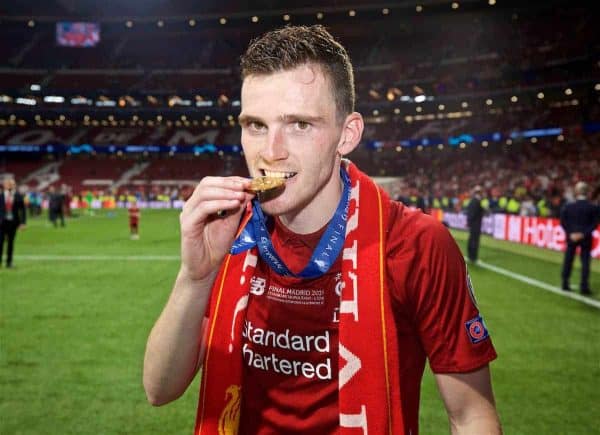 Few could argue with Klopp's summation of Robertson's world ranking but interestingly the Liverpool boss cited the left-back's confidence as one of few traits which could be boosted.
Despite his meteoric rise which has seen him named in the PFA Team of the Year, the 2018/19 Champions League Squad of the Season and shortlisted for FIFA's FIFPRO Men's World XI, Robertson remains down to earth.
It is part of what has endeared him to the Liverpool faithful and in him the Reds have "maybe the best Scot since Kenny Dalglish" plied his trade at Anfield.
"We could talk about the positive things with Robbo for hours," Klopp added. "If you want to talk about the negatives we'll have to finish now because there are none.
"Could he be more confident? Maybe yes but when he's with us he has that confidence, that belief.
"What he's not is the type of character who wakes up, looks in the mirror and says, 'Look at me, I'm Andrew Robertson…'
"He doesn't live like that. There's no arrogance to him, none at all. He's just a well-educated, well-brought-up boy and he comes from Scotland, all of which is good enough for me.
"He's maybe the best Scot here since Kenny Dalglish, although Gary McAllister was a wonderful ambassador and player too."