A potentially defining weekend in the title race, even if we are only eight games in. James Nalton was at Anfield on Saturday and the Etihad on Sunday to witness very differing emotions.
Some Liverpool fans will have missed James Milner's game-winning penalty against Leicester. Fans around the ground had begun to filter out around five minutes after James Maddison's 80th minute equaliser, and many were stood in the exits as Anfield waited for VAR to confirm the penalty.
Beating the crowds, beating the rush, missing the traffic, but missing the winning goal. A goal which has Liverpool eight points clear at the top of the Premier League table with eight games played…
The majority who stayed in the stadium witnessed one of those potentially (after all, only eight games have been played) season-defining moments
After the game, Brendan Rodgers described Anfield as "one of the most difficult stadiums in Europe, in terms of momentum," and the performance was deemed significant enough for Jurgen Klopp to release a few fist pumps in front of the Kop for the first time since those memorable games towards the end of last season.
The noise in Anfield towards the end of the game was deafening as Leicester pushed for a second equaliser in the dying seconds, so much so that the final whistle couldn't be heard.
Then, as Andy Robertson bumped into Ayoze Perez during his celebrations, tempers flared on the pitch which further increased the atmosphere on it. Liverpool may win the league this season, they may not, but that there is a chance for it to happen is already creating an air of excitement around the old stadium.
Meanwhile, at the Etihad on Sunday, fans also headed for the exits during the last ten minutes after Adama Traore scored the goal to put Wolves 1-0 up, again on the 80th minute.
Some fans in Tunnel Club, City's premium seating which offers "backstage access to world-class football," had had enough.
But they didn't miss a dramatic turnaround or resilient comeback, they just missed another Traore goal which made the final score 2-0 to Wolves.
Like Klopp, Pep Guardiola has tried to call upon the home fans for support in times of need, but it doesn't quite have the same effect.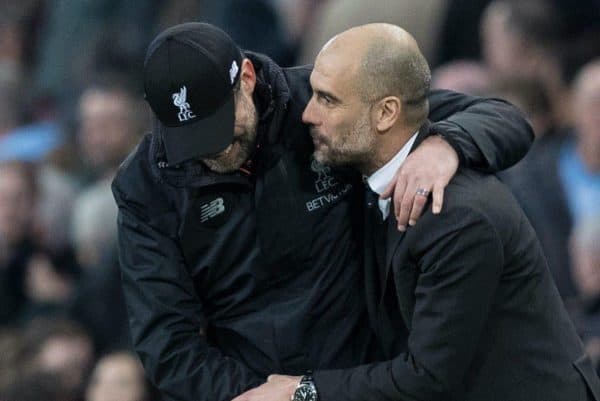 The German recently commented with a hint of envy on Guardiola's refined style on the touchline.
"Pep is lively, he looks better when he's shouting," Klopp told FourFourTwo.
"Pep always looks perfect – body, clothes, everything is perfect. When I shout, I look like a serial killer."
But you get the impression that Guardiola might also be envious of Klopp's rabble-rousing, which he does so well in front of the Main Stand, and directly to the rest of the Liverpool fans in almost every press conference.
"The stadium atmosphere was brilliant, 1-1 and then everything was positive in the stadium, that's just so helpful," Klopp said after this weekend's win.
"It was all over a really good performance of the whole Liverpool family."
After Maddison had equalised at Anfield, the Kop responded with support. At the Etihad there were groans in most sections of the ground as Wolves took the lead.
This type of behaviour doesn't just happen at Man City, and has previously happened at Liverpool, and it doesn't apply to all City fans. There are a handful of the Etihad support, especially either side of the away fans, who are more reminiscent of the City support of old.
More jovial, enjoying the ride, and grateful for what this team has brought them so far, which was beyond their wildest dreams at the turn of the century when they were in the second tier of English football.
These groups managed to infect the rest of the stadium for the Champions League quarter-final against Spurs last season, but overall the Etihad doesn't feel like the cauldron Anfield can when it's at its best.
Few stadiums do, to be fair. Liverpool's travels have taken them to atmospheric grounds such as Napoli's San Paolo and Red Star Belgrade's Rajko Mitic Stadium, and some of this has rubbed off on the Liverpool support.
This support is now enjoying being top of the Premier League. There is already talk of throwing away leads, slip ups, and bottling it, but these moments are there to be enjoyed, and rather than worrying about possible failure, most Liverpool fans are enjoying the moment.
If they aren't Klopp will try to make sure they do.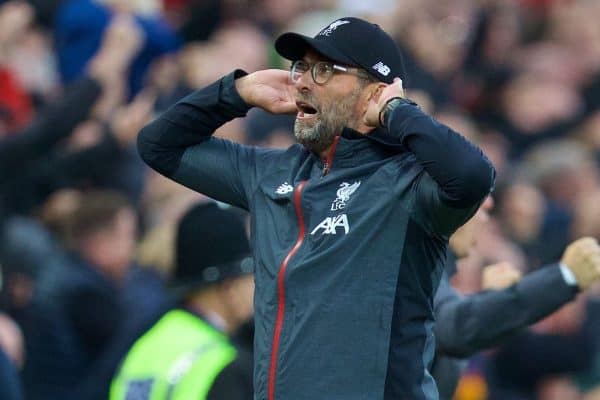 Guardiola is facing one of his toughest tests at City to date, although talk of his squad being thin is difficult to take seriously when he has Bernardo Silva, Gabriel Jesus, Phil Foden, and regular left-back Oleksandr Zinchenko on the bench.
After the defeat to Wolves, he said he is concentrating on making sure his side are able to win this type of game in the future, rather than looking at the eight points they need to recover if they are to catch Liverpool.
In this sense, he is a very pragmatic manager and will deal with problems in front of him which he and his players have the power to change, rather than worry about things which are out of their control.
"It's a lot of points, they've not dropped points," he said after the game.
"We face many teams defending in deep systems. More or less we have found a way to do it, but today we had a problem. We need to think about that, rather than a team who is eight points in front."
One interesting thing to note is that, in Pep Confidential, one of Marti Perarnau's insightful books about the Man City manager which covers his first season at Bayern, Guardiola is quoted as saying: "league titles are won in the last eight games, but they are lost in the first eight."
Will he think this particular title is lost? Probably not, as his side lost four games last season, and given the strength of their squad they could realistically believe they won't lose more than two for the remainder of the campaign.
Liverpool only lost once last season and still finished second, but one thing they have already done is proven that they can challenge City again, something many thought they wouldn't be able to.