Liverpool are eight wins from eight at the second interval of the Premier League campaign, and some key tactical tweaks have aided this perfect run.
When comparing Liverpool's tactics this season to last, there are far more similarities than there are differences.
The 4-3-3 remains, mostly with one deep-lying midfielder and two No. 8s.
The full-backs remain a creative outlet, and midfield the engine room. The front three remain among the best in the world in their respective roles.
Any tactical changes have been subtle. Managers and coaches will often introduce new ideas simply to keep their players' minds fresh and to keep them thinking about the game, even if it looks like the previous plan doesn't need tweaking at all.
Jurgen Klopp has tried a few new things this season.
Some confirmed, others unconfirmed; some obvious, some less so, which will keep his own players on the ball while also causing problems for the opposition.
It's quite handy, that one of Liverpool's main tactical changes of the season so far came in the most recent game against Leicester.
Leicester City Shuffle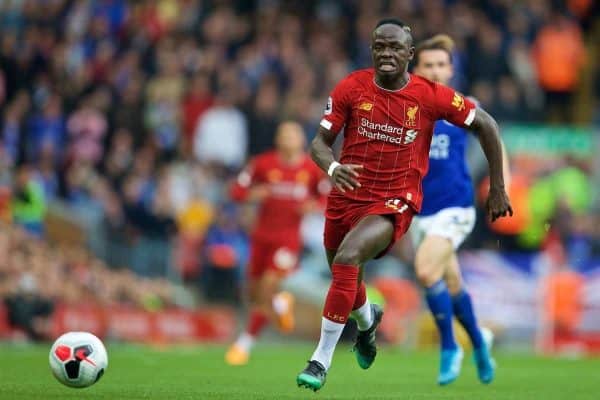 The familiar front-three lineup for Liverpool is Sadio Mane on the left, Roberto Firmino through the middle and Mohamed Salah on the right.
As is well-documented by now, Firmino is a key part of Klopp's tactics when operating in this role as the central forward.
He often drops deep as Mane and Salah bomb forward ahead of him, and the three of them work to drag the opposition defence out and wide, before tearing them apart with pace and quick passing.
The full-backs also do their bit, bombing forward on their wing as Salah and Mane act as inside forwards.
This all changed against Brendan Rodgers' side, with Firmino drifting slightly left, Mane right and Salah through the middle.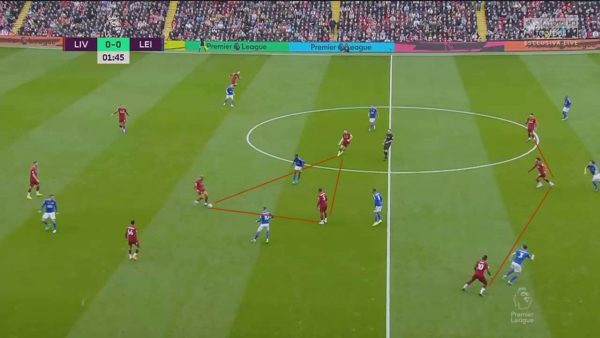 Klopp explained that this was merely to unsettle the opposition who will have trained to play against the usual order of the front three.
But it might also have been to protect his side against Leicester's own version of Trent Alexander-Arnold and Andy Robertson: Ricardo Pereira and Ben Chilwell.
These two full-backs are among the most threatening in the league in these positions. Pereira already has two goals this season, which tells us all we need to know about his attacking intent, while Chilwell is so good he was once a Liverpool transfer target.
Firmino and Mane are better defenders than Salah, which isn't a slight on the Egyptian's effort which is second to none, he's just better utilised in attacking areas.
The duo have better defensive engines, for want of a more technical phrase, and this was shown when Mane made two excellent tackles on Chilwell in the first half.
But towards the end of the half, Klopp changed things up. It meant Chilwell had more freedom down Liverpool's right, but it also led to the first goal.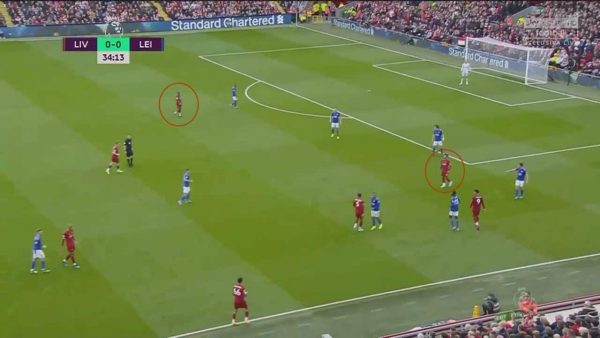 It was difficult to notice the change as Liverpool had to defend a number of set-pieces around this time, and that naturally leads to mixups in personal and positions, but by the time of the first goal Firmino was back in the centre, and Mane on the left with Salah right.
It paid dividends in attack, when James Milner's raking pass sprung Mane down the left flank to give them the lead before half-time, after which they changed back to the order which started the game.
As this is Klopp's Liverpool, at Anfield, it's unlikely this change was focused solely on stopping the opposition.
The manager isn't afraid to give credit to opposing sides where it is due, whether this be in one of his press conferences, or the respect shown in the way he sets his teams up.
"We obviously changed formation a little bit," said Klopp.
"We brought Mo into the centre, Sadio and Bobby more into the No. 10 position [against] an opponent who could train a full week to prepare for us."

Incidentally, this confirms the idea that Klopp doesn't always view his wide players as wingers, rather inside forwards or No. 10s.
But going back to the main point, as well as showing respect for an opponent, leaving Salah up top with the potential for Mane to break alongside him posed a threat to the Leicester centre-backs while their full-backs were high up the pitch.
Salah likes the right side of the pitch even if he's playing centrally (as shown in the touch map below), but luckily for Leicester, their left centre-back, Caglar Soyuncu, is pretty good.
Quick for his size, strong in the challenge, and decent enough on the ball, too.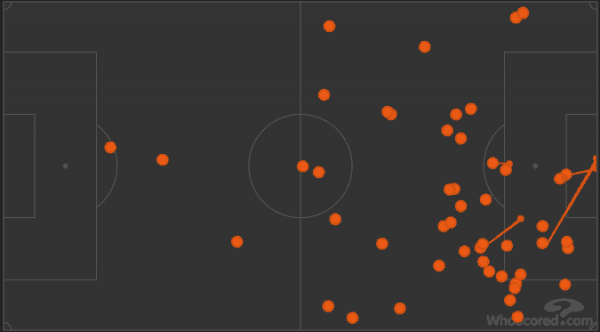 Mane and Milner took the headlines—rightly so—but Salah still emerged from the game with the highest open play xG in the team.
Leicester's xG was just 0.1 according to Understat, and Liverpool's 3.75.

The Reds certainly didn't scrape this win. A worry for Leicester is that they have the second lowest xG in the league, just ahead of Newcastle, and are over-performing their xG by almost six goals…
High Lines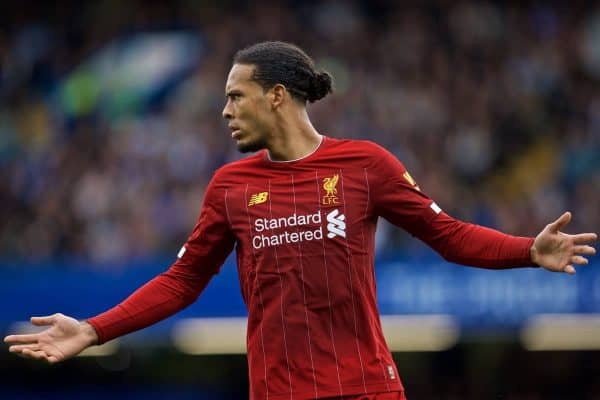 As has been the case throughout his career so far, Liverpool's assistant manager Pep Lijnders is always good for some tactical explanations.
At the beginning of the season there were suggestions that Liverpool were playing with a higher defensive line.
This was denied by Klopp, but it was Lijnders who eventually provided more clarity on the subject as he took on media duties ahead of a League Cup game against MK Dons.
When asked if Liverpool have improved on last season, the Dutchman gave an answer filled with tactical information.
"For me, we are much further than we were last year at the same time," said Lijnders.
"We can dictate play much better, our last line feels much more comfortable being higher, we are much more front-footed defensively and, of course, we can control games and spaces better.
"The team absorbed the way we want to play, it became a natural skill of theirs."
Saying the players are more comfortable playing a high line isn't confirmation that it is higher, but is at least an indication they are willing to do so more often.
The high line could also be caused by the new laws around goal-kicks, which means defenders can now receive the ball in the box.
The opposition press still has to wait on the edge of the area, but once the goal-kick is taken they can move in.
This naturally moves the whole team slightly further up the pitch than when defenders had to receive goal-kicks outside the box.
The assistant manager also indicated that it has become second nature for the Liverpool players to play the way Klopp wants them to.
There were no new outfield first-team signings who needed to adapt to these methods. Everyone knows their role, and the roles of others.
Full-Backs – the Key to a Team's Tactics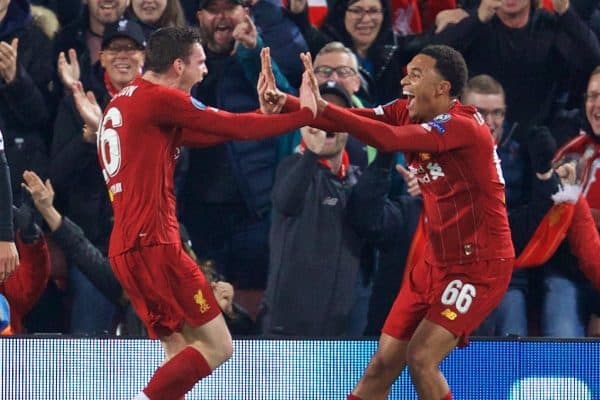 For those looking in from the outside, full-backs often provide the best clues as to how a team is setting up tactically, and Liverpool's appear to be set to all-out attack.
This was epitomised by the goal against Salzburg scored by Robertson and assisted by Alexander-Arnold.
Many teams have their full-backs alternating in attack—when one goes forward, the other stays back—but it appears that Liverpool now want both bombing forward.
Again, it was Lijnders confirmed that what we'd been seeing on the pitch was something they'd been working on.
"I think our team became better at dictating the play and speeding up the positional play," he said.
"Finding the right players between the lines, and from there, being really creative.
"We made some adjustments in that by having our full-backs more involved in the attack, by having our midfielders more in control."

Klopp is rightly guarded about tactics, and keeps his cards close to his chest, and in truth Lijnders hasn't really given too much away there either.
He just approaches the subject of tactics more directly, often without being asked about them specifically.
So we'll let Lijnders have the final word on Liverpool's tactics so far this season.
"The better you attack, the easier it becomes to play good counter-pressing, which is, of course, our identity," he explained.
"The character of the team is mainly developed by the character of the coach. It's about the character of Jurgen."