Adrian has more than stepped up to the plate for Liverpool in the absence of Alisson and it's a credit to his mentality and 'ego'.
With the Reds' number one stopper assisted off the field clutching his lower leg merely 39 minutes into the new Premier League campaign, it would not have been out of the ordinary to fear the worst.
Especially considering the air of uncertainty surrounding Adrian's capabilities merely days after he made the move to Anfield.
Yet, in hindsight, there was little to fear as the ex-West Ham stopper has effectively filled the void and played a pivotal role in Liverpool's eight-game winning streak in the Premier League.
And while being thrust in between the sticks as the Reds' first-choice stopper was not a scenario many anticipated when he signed on the dotted line, Adrian's mentality that he is as much a No. 1 'keeper as his Brazilian counterpart has proven key to rising to the task.
"When I signed for Liverpool I knew I was coming for a big challenge in my career and I think the competition makes us better. So to have two No. 1s in the team is great for both of us," Adrian told the Telegraph.
"It's a good decision for the manager because everyone wants to have the best and I think we are here – two No. 1s. It's not my mentality to be a No. 2 and even less so when I am 32. Maybe in four, five years time I will tell you differently but it's much better than being in a comfort zone of one No. 1 and the other [goalkeeper] sitting on the bench forever.
"But I also like to be united and work together. I'm full of confidence to help Liverpool on the pitch and from the bench when the manager decides that Alisson plays.
"I am more than ready, mentally [for Alisson to start]. And I am experienced. I had the situation before when I was at West Ham when Fabianski came in last season. We need to be professional. We all have ego and ego for us is that we want to play all the games. But sometimes you do not."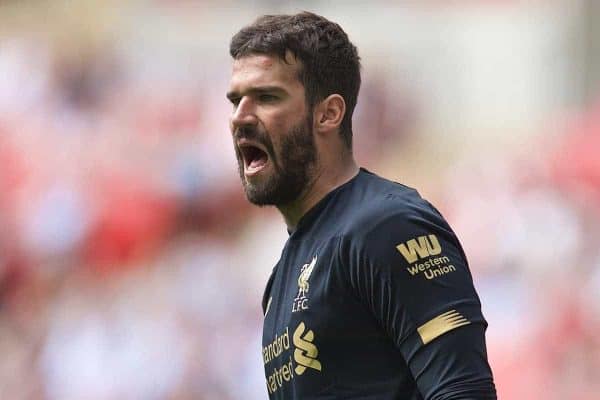 That decision could come as soon as Sunday when Jurgen Klopp and his chargers make the short trip to face Manchester United as Alisson has made a full recovery and is expected to return straight into the starting lineup.
It will be a move Adrian will look to take in his stride, but his absence from the team could have come a lot sooner due to a bizarre ankle injury sustained in the UEFA Super Cup celebrations, an injury which he concedes he is still feeling the effects of:
"I was very worried. There were painkillers, anti-inflammatories and strapping. I need to give everything to defend Liverpool.

"I couldn't imagine the possibility of missing a game when I had been given this opportunity to play. But, even now, the ankle is not 100 per cent because I have not stopped."
With Adrian featuring in all but one of the Reds' ten matches in all competitions since the incident despite seemingly playing through discomfort and even pain, it's a credit to his character and perseverance.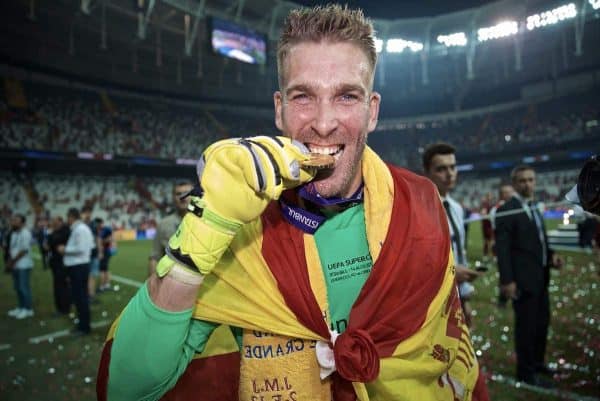 While his clean sheet record may only read two and there was a hairy moment or two, Adrian has proven to be strong of mind and ability – meaning Alisson's absence has not been as greatly felt or proven to have derailed the Reds' campaign in its infancy as first feared, which is the greatest compliment for Liverpool's No. 13.
"I feel really proud because if nobody missed the best goalkeeper in the world last season then it's a good feeling for me. I was more than ready to face that challenge," he added.
"The team has helped me a lot because it's really easy to play with those defenders in front of you and we have made a magnificent start to the league: eight from eight."