'My Liverpool Life' is a series looking at the colourful lives of Liverpool supporters. Jeff Goulding talks us through his story supporting the Reds.
I started supporting Liverpool because…
I was born in Liverpool in 1967. My parents and the majority of my family were Reds. I had plenty of good mates who were Blues as I grew up though. So, there was a very simple choice for me, was I a Red or a Blue. At about the age of four, when I was aware of football and who my mates supported, Everton were probably the best team. They won the league in '71 and had a great side. But Liverpool had Bill Shankly. That was it for me, to be honest.
His influence in the city, and in my family, was pervasive. I grew up hearing all about him and people spoke about him with a reverence you usually only hear in relation to priests. He was like the Prime Minister of Liverpool as far as my family were concerned. My support was solidified while watching the '74 FA Cup Final. We won and my family went berserk. I still remember it like it was yesterday. I was hooked from that moment on.
My first game was…
I know it was in the 70s, at Anfield, against West Ham and it was 2-2. I'd have been seven and went with my Dad. I have asked him previously, but he couldn't remember the year but we both recall it was a night game. So after checking the records, I now know it was Tuesday 19 August 1975.
I was in the Paddock at the front of the Main Stand, at the Kop end. To be honest, I've written about this before, but I didn't pay much attention to the game itself. I spent almost the entire match transfixed by the Kop. It was such a wonderful mosaic of colour, and the motion of it was mesmerising. The people would sway from side to side, and then there's been some action in the game and a huge column of humanity would surge toward the front, behind the goal.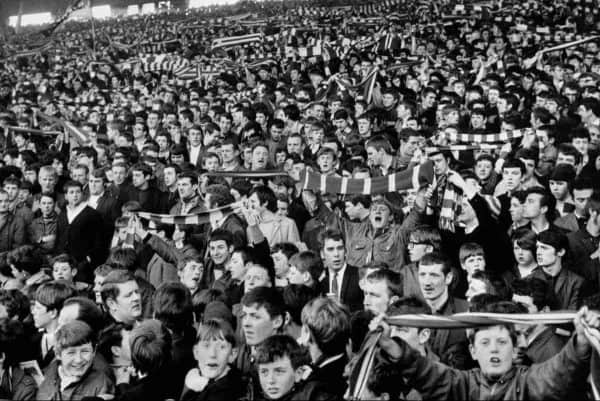 Then they'd scramble to get back into position and the whole process would start over again. I would learn later, when I stood on the old terrace myself, that it was exhausting but exhilarating at the same time.
The noise was incredible. It's so hard to describe. Unless you heard it, it's difficult to really convey the power of it. We get close nowadays, on a European night, maybe. But back then, you felt it, in your bones. It was like standing in front of a fierce wind, barely able to keep your feet and fearing you might get swept away, but loving every minute of it.
It was raw, Scouse and it lifted you. You felt emotional at the sound of so many people, who were just like you and wanted the same thing as you and they were all in the same place at the same time. As a young kid in 1975, I had never experienced anything like it in my entire life. It has stayed with me forever.
When I became a father for the first time, all I wanted to do was allow my own child to experience that same magic. The game itself almost seemed irrelevant to me. But, for the record, Ian Callaghan and John Toshack got the goals for us, and Alan Taylor got a brace for the Hammers. Not that I could have told you that without the aid of google.
My favourite season supporting the Reds was…
Another tough question. 78/79 was incredible. The Reds set new benchmarks, Paisley had won back to back European Cups in 77 and 78. People were wondering what else could he do. What he did, with that team, was set a new standard in domestic football. They ended the season eight points clear at the top of the league (2 points for a win back then). Their goal difference was +69 and the averaged 2 goals a game, which was a first at the time.
Defensively, they were incredible, conceding just 16 goals in a 42 game season. There was a Scouse heart, with Thompson, Fairclough, Case, Johnson, Lee and McDermott. And that powerful Scottish trio of Hansen, Souness and Dalglish. And with Clemence in goal, they were truly awesome. They had the lot. Incredible rock-solid defence, skilful midfield that could score goals and was as hard as nails, and a tricky front line that was lethal in front of goal. What's not to love.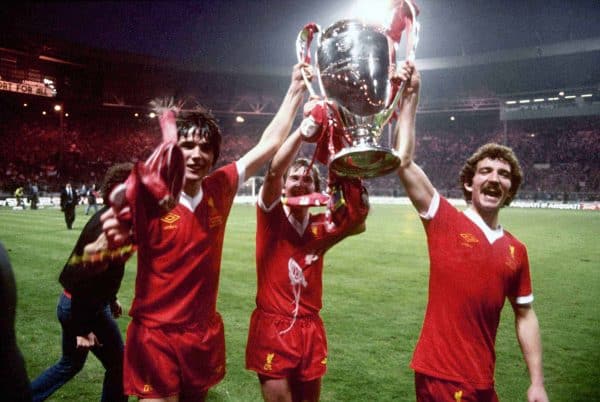 The only season that comes close is the 87/88 season, with Barnes and Beardsley – but I'd still go with the 78/79 vintage. They will take some beating.
Nowadays, I follow the club…
I'm a season ticket holder in the Kop. I sit in Block 109. I live reasonably close to the ground. It's about an hours walk away. 15-20 minutes in a car. I haven't been to an away game for a while, largely because getting tickets for away days is so difficult.
Liverpool is a unique club because of…
I think we are unique because of our culture. It's not just the team or the history, but the culture of the city that makes us unique, in my opinion. I think it's this that attracts so many people to follow the club all over the world. yes we have history, but we haven't won the league in 30 years, yet millions across the globe are drawn to us.
Why? I think it's Liverpool. There's something almost mythical about this city and its people, the songs we sing and the banners we create. They're unique, witty, philosophical, political and sometimes poetic. But they are always original and never generic.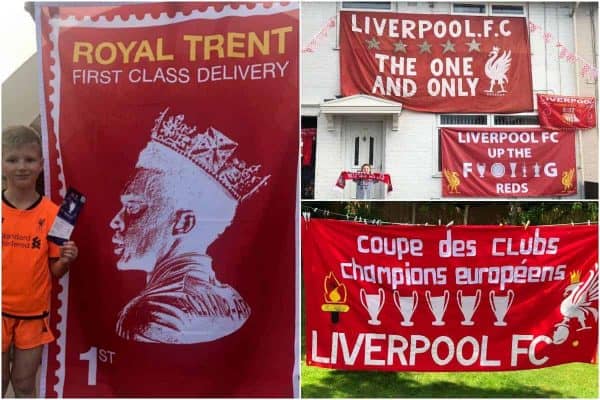 People know that Liverpool supporters are united and passionate and they are different, and I think that's appealing. I can't think of many clubs in world football that have what we have. We are the full package; history, success, unique support, mythical stadium, the Kop, iconic players and managers. We are blessed. I am biased. I am Scouse exceptionalist. And, I don't care.
My best story involving the Reds is…
I lived in the Norris Green area of Liverpool when I grew up. All the kids in the street knew that Terry McDermott's sister lived in the next road. We also knew that he drove a Ford Capris. One day we were out in the street playing football, and someone came running up to us and shout "McDermott's" in Ashbank Road NOW!!"
There was pandemonium as everyone started shouting with excitement. We all ran to the house, and I dragged my sister with us. She was a bit bemused and not really that interested, but she just got caught up in the fun of it. When we arrived at his sister's house none of us had the bottle to knock on the door. So, we persuaded my sister to do it. I'll never forget about a dozen of us crouched behind the hedge row, and listening as she walked up the path and knocked on the door.
I heard it open, and couldn't resist peaking out from behind the shrubbery. I caught glimpse of the permed hair and the moustache and instantly recognised Terry. My stomach lurched and my knees went weak. There he was, in the flesh and just yards away. Then I heard the words that made me cringe. They were my sisters.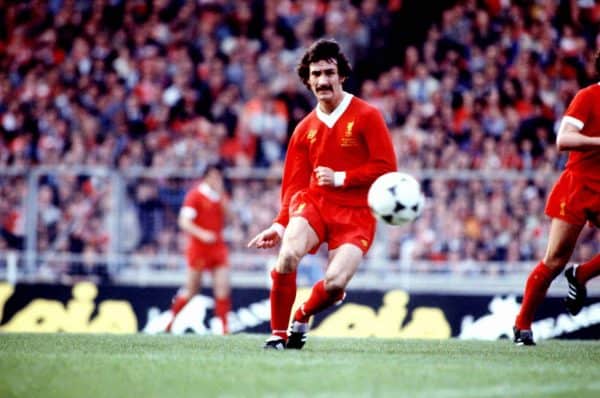 "'scuse me mister. Is Terry McDermott in?"
We all looked at each other, and I can remember my mate silently mouthing the words, "Oh No!"
Terry just looked down the path, he must have heard us or caught sight of me peering at him. Then he laughed and said to my sister, "Sorry love he's not. But if you get your mates to knock later, he might be." Then he closed the door. My sister came bouncing back down the path to us, and joyfully relayed the message. She was oblivious. None of us would volunteer to go back. We were all too mortified. I'm sure he'd have given us all his autograph and probably would have invited us in. Instead, our cowardice meant we all missed out an opportunity to meet our hero. I'm sure there's a moral to this story.
I once met…
I've been very fortunate to have met a number of former Reds players, and have had the privilege of speaking to them too. However, one of the nicest stories I can recall is the time I bumped into David Fairclough, in the Sandon Pub before a game. I was so awestruck I grabbed his arm and simply shouted "Davey Fairclough" in his face. He smiled, and said, "Yes that's right."
After I regained my composure, I mumbled something along the lines of "Sorry, Dave (like I knew him personally) you're a hero of mine. Could I have my picture with you?"
He replied, "Of course, no problem." So I handed the phone to my mate and we both posed awkwardly for the shot. However, the camera wouldn't work. Fairclough was a complete gentleman and said, "look, I've just got to go and meet someone, but I'll pop back and if you've sorted it out, we'll do it again. Neither of us expected him to, but about ten minutes later, there he was. "Alright lads. Have you sorted the camera out?
This was a man who scored one of the most iconic goals ever, at Anfield. The goal that set us on our way to our first European Cup, with his late substitute appearance against St Etienne in 1977. And yet, here he was taking the time to make my day. I'm 51 now, but I'll never forget that simple gesture. It meant the world to me.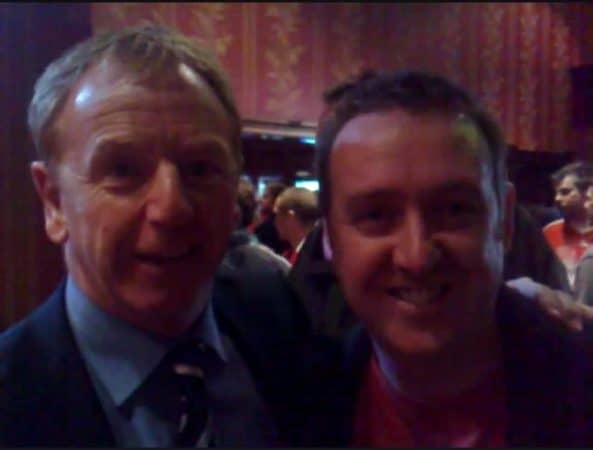 I also met Jimmy Case in the Flat Iron after a game once. I was quite merry shall we say, and sauntered over to him. He was enjoying a pint with friends and had his back to me. Drunkenly, I prodded him in the back and, with my mates staring on in disbelief, shouted "Eh Jimmy, legend mate, can I have a picture with you?" to which he burst out laughing and dutifully obliged.
After I had sobered up, I was mortified at my behaviour. So, I tracked him down on Facebook and sent him a message apologising and thanking him for being so decent about it. His reply? "No problem. I'm often in the Flat Iron after the game. Pop over next time." I've never seen him since. I prefer to believe that he's not hiding from me.
I got involved with This Is Anfield…
It was about six or seven years ago I think. Wow could it really be that long? I wanted to write about the Reds and I wanted to see whether my stuff was good enough to be published by someone else. I'd been writing creatively for years, but had never published.
I started doing Liverpool articles for myself and seemed to find my voice writing about football in a way I never could writing fiction, up to that point. I guess the key is writing about what makes you passionate. I'd followed This Is Anfield and was aware they had a huge following on social media, but never thought I could get my stuff published with them. I took a punt and submitted an article, and they put it on the site.
I couldn't believe it. Looking back, it wasn't my best work but it was from the heart and honest. That gave me the confidence to keep going and I think I've improved as a writer as a result.
So thanks to the team at This Is Anfield, I'm now a published author, having written three books. Writing for the site allows me to have my work read by an international audience, and that give me a huge buzz. Thanks for everyone who reads my work – I'm eternally grateful, even to the critics.
If I could have dinner with three people from Liverpool's history I'd choose…
Could I have three dinners with Bill Shankly? No? OK then, I'll go with:
1. Bill Shankly. My all-time hero. I still get teary-eyed watching old footage of him. He's an inspiration, not just in football, but in his philosophy on life, his politics, his wit and his intellect. It would be incredible to spend even the briefest moment in his company and one of my great regrets is that I never got to meet him before he died.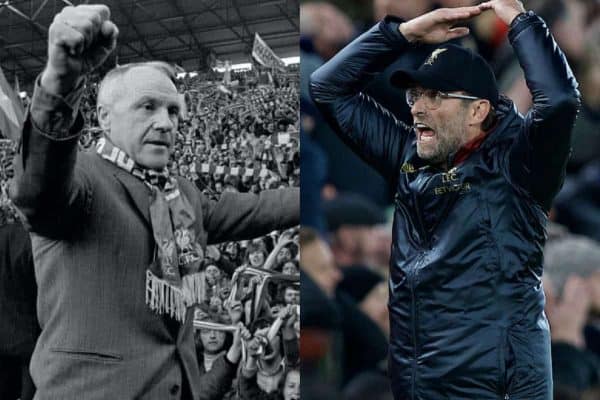 2. John Lennon. OK, he's not a footballer, but he is an iconic figure from the city's history and was a Liverpool supporter (apparently). Like Shanks he transcended his field. Lennon was more than a musician, he was a writer, a philosopher, an artist and a deeply political figure. The thought of him and Shanks at the same table blows my mind.
3. Jurgen Klopp. Why? Do you really need to ask? Can you imagine the conversation, the laughter and the insight you'd get from sitting around the same table as those three. I'd love to see what Shanks thought of Klopp's ideas and vice versa. I think they'd get on.
Lennon could play guitar in the background, and I would just soak it all up.
---
* Thanks to Jeff for sharing his 'Liverpool life' – look out for more from this series on This Is Anfield. Follow Jeff on Twitter @ShanklysBoys1 and visit his website here.