Liverpool left it late but recorded yet another league win on Saturday, seeing off Leicester 2-1 in the Premier League to keep the 100 per cent record intact heading into the international break.
With Man City still to play, the gap at the top is eight points for now, ensuring we'll be well clear for the next couple of weeks whenever fans happen to glance at the table.
Sadio Mane put the Reds ahead against the Foxes, but Liverpool missed a host of decent chances to add a second—before James Maddison equalised for Leicester.
Fears of the win streak being vanquished were growing, until Mane won a penalty deep into injury time and James Milner buried it with his customary, ice-cool composure.
Here are five key stats from yet another Anfield win.
Sadio's 50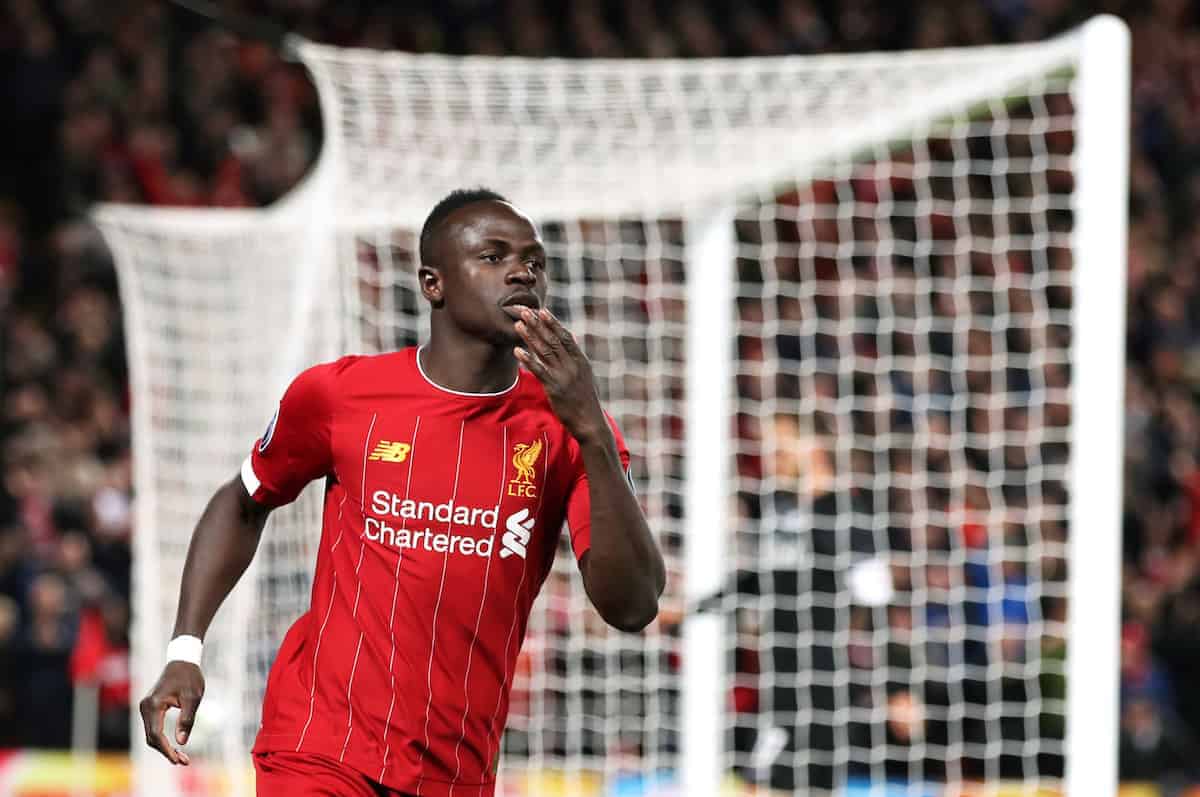 Mane has quickly risen to the top of the Reds' scoring charts this season, with eight in all competitions to his name in just 11 appearances thus far.
Against the Foxes, with a fine run in off the left channel and precise finish into the far corner, he netted his 50th Premier League goal for the Reds—in his 100th Premier League appearance.
His importance to the team, as well as Liverpool's all-round quality, is further highlighted by the fact we've won 69 of those 100 games Mane has played in.
He is the 10th player to reach the milestone with the Reds; no other club can boast of such a large collection of scorers to reach the 50 mark.
And he's getting better as he goes on:
??Sadio Mane becomes the?th player to score 5??0?? PL goals for @LFC??

First 2??5?? goals in 5??7?? apps
Last 2??5?? goals in 4??3? apps pic.twitter.com/ZzgZmZUHvI

— Sky Sports Statto (@SkySportsStatto) October 5, 2019
Moreover, Mane has proven adept at netting the all-important first goal of the game, doing so against Southampton, Salzburg and now Leicester, as well as notching the first Liverpool goal of each match against Chelsea and Newcastle.
Up the injury time Reds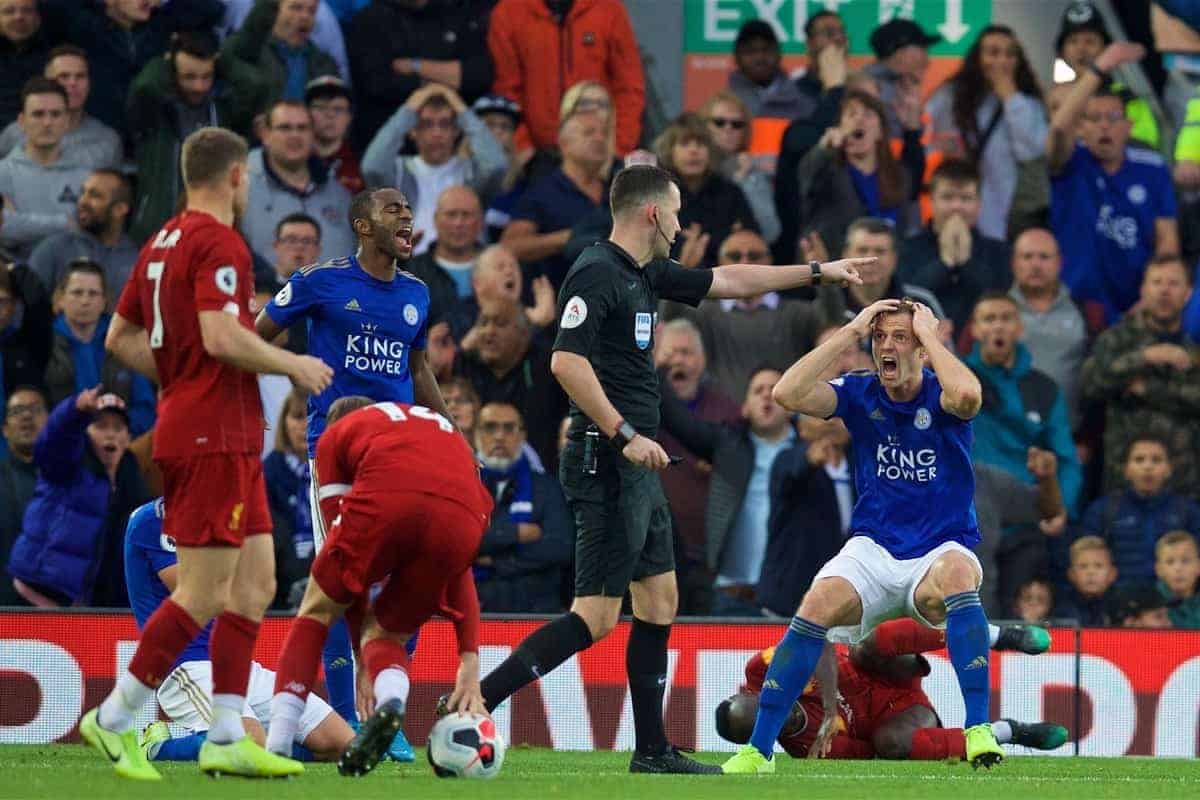 Just when we looked to be out of time and short on ideas, Divock Origi and Mane combined and Marc Albrighton dithered just enough to lose possession, then panicked just enough to concede the penalty.
Ignore the bleatings about not enough contact, diving and any other nonsense—they've been given for far less, there are now multiple opportunities to overturn the decision and it was, in any case, the right one.
Ignore, too, the myth about certain other teams being famed for the late goals category; stoppage-time winners remain the exclusive domain of those bearing the Liver bird on their chests.
34 – James Milner's penalty was the 34th time Liverpool have scored a 90th-minute winning goal in a Premier League match – at least nine more than any other side. Resilience. pic.twitter.com/xzFWpJQuz7

— OptaJoe (@OptaJoe) October 5, 2019
We haven't usually had to score quite so late this season—Roberto Firmino against Burnley after 80 minutes was our latest until Milner's decisive intervention—but it's good to see we still have plenty in the tank late on.
Historic start, relentless run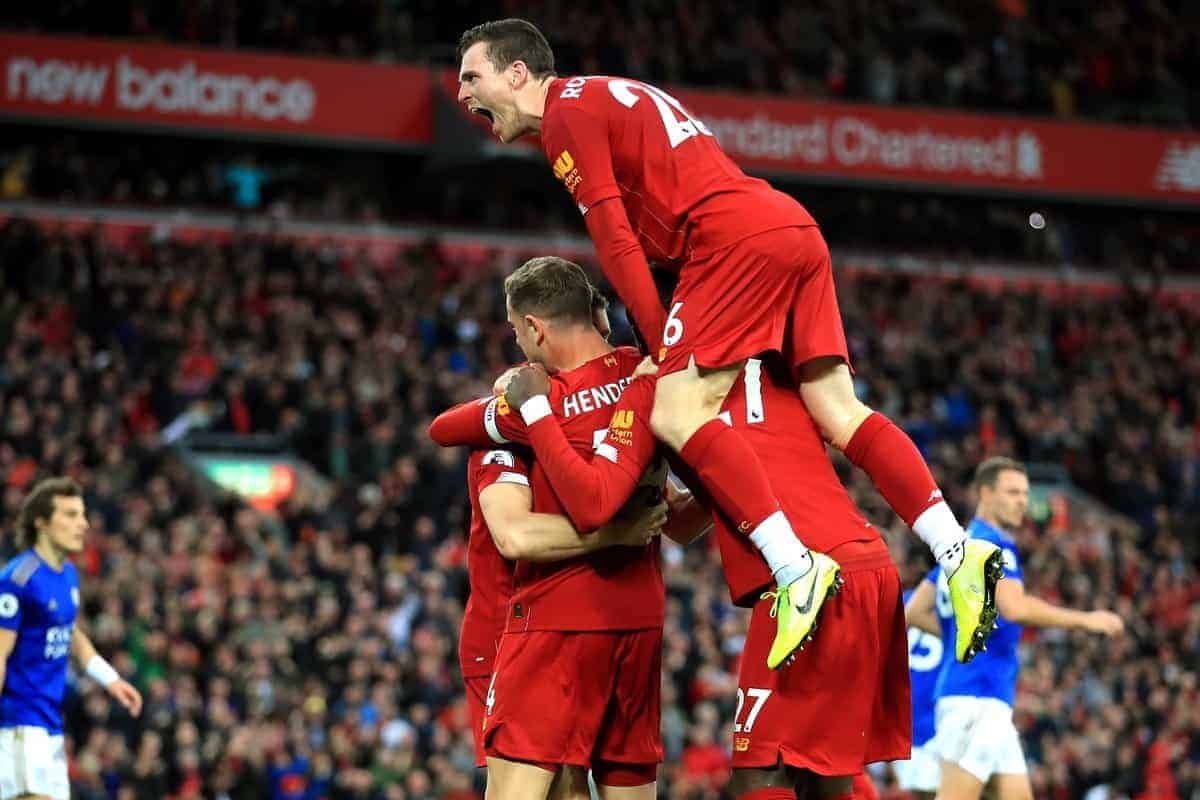 We've won eight in a row—excellent, in and of itself. Only seven teams have done this in English top-flight history, dating back well over 125 years.
But, we're Liverpool…and that's the only name you'll now see on that exclusive list twice.
8 – Liverpool have become just the seventh side in history to win each of their opening eight matches to an English top-flight season – and the first to achieve the feat on two occasions having also done so in 1990-91. Behemoth. pic.twitter.com/6Igrfx5T40

— OptaJoe (@OptaJoe) October 5, 2019
In the Premier League era, only the Reds and Chelsea (nine straight wins, 05/06) have reached this level.
Of course, we've now won 17 straight league games straddling two different seasons, meaning Jurgen's Reds are one win off equaling the all-time Premier League win streak of 18, set by Man City in 2017.
Poetically, the city we can match that run in is…Manchester. The Reds are at Old Trafford after the international break.
Jimmy on the spot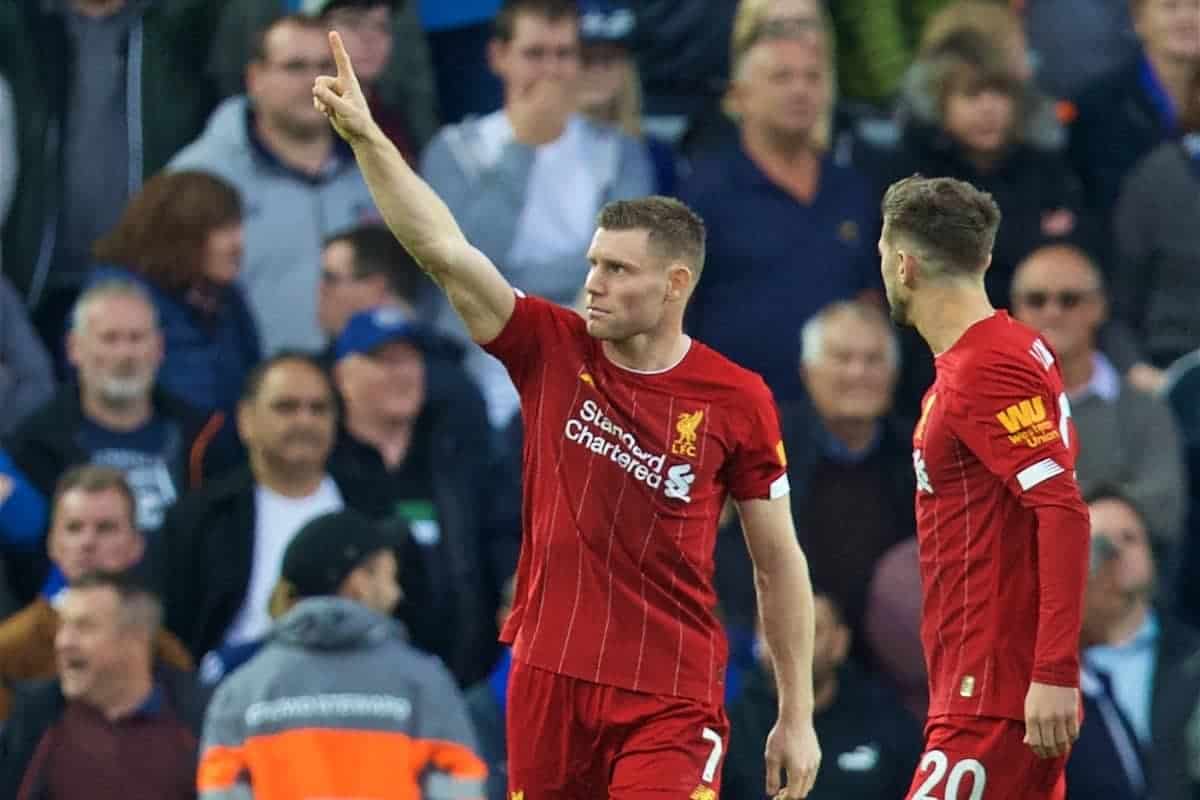 Milner's late, late penalty sent the Reds eight points clear, at least for a day, and set the nerve-endings of other clubs around the country into electrical overdrive, burning with rage at the injustice of Liverpool being awarded a penalty for one of their players being kicked in the box.
It's not the first time our vice-captain has been key in this 17-game streak, either:
??James Milner scores his 2nd winning penalty in @LFC's 17th successive @premierleague win – also scored winning penalty in 2-1 win at Fulham in March #PL pic.twitter.com/vGPlyPzNZd

— Sky Sports Statto (@SkySportsStatto) October 5, 2019
The nerveless No. 7 also scored in the final 10 minutes of that game at Craven Cottage.
Elsewhere during this run, Milner also scored a penalty at Cardiff, the second in a 2-0 win, while Mo Salah netted from the spot against Arsenal, again the Reds' second in an eventual 3-1 win.
After eight months without scoring a league penalty at Anfield from December 2018 (vs. Arsenal) to August 2019 (vs. Arsenal), Liverpool have now been awarded and scored two penalties in 42 days.
Leicester's low-key claim to competing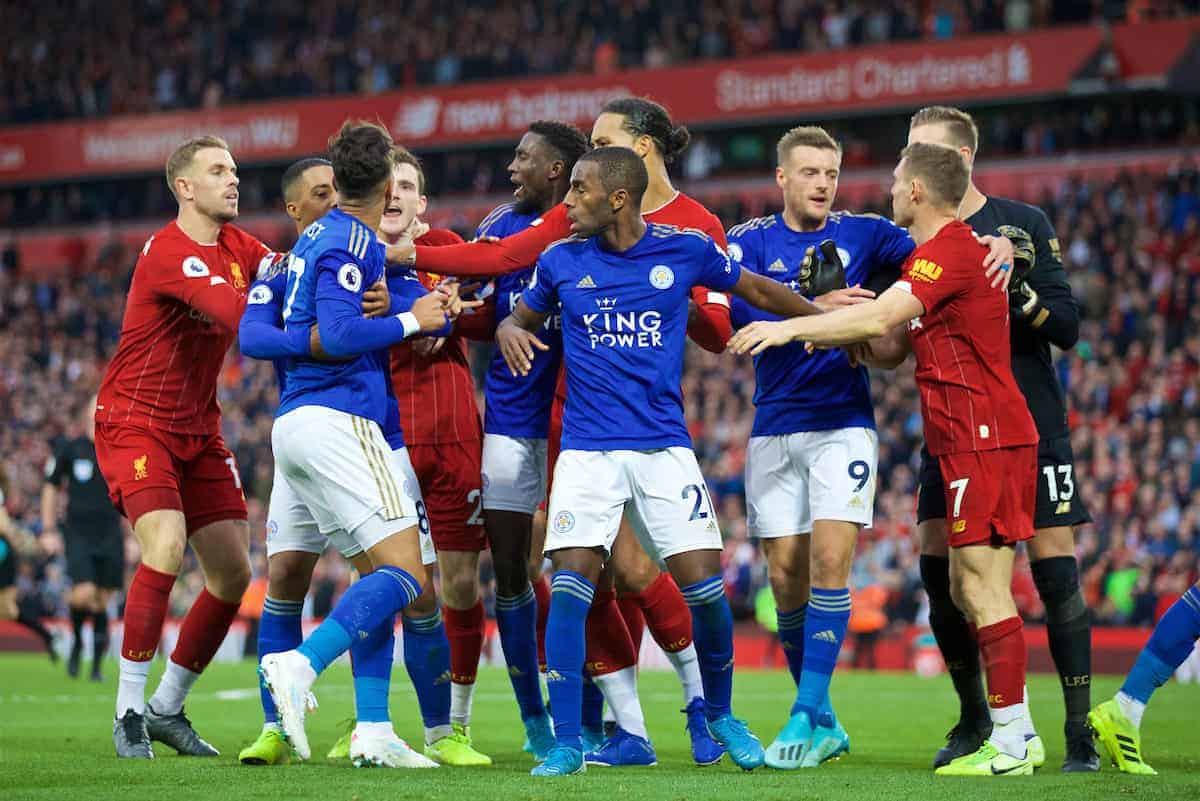 Listen to the beaten Foxes after the match and you'd be forgiven for thinking they had been hard-done-by in the game, came within a whisker of taking all the points themselves—building on the pre-match narrative that they could be the ones to stop the Reds.
43 – Liverpool are unbeaten in their last 43 Premier League home games. Their only longer unbeaten home run in the top-flight (63 between 1978-1980) was eventually ended by Leicester City. Premonition. #LIVLEI

— OptaJoe (@OptaJoe) October 5, 2019
"We may have lost the game but we won something more," was the cryptic offering from defender Caglar Soyuncu.
"It looked in that second period, especially as the half wore on, that we could go on and win the game," suggested manager Brendan Rodgers.
Except, it didn't.
Right from the moment Mane put the Reds ahead, Leicester had very, very little chance of winning the game.
49 – Liverpool haven't lost any of their last 49 Premier League games in which they've scored in the first-half, since losing 1-4 at Tottenham in October 2017. Foundations.

— OptaJoe (@OptaJoe) October 5, 2019
In fact, for them to have done as their manager suggested and won, they'd have needed to have more than one shot on target throughout the 90 minutes, for starters.
Or just more than two shots altogether.
Compare that to the Reds' recent league opponents: Sheffield United (12 shots, two on target), Chelsea (13 shots, two on target) and Newcastle (eight shots, one on target) and Leicester didn't even match those perceived lesser-sides, never mind trouble the Reds enough to win.
A lowly 0.1 for Leicester's xG score shows not only their lack of threat, but the absurd gap in quality and quantity between their chances and Liverpool's.
#PremierLeague
FT: #LFC 2 (3.51 xG)#LCFC 1 (0.10 xG)

Liverpool miss a host of chances, but win it at the death through Milner's penalty. A fully deserved win and huge 3 points in the title race! #LIVLEI shot map ? https://t.co/HCnYsgQBpc pic.twitter.com/U9TIxxRWUQ pic.twitter.com/6b0R6xUwad

— Infogol (@InfogolApp) October 5, 2019
Again, Sheffield United (1.31 xG), Chelsea (1.54) and Newcastle (0.35) all bettered the Foxes' chances, while only the Blades didn't equal the one goal actually scored by Leicester on Saturday.