For two weeks, Melwood has been a place of quiet: a few non-internationals, a handful of youngsters and Jurgen Klopp's coaching crew planning their attack on Man United. But around the rest of the world, Liverpool's players have been busy.
With the qualifiers, friendlies and other international games now over and done with, the likes of Jordan Henderson, Roberto Firmino and Co. will all be back in training with Liverpool within a day, if they aren't already.
It doesn't leave a huge amount of time to prepare for the Premier League trip to Old Trafford, but Klopp will be pleased that no Reds appear to have picked up injuries during domestic action's two-week hiatus.
But avoiding injuries are only one part of the issue: fatigue sets in to players for a number of reasons, game time and travel being two prominent ones.
So who travelled furthest, and played the most, for Liverpool in this international break? The first table below shows the breakdown by miles (as posted by one helpful Reddit user); the second shows those who played no match minutes at all.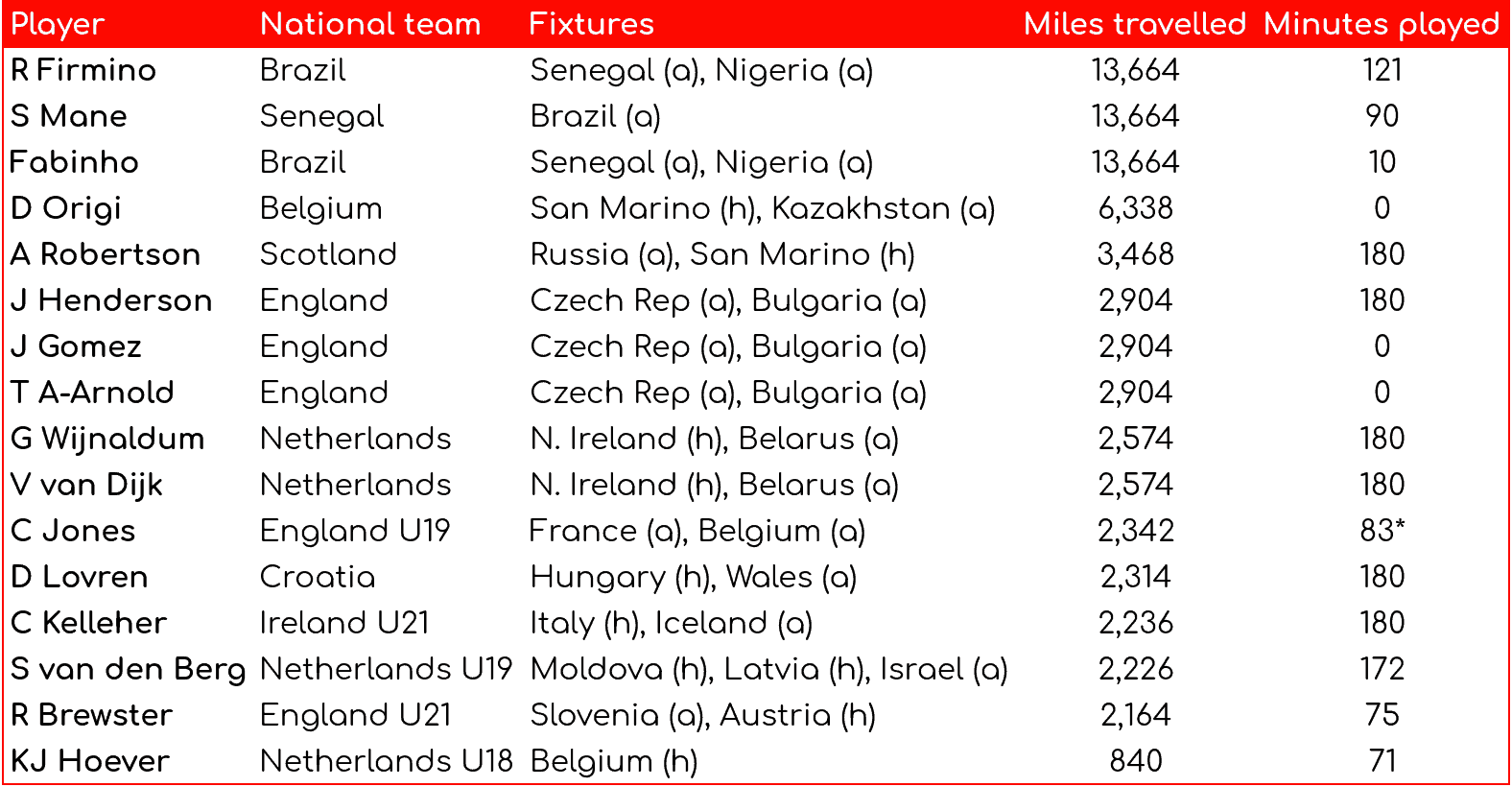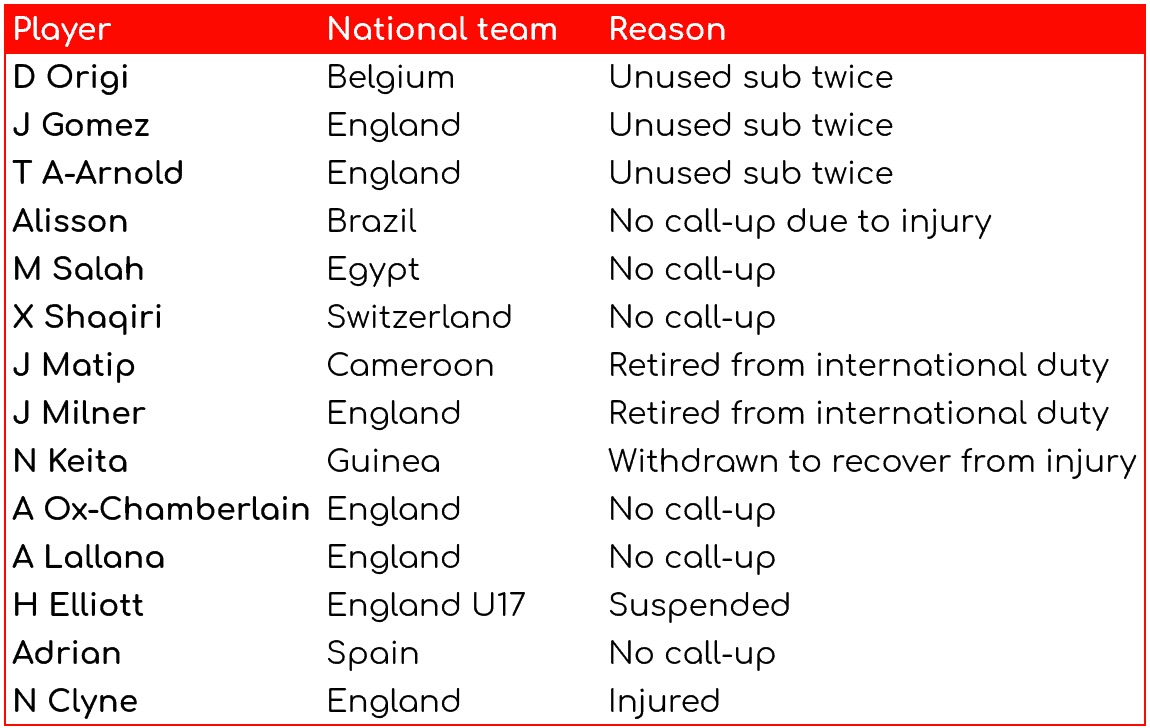 Without question, the most affected player from the international break is key forward Roberto Firmino: he travelled the joint-furthest and played a significant part in both matches, with Sadio Mane playing the full 90 in just one game at the same location, Singapore.
Fabinho, frustratingly from his perspective, only managed a brief cameo once after such a long journey—but for Liverpool, the good news is that Brazil finished their fixtures early and both players should have returned midweek. Senegal only had one game, so Mane, too, would not have been delayed in getting back to Melwood.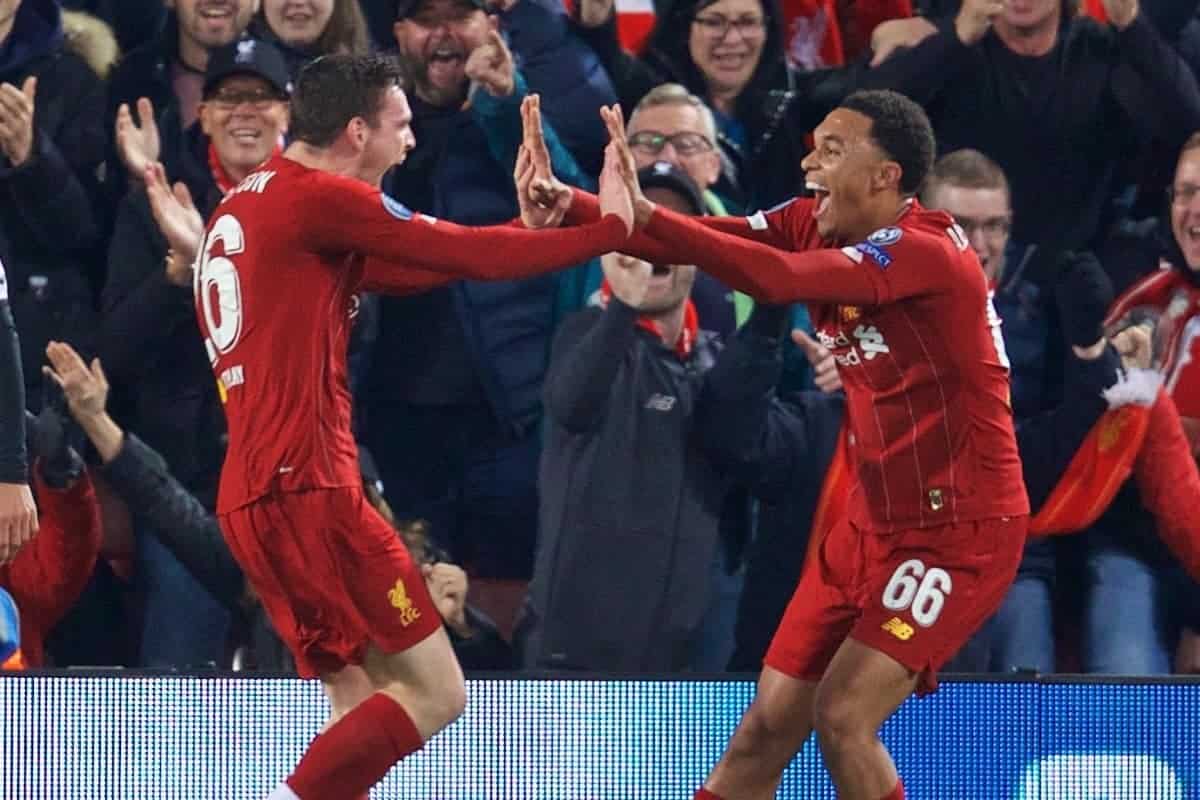 With the demands placed on Liverpool's full-backs, it's perhaps as well that Trent Alexander-Arnold didn't feature once for England, given his partner in crime on the opposite flank, Andy Robertson, didn't miss a minute for Scotland.
Divock Origi's sharpness won't have been helped by long trips without any involvement, but Dejan Lovren—after playing once against Leicester before the break—has now played three games in two weeks, a nice step-up in involvement.
The Reds' Dutch duo had the mixed bag of full involvement but relatively short-haul flights, while none of the youngsters are likely to feature against Man United in any case. Curtis Jones started once and came on as sub once for England U19s, but at the time of writing there is no record of his game time off the bench.
Perhaps the key table for Jurgen Klopp and his decisions on team news, though, is the second—and the number of players who could be fresh for the trip to Man United.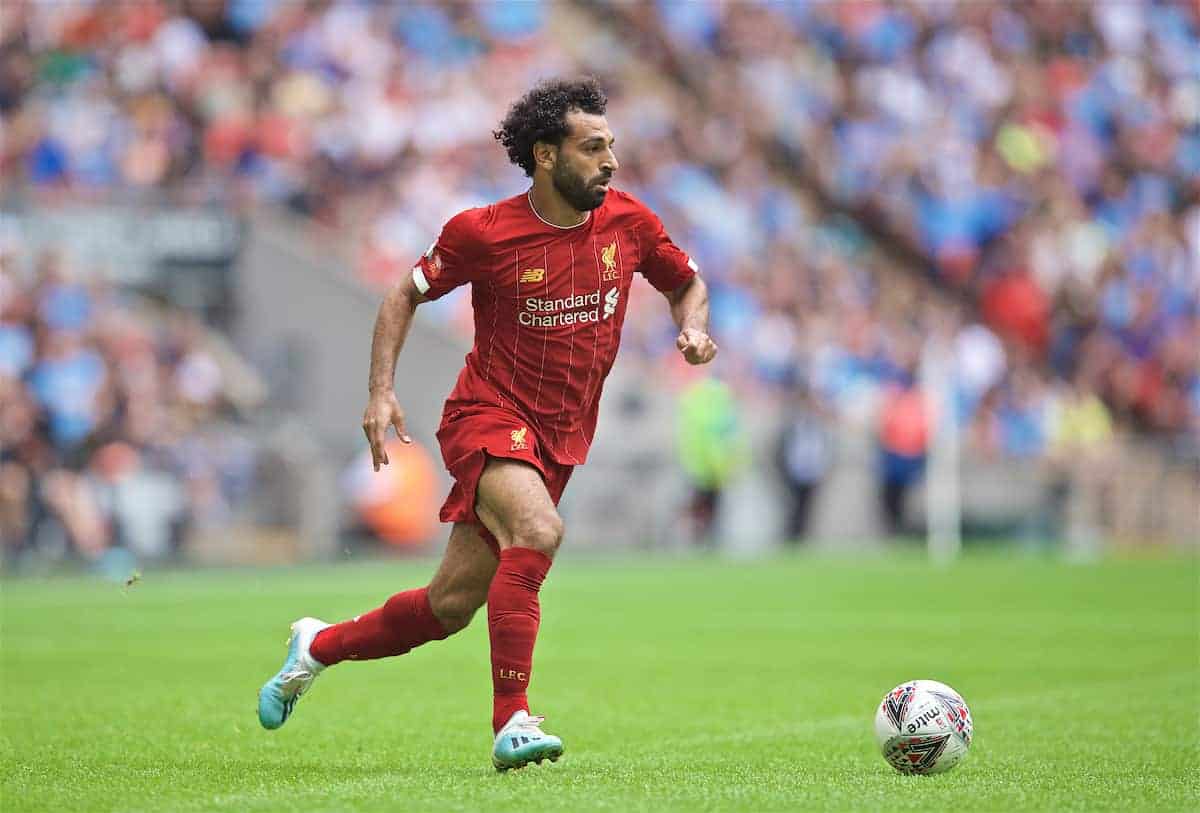 Mo Salah being excused from duty, Alisson's final stages of injury recovery and the non-involvement for his nation of Joel Matip gives three key pillars of the team the chance to be fit, fresh and ready for a massive game.
Add in that there is every possibility that at least one of James Milner or Naby Keita start in midfield, and the Reds can count themselves reasonably well-off for senior players being ready and rested ahead of this fixture.
It's more than likely in midfield where the boss will once again have a big decision to make as far as the starting lineup goes, but the relative lack of action at full-back, for the alternative attackers off the bench and for several key starters down the spine all means Liverpool should be able to play at full power and intensity at Old Trafford.
And that's a difficult prospect to stop at the best of times, let alone when we're top, have a perfect record and are chasing victory to equal another pair of league records.