Thomas Muller could leave Bayern Munich and some Liverpool supporters have suggested that Anfield would make an ideal destination. We put this to the debate.
"If the coaching staff see me as a sub in the future, I will have to think about my situation. I'm too ambitious to not do that," Muller said recently, having found himself on the bench at Bayern in recent weeks – mostly due to the arrival and form of Philippe Coutinho.
The versatile attacker, who turned 30 in August, has a contract the Bavarians until 2021.
With a general consensus among Liverpool supporters that the area in which they could improve their squad being in attack beyond the majestic front three, should Jurgen Klopp's Reds be interested in any potential deal?
This Is Anfield Writers
JAMES NALTON: I'm not entirely convinced it's the right move, but think it would make some sense.
He could be a replacement for James Milner, not necessarily positionally, but in terms of having a more experienced player at the club. What's more, this experience involves winning trophy after trophy, including a World Cup, rather than the usual meaning of the word which is just a nicer way for saying the player is old and past their peak years.
He could also fill in in a number of positions across the attack, or as an advanced midfielder, as he's been playing for Bayern recently.
That said, if Liverpool are going to raid the Bundesliga again, younger players like Kai Havertz and Jadon Sancho would be a better options for these creative roles in midfield or out wide.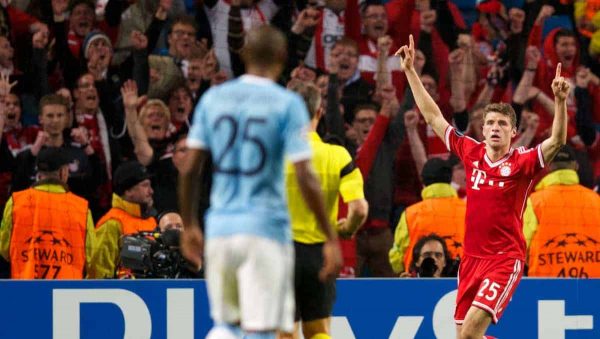 MATT LADSON: I think we can all agree that the main thing Liverpool lack is depth and options in attack beyond our incredible front three.
If there was a chance to sign a player of Muller's quality we should be interested. He's only just turned 30 so has plenty of years ahead of him.
Having said that, if he isn't happy on the bench at Bayern then would he accept a peripheral role for us? Perhaps Klopp could persuade him as such and rejuvenate his career – if anyone could, it would be Klopp.
The alternative is, Klopp could go to 4231, with Muller behind Firmino and Salah and Mane out wide. That might solve that issue of the midfield creativity. I doubt, though, that he'd do that mid-season.
CHRIS WILLIAMS: Whilst I'd love the experience and options Muller would bring, I don't think he's ever going to leave Bayern Munich.
Niko Kovac will be sacked by the next international break if results don't improve. Muller's a Bavarian, the last at Bayern they'll never sell him.
HENRY JACKSON: Muller in January won't happen because Klopp doesn't sign players at that stage of their career, but I'd love it.
Versatile, hard-working, big-game player, snide and would ease the burden on the front-three.
---
So, a mixed debate between our writers, and it was similar on social media. On Facebook, 65% said Liverpool shouldn't be interested and the exact same result on Twitter.
Here's what some of the fans said:
Great player and professional in his day but we would have to pay him sky high wages to warm the bench so I think it would be best to invest it in more younger stars ?

– Paul Price on Facebook.
Wanting to buy and being interested are two different things. Being interested in a great of the game with still plenty to prove is exactly what Klopp has built. Just be happy we're in the conversation for such a player…

— Jason Jones (@jasonjones19) October 12, 2019
A few years ago I would say yes, but not now. There are younger, quicker players that can be moulded into the system and style we play. Great player but just past his best.

– Alan Dellow on Facebook.
https://twitter.com/ECal15/status/1183003356316491776
A proper world class forward so why wouldn't u want him ? He would offer another dimension to our team and certainly knows where the goal is . I bet all the people moaning and saying no are the same people who were moaning we didn't buy anyone in case of injuries up top ..well ..here he is !! I'd snap him up in a heartbeat ??

– Dax Anderson on Facebook.
Müller wouldn't start every match but he would fit into the system pretty well, could replace firmino some games

— Alan Smith (@Alan8smith) October 12, 2019
He is one of my favorite players. I'm not sure how much he has declined but constant injuries to Bayern's wingers and the coaches since Pep haven't helped him. That said, he'd come off the bench at Liverpool and if he isn't happy coming off Bayern's bench he isn't going to happy coming off of Liverpool's. Pass.

– JackJohn Al on Facebook.
https://twitter.com/SC_YNWA/status/1183357323072491521
Müller would also fit into the system pretty well when he replaces firmino, runs a lot. Not technically good as firmino but as a depth player yes please

— Alan Smith (@Alan8smith) October 12, 2019
---
Let us know your thoughts in the comments below.