Trent Alexander-Arnold has just turned 21 but has already made 98 appearances for Liverpool and became the youngest ever player to appear in consecutive Champions League finals.
Tremendously talented and so vital on both sides of the ball, the irrepressible Trent Alexander-Arnold continues to prove what an indispensable member of Jurgen Klopp's brilliant side he is.
Starting the season in blistering fashion, the local lad's offensive exertions have been particularly crucial, for he has been key in creating chances and driving his team forward. So vital to Klopp's attacking mechanics, he unquestionably adds another dimension and layer of danger to their already multifaceted frontline.
Intelligent with his movement and effective when hugging the touchline or venturing infield into the half spaces, this has formed a strong platform from which to undertake his work.
To start with his efforts when shifting infield, and this has allowed him to get into promising positions to support Liverpool's offensive construction phases and be an outlet for switches of play to him.
Indeed, inheriting possession in the half spaces has afforded him extra time and space to execute his actions while ensuring he has a fantastic field of view to assess his options.
Tactial understanding
Aside from using his wicked playmaking abilities in dangerous central areas, his underlapping runs on the inside of his winger have been another highlight. In doing so, Alexander-Arnold has subsequently latched onto passes inside the box to fire in high percentage cutbacks into his attackers.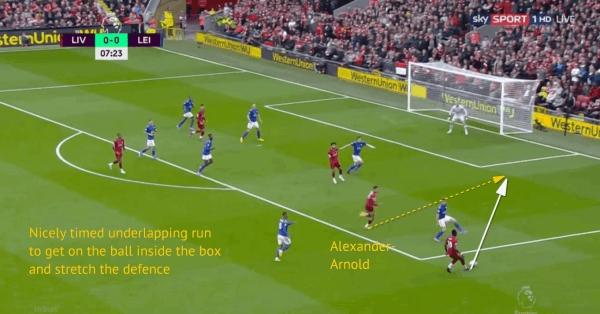 Very adept at timing and directing his overlapping runs too, Klopp clearly encourages him to burst forward when the opportunity arises, in order to provide width and depth to attacks. Stretching backlines horizontally and vertically with his barnstorming runs, he generates disconnects in opposition defensive lines, which notably opens up gaps for his colleagues to explore.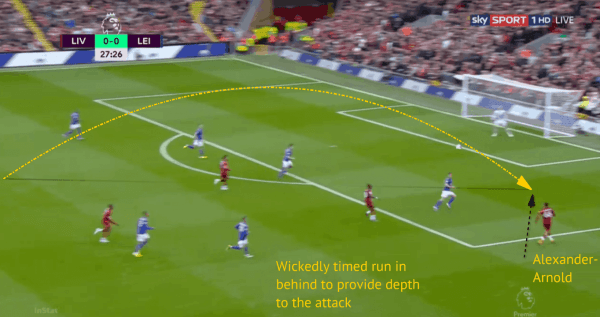 The way the Reds have implemented the overload to isolate principle has enhanced his worth. By initially directing the play down the left, which forces the opposition to shift across, before then rapidly switching to the right, this has meant he can receive quick switches of play in advantageous 1v1 scenarios.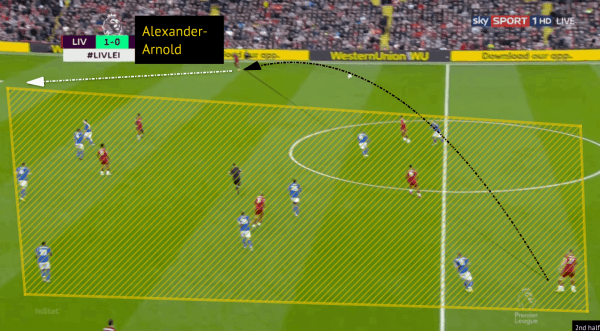 The covering support his nearby central midfielder and central defender provide him deserves mention, for this gives him the foundation to maraud upfield in the knowledge structural security is present in the event of a turnover.
Other positives attached to his positional understanding and awareness have come from how well he reads second ball situations to aid in recovering possession and from his ability to manufacture numerical and positional superiorities to help bypass pressing structures.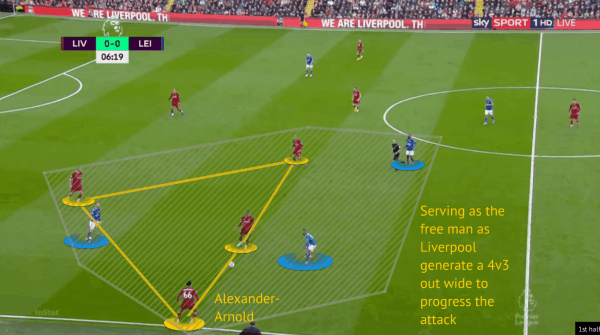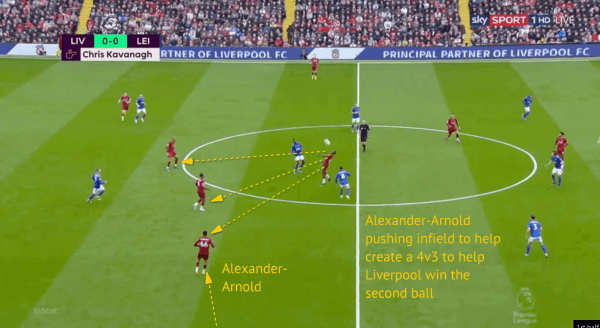 Technique
To shift the focus to his technical qualities, and he's emphatically underlined his quality here. A wonderful passer, who boasts a fantastic range, he has a pass to match just about any situation. Ostensibly serving as an extra playmaker, there's been so much to admire about his measured and precise distribution. Using his impeccable ball-striking technique, his colleagues have relished being on the end of the terrific service he provides.
So quick to get his head up and spot his colleagues' runs in behind and into the box, he's wide awake to the options ahead of him. And, more often than not, if a mate is in a promising position, he'll oblige their run with a typically classy delivery.
Whether it be piercing through balls over the top or on the ground, plus via accurate crosses and cutbacks into the box, the way Alexander-Arnold tailors his passes to give his attackers every chance to meet them has been very impressive.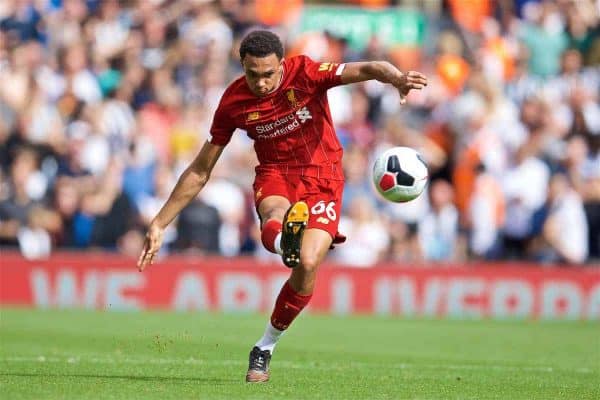 Capable of hitting driven, curling, dipping, swerving and lofted balls into the area, it's been admirable to see him back himself to hit his targets and importantly beat the first defender. What's more, his shrewdly disguised passes and accomplished throw-ins warrant mention too, as these underrated features of his game can be significant in breaking through opponents.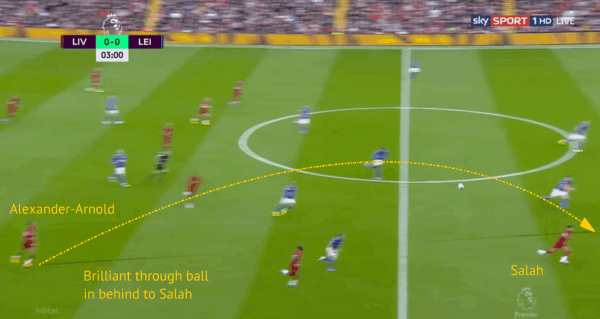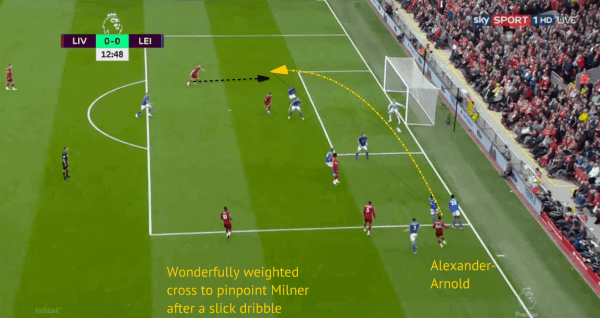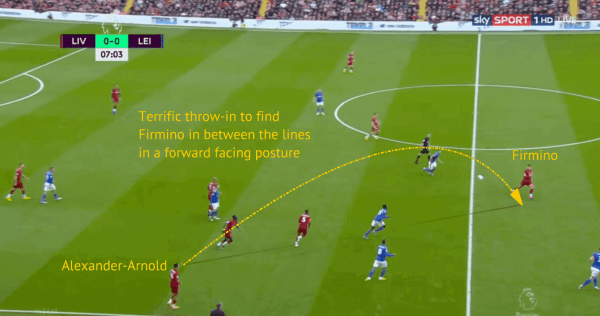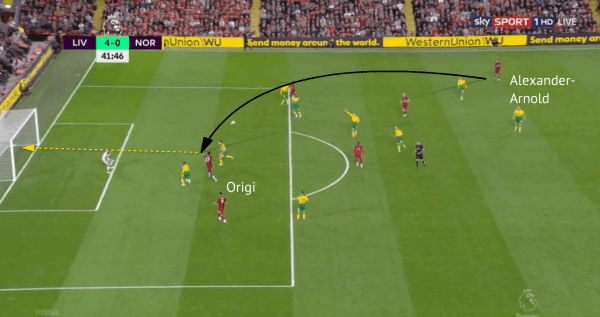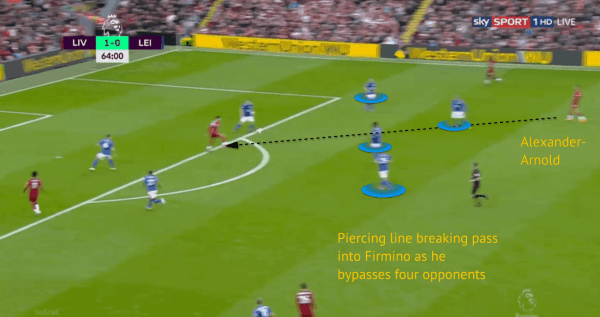 Accompanying this with his penetrative vertical and diagonal line-breaking passes, which crucially move opposition blocks two ways, and neat combination play in close quarters, this has seen him orchestrate some beautiful passages. Striking his passes ideally so the intended recipient can receive on their preferred foot and with ideal weighting, how he gets these fundamentals spot-on warrants praise.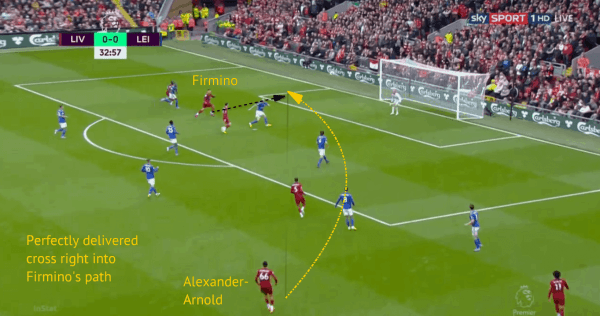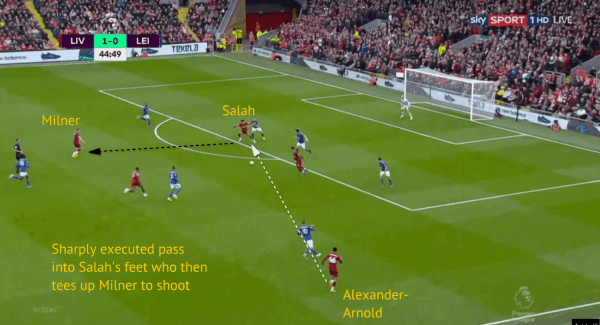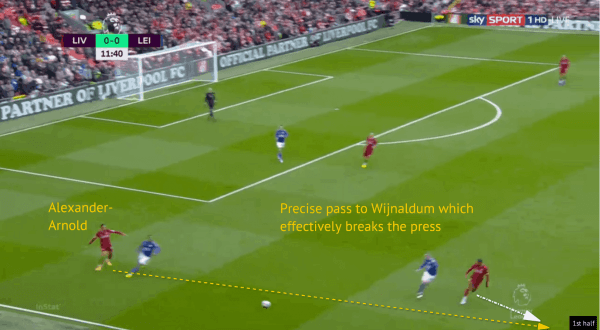 The quicksilver full-back's dribbling asks constant questions of his adversaries too, for he uses his skills to either breeze by his tracker, gain separation to fire off his passes or provoke a pressing action from an opponent to free up a teammate upfield.
Calm and composed with the ball at his feet, his ability to handle high pressure situations and weave out of danger only adds to his value. Using a neat array of touches, feints, shimmies, nutmegs and crafty changes of pace and direction, his foes have endured a tough time keeping him quiet.
The creative King
Explosive, intelligent and thriving with the vast amount of attacking responsibility Klopp places on him, the humble Alexander-Arnold is just grateful to the German for giving him an opportunity.
"Without him, who knows what would have happened," Trent said recently. "He's the one that's given me the most opportunities – more opportunities than I could even ask for. He's put a lot of trust and faith in me personally and I've tried to repay him every time he's done that."
Jamie Carragher has clearly been impressed with the homegrown hero, who he believes should one day play in midfield, stating what a special player he already is while comparing his distribution to a certain Kevin De Bruyne. "He's probably one of the best young players in the world if you think about what he has done," Carra praised.
"If you talk about [Kylian] Mbappe and he's won the World Cup, but as a defender and playing at this level and how important he is to the team, he is possibly the most creative player in the team from right full-back.
"People talk about the future and could he come into midfield and be a Kevin De Bruyne type player and he has more quality now that Liverpool's midfield players.
"You think about the crosses that De Bruyne puts in from the right midfield position and maybe that's a position where Trent could play."
By the numbers, his 128 progressive passes (best in the league), 3.36 expected assists per game (second best in the league), 7.02 crosses pg (most in the EPL), 11 total through balls (equal second in the EPL), 89 total long passes (equal second in the EPL), 92 passes into the final third (fourth in the EPL) and 16 deep completions (equal 12th in the EPL) demonstrate how well he's performing.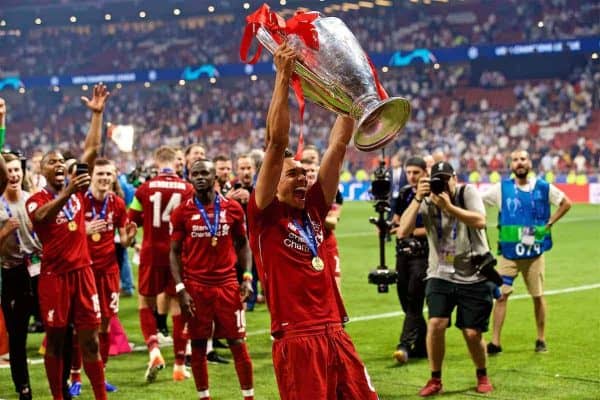 Some extra numbers that also catch the eye come from his 1.76 progressive runs pg, 1.52 touches inside the box pg and 1.05 shots pg.
Having already achieved so much and continuing to improve in the ultra-competitive confines at Anfield with every passing week, it's frightening to imagine how good he could become if he keeps up his remarkable upward trajectory.
A chance-creating king who's producing the goods emphatically on the attacking end, the accomplished Alexander-Arnold's certainly rising to the challenge of propelling his team forward with his invention, precision and execution.