The media assessed Liverpool's 2-1 comeback at Aston Villa as a win of champions and lauded the Reds' ability to triumph through adversity.
Never write off Jurgen Klopp's Mentality Monsters!
A heroic comeback of immense spirit with late goals from Andy Robertson and Sadio Mane, in the final minute of stoppage time, earned a priceless victory.
Crucially, it ensured the six-point cushion on Man City has been preserved ahead of next weekend's mammoth showdown with Pep Guardiola's side at Anfield.
Before focus turns to that giant clash, here's what the media made of Liverpool's quite incredible turnaround at Villa Park.
The media reflected that it was the type of victory upon which league titles are won…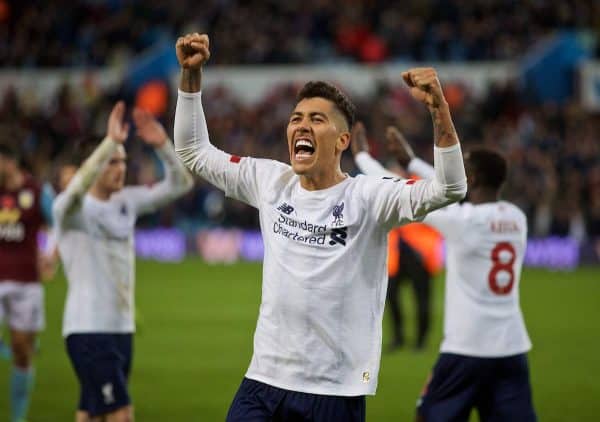 The Mirror's Mark Jones wrote that it was simply "the stuff of champions":
What a result this is for Liverpool. The stuff of champions.
It was the sort of win Man United sides of the 1990s used to dig out, and the type which win league titles, exclaimed Neil Jones for Goal.com:
They should have lost today, and they won. This was the kind of victory Alex Ferguson's Manchester United used to dig out in the 1990s. On such days title are won.
Mark Critchley, of the Independent, explained that Man City's own comeback against Southampton made Liverpool's turnaround even more important:
Dropping points and seeing their lead cut to three or even four points could have been a significant psychological blow, particularly on a day when Manchester City staged their own late comeback to win.
Journalists lauded Liverpool's recurring ability to triumph through adversity…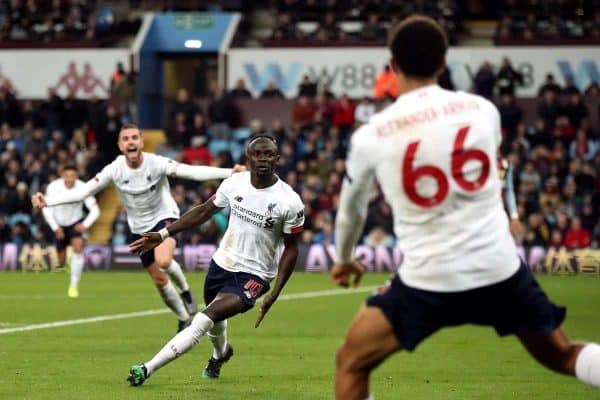 Neil Jones was in awe of how Klopp's side continue to find a route to victory against the odds, and thinks that the Reds' relentlessness in doing so will be draining Man City:
How does this team keep doing it? How does it keep finding its reserves of energy, courage and belief? They were three minutes from defeat, but never willing to accept it.

[…]

What must Pep Guardiola and his team think of their rivals? Every time they look dead and buried, they reach a hand out from the grave. What a team.
The Reds' unwavering belief and ability to grind teams down are the reasons behind the Reds' continued breakthroughs, in the view of the Liverpool Echo's Ian Doyle:
This was about belief. This was about the incessant, nagging pressure Liverpool applied on the Aston Villa defence during a tense, tense, tense second half.

[…]

Not even a dreadful first-half display – their worst 45 minutes of the season – could shake their confidence the job could still be done. It is ingrained. The stuff, dare it be said, of champions.
The Telegraph's Sam Wallace reckons that the regularity with which Liverpool have mounted comebacks in recent times causes a psychological fear in opponents, contributing to their collapses:
This Liverpool team, these Liverpool players, this Liverpool era – it is not as if they have never before seized a victory when the odds were against them or time was running out.

[…]

That sort of mythology can build up in the minds of an opponent until they start to wonder if it might be inevitable.
The Mail's Dominic King praised Liverpool's sheer desire to keep going until the very last second and highlighted how it has earned some crucial results:
Their last four matches in the Premier League – Leicester, Manchester United, Tottenham and Villa – have seen goals in the final 15 minutes that have enabled them to pilfer an extra eight points.

How significant will that prove in May? The shot in the arm from this one will be huge.
And the same journalist commended the way Klopp's side refused to let the farcical VAR decision derail them and instead channelled the frustration to use it as motivation to fight back:
Liverpool, though, are a remarkable team. They could have capsized here and lamented a ridiculous VAR decision that chalked off a Roberto Firmino 'goal' in the first half – the Premier League have left themselves open to ridicule after issuing a statement to say the Brazilian's armpit was offside.

Yet they kept going.
Meanwhile, Melissa Ready, for ESPN, provided a nice stat of Liverpool's powers of recovery and cleverly noted how 'Klopp o'clock' is the new 'Fergie Time':
The "Fergie Time" concept, coined when Sir Alex Ferguson's sides had a habit of producing late goals, has been replaced by "Klopp o'clock.

Since the start of last season, no other Premier League team has scored more goals in the division during the last 10 minutes than Liverpool's 23.
Reporters were not impressed by the Fabinho-less midfield…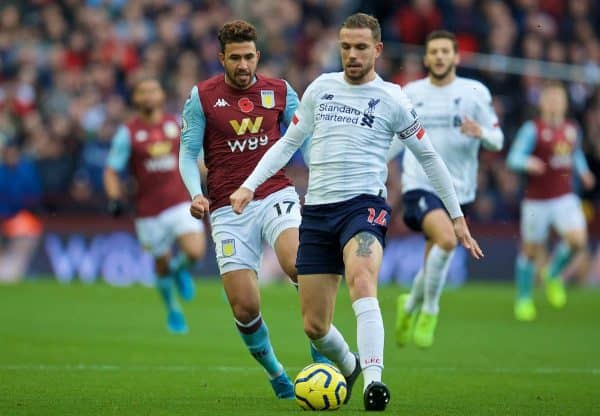 Jones thought the whole midfield was "lightweight" without Fabinho and that all three starters were off the pace:
The midfield, minus Fabinho, looked lightweight and lacking invention. Adam Lallana tried but he just isn't the Brazilian. Jordan Henderson was off it, Gini Wijnaldum invisible.
Fabinho was "greatly missed" and Adam Lallana failed to exert any control in his new role deputising for the Brazilian, in Critchley's view:
It felt like a very un-Klopp decision – reactive rather than proactive – and the Brazilian was greatly missed.

In his place came Adam Lallana, who struggled as a No 6 against an under-strength Arsenal in midweek and failed to exert control again here in the Villa-dominated opening stages.
The BBC's Phil Dawkes was also not impressed by Lallana's performance and feels he simply lacks the "authority" to play the role:
His replacement, Adam Lallana, spent the summer retraining for the deeper role but he lacks the authority and composure of the man he replaced.

Too often he dwelt on the ball and found himself swarmed by Villa players, failing to provide the platform on which his side could build.
Mark Jones thinks that Klopp should seek to buy "specialist cover" for Fabinho in the near future, with Lallana not a suitable option to deputise:
Lallana played there in the Carabao Cup win over Arsenal and didn't look too comfortable, and with the Reds boss opting to rest Fabinho for this one to ensure that he didn't pick up a suspension, Lallana's limitations in the position were seen.

With Jordan Henderson now moving further forward, some specialist cover for Fabinho could be on Liverpool's summer shopping list.
The result outweighed the performance and certain reporters feel there are a couple of things not quite clicking…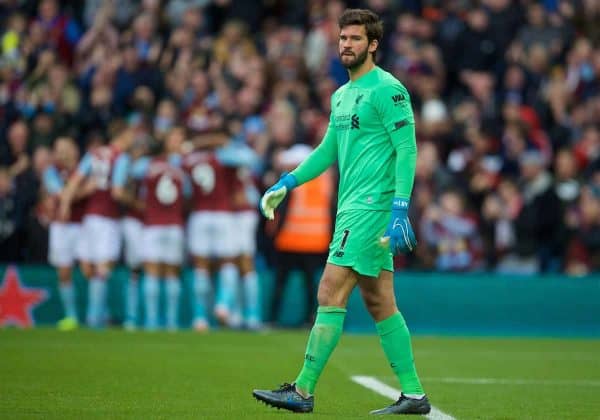 ESPN's Liam Wheeler thought Liverpool lacked creativity and were surprisingly rattled by Aston Villa's high tempo:
Liverpool lacked creativity and struggled to find an answer to Villa's high-tempo press in the first half.
Critchley feels defensive performances are becoming an increasing concern and provided some interesting stats while assessing that the Reds are too easy to score against:
What exactly has happened to Liverpool's defence?

[…]

This time last year, Liverpool had only conceded five league goals and by Christmas, they were threatening to post the Premier League's best all-time defensive record. Barely any personnel have changed but you have to go back to the pre-Van Dijk era to recall a time when Klopp's side were this easy to score against.
Mark Jones reflected on another quiet day for Mo Salah and feels that this on-going ankle issue is the main problem affecting the Egyptian's form:
This simply wasn't Mo Salah's day, and the concerning thing for Liverpool is that he's had quite a few of those lately.

Jurgen Klopp's fume at the Hamza Choudhury challenge on Salah against Leicester last month was dismissed as over the top by many, but it is clear that it has had an effect on the Egyptian, who was too often snatching at things and keeping his head down when it should have been up here.