Liverpool's 3-1 win over Man City saw Jurgen Klopp adapt his formation, and with "a little bit of luck" kept up his record against Pep Guardiola.
As Liverpool saw off the defending champions at Anfield the headlines focused on decisions, the use (or not) of the VAR, and Guardiola's touchline gesticulating.
Away from this pantomime, it was an absorbing game of football in which both teams created chances and tried to outwit the other tactically.
After the game, Guardiola admitted that he had watched a lot of games at Anfield and seen many teams struggle, but he wanted his own team to play their game.
Despite having won every domestic trophy available to them last season, defeating Liverpool playing their football is the next step in their development.
He usually speaks with nothing but respect for Liverpool—his Mane jibe last week being a rare exception, and it was jumped on accordingly. They are his biggest rival, his biggest challenge, and Guardiola likes a challenge.
Liverpool are seen as an obsession for the former Barcelona and Bayern boss, but why wouldn't he study his biggest challenge and the manager he has the worst record against in his managerial career, by far?

Even with Ederson and Aymeric Laporte out, this was not a weak Man City side. They had three defenders on the bench which cost more than Liverpool's back four.
Everything other than the goalkeeper and left centre-back was the first-choice XI.
Klopp wasn't fooled by talk of City being underdogs and set his own team up accordingly. He used three formations in the game—a 4-3-3 in the first half before switching at half-time.
"We changed the system to 4-4-1-1 at half-time, changed back late in the game to 4-5-1," he said.
"I liked the game, I loved the atmosphere. It was incredible, the people were just amazing, and against an outstandingly strong opponent."
Early Intensity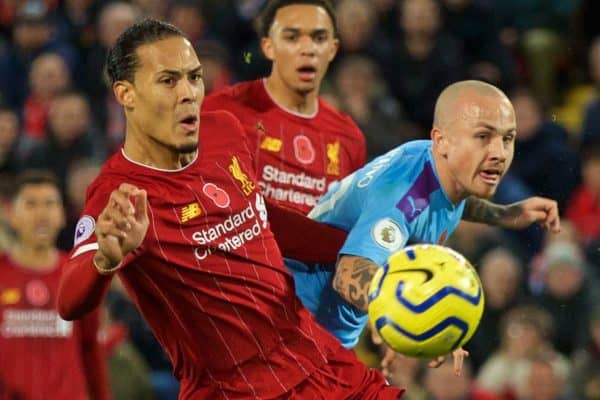 The game kicked off with some high-intensity play from both sides, as each tried to impose their game on the other.
Liverpool and City fans have become used to watching opposition teams (with a few honourable exceptions) defend deep and set a challenge to break them down, and much of their work will be based around facing such teams.
But this game is an entirely different proposition for both managers.
Man City set up in a 4-2-2-2/4-2-4 with pairings of Rodri and Ilkay Gundogan, Raheem Sterling and Bernardo, and Kevin De Bruyne and Sergio Aguero.
For Liverpool, it was a 4-3-3 to start with, but Jordan Henderson was the most advanced midfielder, playing a role not too different to that which De Bruyne usually plays for City.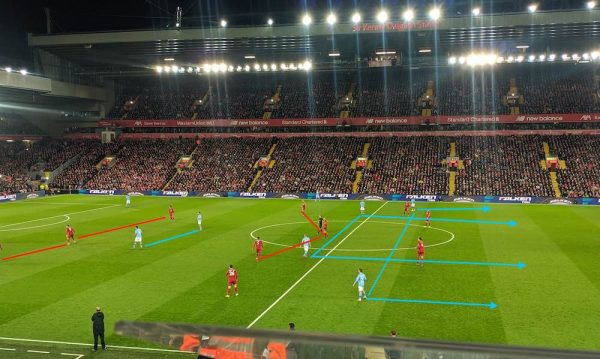 Klopp then made the switches he referred to in his press conference, with the third goal coming from the advanced Henderson down the right.
The captain regularly found space down that channel due to City playing with a two in midfield rather than a three, and he even managed to reach the byline before crossing for Mane to head home.
Liverpool tired after this and forced Klopp into a number of changes.
"I had to suffer in moments because of the way City play, but I would say until around the 75th minute when they scored the goal, we could control [the game] in some way," said Klopp.
"But after that, we saw immediately, when our legs got a bit tired, I don't know how many balls rolled through our six-yard box then to the far post area.
"It doesn't feel too good, you always think there must be a blue player, but there wasn't. You need in moments a little bit of luck. After 3-1 they had a lot of momentum and we had heavy legs."
The average positions (below, via Whoscored) are misleading given there were a number of formation changes from Klopp, but what they do indicate is how advanced Henderson (No. 14) was.

Klopp withdrew Henderson after the City goal (he did have the sub lined up beforehand but wasn't able to get the referee to stop the game, even when the ball went out of play).
He made a number of changes in an attempt to stop the City momentum, and the game finished with Trent Alexander-Arnold ahead of Joe Gomez on the right, Mane up front, and a midfield five containing James Milner and Alex Oxlade-Chamberlain.
According to the expected goals data, Man City's biggest chance came from Angelino's cross to Kyle Walker with five minutes to go, as shown by the big yellow blob on the left on the graphic below from Understat.
But this was much more difficult than the xG suggests, as the right-back was stretching to get anything on the cross at all, moving at pace and out of control.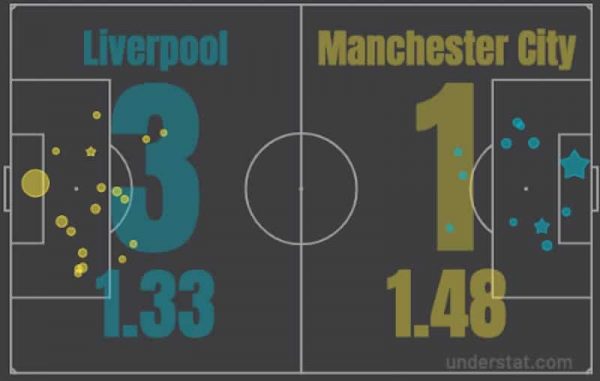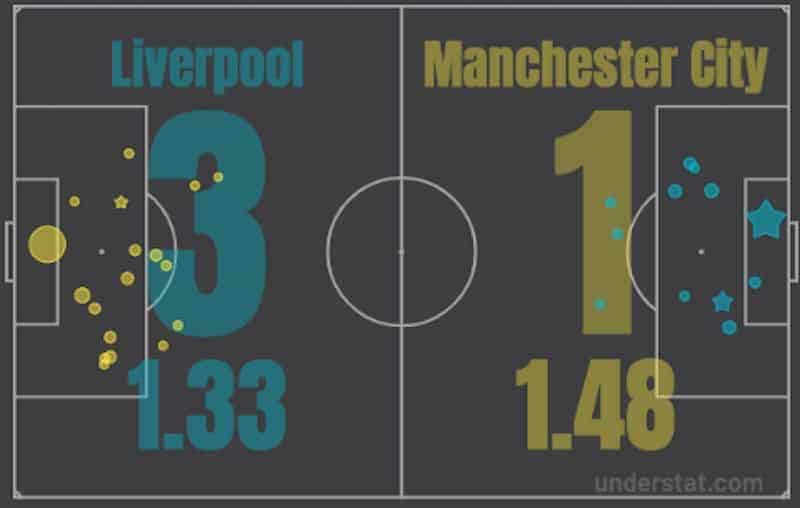 Some of Aguero's chances down the left channel looked better than the xG is giving credit for, and overall this was a game of fast, attacking football in which Liverpool took their chances and City didn't.
This at least backs up Guardiola's insistence of trying to play this way against Liverpool but doesn't change the fact that Klopp still has the upper hand in their battles since the pair have been in England.
Guardiola on how to beat Liverpool
"All the time we come here Jurgen says I adapt to him, but we played with incredible personality," Guardiola told reporters after the game.
"I know tomorrow's table [will show] a nine-point [gap], but to grow as a club, as players, to make the next step after back-to-back Premier League titles, is to do that in these kinds of places, playing the way we play.
"They are incredibly strong in set-pieces. When you sit back and defend in the box they open with Alexander-Arnold and Robertson starting to make the crosses, and when they arrive with not just Mane, Salah, and Firmino, but Henderson arriving at the right tempo, and Wijnaldum for second balls.
"It's almost impossible to live with that situation—and again, and cross again. When you are able to get back in that position they have incredible backwards. When you are attacking, every mistake you make [can be punished] in transition.
"The biggest quality of Jurgen's throughout his career is doing this kind of situation.

"You decide before you play [them]. You can spend 90 minutes sat back there, waiting for crosses, crosses, crosses, crosses; waiting [to make] one-counter attack or two counter-attacks, and if you are lucky, get something from both.
"Or try to play the game, to create chances that we created today. We decide to do it in that way because it's the way we won two Premier Leagues in a row and seven titles in two or three seasons.
"People say they like to watch Manchester City play football, sometimes playing at home against some teams, [but] the difficulty is coming here and doing it.
"I watch a lot of games and the teams who come here to play know how difficult it is."
Notes from the Press Box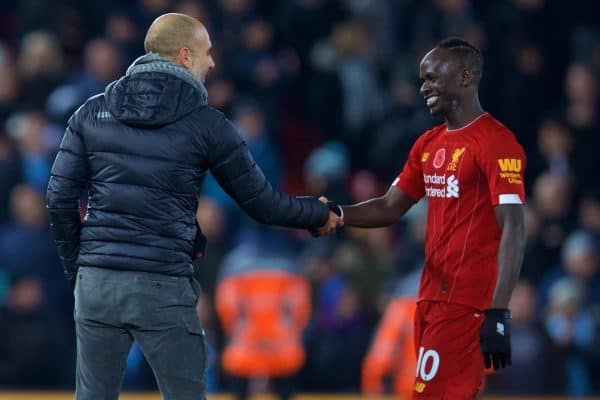 De Bruyne pressing high
City matched Liverpool in most areas but tried to use De Bruyne to give them the advantage. The Belgian attempted 13 crosses in the game, more than any other player.
De Bruyne set-pieces looked dangerous, but and Liverpool tried to play them offside every time
It looked like something City had targeted. On one occasion De Bruyne passed to Gundogan rather than hitting first-time himself, to try to confuse the defensive line. Sterling put a header wide from one De Bruyne free-kick, but the linesman appeared to tell Virgil van Dijk it would have been given offside.
Angelino played the Robertson role rather than joining the midfield as City's full-backs have in the past
He assisted City's goal, created that 'big chance' for Walker, and his 100 actions in the game were more than any other player. More evidence that Guardiola wants his full-backs to be more like Liverpool's.
Mane is still Liverpool's best target man
And probably their best player.