Jurgen Klopp vs. Pep Guardiola is one of the biggest meetings of managerial minds in the modern era, and despite going toe to toe they are not exempt from learning from each other.
Klopp vs. Guardiola is a meeting of two minds that have some similar views on football, but whose different influences have led them to different methods of trying to achieve the same goal.
Guardiola doesn't just get his teams to play possession football because it looks nice, he does it because when it works, and when you have world-class players, it's one of the most effective game-plans around.
Klopp, meanwhile, bases his game on high energy pressing and swift counter-attacking and counter-pressing, which can be even more exhilarating to watch than even the best intricate passing moves.
Given the dominance Klopp's sides have had in certain games since he moved from Mainz to Dortmund, and especially since arriving at Liverpool, he has also had to develop his own style of possession football – while Guardiola's sides are also adept at some of the things Klopp teams are known for.
Off the ball, Klopp was influenced more by the European school of pressing, learning from former coach Wolfgang Frank and the ideas of Arrigo Sacchi they both bought into. Whereas, Guardiola's learning in this area of the game comes from the Latin American school of pressing, and Marcelo Bielsa in particular.
The pressing of Guardiola's teams isn't spoken about as much as Klopp's famed 'gegenpressing', but his rule of winning the ball back within five seconds of losing it, retreating into a compact shape and waiting for pressing triggers (usually a poor touch) if it isn't won in those five seconds, can be equally effective.
It's also said that an unwritten addition to the five-second rule is that if the ball isn't won within five seconds, then a tactical foul can help the team restore their shape…
The Shape of A Rivalry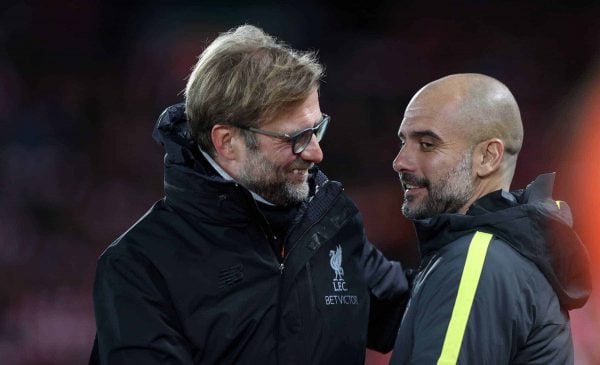 Guardiola's formations have included variations of 4-2-3-1 and 3-5-2 during his clashes with Klopp in the Bundesliga.
And after this meeting of tactical minds moved to England, he even tried his own version of Johan Cruyff's 3-4-3 diamond in the second leg of the 2018/19 Champions League quarter-finals.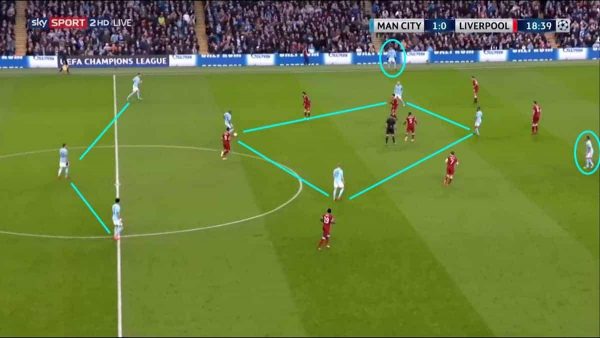 The Catalan has also used 4-3-3 as well as 4-2-3-1 against Liverpool and could revert back to the former in an attempt to match his opponents, but rely on his superior midfield to get the job done.
The formation isn't the tactic, it is the platform from which the gameplan is executed, and for that reason, it's also very important.
A Learning Curve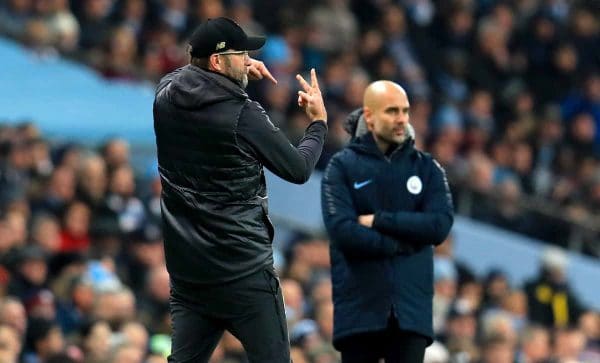 The two managers are constantly learning from each other, and though Guardiola's comments on Liverpool are usually presented as an obsession with his opponent, it is more the case that he is regularly asked about them, and recognises how good they are.
He even backtracked on his comments about Sadio Mane's 'diving'.
And Klopp said he would refuse to pour oil on the fire in response, before doing exactly that by mentioning City's use of tactical fouls, but Guardiola is too practical not to learn from Klopp, and vice-versa.
"I learned a lot in Germany the first time I played his team," Guardiola said ahead of their first Premier League meeting in December 2016.
"I was new and it was 'wow', what a good lesson. We lost 4-2. Afterwards in the league, I learned a bit more about how to control those situations but it was never easy.
"When Klopp speaks about his football being heavy metal, I understand completely. It is so aggressive. For the fans, it is really good."
Back To Front Full-backs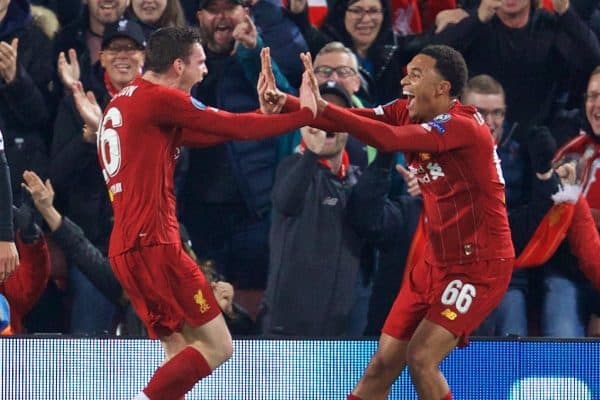 One interesting development at both clubs ahead of this game has been the importance of full-backs, and this may be another area in which both managers are learning from each other.
Liverpool's duo of Andy Robertson and Trent Alexander-Arnold are among the highest-profile in their position in world football at this moment in time. There has been analysis upon analysis of their creativity and how they are the driving force behind Klopp's side.
Despite spending big money in this area of the pitch, Guardiola is yet to find similar joy from the full-back position, which is perhaps in part due to Benjamin Mendy's injury troubles, but on the right, he has nothing close to Trent, yet.
Kyle Walker has dropped down the pecking order for England and is arguably behind Trent, Aaron Wan-Bissaka, and Kieran Trippier (maybe Schalke and Everton fans would add Jonjo Kenny to this list…), but Guardiola may have found a role for Walker which will lead to an upturn in form.
Klopp has for a long time used his full-backs to exploit the space which teams leave down the flanks. The classic defensive strategy against Liverpool and City is for teams to play very narrow, packing the penalty area in order to make it difficult for the title challengers to work their way in.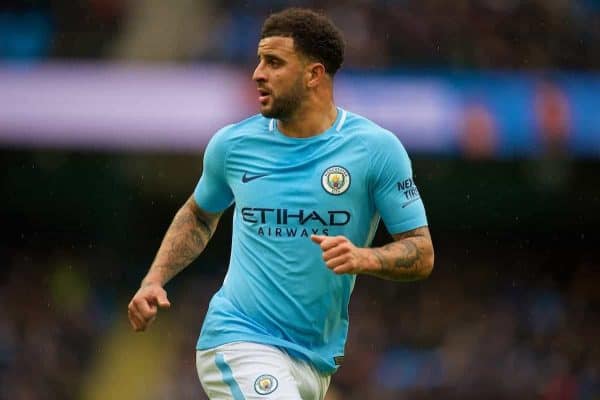 This means there is space out wide, and for Liverpool, this means Trent and Robertson have had to be good, and they have been.
City, on the other hand, will often try to work their way through these packed areas in the centre of the pitch.
Having the type of world-class attacking midfielders Liverpool lack helps them, and when they click they are brilliant to watch as they pick apart even the most stubborn defences with quick passing and lightning movement.
But Guardiola has become frustrated, and rather than having his full-backs joining the midfield to help increase the numbers in the middle of the park and provide an extra passing option as they pick the lock, he has adopted the Klopp method.
Joao Cancelo was signed with this in mind as he's more like having a winger at full-back than a midfielder, and Angelino returned to the club over the summer and has been used on the left in recent games due to his crossing ability.
Liverpool and City are the most frequent crossers in the division, but this is no longer the hit and hope tactic it has been for other teams in the past. Even though many of these crosses won't go down as complete, that doesn't mean they aren't doing their job.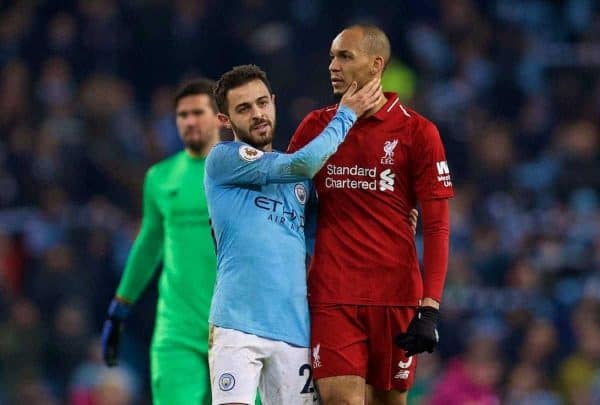 After the game against Southampton Guardiola spoke directly about this tactic.
"They have eleven players near the penalty spot, like a tree and they allow you to go outside but not inside," he said.
"They allow to go outside, so that's the only chance. They [Walker and Angelino] were both outside, we need that player.
"When the distance between the back five and the midfield is two or three metres, we need to make the space big by having full-backs wide."
When they face each other, though, City and Liverpool are unlikely to face the low block they've become used to against teams battling for a point or to limit the damage, as opposed to a side trying to win.
But that doesn't mean they will change their strategy when it comes to full-backs. Walker is likely to continue on the right for City, and it wouldn't be a surprise to see Angelino instead of Mendy on the left, as the returning Spaniard could be Guardiola's go-to player for the Robertson role.
How To Score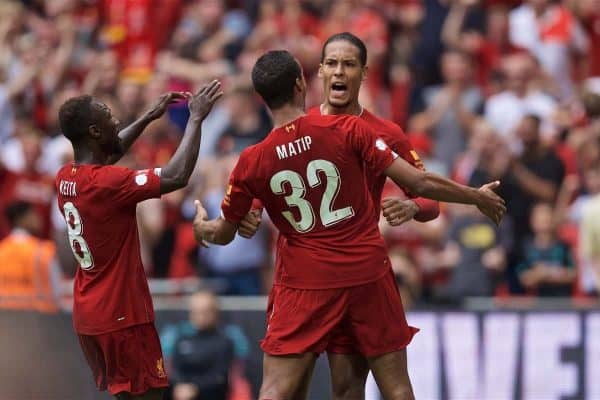 It's often said that City have their trademark goal.
A passing move which usually ends in a cutback or low cross to a striker who finishes with apparent ease, but lately a couple of opposition managers have almost seemed annoyed that City have used different methods to score against their team.
Aston Villa manager Dean Smith bemoaned the long-ball from which City scored from against his team.
"We normally see City scoring from pretty passing patterns, but this was just a long ball from the keeper," he said, as if at a loss as to how to stop them.
Smith also picked up on City's ability to win second balls, something both Klopp and Guardiola have worked on heavily since arriving in this league, while Southampton's Ralph Hasenhuttl was disappointed his side conceded from a corner against City.
"A corner or a cross is not the way City normally like to score," he said. Again, it was as if he was disappointed they can score in more than one way.
"More long balls than in the last three years combined," Klopp once observed following a Dortmund vs Bayern game. "They wanted to play around our counter-pressing, our biggest strength."
Liverpool's Considerations Ahead of Anfield Showdown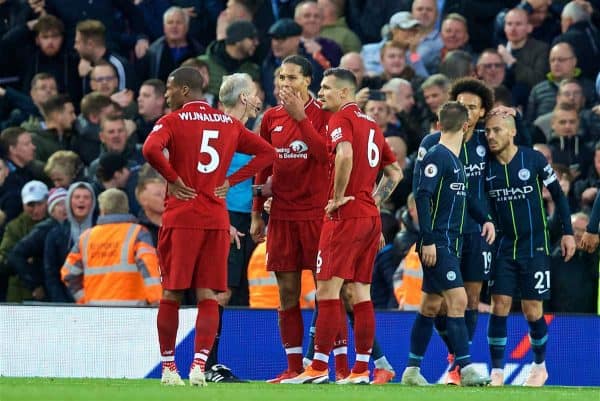 City's formation – a possible return to 4-3-3.

Full-backs – wide or central, and a possible start for Angelino if it's the former.
More than one way to score a goal – City like a long-ball too, which could threaten Liverpool's high line.
Will City use Fernandinho in defence, sacrificing a midfield enforcer, or return to Stones and Otamendi at the back?

It often feels like Guardiola learns more from these games than Klopp, and he once said: "Our styles are not similar but I like a lot the way they play."

They are perhaps more similar now because Guardiola likes the way Liverpool play, and because they face similar challenges against the rest of the Premier League, but there is no bigger challenge for both of these managers than facing each other.