Jurgen Klopp is preparing for "a very dangerous opponent" in Napoli on Wednesday night as he stressed that players and fans must be up for the occasion "from the first second."
The Reds welcome Napoli to Anfield for a decisive Champions League clash, where Liverpool can secure their passage to the last 16 with a win on Wednesday.
Klopp's side sit atop of Group E with nine points, one ahead of their Italian counterparts with two games remaining, meaning three points for either side will see them reach the knockouts with a game to spare.
And while a positive result would afford Liverpool the opportunity to ring in the changes for the final group meeting with Salzburg on December 10, Klopp told the onlooking media that he cannot afford to think about future plans as a "sensationally good football team" awaits on Wednesday.
"It's same for Napoli. If they win they are through. All the things [Salzburg in final group game] are not in our mind," he told reporters.
"Tomorrow night, of course, we try to win, it would be massive for us for different reasons. We don't feel like we are already halfway through the group.
"They are a very dangerous opponent, very strong. They won last year against us at Napoli when we were really bad and this year when we were not bad but not good enough to win the game.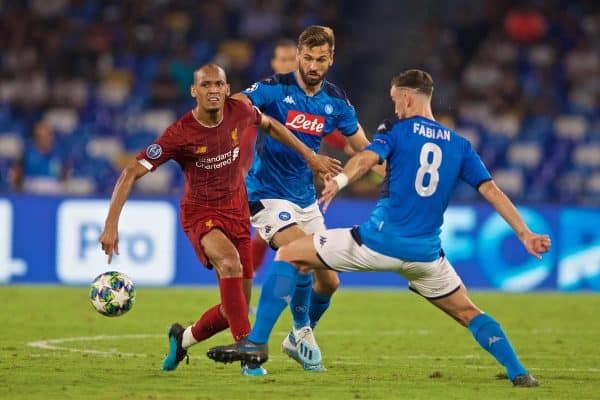 "They gave us a proper fight at Anfield [last season] and that's what they will do tomorrow night.
"They are a sensationally good football team, they didn't have the results in the last couple of weeks like many expected.
"I don't know the reasons but now they are not in Italy, they are in Liverpool in a different competition, maybe they will feel relief that they can play completely free in a game like this.
"We have to make sure from the first second this is a different place tomorrow night. We want to go as far as possible in the Champions League."
The boss also provided a brief injury update on Mohamed Salah and revealed he won't "put a time on" Joel Matip's return, while he also touched on the personnel logistics for the Club World Cup and was drawn into hypotheticals regarding the ongoing crisis unfolding at Napoli.