Fabinho is expected to miss the rest of the year with an ankle injury, but exactly how long will he be out and when could he be back to his best?
Liverpool's ever-reliable defensive midfielder suffered "left ankle ligament damage" on November 27 during the 1-1 draw with Napoli in the Champions League.
The team's medical staff announced that Fabinho will miss the rest of 2019 and be re-evaluated after the New Year.
Jurgen Klopp further commented that they are unsure of when exactly Fabinho will be back.
In the following, I'll shed further light on Fabinho's injury by taking a closer look at the incident and explaining the potential return-to-play timeline.
What's the injury?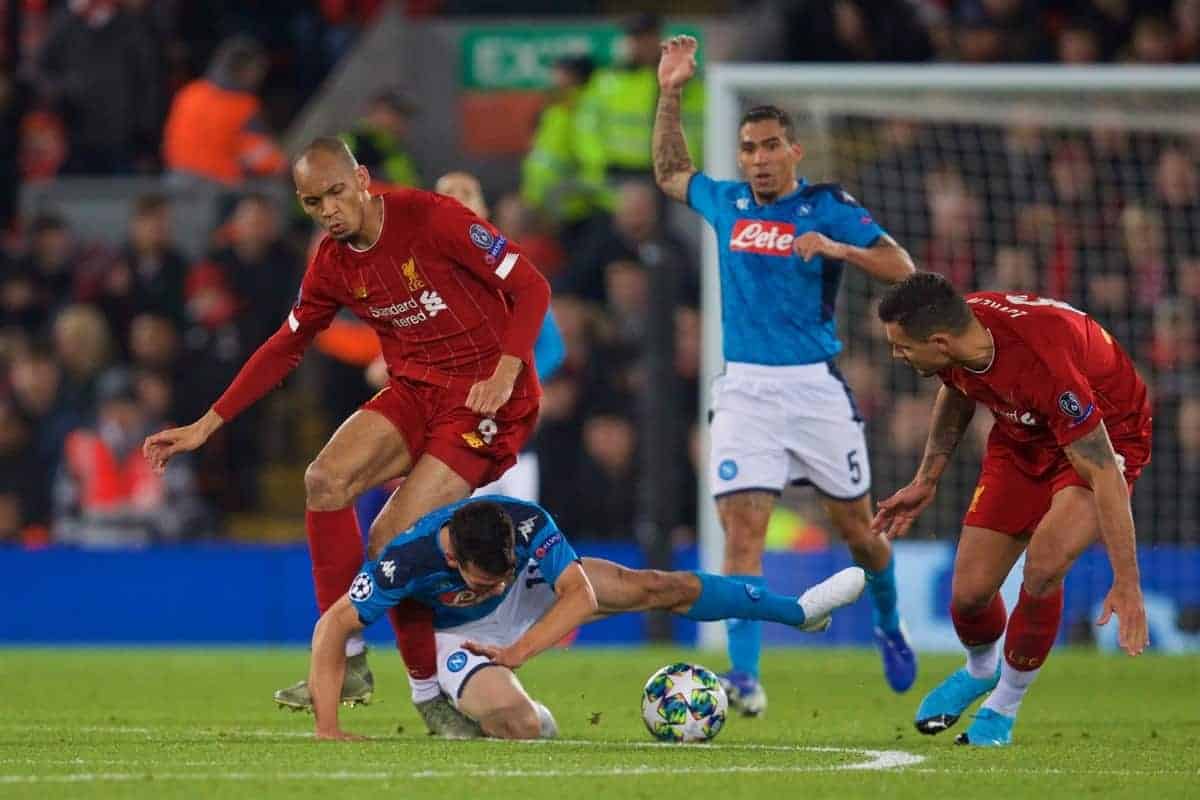 Mechanism of injury (MOI)
Fabinho's injury occurred when Napoli's Hirving Lazano fell onto the outside of his planted left foot.
This combination force—termed external rotation and dorsiflexion—results in a high stress outward twist on the ankle.
This mechanism is by far the most prevalent cause for a high ankle sprain, medically termed a 'syndesmotic tear'.
Additionally, Fabinho immediately grabbed at the outside of his left ankle which is commonplace following a syndesmotic tear.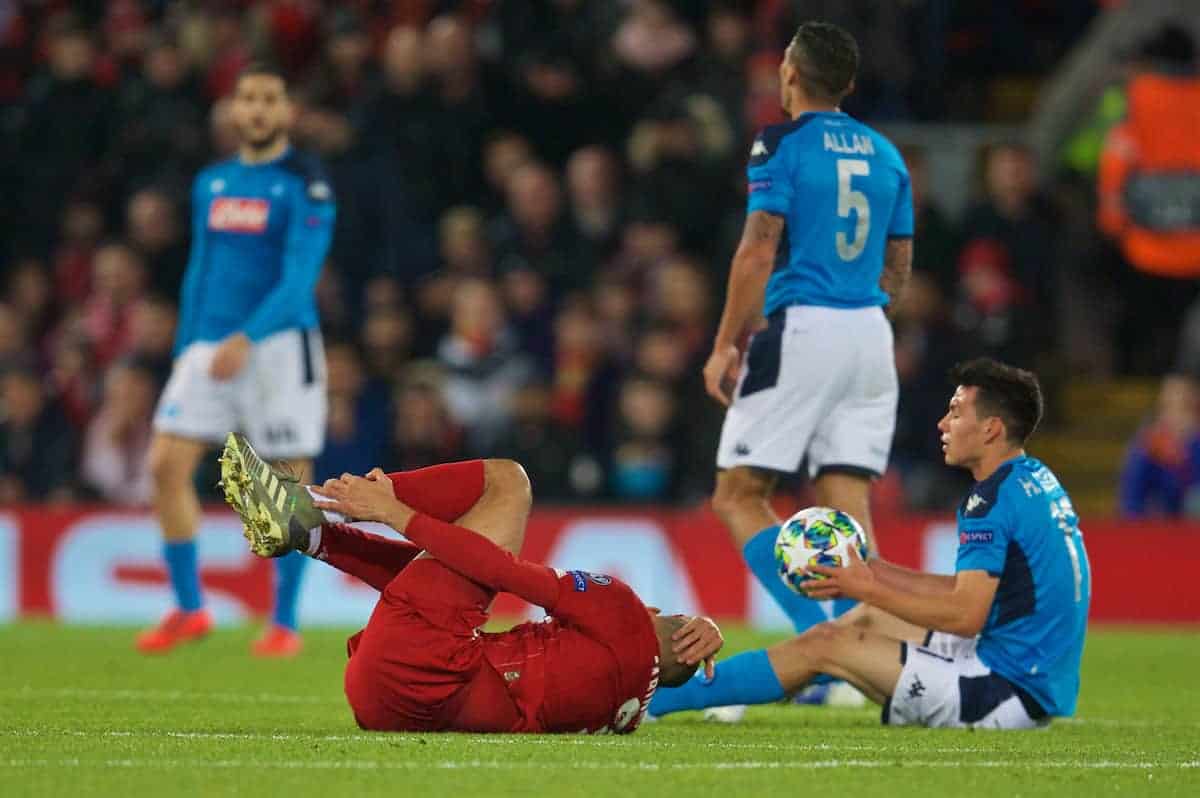 Anatomy
A syndesmotic tear refers to a group of ligaments—collectively known as the syndesmosis—that sit above the talo-crural joint, or TC joint; the joint that most people think of when referring to the ankle.
There are four primary stabilising ligaments that connect the tibia (shin bone) to the fibula (outer lower leg bone) at the distal (far) end.
These are: the anterior-inferior tibiofibular ligament (AITFL), the interosseous ligament (IOL), posterior-inferior tibiofibular ligament (PITFL) and the deltoid ligament which sits on the medial (inner) part of the ankle.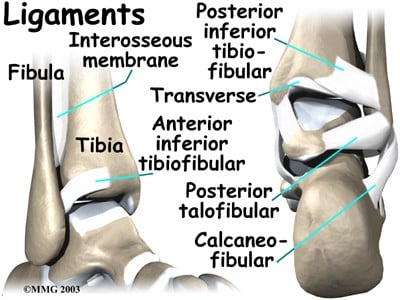 However, when Fabinho's ankle was forced into external rotation and dorsiflexion, these stabilising syndesmotic ligaments likely took on more stress than they could handle and were damaged.
Severity
If Fabinho does indeed have a high ankle sprain, it's more than likely that he has a grade 1 injury which involves partial tears of the AITFL, anterior deltoid ligament and distal IOL.
Grade 2 and 3 high ankle sprains are typically considered unstable and likely would've required season-ending surgery.
When will Fabinho be back?

Liverpool's reported timeline of "out until at least the New Year"—or approximately five weeks—lines up with the profile of a grade 1 high ankle sprain.
The research shows that the average return-to-play timeline for high-level footballers after a grade 1 high ankle sprain is typically around five weeks, occasionally extending as far as eight weeks with particularly stubborn cases.
Expedited protocols
Recently, we've seen teams—most commonly in American football—implement expedited return-to-play protocols which on average have players back in 13 days.
However, these protocols are very much in their infancy and we don't know the medium or long-term ramifications, with some evidence showing increased risk for re-injury, persistent pain and severe stiffness.
For example, New York Giants running back Saquon Barkley returned just four weeks after a high ankle sprain and hasn't looked nearly the same player since.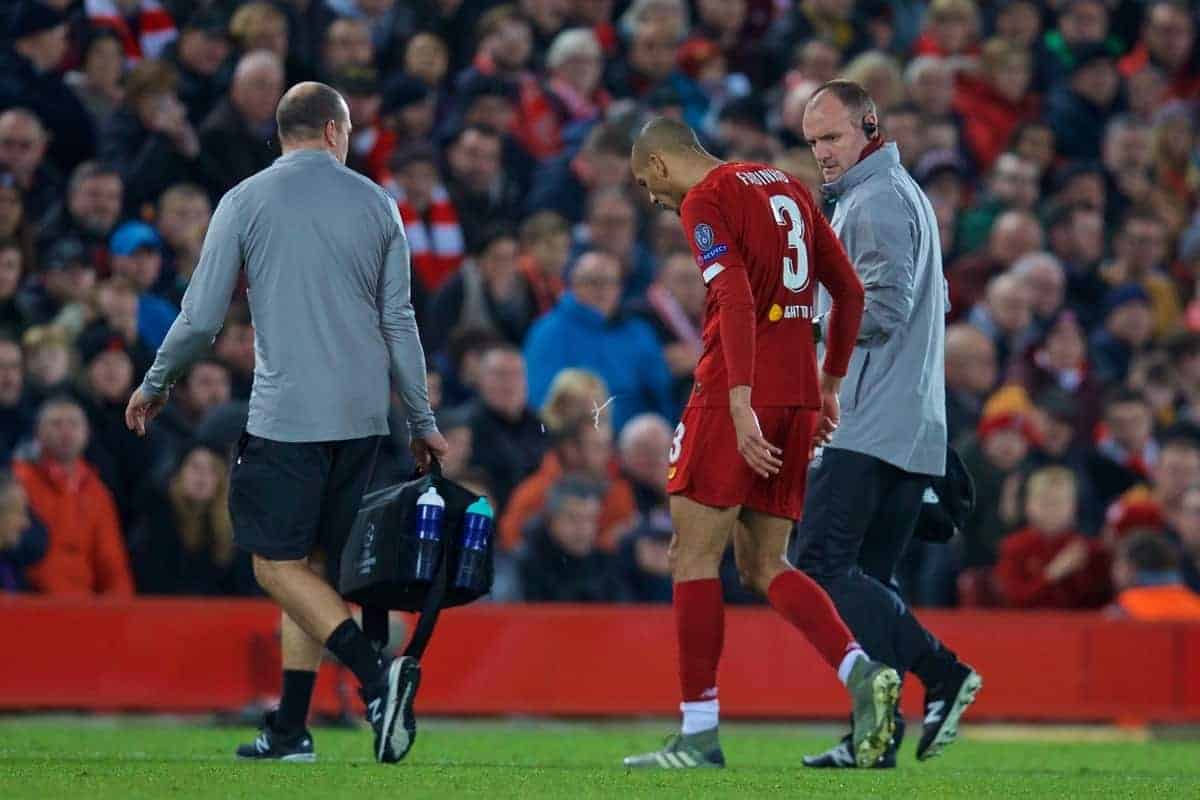 LFC's approach
However, it's clear that Liverpool's medical team aren't placing Fabinho into any kind of expedited protocol and, in fact, the managed explicitly commented that he has no set timeline.
During my time covering this Liverpool regime's approach to injuries, both medical staff and manager are uniquely in tune with how they balance risk/reward and expectations with players returning from injury—be it Salah, Allison, Ox, Lallana and so on.
All in all
If my analysis is correct and Fabinho does indeed have a left ankle grade 1 syndesmotic tear and rehab goes according to plan, I'd expect to begin seeing him back at Melwood for basic drills in late December/early January.
He would then gradually progress to higher-intensity activities and eventually full training.
This would ensure a return date no later than mid-January that most likely sees him introduced in limited minutes as he rebuilds in-game fitness, rhythm and confidence.
There's no denying Fabinho's dynamic gravitational presence will be missed during the almost ridiculously busy festive schedule, but the reality is that Liverpool's aspirations for league and Champions League trophies run much longer into April and potentially May.

Therefore, it's imperative that Fabinho is as close to 100 percent fit and symptom free when he does get back, which is highly likely because outcomes for high ankle sprains after an appropriate rehab and return-to-play protocol are excellent.
Further, a key silver lining of missing this five-plus weeks is that it could mean he's relatively fresh and lively as the season barrels towards spring time and rounds its final turn into the critical stretch.